Marie's Family Customized a 15 Days China World Heritage Tour
Hi Grace,
I got a new computer and can type now!!! We had a wonderful trip and have wonderful memories of our 2 weeks in China with our teenagers. We think that the 2 weeks were well balanced between historical visits and the countryside visits. Everything went smoothly. The only thing, with the jet lag, I would lighten up the number of visits during the first day in Beijing but I couldn't tell you which one!! I have answered your questions and will go on TripAdvisor to also give some feedback.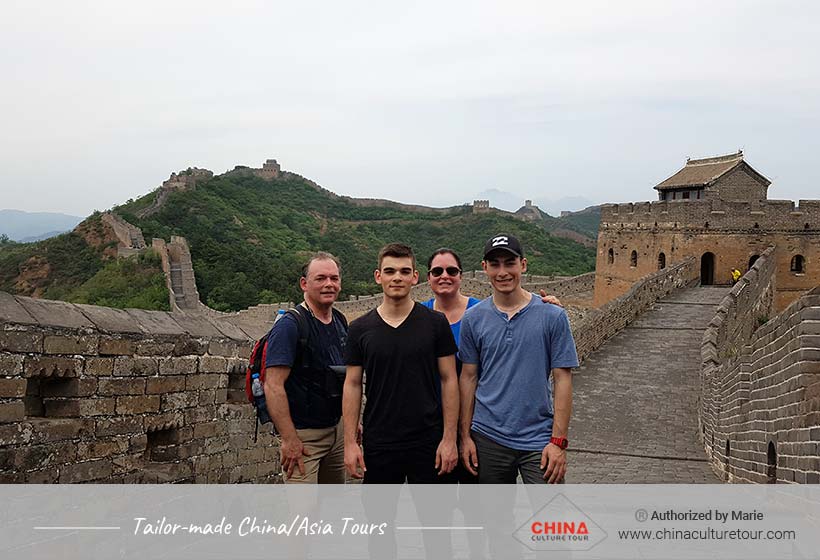 Mutianyu Great Wall, Beijing
1. We liked all the attractions but if we have to choose one, it would be The Longji Rice Terrace. This was a hit for the 4 of us, for the beauty of it, to see the life of the ethnic minority over there and the general atmosphere. Even if William was sick, he came with us (thank you Linda for insisting that fresh air would be good for him!) and he was so glad he got to see it.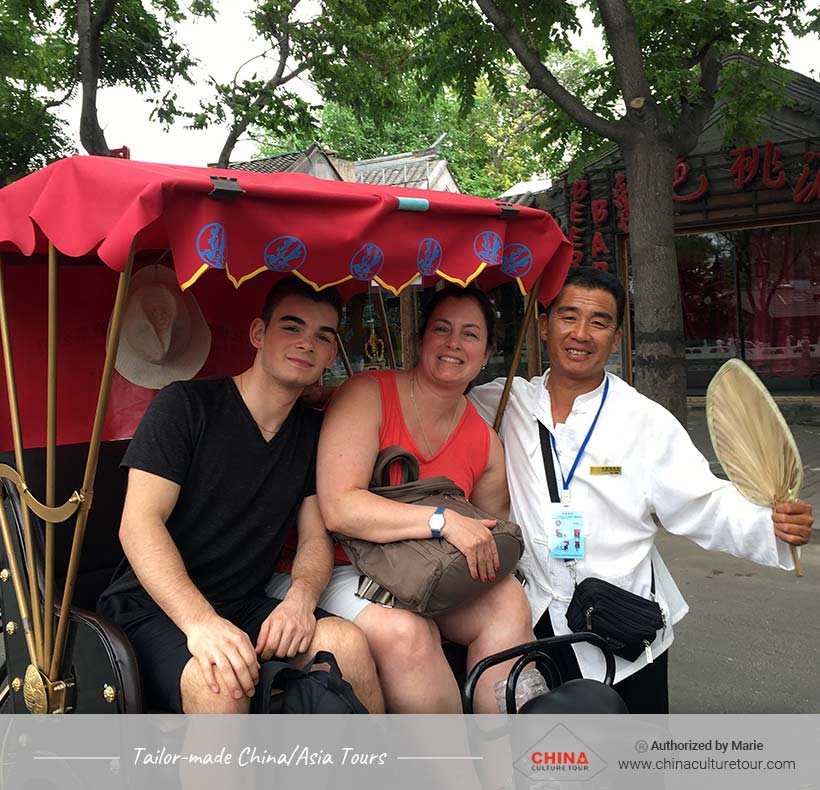 Rickshaw in Hutong, Beijing
2. Linda in Guilin and Yangshuo and also Rock in Beijing are wonderful guides. Linda is such a nice human being, caring, funny, easy going and easy to be with. She is doing the extra miles to make sure you are satisfied. She was like a mom or a grandma to my kids and pretty lucky we had her in Guilin to bring William to the hospital. You can still feel the passion about her job even if she is doing it days after days. Rock was also funny, really caring and easy to be with. I had more troubles to understand his English so communication was a bit harder for me and the teens. In fact they were all good but we had more affinities with Linda, Rock and Amy in Xi'an. Darcy was nice in Shanghai and it did not click for us with Jonathan in Pingyao who seems kind of bored with his job or too serious for us but he is really knowledgeable and his English is really good.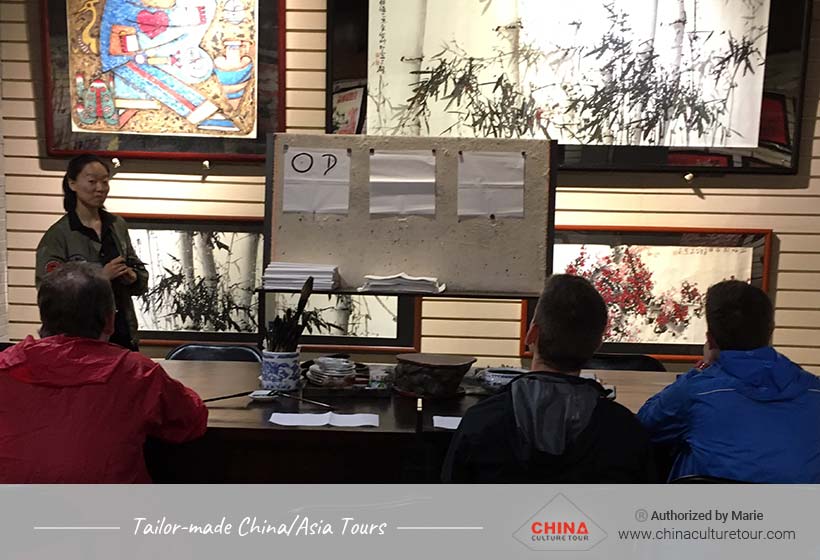 Calligraphy, Xian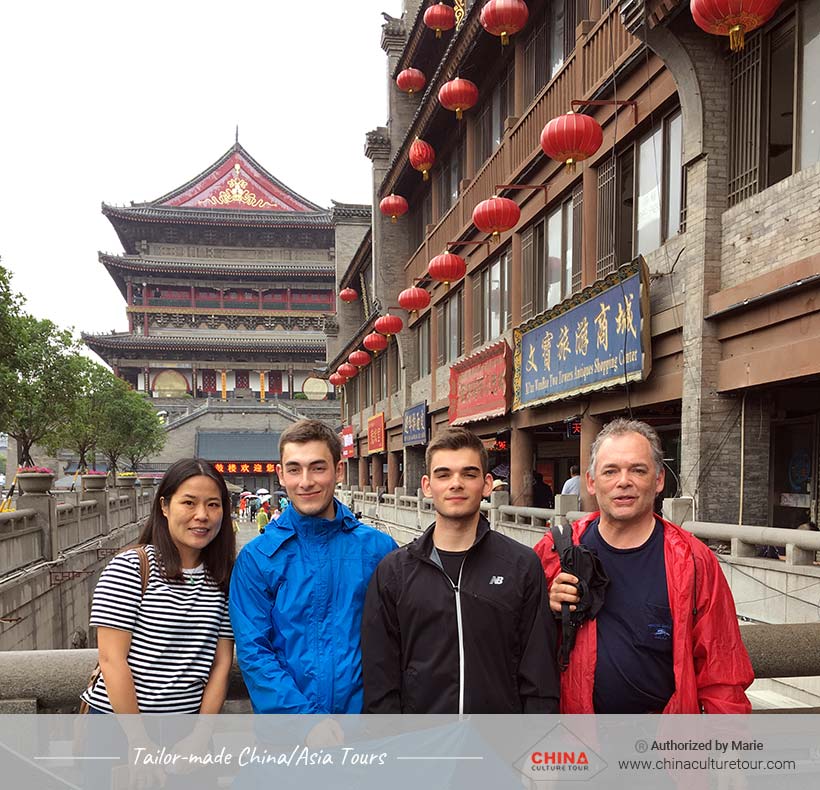 Drum Tower, Xian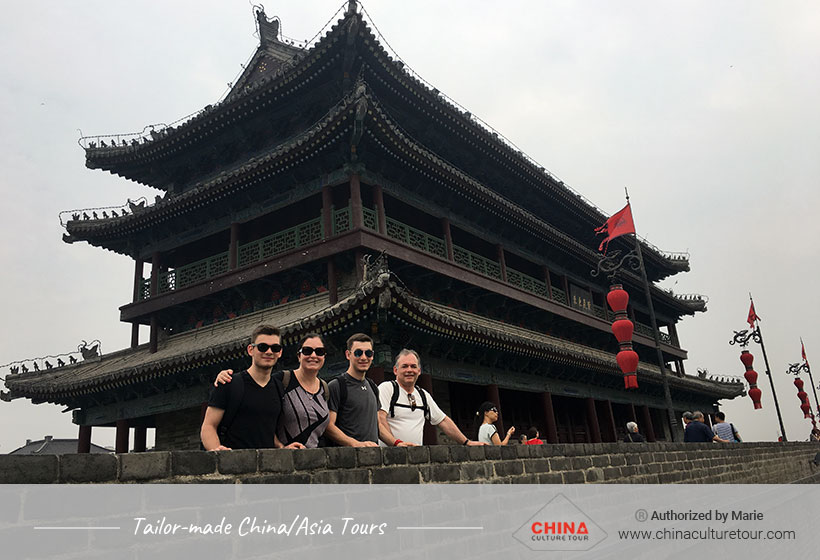 Ancient City Wall, Xian
3. For the hotel, Yangshuo Mountain Retreat is the winner followed by the Pingyao Yunjincheng Hotel and Hans Royal in Beijing. Our room in Guilin Bravo had a nice balcony and view but was really old and did not feel clean. The boys were moved in the new section (thanks to Linda) for their second night and this one was really up to standard. So, I would say, forget about the view and balcony and select the new section. Central Hotel in Shanghai has a really good location, easy to walk everywhere!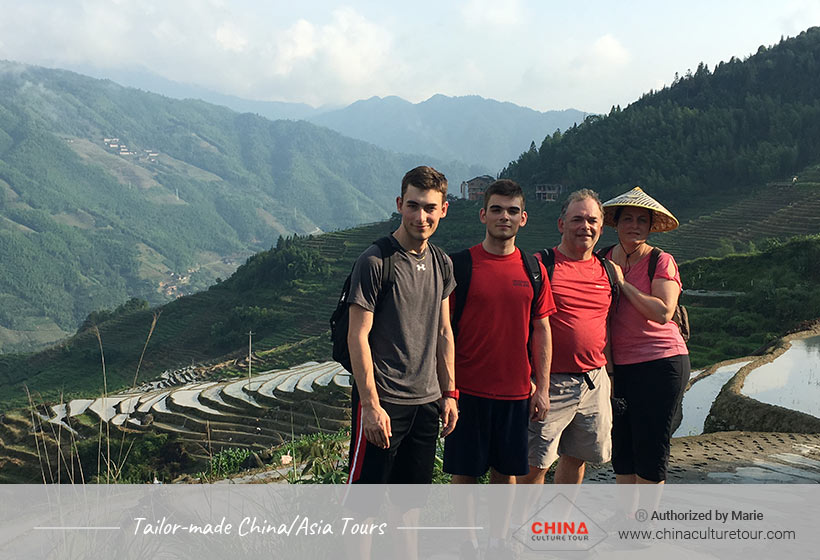 Longji Rice Terraced Fields, Guilin
So much food for lunch, we ate so much for lunch that we had only 5 dinners on 14 nights!!! I do not remember the name of the restaurant but the first one in Beijing with Rock was really good, the one with Linda on our way to Longji where they killed our chicken to prepare the meal also and dinner at the Yangshuo Mountain Retreat, beer fish, was a hit. All restaurants chosen by our guides were good. The budget by person for lunch could have been a little bit less and we would have eaten plenty anyway.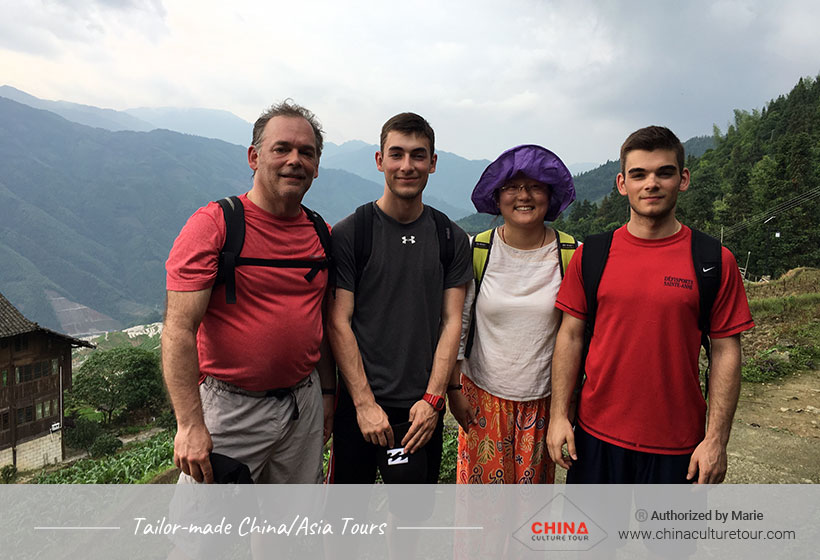 Longji, Guilin
4. Bullet Trains were perfect, on time, really clean, easy access! We were in first class and really enjoy it!
5. For the suggestions, I would say that if travelers like the countryside and hiking, spend one night in Longji Rice Terrace and enjoy the view, the people. We wish we could have stayed one night over in a small auberge. Biking in the countryside in Yangshuo, the cruise between Guilin and Yangshuo, cooking class and the visit of the market are the not-to-missed. In Xi'an, we asked Amy to visit a small museum; we went to this small Tangbo Art Museum and really enjoy our visit which finished with a calligraphy class. The teens liked to be able to participate. Visit of the Hutongs in Beijing are good too. Terracotta Warriors in Xi'an is a must but too many people at the time we went. What we liked about our private tour is to have the time to take the time!!! We took the subways in Beijing and Shanghai and were really proud that we did not get lost!!!
6. The wow for us were the hiking in Longji Rice Terrace, Cruise between Guilin and Yangshuo, Great Wall, Shanghai and to meet you and your husband of course!
7. Of course, without hesitation I would recommend your services to my friends and colleagues.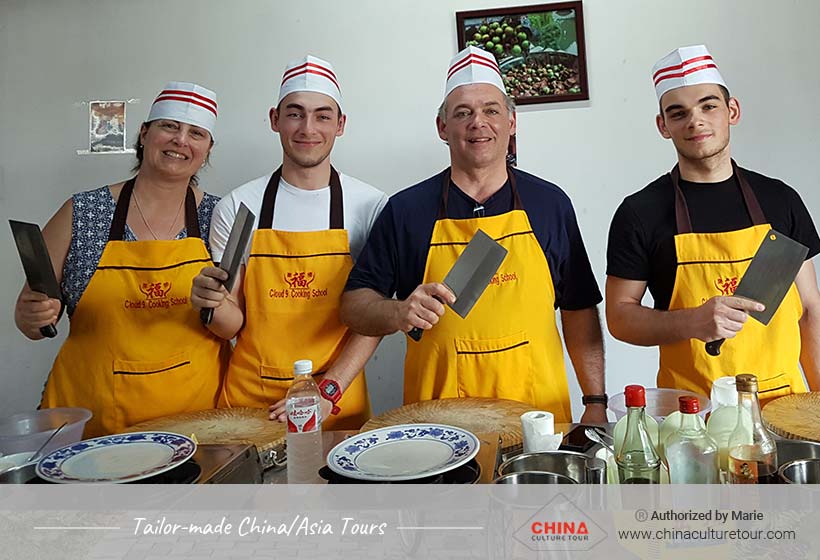 Cooking, Yangshuo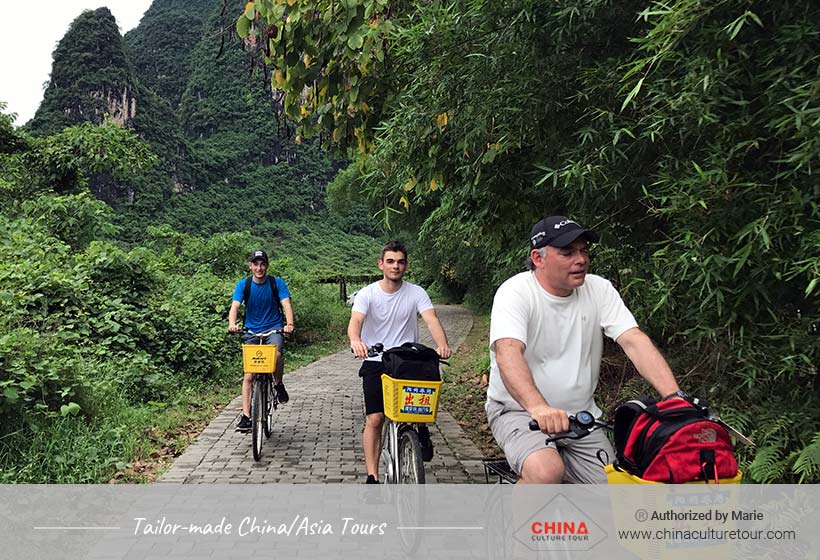 Biking, Yangshuo
Hope this help and do not hesitate to ask me questions if you need more details on my comments!! I will send pictures in a separate email.
Have a nice weekend!
Marie from Canada, customized an UNESCO World Heritage tour of China to Beijing Pingyao Xian Guilin and Shanghai
More Helpful Similar China Tour Reviews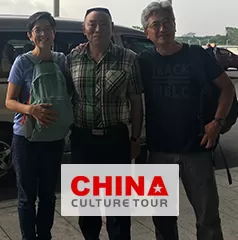 "
Hello Nora, how are you? Follow my comments about trip, sorry my English, there is a lot Google translator. If you have... " Read More

"
Hi Nora… Hope this information is helpful. We loved our trip, especially the last 10 days. Thanks for all... " Read More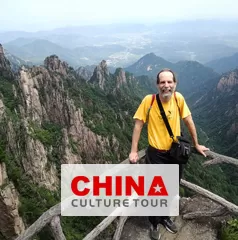 "
China Culture Tour personalized tour -- 15 days We had a top-rate experience with Nora and China Culture Tour. We wanted... " Read More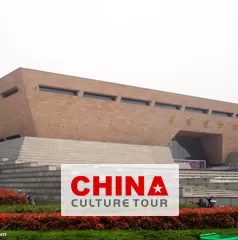 "
Dear Grace (Wang Yu 王瑜), First, thank you for organizing our first trip to China. We loved it! You did a great... " Read More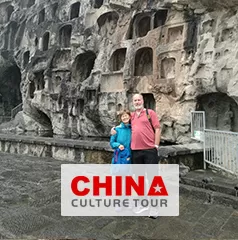 "
Hi Grace, Again, sorry for taking so long. We are now back into the swing of things here. I'm just now catching up on... " Read More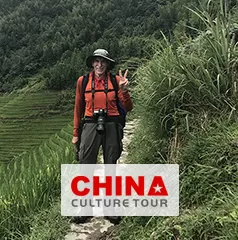 "
Hi Grace, We just got home yesterday. I just finished writing a review of your company on the link you provided. Thanks... " Read More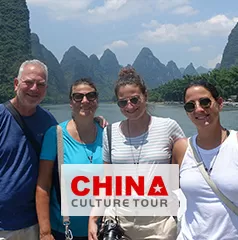 "
Hi Grace, We are very sorry for not responding sooner. We are all well and still thinking of our wonderful trip to China... " Read More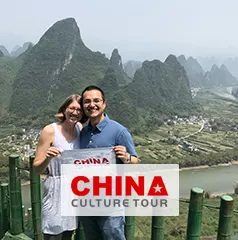 "
Hi Grace, Thank you again for helping us have such a wonderful trip! I've answered your questions, in-line, below. The... " Read More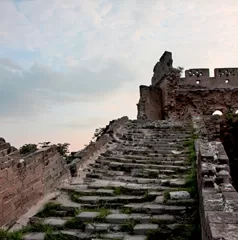 "
A month in China with China Culture Tour This review is long overdue as my wife and I traveled for one month in China in... " Read More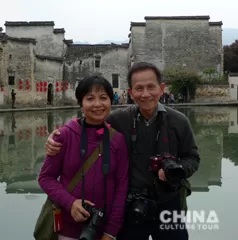 "
Hello Grace, Datong Our customized Guilin trip last year with your company was amazing, well planned and mindful of all... " Read More
ANY QUESTIONS?
This tour is tailor-made and we can tailor to meet your reqeusts. Your personal travel consultant will contact you within 24 working hours!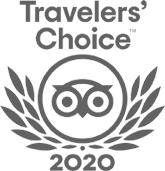 FABULOUS TOUR COMPANY
CHINA OCTOBER - NOVEMBER 2019 We researched several companies and studied reviews on Trip Adviser before contacting who did a very China Culture Tour with an initial query. Right from the outset Grace who owns the company was excellent. She emailed detailed with pictures information and a suggested…read more details
Karen from US
Ready to Create a Unique Dream Travel?