Keiji from Brazil Customized a 21 Days China World Heritage Tour
Hello Nora, how are you?
Follow my comments about trip, sorry my English, there is a lot Google translator. If you have any question, ask me ok?
We arrived at home well after these wonderful 20 days in China. Thank you, Nora!
Guides:
All the guides were attentive, helpful and always on time, but I would like to do some comments of each one. Some guides have more skills in dealing with groups and others with private service, this choice is key to the type of hired service.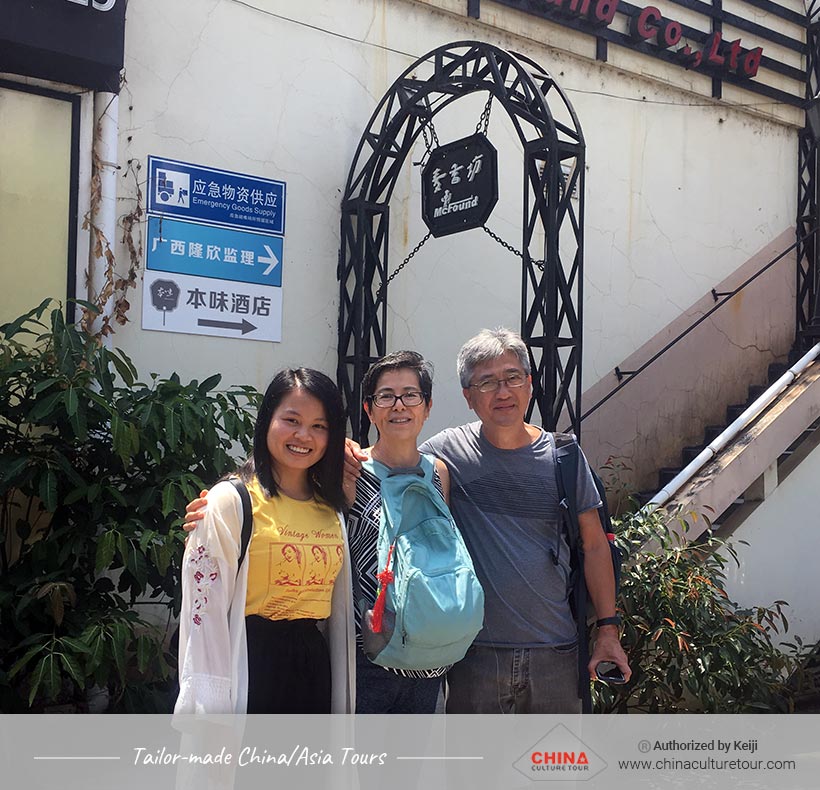 Mrs. Keji and Travel Advisor Nora, Guilin
Pingyao - Jonathan, calm, polite, leaves you at ease and tries to transmit all the information of the place despite the language barrier and our knowledge in English.
Xian - Cristina, Excellent Guide, left us very at ease, did not rush us in no time. Always willing to help us in the choice of dishes at meals and shopping. Flexible in programming due weather forecast, despite the language barrier and our knowledge in English was able to transmit all the information of the places with knowledge and not only texts.
Chengdu - Ben, Excellent Guide, flexible tailoring the schedule according to the arrival or departure time of the city. It leaves us at ease and strives hard to communicate. He worried about us from the first moment we arrived until the airport exit, accompanied us at the check in and guided us regarding the procedures of security of the luggage, stayed with us until the passage for security.
Guilin - Cory, professional, leaves us very at ease, he gives very brief information about places, only answers what is asked.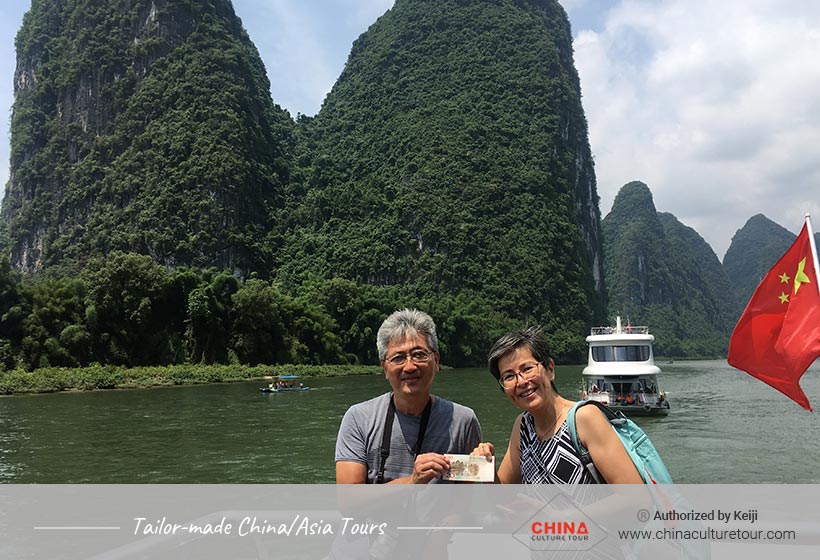 Li River Cruise, Guilin
Hangzhou - Derek wants to exchange experiences, very responsible, likes to tell stories and folklores of the region, very interactive.
Shanghai - Catherine, very professional, was willing to help us at all times, suggested the exchange of the restaurant for a less touristy, and helped us in the choice of dishes and shopping. She did not rush us at any time, even though she was late in her schedule.
Driver:
All drivers demonstrated professionalism, despite the chaotic traffic at certain moments. As a highlight Mr. Ke from Guilin, very helpful, friendly, we talked a lot despite not speaking a word in English. Perhaps the replacement of the cooking class by the reception at Mr. Ke's house would be more fruitful.
Tours:
As a highlight of the tour the Great Wall and the Li River Cruise, a must see. The nightly show in Yangshuo is well worth it, it could already be included in the package.
Another outstanding experience was the Dumpling making in a local family in Xian, a very receptive family where we could exchange experiences of the day to day of a common family in China.
On the other hand Cooking Class in Yangshuo is totally expendable, it is a cooking school, and it does not give us any information about the culture or customs of the region, only the recipe of the dishes.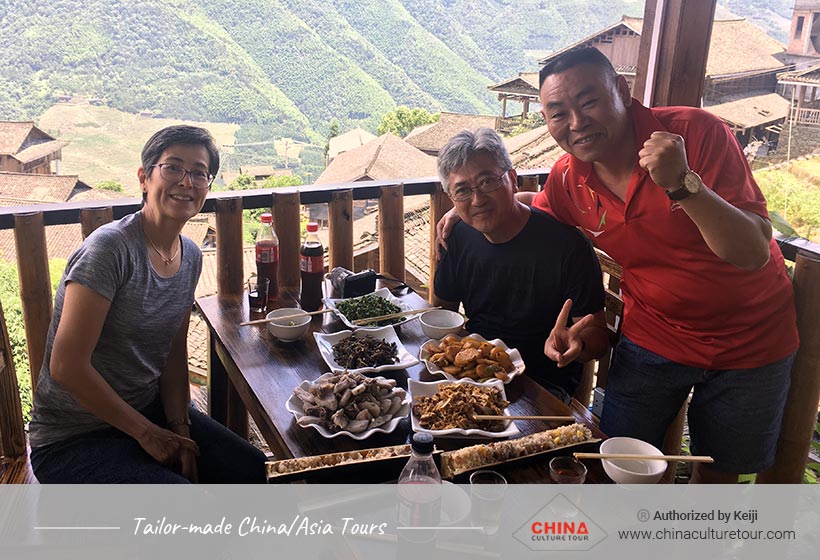 Lunch at a Local Family, Longji, Guilin
Hotel:
Beijing, Park Plaza Beijing Wangfujing: excellent hotel near subway station, breakfast with eastern and western options, comfortable, quiet, very attentive staff.
Pingyao, Pingyao Hongshanyi Hotel: hotel located within the old town, furnishings in need of repair and the room smelled of sewage, bathroom with hot water but it was all flooded after showering. It has air conditioning but does not work well. Oriental style breakfast.
Xian, Xi'an Eastern House Boutique Hotel: excellent hotel, location within the wall near the Drum Tower and Bell Tower, breakfast with eastern and western options, comfortable, quiet, very helpful and friendly staff.
Chengdu - Buddha Zen Hotel Chengdu, apparently an old hotel, but modern and functional. There is no elevator, but the staff will help you with your bags. Located on a pedestrian street with fair.
Guilin - Aroma Tea House, located in front of the lake, apparently an old hotel, but modern and functional, with elevator, large room, oriental breakfast but with fruit.
Yangshuo -: Yangshuo Ancient Garden Boutique Hotel: far from the city center, is to rest, difficult access with suitcases as it is located on a slope. Appearance of old house, but with all modernity with central air conditioning, fridge, large bathroom with ofuro and shower. The hotel restaurant serves Italian food, a good order after several days eating Chinese food. Note 10 for all hotel staff, communicate very well in English.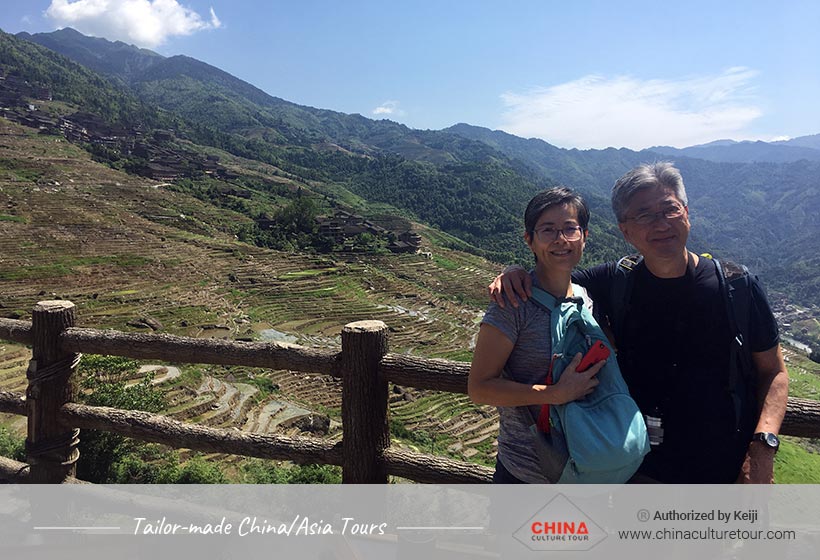 Longji Rice Terraced Fields, Guilin
Hangzhou - Yurong Xilu Boutique Holiday Hotel, situated in pleasant place near the lake, tea plantation very close, difficult to communicate in English with the staff, breakfast in a small space and only oriental style, need to give a modernized on the site.
Shanguai, Central Hotel Shanghai, excellent hotel, close to Nanjin shopping street, large modern room, very good bed and bathroom, oriental style breakfast with few fruits and juices.
Train / Plane
Train: always on time, in the wagon has a panel informing also in English what will be the next station, you cannot go wrong. To facilitate the train journey is interesting to carry little luggage, because in some stations the train stop for only 2 minutes and the luggage compartment may be full and it is necessary to put the bags in the upper compartment.
Airplane: advise all customers that no batteries are allowed in the checked bag, put in the carry-on luggage and the security must be submitted for verification. We had a problem where we had to remove the battery from the checked bag.
I got the CCT name searching by the internet, especially TripAdvisor, but I also met many other companies.
What made me hire the CCT was the speed and clarification of the doubts and the adequacy of the program with what I wanted, not the price that I even found it cheaper at other companies.
Keiji from Brazil customized an UNESCO World Heritage tour of China to Beijing Pingyao Xian Chengdu Guilin Hangzhou Suzhou, and Shanghai
More Helpful Similar China Tour Reviews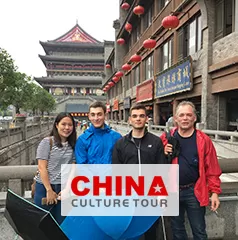 "
Hi Grace, I got a new computer and can type now!!! We had a wonderful trip and have wonderful memories of our 2 weeks... " Read More

"
Hi Nora… Hope this information is helpful. We loved our trip, especially the last 10 days. Thanks for all... " Read More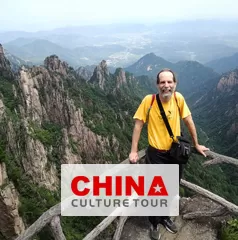 "
China Culture Tour personalized tour -- 15 days We had a top-rate experience with Nora and China Culture Tour. We wanted... " Read More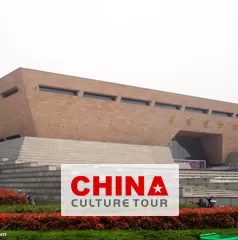 "
Dear Grace (Wang Yu 王瑜), First, thank you for organizing our first trip to China. We loved it! You did a great... " Read More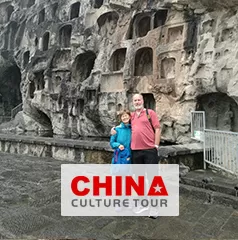 "
Hi Grace, Again, sorry for taking so long. We are now back into the swing of things here. I'm just now catching up on... " Read More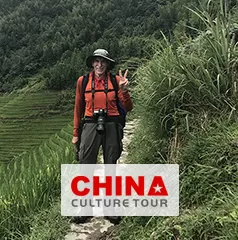 "
Hi Grace, We just got home yesterday. I just finished writing a review of your company on the link you provided. Thanks... " Read More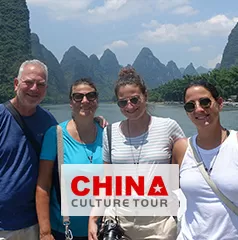 "
Hi Grace, We are very sorry for not responding sooner. We are all well and still thinking of our wonderful trip to China... " Read More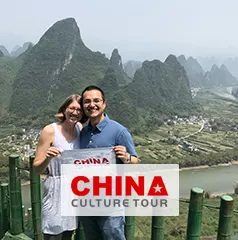 "
Hi Grace, Thank you again for helping us have such a wonderful trip! I've answered your questions, in-line, below. The... " Read More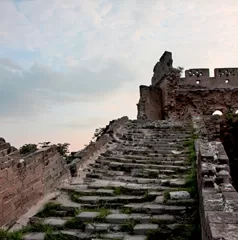 "
A month in China with China Culture Tour This review is long overdue as my wife and I traveled for one month in China in... " Read More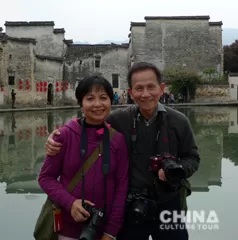 "
Hello Grace, Datong Our customized Guilin trip last year with your company was amazing, well planned and mindful of all... " Read More
ANY QUESTIONS?
This tour is tailor-made and we can tailor to meet your reqeusts. Your personal travel consultant will contact you within 24 working hours!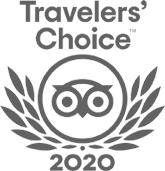 FABULOUS TOUR COMPANY
CHINA OCTOBER - NOVEMBER 2019 We researched several companies and studied reviews on Trip Adviser before contacting who did a very China Culture Tour with an initial query. Right from the outset Grace who owns the company was excellent. She emailed detailed with pictures information and a suggested…read more details
Karen from US
Ready to Create a Unique Dream Travel?