Yangshuo Travel Guide
Facts of Yangshuo
Chinese: 阳朔 / yáng shuò
Pronunciation: yang-shwor or yang-shore
Meaning in English: literal meaning is the Sun Beginning (of a lunar month)
Location: a small town, 65 km (1-hour drive) south of Guilin City, northeastern Guangxi Province, China
Area and population: 1,436 square kilometers, and a population of around 280,000
Things to do: biking by the rice paddies, bamboo rafting on the Yulong River or Li River, cooking local dishes, family visits, rock climbing, helicopter, photography, etc.
Must-sees: Li River, Yulong River, West Street, Impression of Sister Liu
Travel Theme: nature, culture, friends, families, kids, seniors, group travelers, adventure
Time needed: 1 - 6 days
Why the Name "Yangshuo"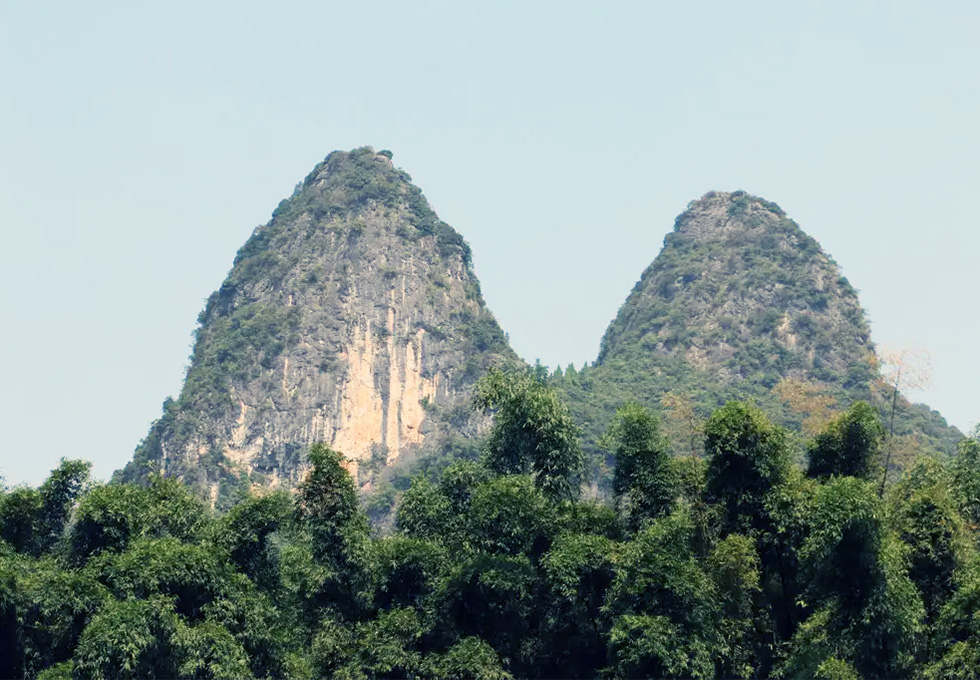 Sheep's Horns
The name was derived from the fact that the two peaks to the north of the county were shaped like sheep's horns, and the word 'sheep's horns' (羊角 / yáng jiǎo) is pronounced like the word 'Yangshuo' (阳朔 / yáng shuò) in the local language of Yangshuo; the name was changed from Xiping County to Yangshuo County in the tenth year of the emperor Sui Kai (590 AD), and the county was moved to its present location. The name was changed from Xiping County to Yangshuo County and the county seat was moved to its present location.
That's the meaning of Yangshuo! The name has not changed since then. In fact, many of the peaks in Yangshuo County look like sheep's horns, and some of them may have been developed as rock climbing sites!
Top attractions, what to do and to see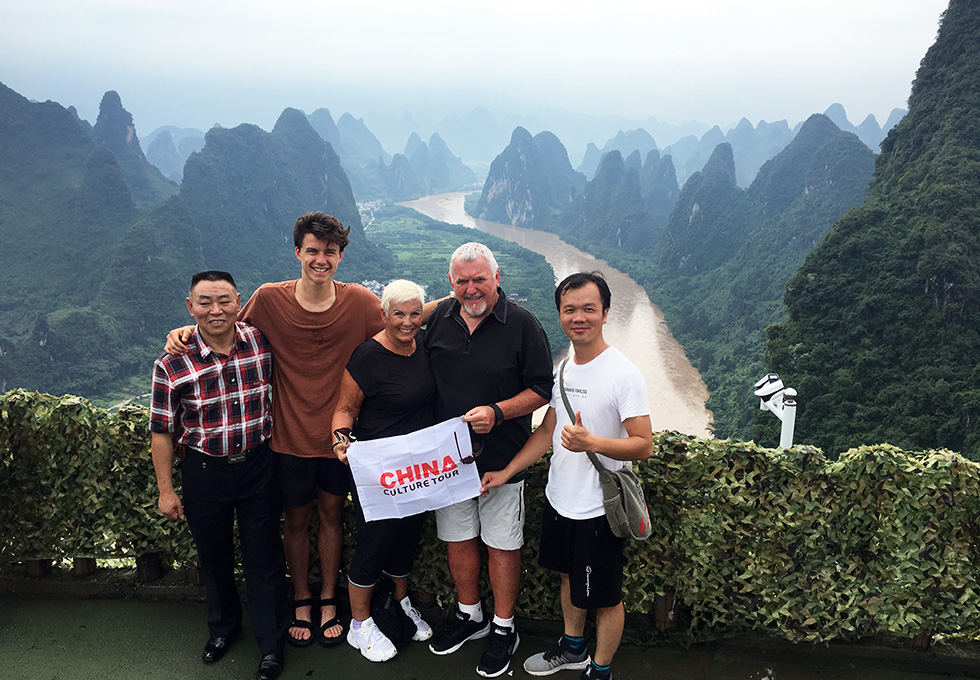 Xianggong Mountain
In fact, there are no "attractions" worth visiting in Yangshuo; the attractions in Yangshuo exist only in the landscape and need to be explored and discovered; the so-called "attractions" are not really worth visiting because they are too small or man-made, such as Moon Hill which can be viewed from a distance or experienced by hiking or rock climbing, and Butterfly Spring which has little appreciation. The trip to Yangshuo is all about putting yourself into nature, top things to do, example, you can get into it by rafting down the river; you can enjoy the harmony of the Li River and the mountains by climbing to the top of Xianggong Mountain; you can experience the Li River by swimming, rafting, paddle boarding, hiking the Li River and picnicking by the river, and taking a cruise; and the rural scenery of Yangshuo is explored in depth by cycling.
So to sum up a trip to Yangshuo is not about seeing the sights, it's about experiencing them and doing lots of outdoor activities. We have also listed some of the tourist attractions in Yangshuo for your reference.

Weather, when to travel to Yangshuo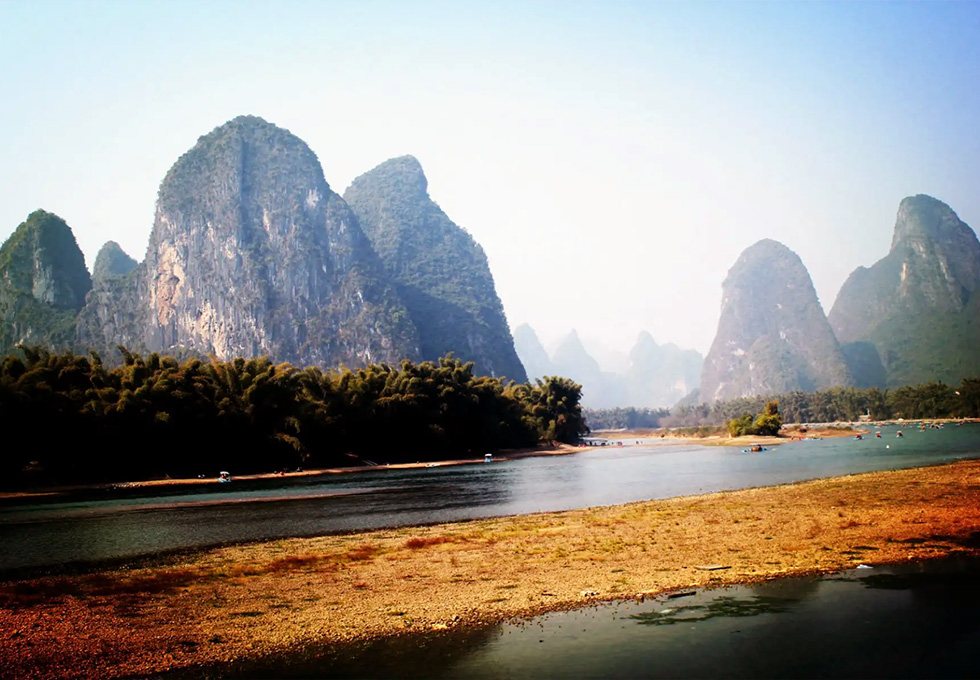 Low Water Season
The best time to visit Yangshuo is from April to October. It is advisable to avoid the 1st-5th May Labour Day and the 30th Sep. to 7th Oct. National Day, as both are very crowded and expensive to visit.
During the rainy season in late May, the Li River is not clear and you can barely see a crystal river and the reflections of the hills. The temperature is not high and it is cooler when it rains, you can often see the Misty Li River after rain. So if you care about the heat, we recommend April, May, September, or October, and even November is a very cool season to travel and not too crowded.
May to June is a rainy and humid period in Yangshuo, sometimes the temperature is as high as 33°C. It is hot and muggy during the rainy season, so it is advisable to wear clothes that dissipate heat easily, bring rain protection and wear rainproof travel shoes. July and August are summer time and the temperatures are high, so it is advisable to bring sun protection and insect repellent. There will be a lot of walking, stair climbing, and cycling in Yangshuo, so flat shoes are recommended.
Cuisine, what to eat

In some of the restaurants on West Street, you can eat food made by chefs from all over the world, from steaks to pizzas, and so on. But there are local dishes in Yangshuo that you may be curious and eager to try; such as Yangshuo's stuffed dishes, where you can stuff meat filling into various ingredients that have holes, such as stuffed viviparidae(river snail), where the meat of the viviparidaeis pulled out and mixed with the pork and then filled in; stuffed bitter gourds, where the bitter gourds are cut into sections and hollowed out and the stuffed meat filling into them. There are also stuffed pumpkin flowers, where the meat filling is stuffed into the flower holes to make a delicacy.
One of the most important dishes you can't miss when visiting Yangshuo is the beer fish, which is served in many restaurants.
Hotels, where to stay in Yangshuo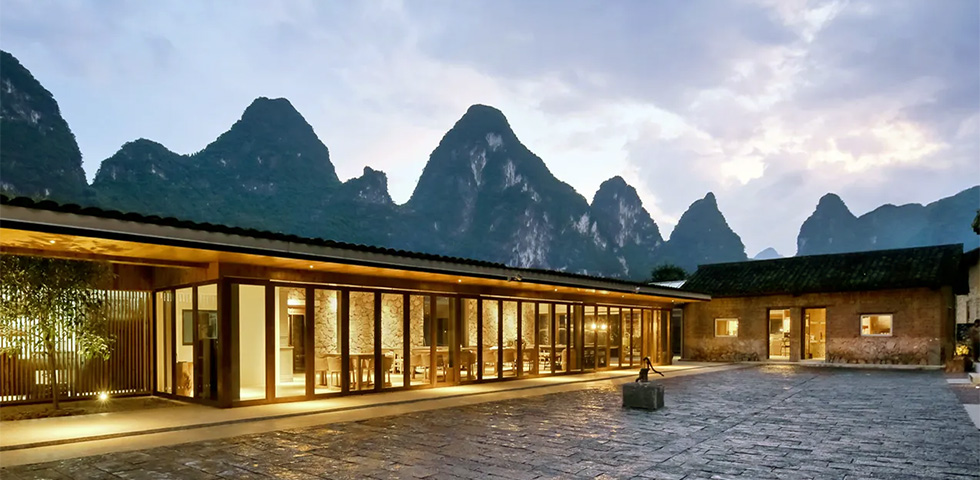 Hotels in Yangshuo are divided according to their geographical location into West Street, Yulong River, Fuli Ancient Town, and Xingping Ancient Town.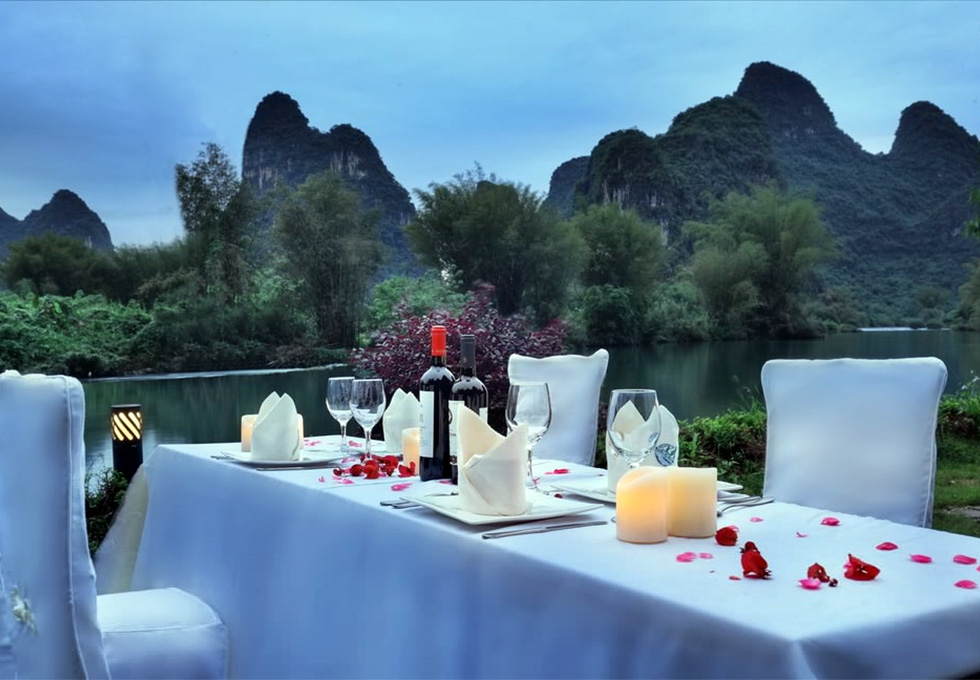 Mountain Retreat
Hotels in West Street
We usually recommend the Amari Yangshuo and the Atour Hotel if you choose to stay in West Street; these two hotels are just a few minutes' walk from the entrance to West Street and are well located, the only drawback may be that the noise may affect your sleep.
Hotels by the Yulong River
If you choose to stay at a hotel by the Yulong River, it is about a 15-minute drive from West Street, you can only choose to eat at the hotel or eat outside and then go back to the hotel, and it is a little bit of trouble to go back and forth to the West Street. We recommend Yangshuo Mountain Retreat or Yangshuo Ancient Garden Boutique Hotel (which is about a 10-minute walk from the Jade Dragon River). Most travelers choose to stay in the Mountain Retreat.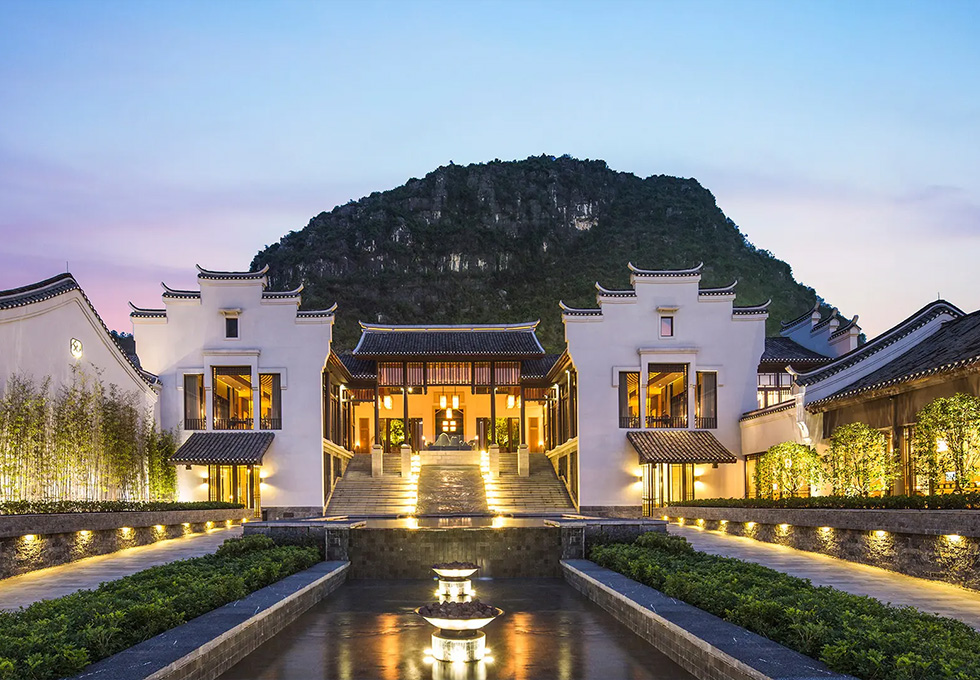 Yangshuo Banyan Tree Resort
Hotels in Fuli Ancient Town
There is only one option for those who choose to stay in Fuli Ancient Town, and that is the Banyan Tree Resort, which is about a 20-30 minutes drive from West Street, surrounded by the Li River for rafting, visiting Fuli Ancient Town, climbing the mountain behind the hotel to watch the sunrise and bicycle riding to Liugong, with countryside views all the way. The Alila Sugar Hotel between Yangshuo and Fuli is in a somewhat awkward location, although the design and service of the hotel are good, there is nothing to do in the surrounding area and the hotel is about a 20-minute drive from West Street.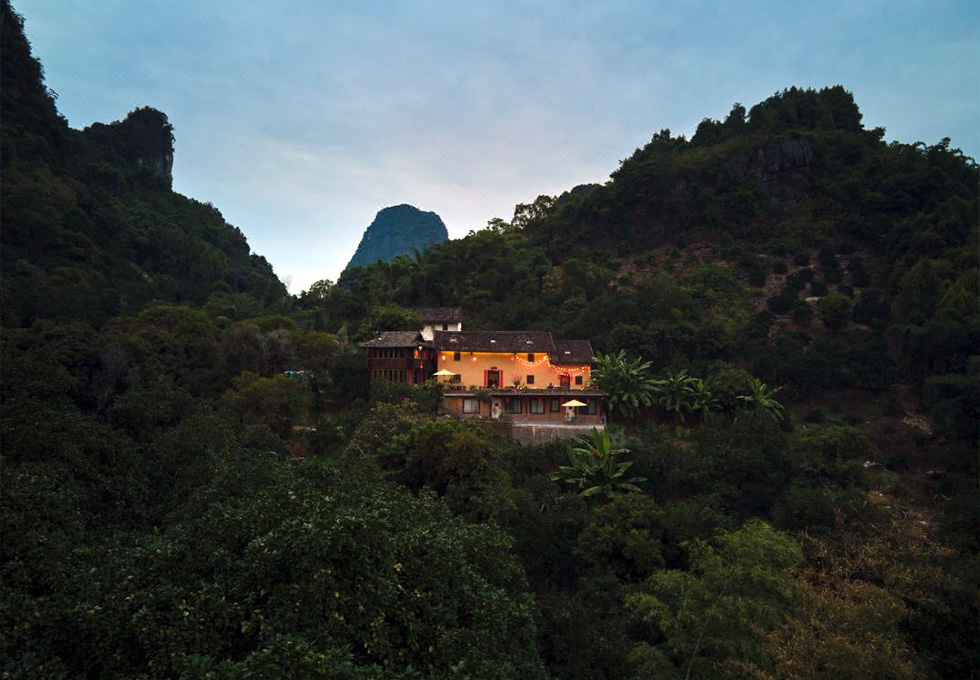 Yunshe Mountain Guesthouse
Hotels in Xingping Ancient Town
Options to stay in Xingping are XY-Yun House, Misty Wonderland Xingping, Xianyunju Resort Hotel, or Yunshe Mountain Guesthouse. Xingping is about a 40-minute drive from Yangshuo West Street and Xingping has the best sights! These hotels are all very unique and the scenery around the hotels is superb, you can hike, ride, raft, explore caves, etc in Xingping.
Transportation, how to get there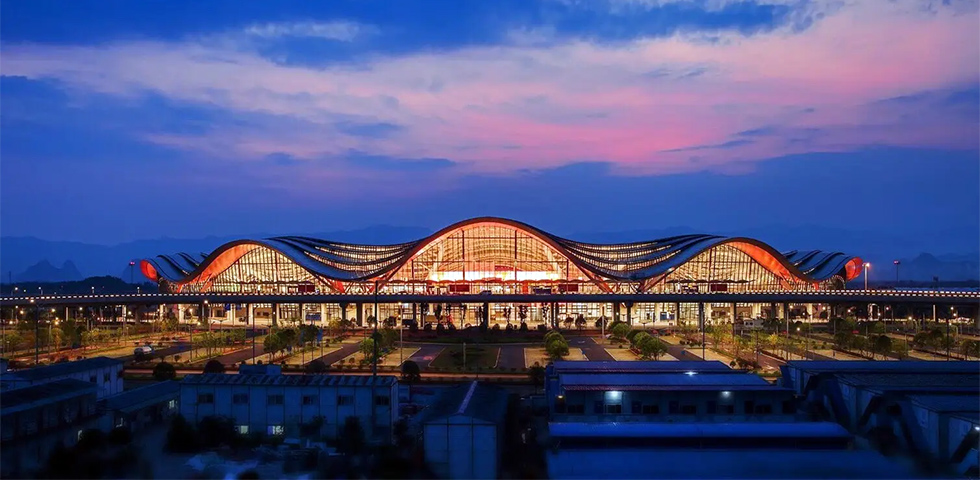 Arriving and departing Yangshuo is not very convenient in some ways; some require arriving in downtown Guilin before transferring to Yangshuo; others require arriving at Yangshuo Railway Station in Xingping Town before taking a bus to Yangshuo; in a moment we will briefly explain how efficient arrangements for transportation in Yangshuo can be achieved.
By Flight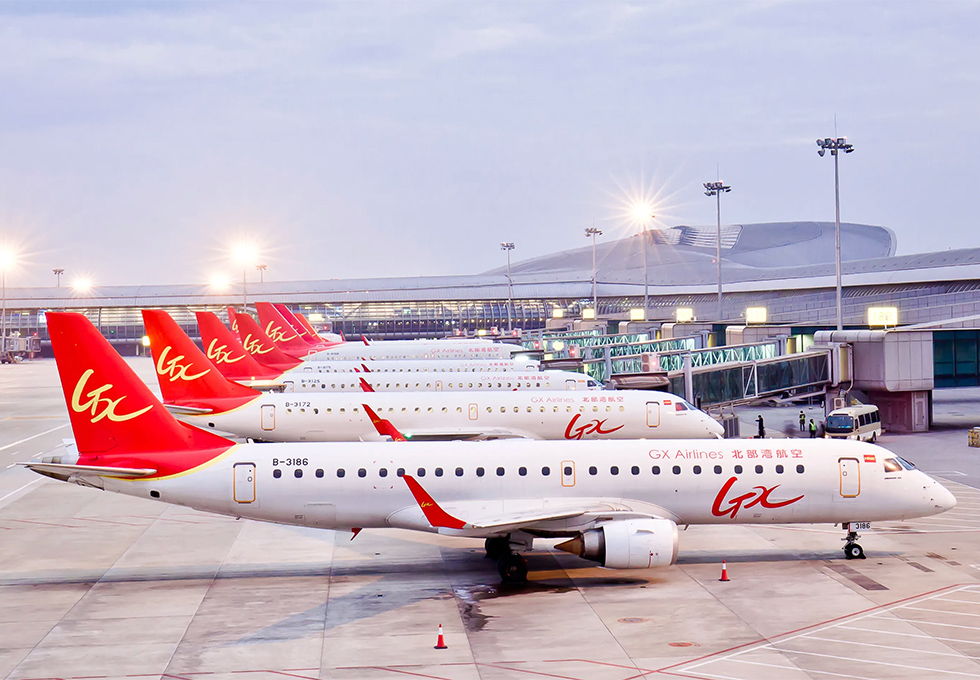 Guilin Air
We recommend flights to Yangshuo from cities such as Beijing, Shanghai, Xi'an and Hangzhou. This is because these places can take a long time and are not cheap if you take the train.
Once your flight arrives at Guilin airport, take a direct bus from the airport to Yangshuo, where you can be reminded to pick up at your hotel or take a taxi directly toyour hotel for about 15 RMB. More details about the bus from Guilin airport to Yangshuo >>
By High-speed Rail or Bullet Train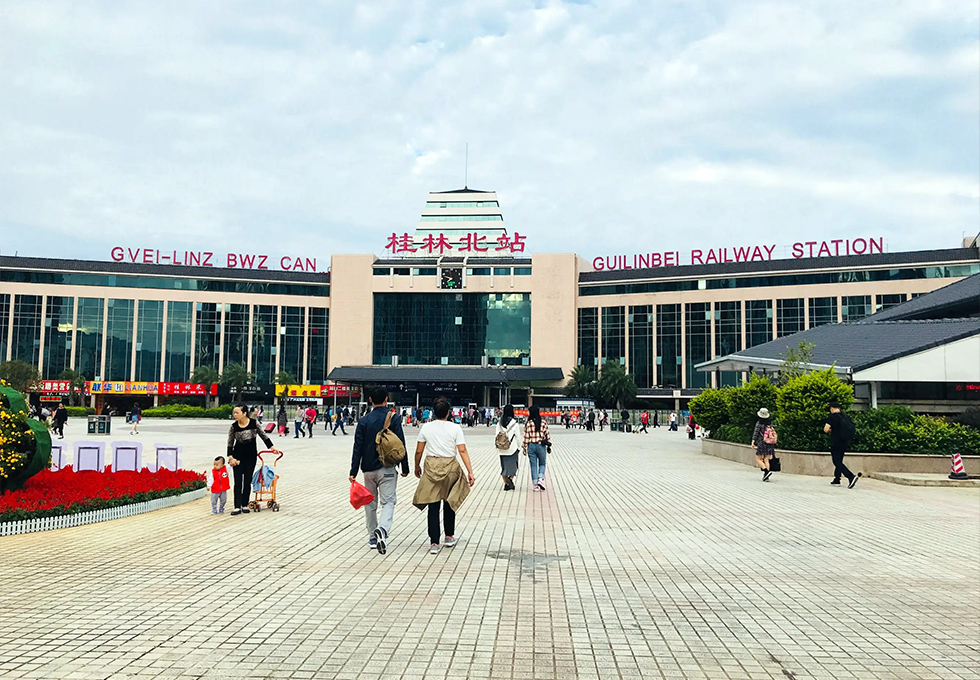 Guilin North Train Station
Some cities have direct trains to Yangshuo railway station, such as Guangzhou, Shenzhen, Nanning, Wuhan and Guiyang, which takes about 2-5 hours; some cities require a transfer at Guilin's railway station, such as Kunming, and Chengdu, Chongqing and Changsha, which takes about 3-6 hours.
Culture, festivals, what to experience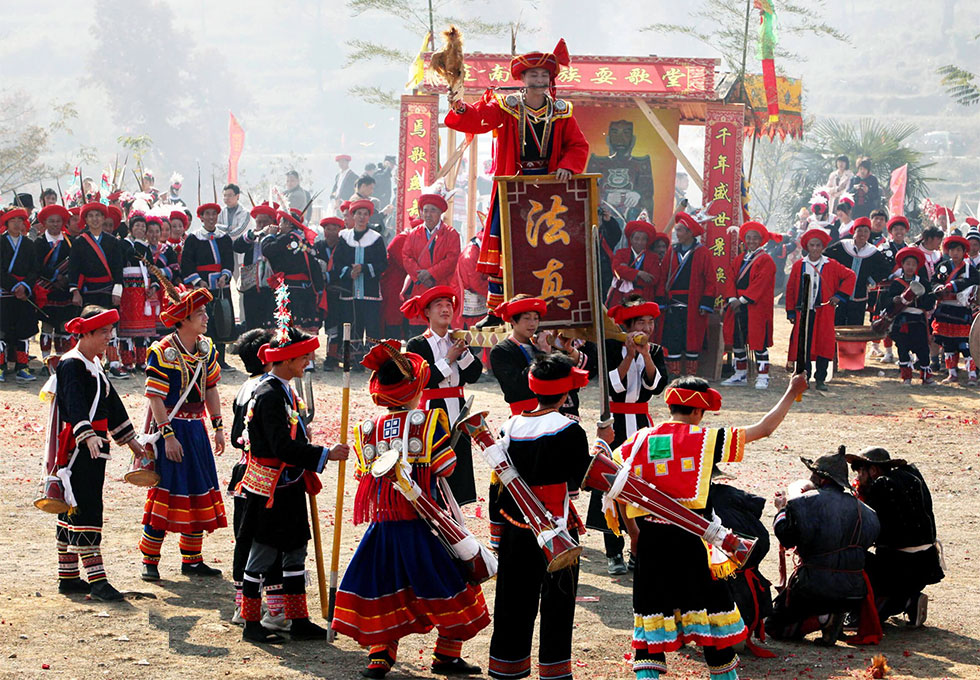 Yulong River Rafting
There are 11 ethnic groups living together in Yangshuo, including Han, Zhuang, Yao and Miao, and each has its own customs and festivals. If you visit Yangshuo, you may be able to meet a great folk festival. See specific reference to Yangshuo festivals.
Travel Itinerary, how to plan a Yangshuo trip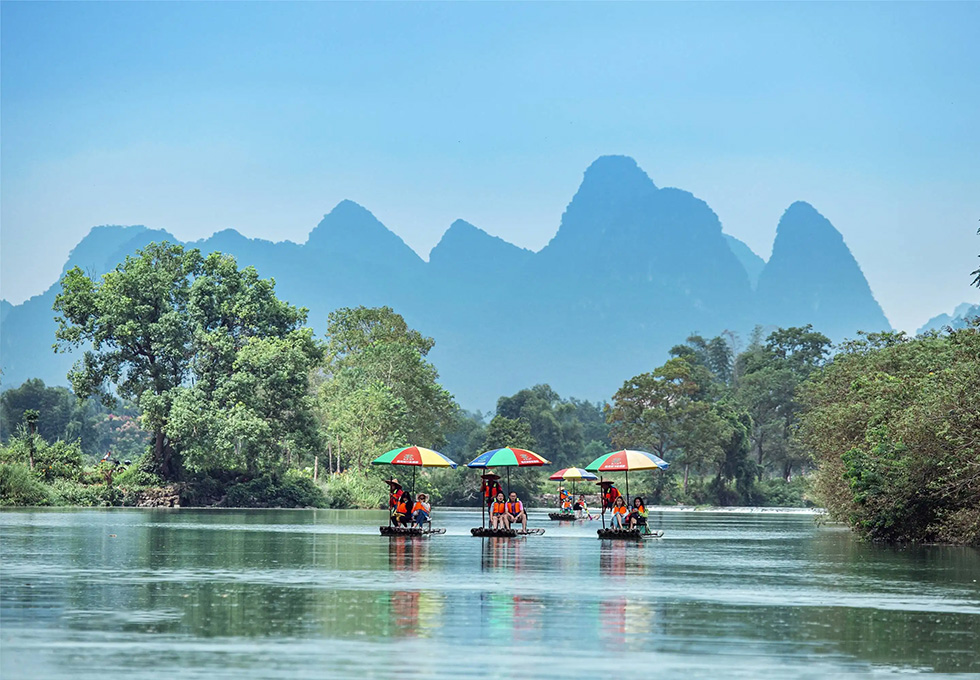 Yulong River Rafting
There are many different ways to travel in Yangshuo, by combining various trips to make up your Yangshuo itinerary. You can cycle and explore the beautiful Li River or the Yulong River, as well as the rural scenery and ancient architecture; you can raft on the Li River or the Yulong River; you can hike and walk along the Li River for hours or even days; you can enjoy the rock climb and there are hundreds of routes of various difficulties in Yangshuo that you can do for half a day or even months; you can also learn to play Tai Chi or learn to cook in Yangshuo learn to cook, take a helicopter ride overlooking the karst landscapes of Yangshuo, and much more.
Sanitation in Yangshuo
If you have some physical injury accident during your trip to Yangshuo, there are several hospitals you can visit in an emergency. Medical resources in Yangshuo are limited, so in serious or complicated cases, patients can be sent directly to Guilin for treatment; if you have medical insurance and international assistance is available, patients can be sent directly to Hong Kong for treatment.
Yangshuo People's Hospital/阳朔县人民医院: No.21, Chengzhong Road, Yangshuo Town, Yangshuo County
Yangshuo Maternal and Child Health Centre/阳朔县妇幼保健院: No. 227, Pan Tao Road, Yangshuo Town, Yangshuo County
Yangshuo Health Centre/阳朔镇卫生院: No. 8, Fengming Southwest Road, Yangshuo Town, Yangshuo County
Interesting and helpful FAQs on Yangshuo Travel
1. What is Yangshuo known for?
Yangshuo is known for its Global Village, West Street, Countryside, Li River, Rock Climbing, Impression of Sister Liusanjie Beer Fish, etc.
2. Which province is Yangshuo?
Yangshuo is a famous tourist town in Guilin, Guangxi Province.
3. How do you get to Yangshuo China?
You can get to Yangshuo by air or train from other cities; there is no airport in Yangshuo but in Guilin and there is a train station in Xingping Town that is about 40 minutes drive from West Street.
4. What are the Yangshuo Mountains?
The most famous mountain in Yangshuo is Xianggong Mountain where you can have an overview of the partial Li River and the hills, others like Shutong hill, Ruyi Peaks, Laozhai Shan Hill in Xingping where you can enjoy a sunset of the Li River and the hills, Damian Shan Hill in Xingping where you can enjoy the sunrise, etc.
5. Is Yangshuo in Gulin?
Yes, exactly, Yangshuo is small town that is about 60km from Guilin and within 1-hour drive.
6. Is Yangshuo worth visiting?
Sure, Yangshuo is worth visiting! It is recognized that Yangshuo owns the best sight. There are lots of activities you can't miss in Yangshuo such as biking in countryside, Yulong river rafting, rock climbing, West Street exploring, etc.
7. Is it better to stay in Guilin or Yangshuo?
It is better to stay 1 night in Guilin, and take a 4 hours morning cruise to Yangshuo, then stay overnight 1 to 5 nights in Yangshuo. Stay overnight in Longsheng Terraced Fields can be another option.

You may be interested in the following experiences that can add to your Guilin tour: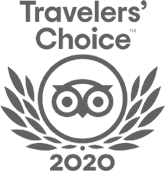 FABULOUS TOUR COMPANY
CHINA OCTOBER - NOVEMBER 2019 We researched several companies and studied reviews on Trip Adviser before contacting who did a very China Culture Tour with an initial query. Right from the outset Grace who owns the company was excellent. She emailed detailed with pictures information and a suggested…read more details
Karen from US
Ready to Create a Unique Dream Travel?