Li River, Guilin
Name: Li River/漓江/lí jiāng
Main area: between Guilin and Yangshuo
Length: 83Km
Open hours: 09:00-17:00
Tour time: 1 Hour - Days
Best time to visit: April-October
What to do: Li River cruise from Guilin to Yangshuo, Xingping Li River Cruise, Bamboo Rafting in Yangshuo/Xingping, Li River Hiking, Cormorant Fishing, Impression Liu Sanjie, Photography, Overview by Helicopter, Paddle Boarding,etc.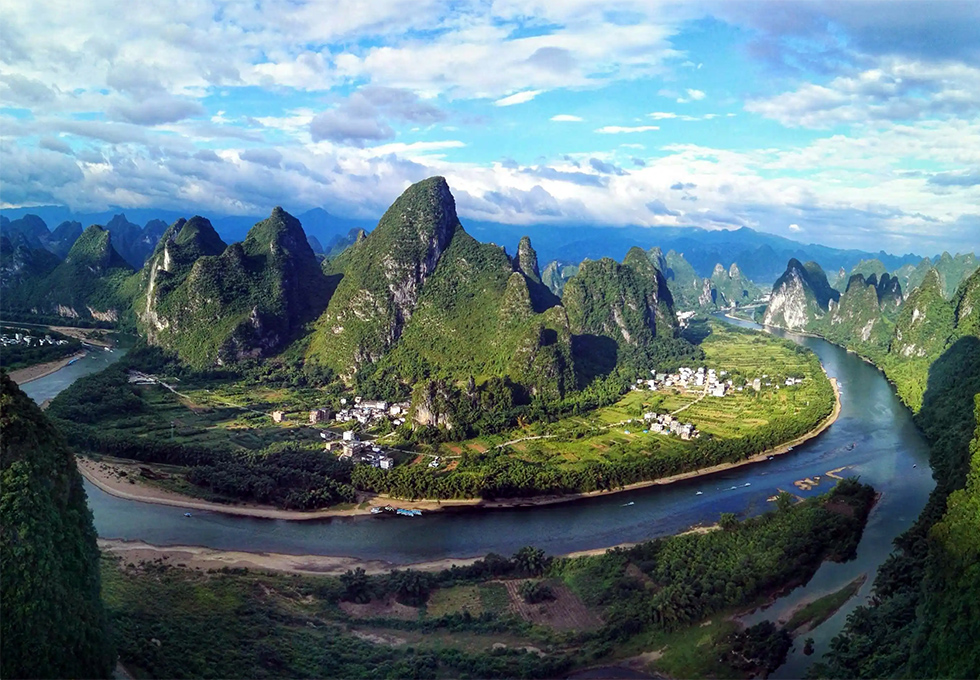 Li River Overview on the Xianggong Mt., Guilin
The Li River (Lijiang) is a beautiful river in Guilin. With limestone karst hills standing erect alongside the river, it is one of China's most famed scenic areas. Spanning 437 kilometers, the source of the river is the Mao'er Mountains in Xing'an County and flows through Guilin and Yangshuo to the Pearl River in Wuzhou City, east of Guangxi. Li River refers to the section that runs from Guilin to Yangshuo which is 83 kilometers long where you can see the same view displayed on the 20 Yuan Chinese note. Li River has been depicted in countless literature, painting, and photographing. In May 2007, it was ranked by National Tourism Administration as the AAAAA (highest ranking) scenic spot.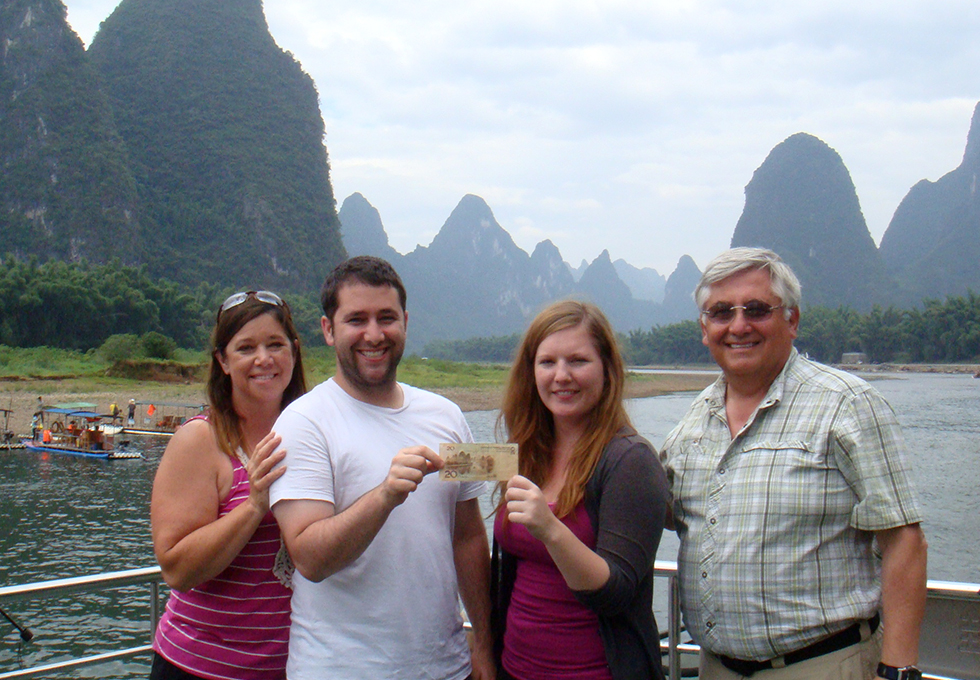 Li River Overview on the Xianggong Mt., Guilin
The section between Guilin and Yangshuo is considered quintessential for the Li River. Almost all tourists to Guilin would take a cruise to fully enjoy the scene. You can watch cormorant fishing along the way. Winding around the stiff hills that thrust straight out of the open plain, some in clusters, while some in solitary loftiness, the 83-kilometer Li River scenic area can be divided into 3 sections. The division is according to the distinctive scenery along the riverbanks.
They are as followed:
(1) Section one: Guilin to Huangniu Gorge;
(2) Section two: Huangniu Valley to Shuiluo Village; and
(3) Section three: Shuiluo Village to Yangshuo County.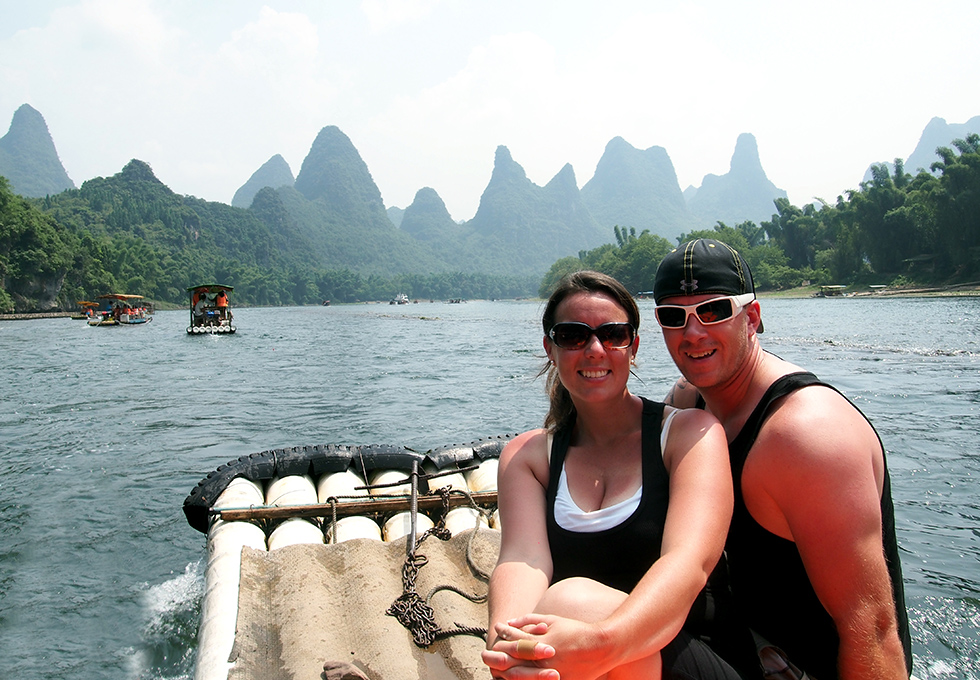 Bamboo Rafting on Li River, Guilin
Section one features peaks, fields, and villages that are man-made. In the second section, you can see a large number of green and peculiar-looking peaks. The Images of Nine Horses on the Mountain is an unusual natural spectacle that was formed on the hillside. When Premier Zhou Enlai took a cruise to Li River, he counted the horses repeatedly and finally got the number right: 9 horses. Tourists getting close to the Nine Horses Hillside cannot help but count the horses, but only a few can count them right. In addition, in this section, you can see the charming landscape of Xingpin Ancient Town where you can match the scenery to that on the 20 Yuan paper note. Section three features a rural landscape with green mountains, bamboo forests, small houses, orchards, and so on. You can see farmers working in the farmland and buffalos drinking water riverside.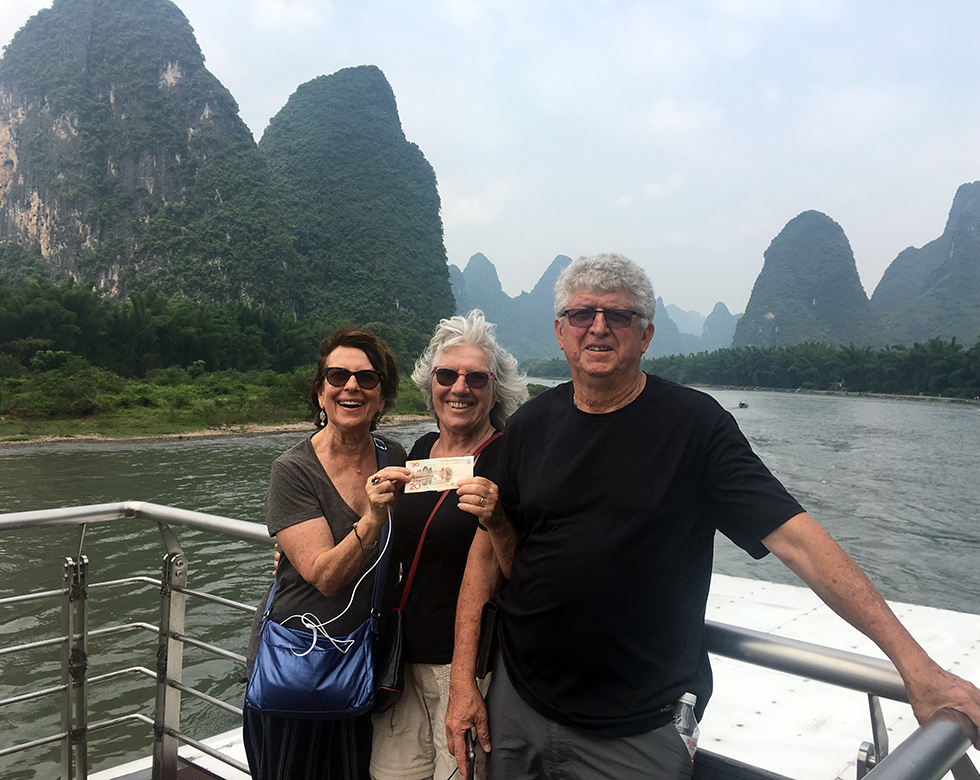 4 Hours Li River Cruise from Guilin to Yangshuo
The best part of the Li River tour is no matter which season you go to visit it, it has gorgeous scenery. On a clear sunny day, what's near and what's in the distance are all clear. They catch your eyes in a way that you can't help but enjoy all of them at once. Additionally, this view is reflected in the clear water. On a rainy day, clouds hang over the hilltops and mist hovers over the hillsides, which is partly hidden and partly visible, making you feel like you are in a fairytale. At night, are washed by the river and the sky. A breeze usually surges the small waves. Everything is so clean and quiet that you have nothing more to ask or require and your mind is silent.
Generally, you will be intoxicated by the picturesque frame of the Li River. There's no other river like Li River that will enamor you in that way. You will certainly fall in love.
What to do on a day trip?
What experience would enrich my Guilin trip?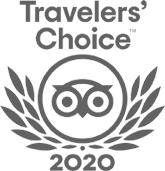 FABULOUS TOUR COMPANY
CHINA OCTOBER - NOVEMBER 2019 We researched several companies and studied reviews on Trip Adviser before contacting who did a very China Culture Tour with an initial query. Right from the outset Grace who owns the company was excellent. She emailed detailed with pictures information and a suggested…read more details
Karen from US
Ready to Create a Unique Dream Travel?