Cultural activities, what to experience in Yangshuo
In addition to the beautiful landscape, cultural activities are an essential part of a trip to Yangshuo, such as cooking, painting, Tai Chi learning, and farming families visiting and farming life experience. Top attractions in Yangshuo, Cultural activities in Guilin and Cultural activities in Longsheng or Sanjiang activities for your trip plan.
Calligraphy Learning
Type: Cultural Immersion/ Art & Architecture
Duration: 40 –50 minutes
Location: Yangshuo
It is rather common to spot Chinese calligraphy writing adorning the walls of shops, offices, and residences in China. In different stages of Chinese history, and for different calligraphers, the styles of calligraphy writings are different. However, fine calligraphy writing enables people to appreciate the delicate aesthetics of each line and stroke.
In Yangshuo, on West Street, meet a calligraphy master and learn about the history of calligraphy as well as study this fine art. Your instructor will teach you the correct way of holding a Chinese calligraphy brush, how to control your strength, some basic techniques for writing Chinese characters, and the meaning of each word you write.
Chinese Fan Painting
Type: Cultural Immersion/ Art & Architecture
Duration: 1-2 hours
Location: Fuli Ancient Town
Half an hour's drive from Yangshuo West Street, an ancient town with 1,000 years of history settles near the river bank of Li River. Fuli Ancient Town is famous for Chinese scroll paintings and Chinese fans. There are many types of fans in China, such as silk fans, feather fans, and folding fans. The most common type of fan is a folding fan which consists of a fan leaf, and monture (fan ribs, guard, sticks, head, and rivet). The fan leaf is usually made of paper or satin, while the monture is made from bamboo, wood, or ivory. There is one unique Chinese folding fan called a sandalwood fan, in which the ribs are wider and connected with silk thread forming the fan leaf itself with hollow designs on it.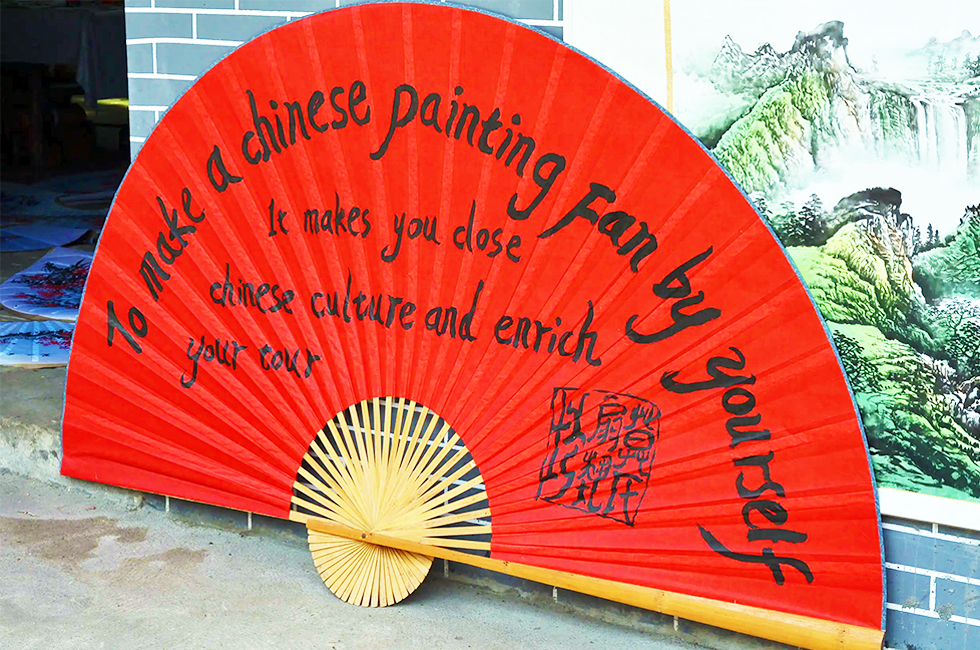 In this journey, we will stop at a fan painting workshop to observe how paper leaf folding fans are made and to join in a fan painting lesson with the craftsman. Understanding the process of fan making and the different materials used before the painting lesson is definitely educational and eye-opening. Then, your teacher will show you the techniques of painting. Normally paintings on the fans are typical Chinese landscapes, flora, and fauna. Bring home your own work as a souvenir of this meaningful trip.
Cooking in Yangshuo
Type: Cultural Immersion/ Food
Duration: 4 hours
Each province in China has its own culinary style and even within the province itself, there is a slight variation. In northern Guangxi, with cities such as Guilin and Liuzhou, most dishes comprise of thick color and a heavy and spicy taste.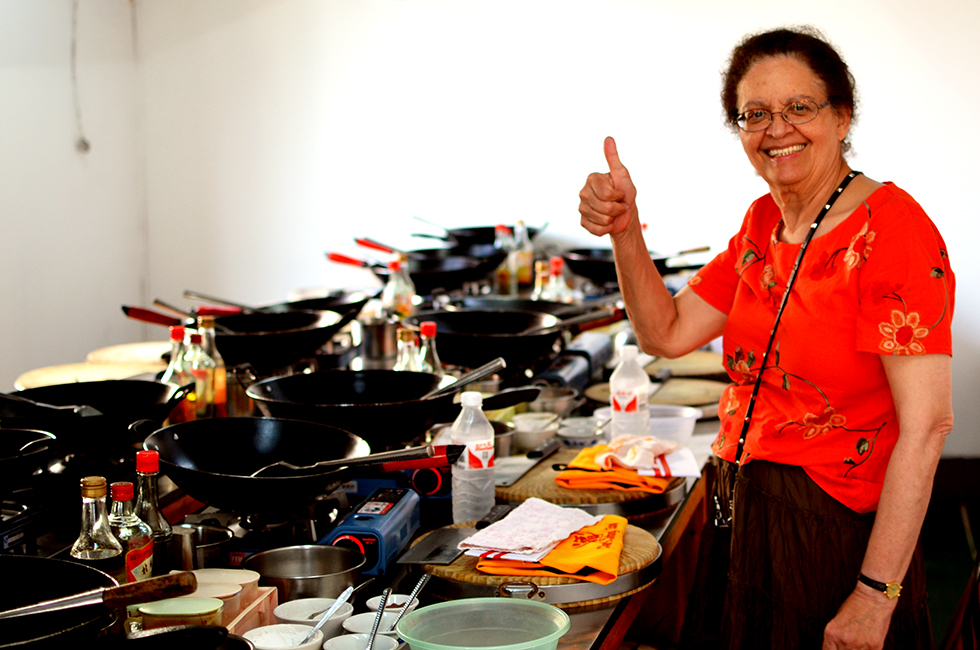 Cooking in Yangshuo
In this 4-hour session, you will have the opportunity to learn how to prepare three local dishes with a professional chef in Yangshuo. Beer fish, chicken with cashew nuts, steamed stuffed vegetables, and egg dumplings are some of the classic Guilin dishes. Follow your instructor to get your ingredients for the dishes from a nearby wet market. Identify some seasonal vegetables together with your guide and know how to use them in different dishes. Return to the kitchen and learn the secrets of preparing authentic local food. You will also learn to use chopsticks, chop raw materials in a Chinese fashion, do some simple wok works, and prepare sauces. At the end of this course, enjoy your Chinese gastronomies and have the chance to wow your friends back home, since recipes for the dishes will be given to you.
Countryside Living
Type: Cultural Immersion/ Nature & Wildlife/ Food
Duration: 2-3 hours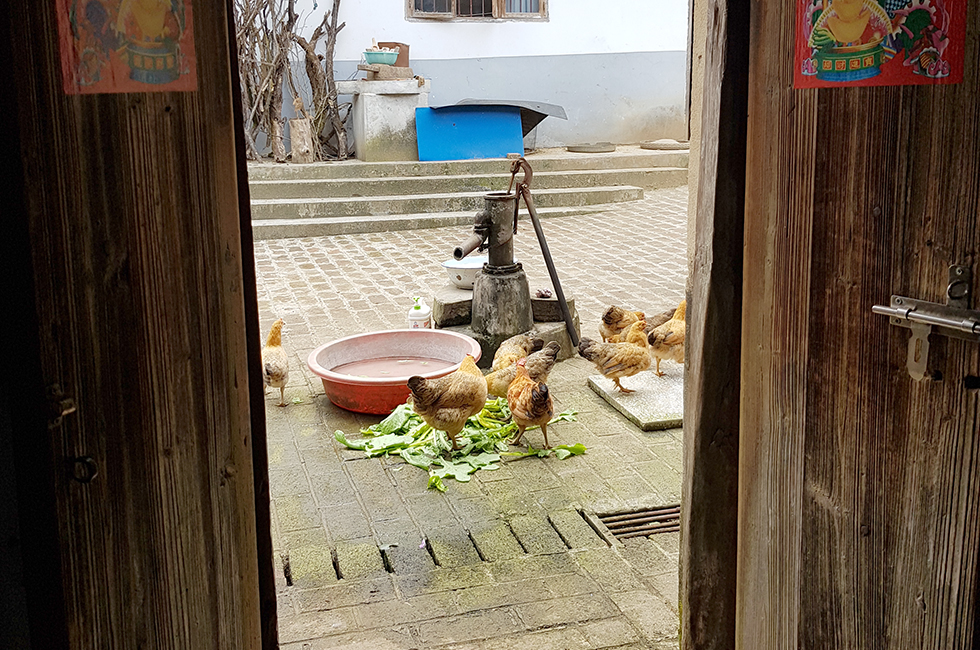 Life Experience in a local family
Guilin is said to be the most beautiful place below heaven, and on this journey, we will be going to the next most beautiful place, Yangshuo. Its natural wonders are fascinating as well. In a village tucked away in the lush countryside, half an hour from Yangshuo Town, you will have the chance to experience countryside living. There is a range of hands-on activities, such as plowing, transplant seedlings, harvesting, picking vegetables, cooking authentic dishes, traditional tofu making, Chinese Mugwort sticky rice cake making, and preparing Chinese baked sweet potato.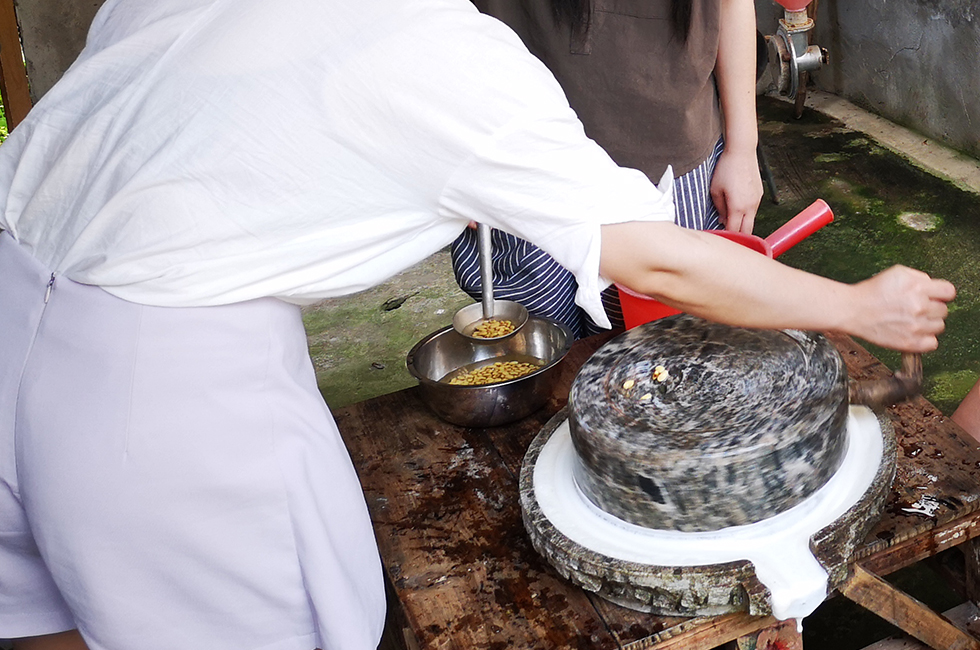 Soy Milk
The most popular package of experience is the combination of tofu making, Chinese Mugwort rice cake making, and farm work. Please indicate the activities you are interested in while planning your itinerary with our advisers. Take note that, most activities are seasonal so consult our advisors for more information.
Cycling in Yangshuo
Type: Cultural Immersion/Relaxation / Nature & Wildlife
Duration: 2-3 hours
Explore charming Yangshuo countryside from the town area to Moon Hill on a hired bike (or an electric bike if you want to save energy). Hire a bike from one of the many bicycle hire points in town, and head towards Yulong River to take in the breathtaking views and stunning scenery. (You will cycle along Yulong River, pass by some villages, into the Ten Mile Gallery scenic area, towards Moon Hill, and then back to Yangshuo.) Your private guide will introduce you to some of the interesting things on this journey. If you are a Star Wars fan, you may find those karst peaks along the way on the backdrop familiar, which set the scene for a planet in the movie. In Revenge of Sith, Kashyyyk, a planet that was classified by the empire as G5-623, was a washer tree-covered forest planet with Wookiee species living on it. On the way, see lumbering water buffalo plowing on the field or cooling off in the river, fishermen and their cormorants gliding on narrow bamboo rafts. Meet friendly people here, interact with them and if you have sufficient time, pay a visit to one of the local's houses. A relaxing experience for people of all ages.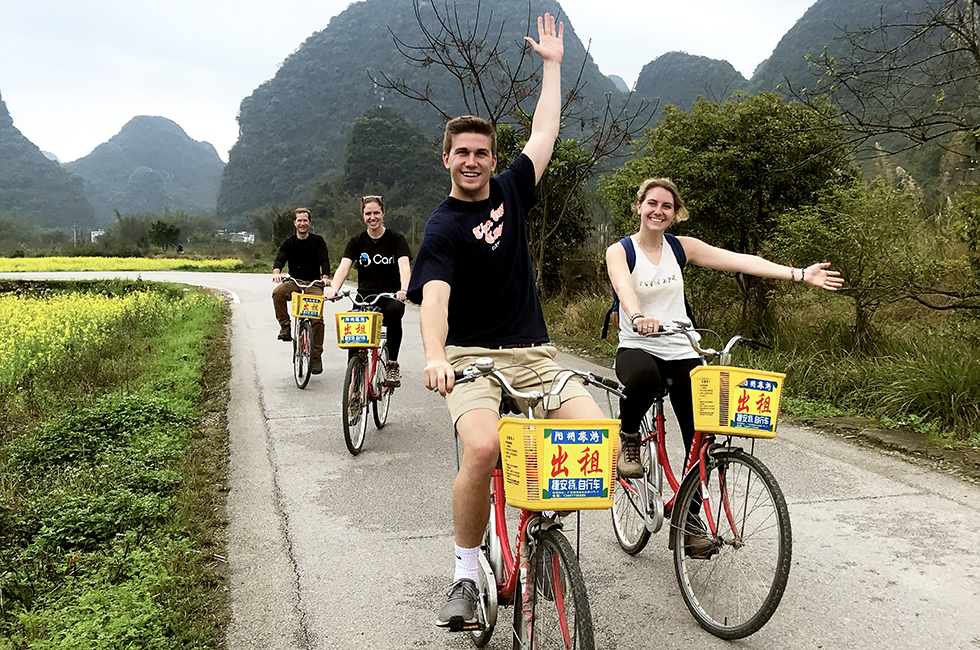 Besides, Yangshuo is the most popular rock climbing destination in China, whether you are a total beginner or a seasoned master, there is always a suitable venue for you. Ziptreck, rappelling, and team bonding activities for students are also available. Sightseeing on helicopter flying over Li River, Yulong River, Xinping, and Fuli Ancient Town is also offered. So, if you want an adventure up the cliff of those karst hills or an air overlook for stunning scenery of the karst landscape, Li River, and Yangshuo countryside, feel free to contact us for more information about the helicopter and rock climbing tour in Yangshuo.
Impression Liu Sanjie
Starting Time: 20:00 and 21:35 (summer); 19:30 and 21:05 (winter)
Duration: 70 minutes
Address: China Lijiang Shanshui Theatre, No. 1 Tianyuan Lu, Yangshuo County, Guilin, Guangxi Province
If you are going to stay overnight in Yangshuo, watching the show Impression Liu Sanjie can be a wonderful choice for you to spend the night with your family and friends. China Lijiang Shanshui Theatre is a 20-minute walk distance from West Street. A combination of human and nature, the show Impression Liu Sanjie is the first large-scale landscape performance in China before the other 'Impression' series in other cities of China. The stage sets on the Li River surrounded by karst hills illuminated with colorful lights.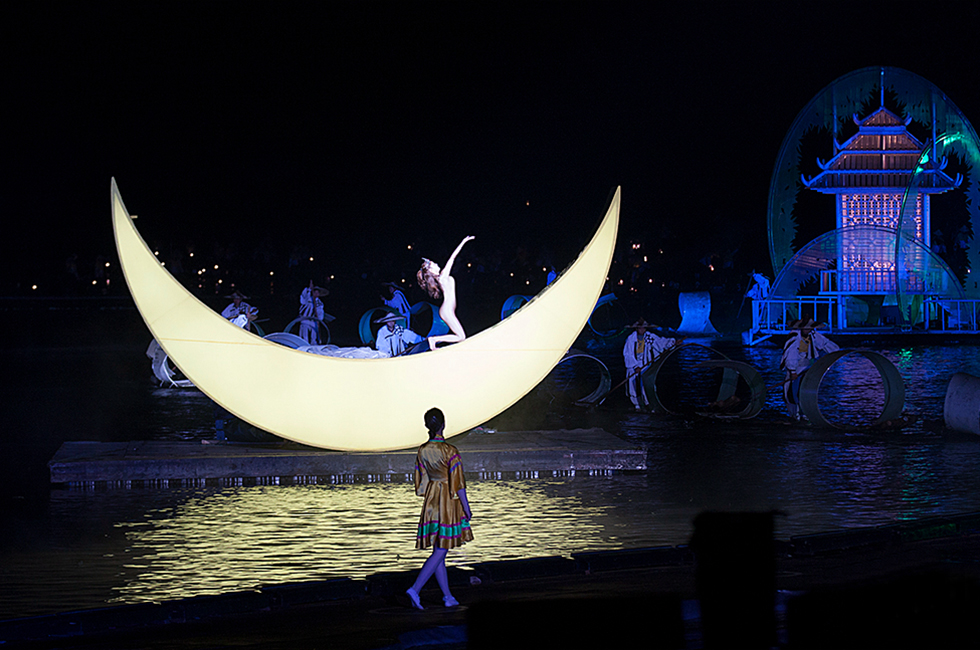 This show is based on the legend of Liu Sanjie who is a master of singing folk songs in Guangxi Province. Fishing lights glimmer and folk songs echo among the hills, this performance shows the hard work of people, their respect towards nature, and the splendid local customs and festival atmosphere. Although there is no connection between the storyline of each plot, the whole performance showcases the cultural essence of the Zhuang, Yao, Miao, and Dong ethnic minorities living in Guangxi. A combination of local folk songs, beautiful ethnic costumes, vibrant lighting, and natural beauty brings you into a Chinese scroll painting. Please take note that there are no subtitles for the performance, but on your way to the theatre, your tour guide will brief you through each storyline of the plot in the show.
Note: it will be crowded if you choose a car as your transportation, walking is the good choice.
Tai Chi or Kung Fu Learning
Type: Cultural Immersion/ Fitness & Health
Duration: 1 hour
Where: Yangshuo
Tai Chi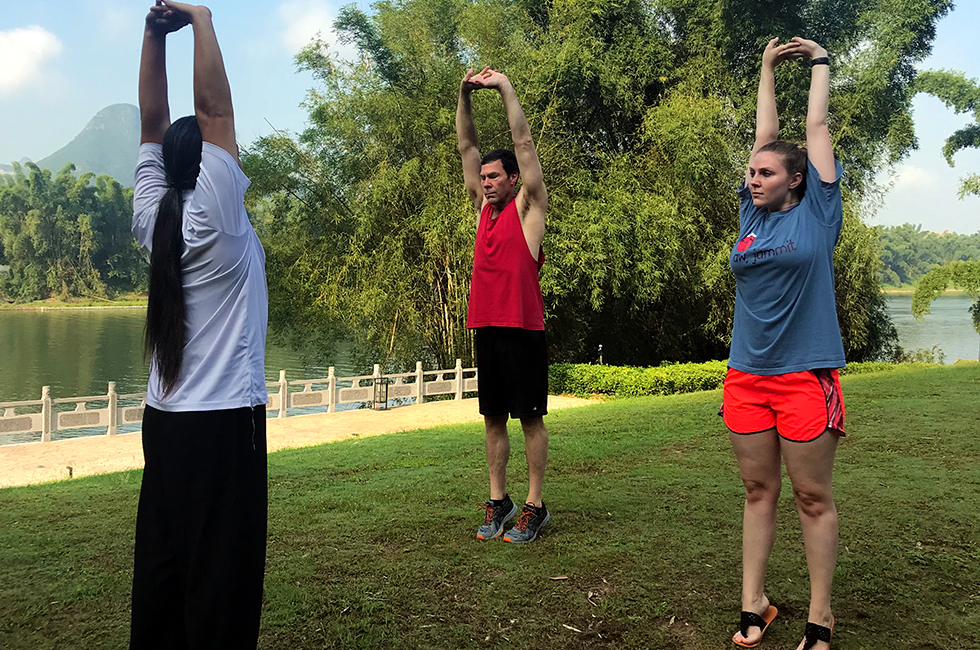 Tai Chi in Yangshuo
Feel the flow of air around you, listen to the sound of nature, and concentrate on your breath and movement while practicing Tai Chi, which enables you to find your inner peace. Every moment of Tai Chi embodies a fundamental concept in traditional Chinese culture and philosophy-Harmony. Tai Chi literally means 'great ultimate' which is a reference to the Yin and the Yang processes of dynamic balancing. Through studies, researchers found that practicing Tai Chi can improve one's overall wellness, be it mental or physical.
In Yangshuo, you will be led by a Tai Chi master who will teach some basic movements step by step, which can be practiced in your everyday life in the future.
Chinese Kung Fu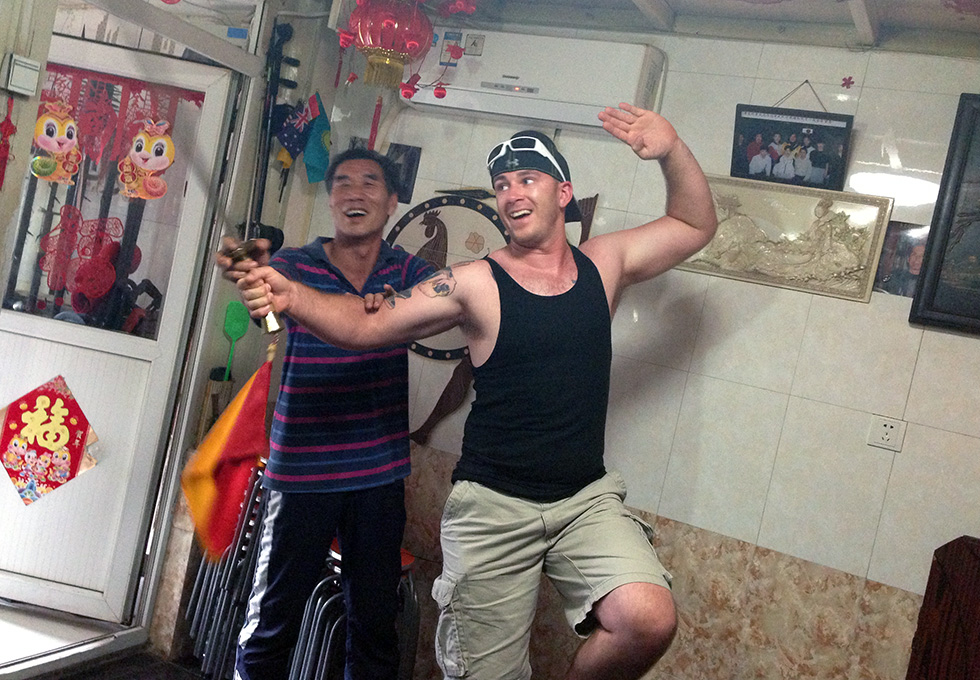 Kungfu Learning
Chinese Kung Fu is a self-defense martial art that utilizes both muscles and the brain and is practiced especially for self-defense, exercise, and spiritual growth. Those who have seen Chinese Kung Fu movies acted by Bruce Lee, Jet Le and Jackie Chan before would surely be impressed. With a long history and great popularity, Chinese Kung Fu means more than just a system of fighting techniques, it is a distinctive part of traditional Chinese culture.
In Yangshuo, besides Tai Chi, you can also choose to learn Chinese Kung Fu from a Kung Fu master.
Tea Leave Picking
Type: Cultural Immersion/ Nature & Wildlife
Duration: 2-3 hours
Where: Yangshuo
Chinese tea culture has a long history but it only got popular and reached its height in the Tang and Song dynasties.
In this journey, you will take a 30-minute drive from Yangshuo County to experience the tea culture and learn about the production of green tea. Qixianfeng Tea Plantation produces various types of green tea, such as Dragon Well green tea and Biluo Chun green tea. Compare to other types of tea, green tea is not fermented, and drinking green tea can help to reduce heart disease, improve brain function, and protect against cancer.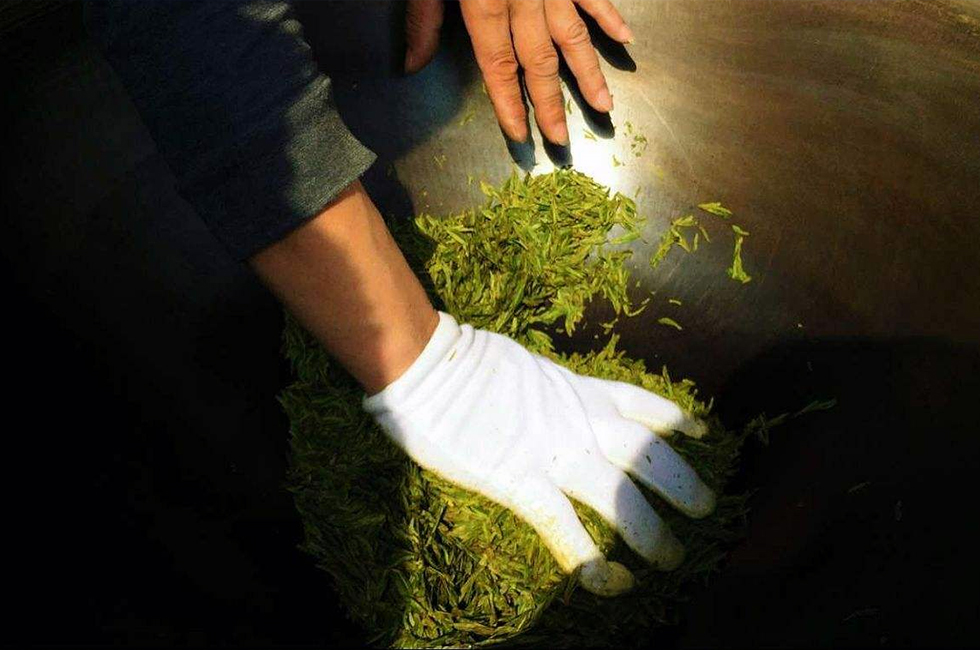 Tea Trip in Yangshuo
It is advised to pick tea leaves in the morning to avoid the scorching sun in the afternoon. See morning sunbeams pierce the clouds over the hills as you weave through waves of tea bushes and learn from a tea-picking expert how to pick tea leaves in the right way. Green tea lovers may want to spend a morning on this educational session. You will try your hand at drying the tea leaves and see the production of green tea. You may also have the opportunity to sample different types of green tea while appreciating the art of tea.
It is best to visit the tea plantation from April to October with May being the best month to pick tea leaves. When you are visiting the tea plantation, remember to bring insect repellent. For those who are going to Sanjiang County, tea leaf picking is also available there.
Traditional Chinese Tofu Making
Type: Cultural Immersion/ Food
Duration: 3 hours
Tofu is a popular food throughout almost all Asian countries. Experts believed that the production of tofu began even in the Han dynasty (206 B.C. – 220 A.D.) and was then introduced to the neighboring countries.
Making tofu is a continuation of making soy milk. (You can learn how to make soy milk from the host too.) Let the soy milk cools till near room temperature when you are able to get tofu skin on its surface. A coagulant is then added to curdle the soy milk before pressing the bean curd into a solid block. Finally, cut the tofu into smaller blocks.
While waiting for soy milk to curdle, you can join in other hands-on activities, such as bamboo rice making and Chinese Xiuqiu making so to utilize your time fully. Since making tofu needs about 3 hours, you can enjoy your lunch here with authentic dishes prepared from your self-made tofu and bamboo rice. If you are a tofu lover, it is definitely worth spending time here learning how to make tofu from scratch. Mouth-watering and ultimate tofu experience!
Cormorant Fishing
Name: Cormorant Fishing/鱼鹰捕鱼/yú yīng bǔ yú
Where: Guilin,Yangshuo or Xingping(More real)
Street Length: 2KM
Open hours: No time limited
Entrace fee: Depends
Tour time: 0.5 - 1 Hour
Best time to visit: April to October
Cormorants are large, long-necked, dark-colored birds that live near sea coasts and eat fish. They have a protruded pouch that holds fish, thus, it is used in Asia to catch fish. Cormorant fishing is a unique way of fishing in south China, particularly along the Li River. This way of fishing has been used for more than a thousand years. After being trained by fishers, the birds can fish better at night than daytime.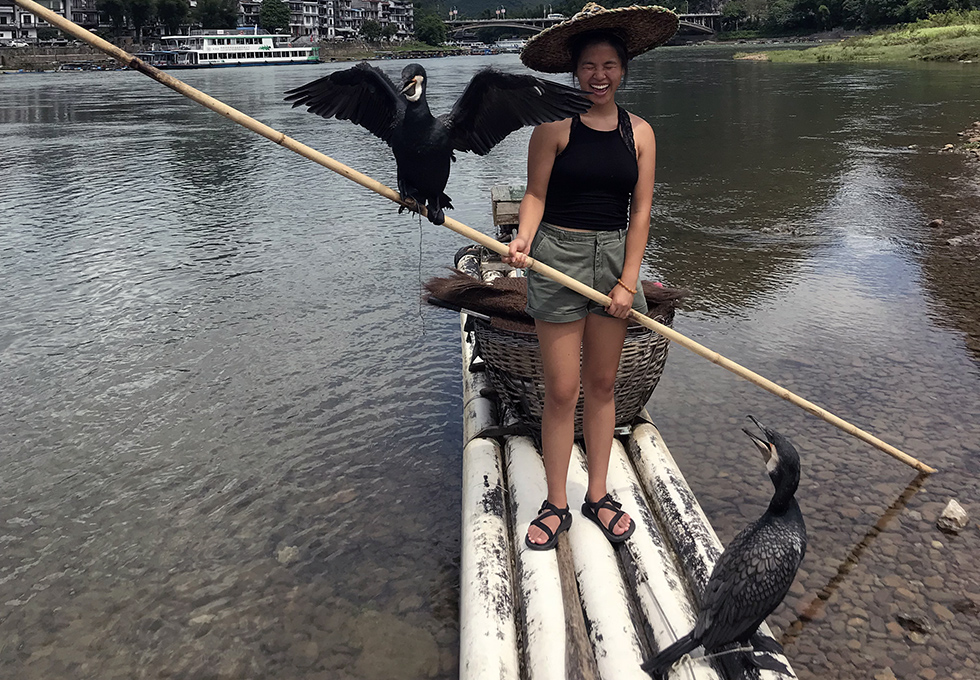 Cormorant Fishing
While touring at night, people can often see lights on bamboo rafts on the Li River. It is the fisher using cormorants to fish. The fisher ties the cormorant's neck loosely allowing it to only swallow small fish but not big fish. When the cormorant catches a fish, the fish is caught in the throat. The cormorant will return to the fishers' bamboo raft to remove the fish from its throat. Each time the cormorant catches a fish, the fisher will feed the cormorant some small fish to award them. Then, the fisher will put the cormorants back in the water to continue fishing.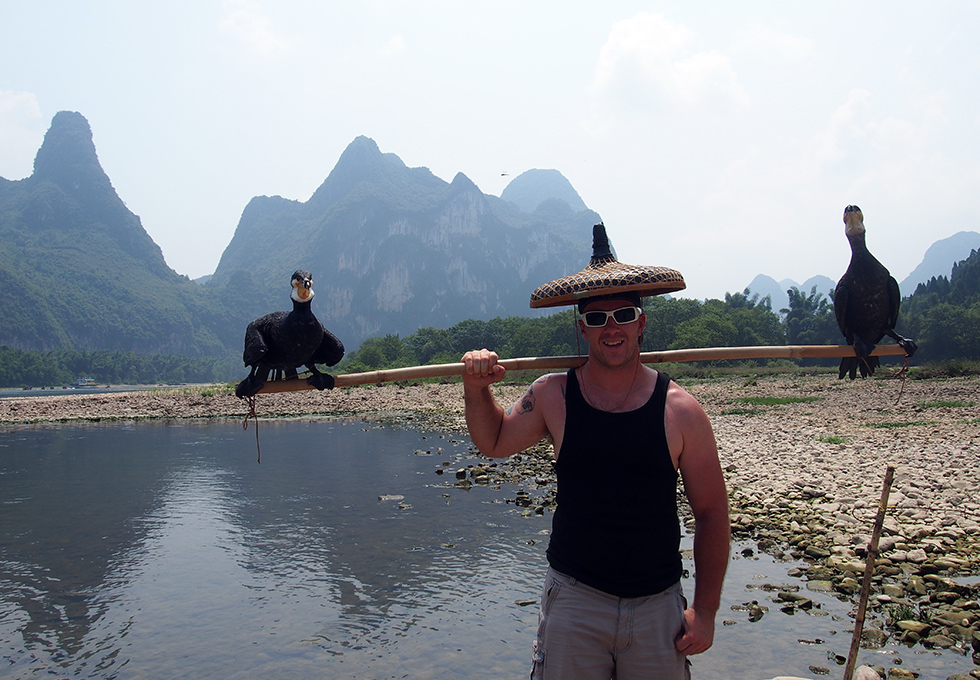 Cormorant Fishing
You are welcome to take a bamboo raft to see cormorant fishing at night, which is an interesting but normal activity in Yangshuo County or Xingping Ancient Town. The fishers row slowly on a bamboo raft with several well-trained cormorants. You will be delighted to watch the process of traditional fishing.
Xiuqiu Making
Type: Cultural Immersion/ Art & Architecture
Duration: 1-2 hours
Where: Yangshuo
In Guangxi province, it's an old tradition that if a girl was in seek of a lifelong partner, she would toss a Xiuqiu to the boy she loves, and the boy who caught it, would become her fiancé. Eventually, in Guangxi Province, Xiuqiu becomes a symbol of love. Though this tradition is no longer practiced today, Xiuqiu tossing becomes a traditional game in some parts of Guangxi Province to mark the blooming or harvesting season in a festival. Xiuqiu is made of colorful embroidery, mainly in red, yellow, and green, which means good luck, good fortune, and auspicious. In Ping'an Village, you will learn how to make Xiuqiu from a seasoned local. Make a unique Xiuqiu of your own and give it to your loved one for good wishes. Simple ethnic style embroidery class is also available here.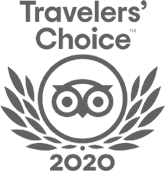 FABULOUS TOUR COMPANY
CHINA OCTOBER - NOVEMBER 2019 We researched several companies and studied reviews on Trip Adviser before contacting who did a very China Culture Tour with an initial query. Right from the outset Grace who owns the company was excellent. She emailed detailed with pictures information and a suggested…read more details
Karen from US
Ready to Create a Unique Dream Travel?