Cultural activities, what to experience in Longsheng
Apart from visiting the amazing attractions in Longsheng such as the terraced rice fields and the Yao ethnic minority culture, we can also offer you some local cultural experiences such as making bamboo rice at a local family's home, learning traditional paper making techniques and outdoor activities such as farming with the locals or hiking the Longji terraces. Read experiences in Guilin and experiences in Yangshuo or Sanjiang
Bamboo Shoot Digging in Longsheng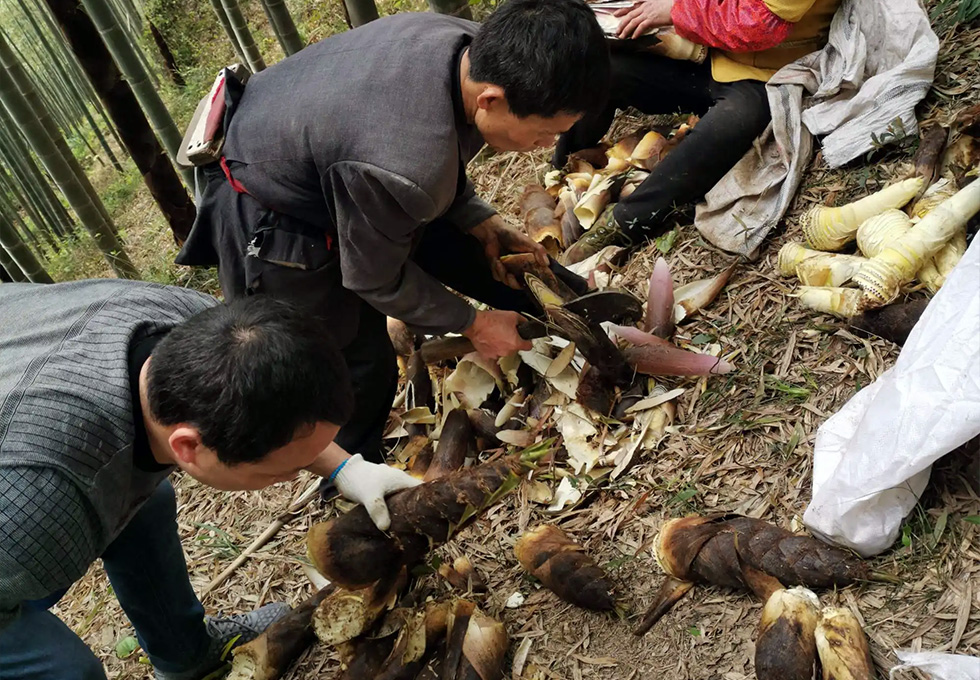 Bamboo Shoot Digging
In the past, many Chinese living in the southern part of China rely on bamboo forests, and nowadays, people who live deep in the mountain area are still bamboo shoot experts. There are many types of bamboo and they grow in different seasons. Winter bamboo shoot is hard to find on the surface as it hides in the earth, but experts can easily locate bamboo shoot by only observing the color of bamboo leaves.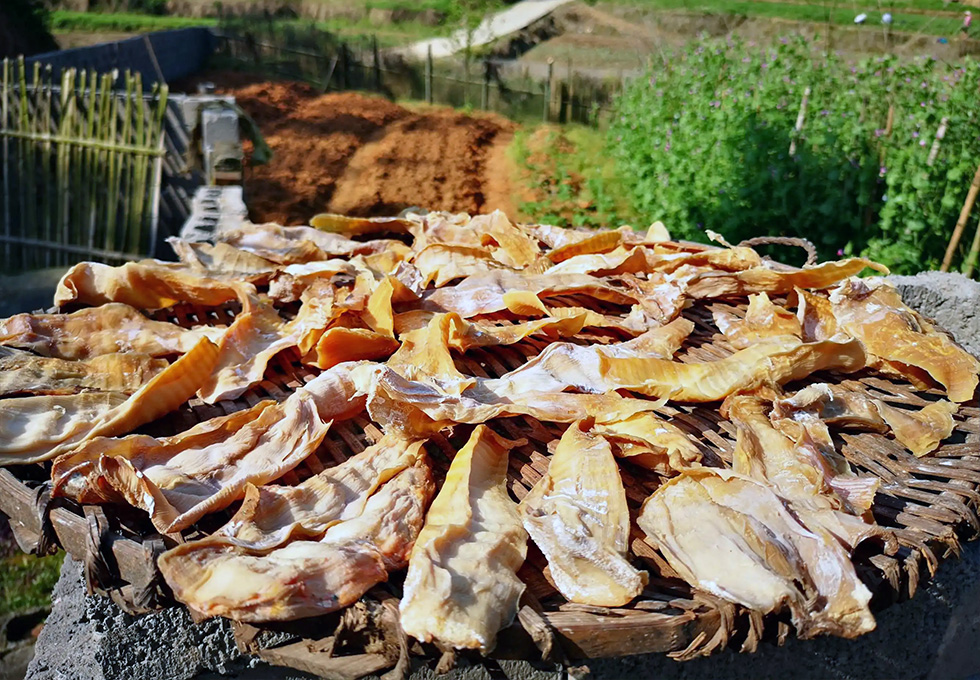 Dried Bamboo Shoots
Bamboo grooves in Longsheng mainly grow in winter and spring. Winter bamboo shoot is seasonal and hard to locate, thus, you are more likely to find sweet bamboo shoot in the forest as some can be seen on the surface. Follow a local living in the mountain area for generations and you may find some bamboo shoots in the forest if lucky enough.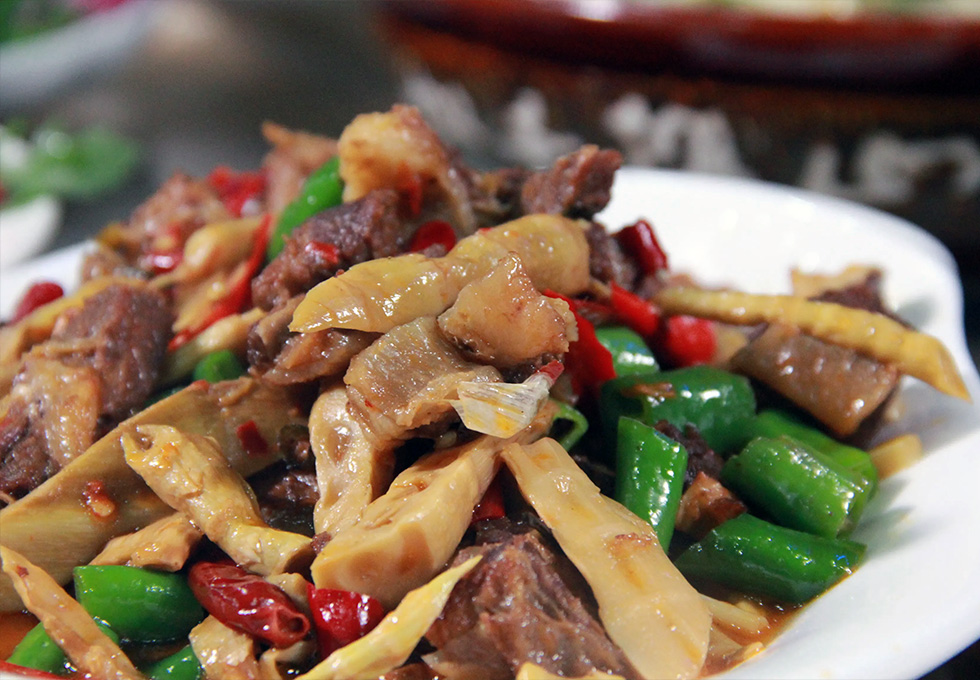 Bamboo Shoots Gourmet
Usually, sweet bamboo shoot, or spring bamboo shoot, grows in April. It is best to dig up the bamboo shoots within 20 days after breaking through the soil before they turn old and bitter. Digging along the subterranean stem and picking the shoots gently is necessary to prevent the roots from damaging. Bamboo shoots-related dishes are really popular in the southern part of China. Bamboo shoot is able to absorb the flavor of added garnishes and can help attain a flavor balance when being cooked with greasy meat. Though sweet bamboo shoot is not as tender as winter bamboo shoot, it is the main ingredient foring the sour bamboo shoot. Sour bamboo shoot is a traditional culinary in Guilin which is the main ingredient for Guilin rice noodles. On your way, also spot some edible wild plants such as Shepherd's Purse, Folium Perillae, and Chinese Mugwort.
Please take note that this journey is greatly affected by weather for safety reasons and the possibility of spotting bamboo shoots is uncertain. In such circumstances, we advise you to keep track of the weather forecast closely and consult our advisors for any concerns. But, overall if without a sudden change of weather, exploring the wild is another adventure to experience in your tour.
Down on the Farm in Longsheng or Yangshuo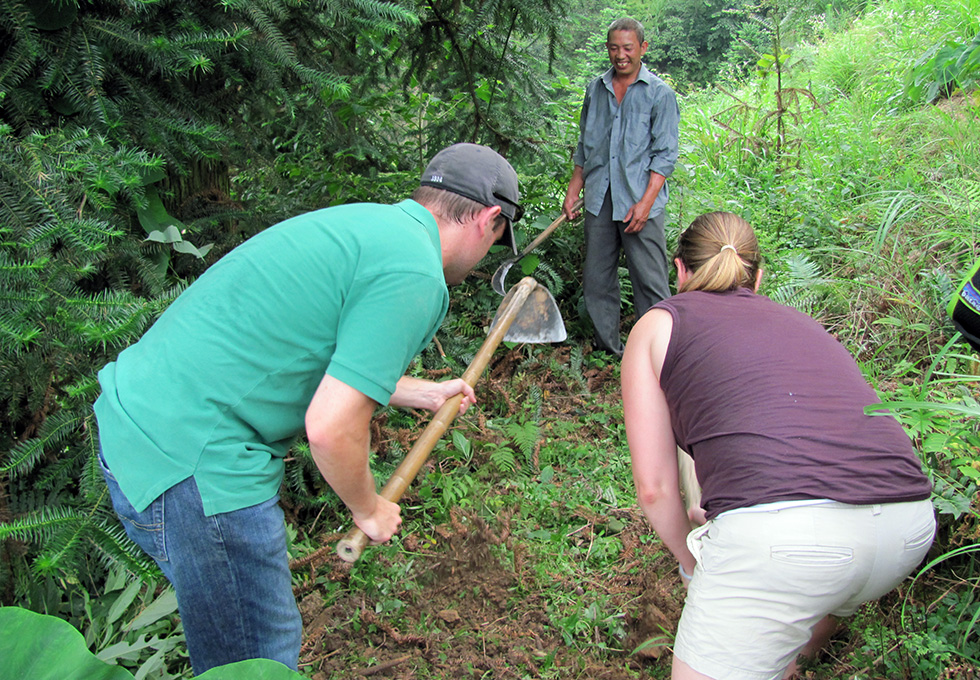 Farming in Longji Terraced Fields
Hike up the dragon's backbone, and follow a local here to her farm. From the peak, see rice terraces divide the mountain into multiple layers, and be amazed by this incredible feat of farm engineering. See layers of water sparkling in the sun in spring; hear lush green rice shoots whispering in the warm summer breeze; and feel the joy of people harvesting among layers of golden rice in fall.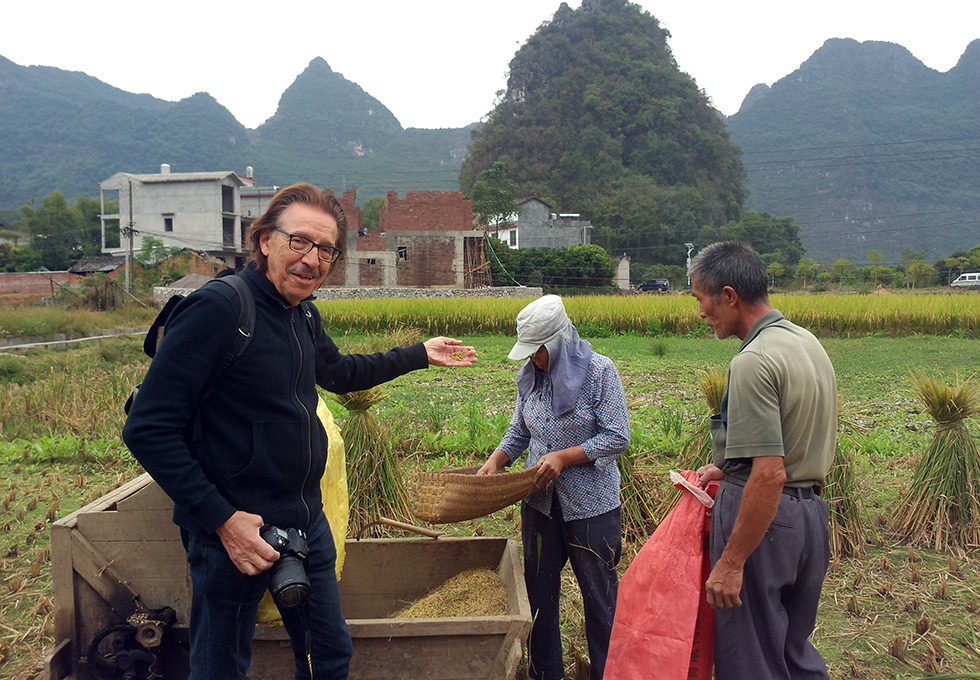 Farming in Yangshuo
In this journey, you will have the chance to experience plowing, transplant seedlings, harvesting, picking vegetables, and catching pond loach and fish. Activities will be arranged according to seasons, but always be prepared to get your hands and feet muddy on the field! (You may want to bring along insect repellent on this journey.)
Paper Making in Mahai Village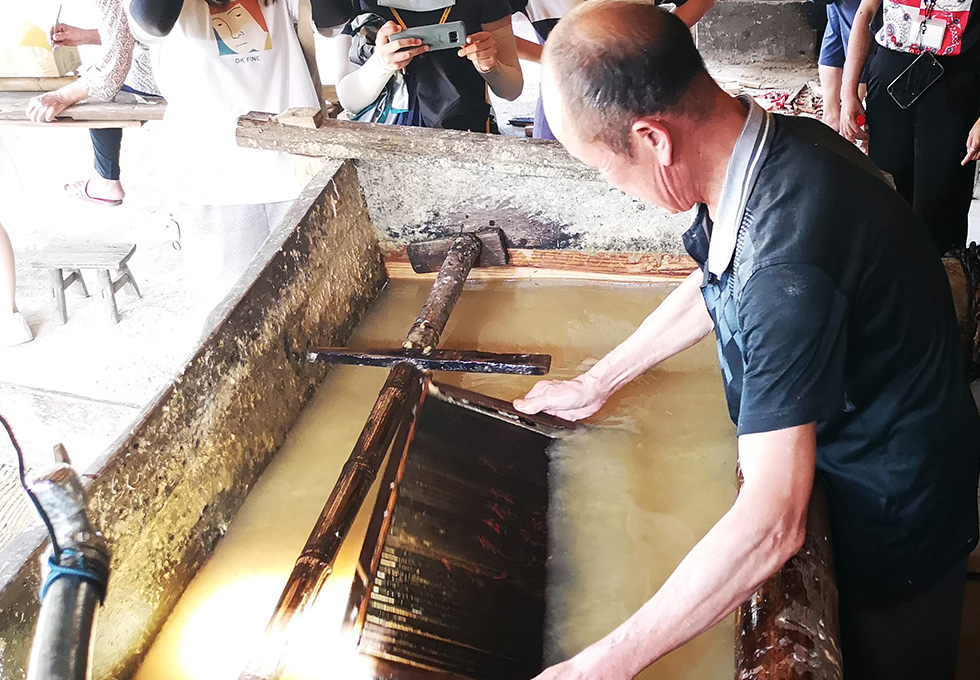 Making paper pulp
In a nearly untouched village hidden deep in forested mountains, we will participate in bamboo paper making and experience the rural life there. Meet the only paper-making craftsman in the village and partake in some important steps of making bamboo paper. Bamboo is a great fiber resource and the skill of making paper from bamboo has existed for hundreds of years. Originated during the mid-Tang dynasty, and reached its height during the Ming and Qing dynasties, bamboo paper is highly popular among scholars for Chinese calligraphy writing and Chinese painting.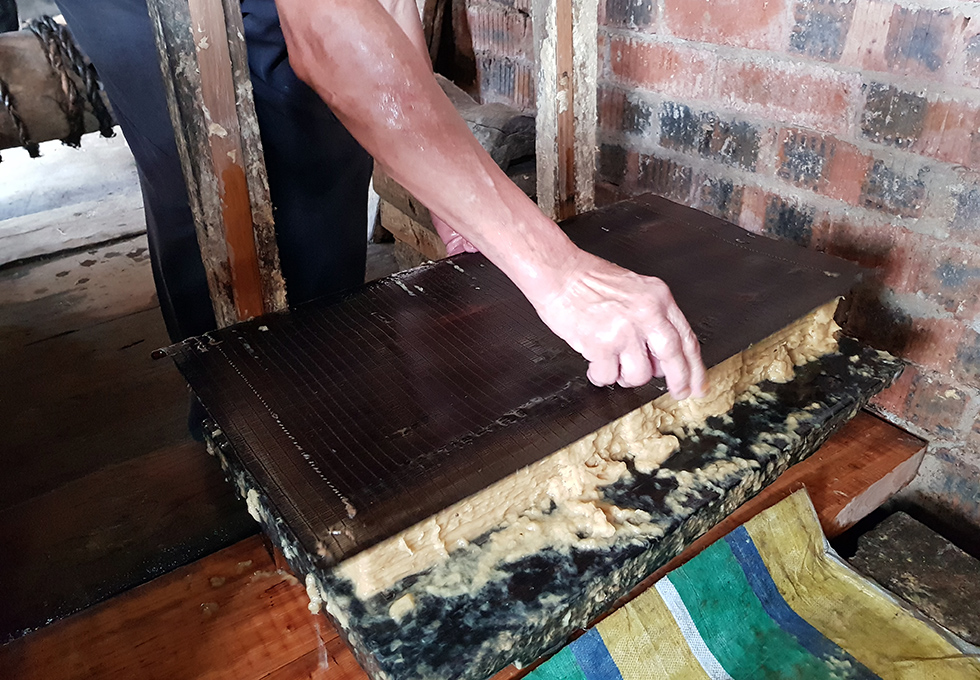 Pressed and drained
Making bamboo paper is a tedious and time-consuming task. A lot of steps, including a long fermentation period, are needed just to get bamboo fiber. Furthermore, the whole process from harvesting suitable bamboo to drying pieces of paper requires more than a hundred days. You can also learn to write Chinese calligraphy from a local on the second floor of paper making workshop.
Enjoy authentic dishes prepared by the villagers for lunch. There are other activities available in the village, including home visit, catching fish in rice paddy fields, picking monk fruits (from September to October) or passion fruits (around October and November), helping out the villagers on their farm works and finding some fresh bamboos in the woods to make bamboo rice. Tell us the activities you want to try out during this one day rural life experience.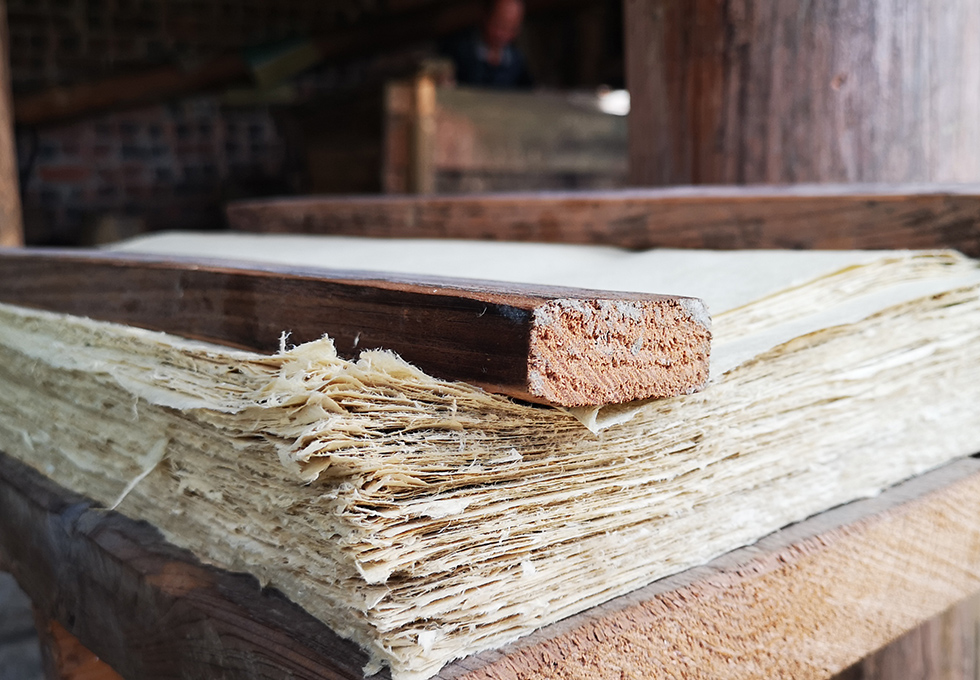 Paper well made
If you are interested in this cultural immersion experience at Mahai Village, it is important to avoid raining season due to the high possibility of landslide on the way.
Scented Bamboo Rice Making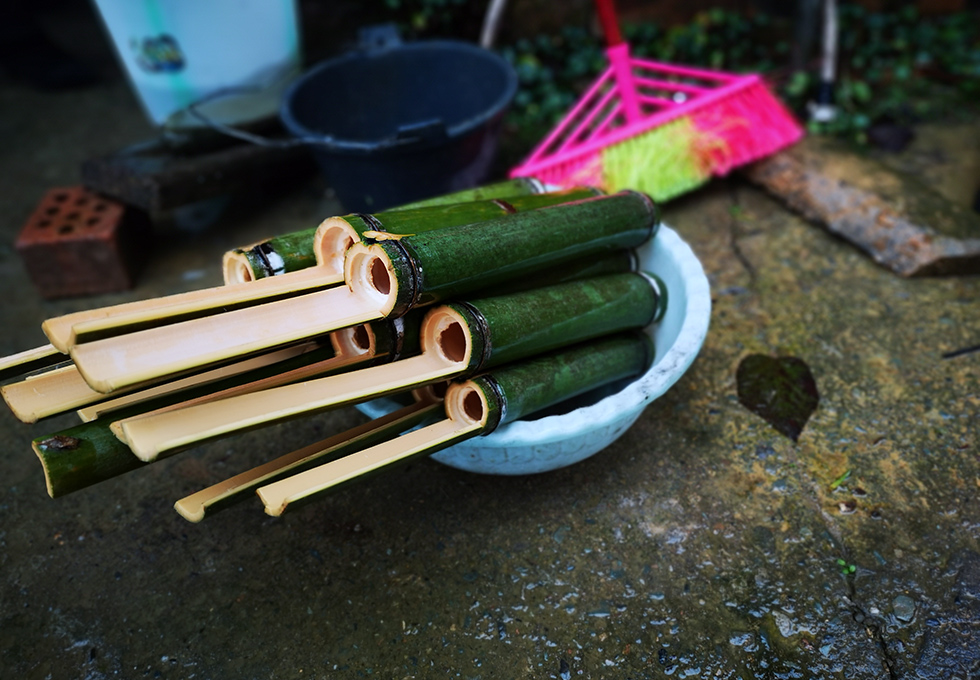 Freshly made bamboo tubes
Sticky rice or glutinous rice cooked in bamboo is a famous delicacy of ethnic groups in southwest China. In this journey, follow us up the Longji Terrance, visit a family in Ping'an Village living in a wooden stilt house, and learn how to make scented bamboo rice from them. Bamboo is an alternative to the expensive pot and pan generations ago. Its thick green layer of skin helps food retain moisture while protecting the food from direct flame. So, bamboo is essentially used as the pressure cooker.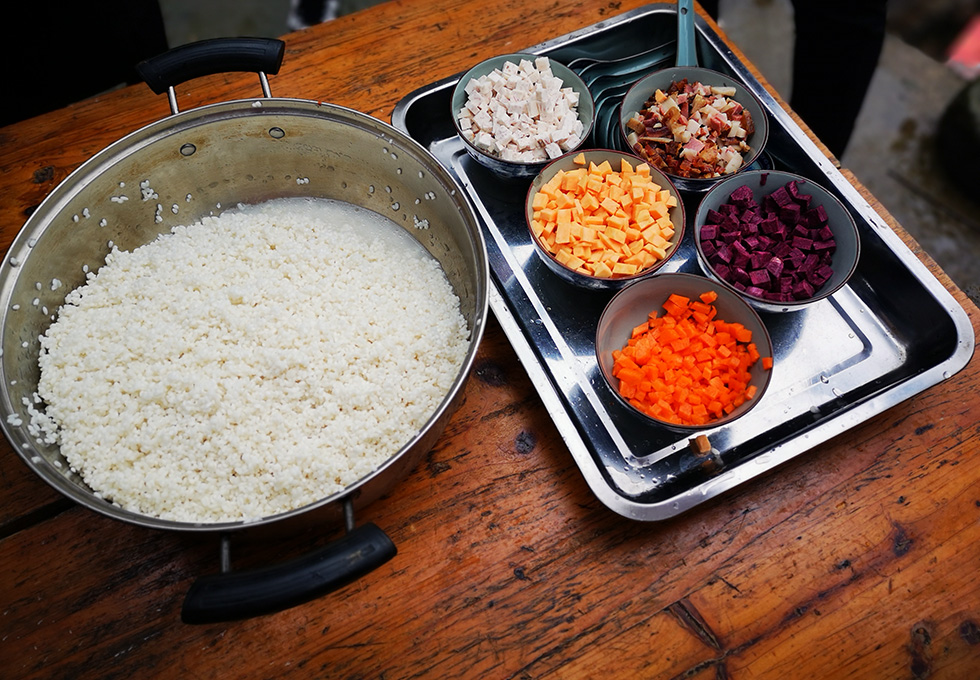 Bamboo Rice Making
To make bamboo rice, first of all, cut bamboo into sections, making sure each section is closed on both ends. Then, open one end, rinse it, and put in the appropriate amount of mixed ingredients and water. Normally, hollow bamboo is stuffed with mixed glutinous rice, sweet potato, carrot, Chinese bacon, sweet corn, and yam. After stuffing the bamboo to nearly 70 percent full, cap it with a corncob and place it directly on fire until its green hue slowly morphs to charcoal black. When grilling, it is necessary to rotate the bamboo tube continuously so that the rice is perfectly cooked without being burnt on one side and uncooked on the other side. When the bamboo tube is opened, you will find rice wrapped in a bamboo membrane. Serve it hot and feel the harmony between the fragrance of sticky rice and the fresh aroma of bamboo. Soft, delicious, hyperlocal, and visually interesting.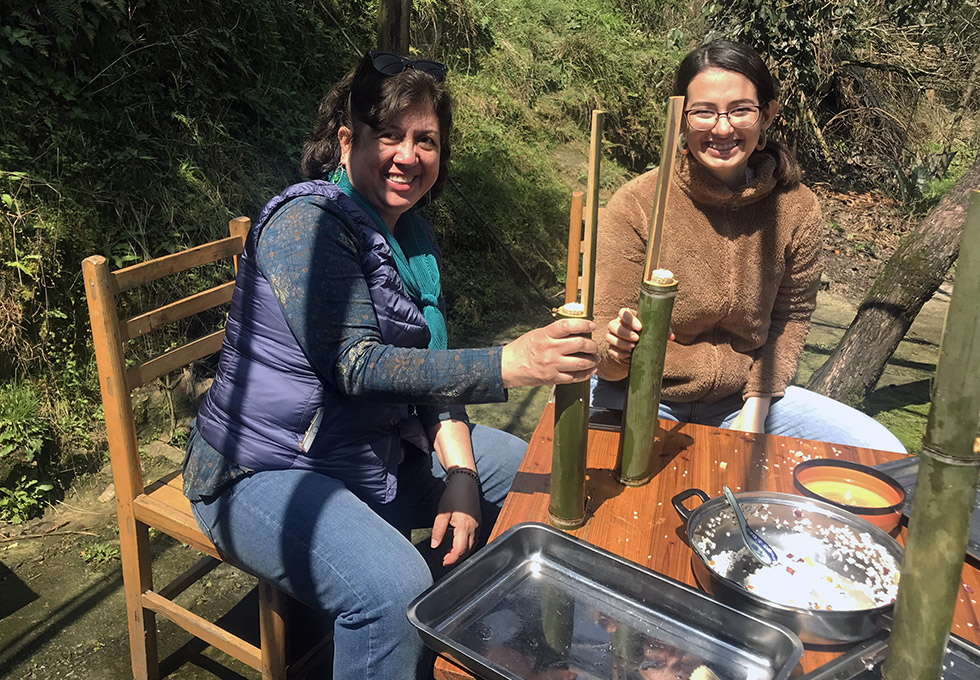 Stuffing the rice inside the bamboo tube
You are highly recommended to put this experience down on your to-do list so as to leave Longsheng with a unique memory. You may want to remind us about your dietary restrictions or preferences when booking so the host can prepare suitable ingredients in advance.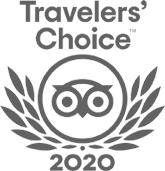 FABULOUS TOUR COMPANY
CHINA OCTOBER - NOVEMBER 2019 We researched several companies and studied reviews on Trip Adviser before contacting who did a very China Culture Tour with an initial query. Right from the outset Grace who owns the company was excellent. She emailed detailed with pictures information and a suggested…read more details
Karen from US
Ready to Create a Unique Dream Travel?