Longji Terraced Rice Fields Travel Guide
Name: Longji Terraced Rice Fields/龙脊梯田/lóng jǐ tī tián
Where: To the north of Guilin, about 80 km.
Open hours: 09:00-17:00
Entrace fee: RMB80
Tour time: 2 - 3 Days
Best time to visit: Every year after the fifteenth day of the fourth lunar month, the terraces start to store water for half a month and half a month after the Mid-Autumn Festival every year. The snow scene of Longji is also very good, but the snowing time is uncertain. The hottest month in the scenic spot is July, with an average temperature of 28.3 degrees; the coldest month is January, with an average temperature of 7.9 degrees.
Get to there: 75 Km and about 2 hours from Qintan Bus Station to Longji Terraces Visitor Centre/Ticketing, and transfer to scenic bus to Longji Scenic Area, takes about 20-30 minutes to walk up the hundreds of stone steps to the terraces.
A sedan chair service is available for travellers with limited legs
What to visit: Ping'an Village, Terraces in Ping'an Village, Old Zhuang Village, Dazhai Village, Dazhai Red Yao Terraces, Xiaozhai Village and Xiaozhai Red Yao Terraces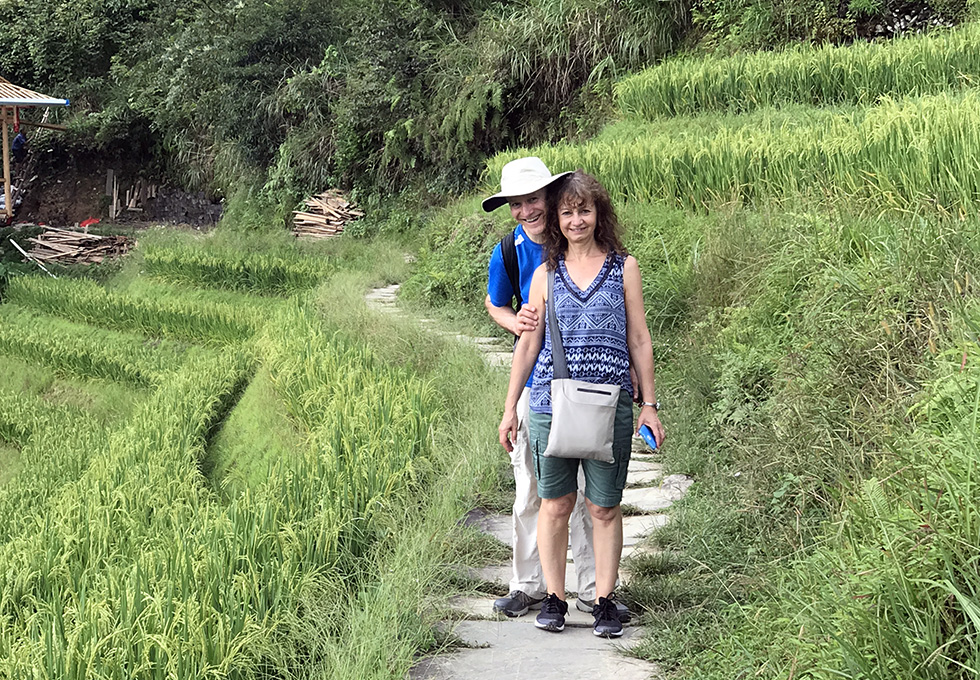 Hiking in the fields
Brief Introduction
Longji is located in Longsheng County, about 80 kilometers northeast of downtown Guilin. Longji Terraced Fields are praised as "the marvel of agricultural art" in China. Longji is translated as "dragon's backbone" in Chinese. The terraced fields look like a dragon's backbone on top of the mountain, hence the name. There are about of 71 kilometers squared of terraced fields in the district.
The Longji Terraced Fields were first built in the Yuan Dynasty, while a majority was built in the Ming Dynasty and was completed in the Qing Dynasty by the local Zhuang people. With a history of more than 700 years, the fields are built along a slope that intertwines with the riverside up to the top of the mountain. The highest mountain has an elevation of 880 meters and the lowest, 380 is meters. The ingenious construction makes use of the scarce arable land and water resources in the mountainous area.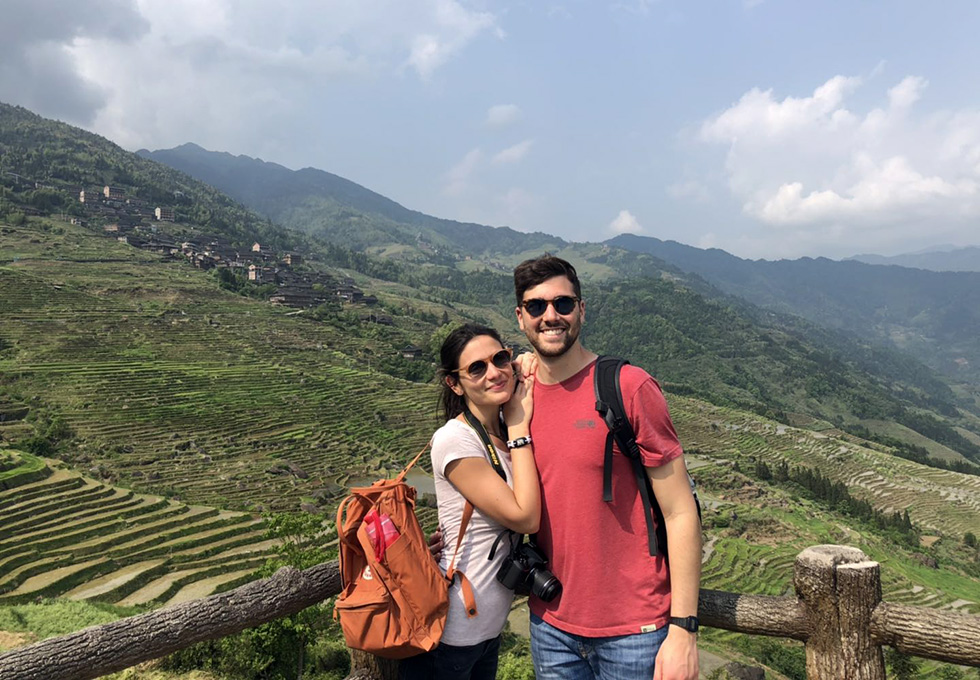 Before planting
The terraced fields make the mountains appear like coiling lines. The small mountains are like spiral shells, while the bigger ones are like huge towers. The rolling mountains form a coherent whole, full of power and grandeur visual. The majestic and beautiful mountains with terraced fields have a distinctive look throughout the seasons.
What's the best time to visit
The best time to visit the Longji Rice Terraces is from the irrigation period at the end of May to the harvest on the 8th after the National Day in October. The snow scene of Longji is also very good. The snowing time is usually around January. The hottest month in the scenic spot is July, with an average temperature of 28.3 degrees; the coldest month is January, with an average temperature of 7.9 degrees.
In spring, layers of water are dazzling in the sun like mirrors. In summer, layers of green rice seedlings are waving gracefully in the wind, like a green ocean. In autumn, it is the season of harvest. Layers of golden rice ripple in the breeze, like a flowing golden ribbon. In winter, although there is no rice, there are layers of silvery frost, flying freely across the mountains. If you stand at the top of the terraced fields, it will be a once-inonce-in-a-lifetimeence.
What it looks like in different seasons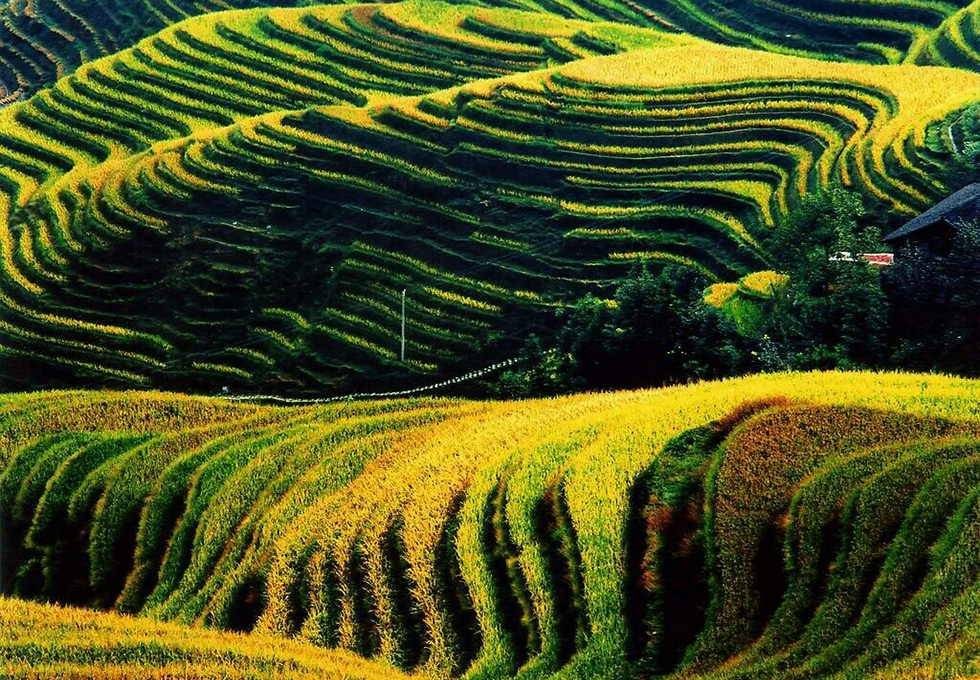 Golden Fields
Mid April to mid-late June: Irrigation and transplanting, the terraced fields with water and a little green
From July to early September: a green terraced field
Mid-to-late September to mid-to-early November: The rice is ripe and the terraces are golden.
Mid-to-late December to mid-to-early February: the world turns silver after the temperature drops;
March: rape blossoms bloom.
April: Water full of terraced fields
September: the rice begins to turn golden. See pictures for different seasons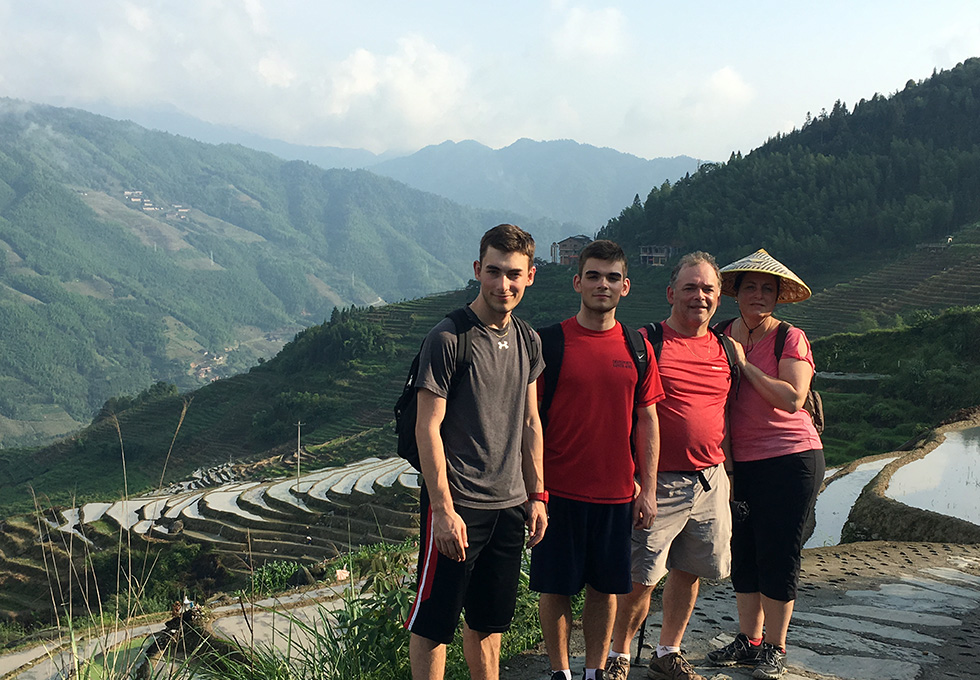 Summer fields
The most popular rice terraces are Ping'an and Jinkeng Terraced Fields. The Longji Terraced Fields are now mainly cultivated by the Zhuang ethnic group in Ping'an Village and the Red Yao in Jinkeng. People of Zhuang and Yao minorities feature houses with traditional unique architectures where nails weren't used in construction. The different minority customs and dressing styles are particularly interesting to see.
What to do and to see in Jinkeng Dazhai Village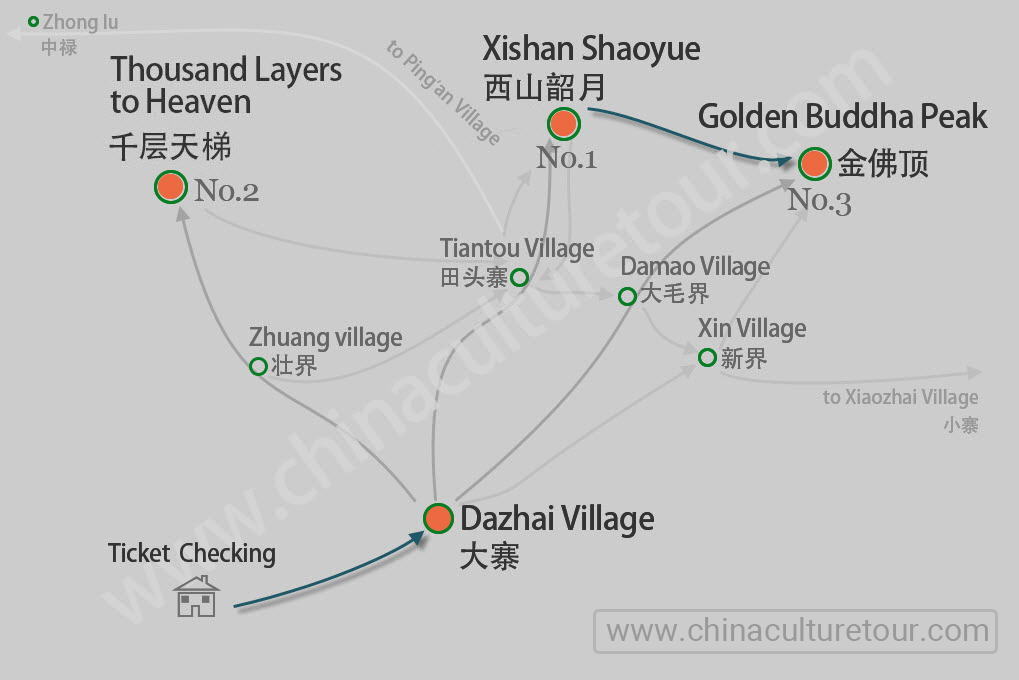 Jinkeng Terraces Map
No. 1, Music From Paradise (西山韶乐/Xishan Shaoyue): about 40-60 minutes from Dazhai Village to the No. 1 scenic spot
No. 2, Thousand Layers to Heaven (大界千层天梯,/Dajie Qianceng Titian): about 15 - 20 minutes from Dazhai Village to No. 2 scenic spot
No. 3, Golden Buddha Peak (金佛顶/Jinfoding): about 30 - 40 minutes from Dazhai Village to No. 3 scenic spot
Distance and Time: Dahzhai Village - No 2. (about 15 - 20 minutes), No. 2- No. 1 (30 -40 minutes), No 1. - No. 3 (about 50 - 70 minutes), No. 3 - Dazhai Village (30-40 minutes)

Bamboo Rice Making

Hiking Tour (about 1 day): about 4- 5 hours hiking between Ping'an Village and Dazhai Village, or about 6 hours hiking between Dazhai Village and Xiazhai Village.
Bamboo Rice Making: about 1 hour including lunch, a must and interesting experience in Ping'an Village in a local Yao or Zhuang ethnic minority family.
Down on the Farm: from 1 hour to half a day, a good chance to know the local's daily farm work.
Traditional Paper Making: half-day tour, a traditional paper-making technique that is about to be lost, although listed as a National Heritage Site.
The Zhuang and Yao people live very traditional lives on the mountainside. You can not only explore the fields' scenery, but bu also the people's daily lives, local dance, folk songs, clothes, customs and so on.
How to plan a Longji trip?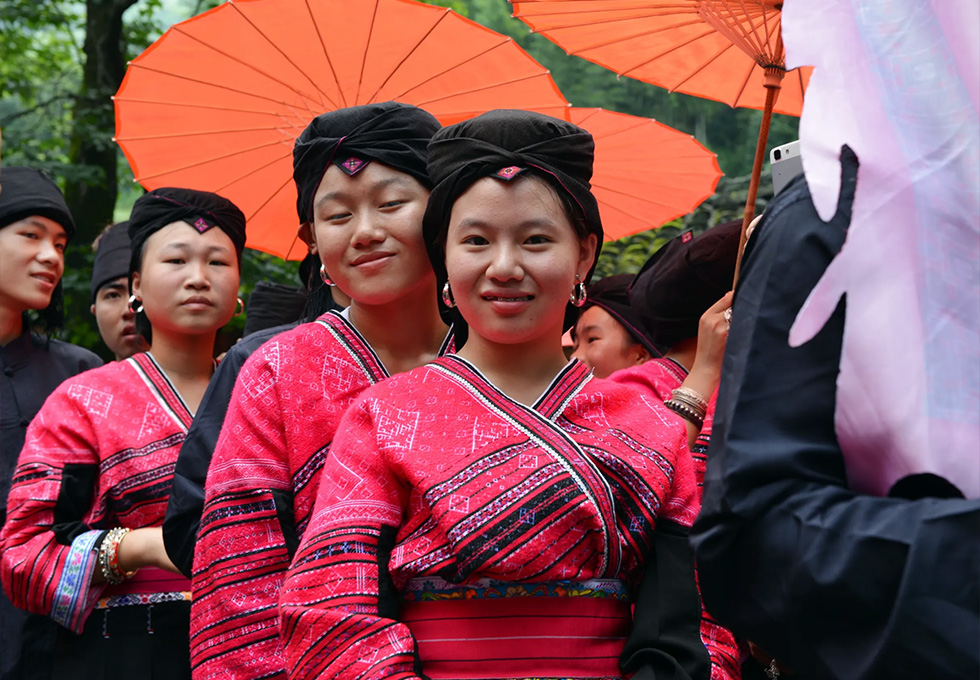 Red-Clothing Yao Minority
1 day hasty trip: Guilin - Longji Terraced Fields(Ping'an Village and Ancient Zhuang Village) - Back to Guilin.
A suitable 2-day trip: Day 1 - Guilin to Longji, visit Ping'an Village and Ancient Zhuang Village; Day 2 - Explore the villages and Hiking to Dazhai Village/Jinken and drive back to Guilin
3 days trip: Day 1 - Guilin to Longji, visit Ping'an Village and Ancient Zhuang Village, stay overnight; Day 2 - Explore the villages and Hiking to Dazhai Village/Jinken, about 4-5 hours, stay overnight there; Day 3 - Hiking about 3-5 hours from Dazhai to Xiaozhai and drive back to Guilin in the afternoon.
Camping trip: The camping trip can be arranged for 2 or 3 days in the Terraced Fields.
Visit more of our Longsheng travel itineraries prepared for you >>
You might be interested in 6 Days Adventure Trip and 5 Days Guilin Including Longji Tour
What experience would enrich my Guilin trip?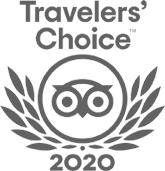 FABULOUS TOUR COMPANY
CHINA OCTOBER - NOVEMBER 2019 We researched several companies and studied reviews on Trip Adviser before contacting who did a very China Culture Tour with an initial query. Right from the outset Grace who owns the company was excellent. She emailed detailed with pictures information and a suggested…read more details
Karen from US
Ready to Create a Unique Dream Travel?