Cultural activities, what to experience in Sanjiang
Sanjiang is very different from Longsheng in that it does not have large-scale terraced rice fields, but has a strong cultural atmosphere; Sanjiang is famous for the Chengyang Wind and Rain Bridge, the Mapang Drum Tower and the Dong village houses; Additionally, every month, Sanjiang holds one or more festivals such as the Bullfighting Festival, the Lusheng Festival, the Firecracker Grabbing Festival and so on, as well as having its own handicrafts such as embroidery, peasant paintings, and other cultural experiences. Experiences in Guilin and experiences in Longsheng or expriences in Yangshuo for your reference.
Ethnic people's old hand embroidery
Type: Cultural Immersion/ Art & Architecture
Duration: 2-3 hours
Where: Sanjiang, about 92Km from Ping'an Village and 2 Hours from Guilin city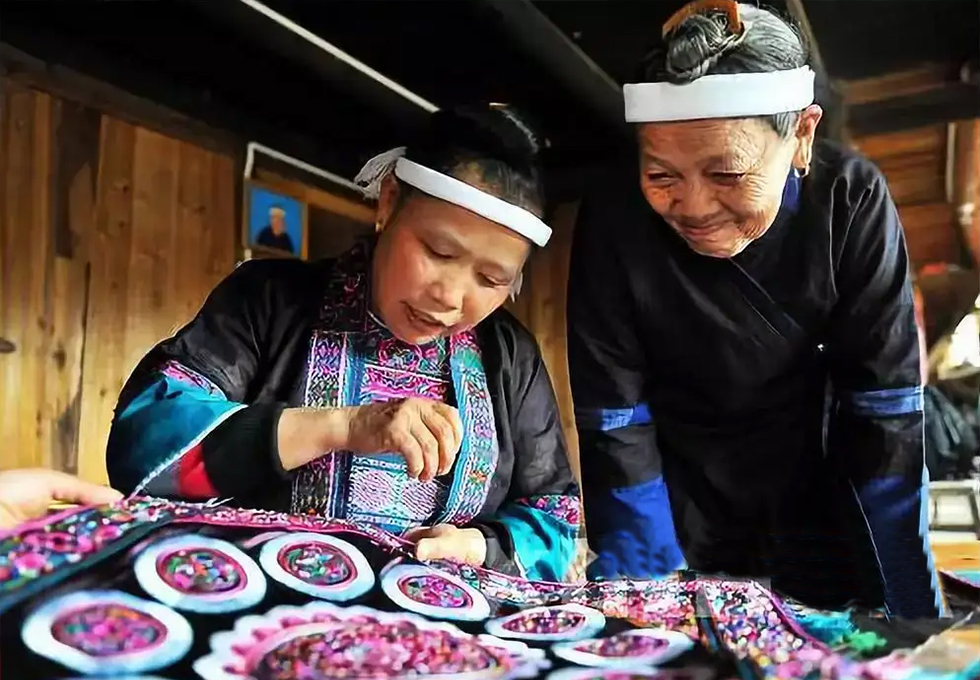 Ethnic people's old hand embroidery
There are a number of ethnic minorities, including Miao and Dong ethnic groups, living in the mountainous regions of Sanjiang County for generations. Though they all have different languages, costumes and traditions, their embroidery styles and patterns are rather similar.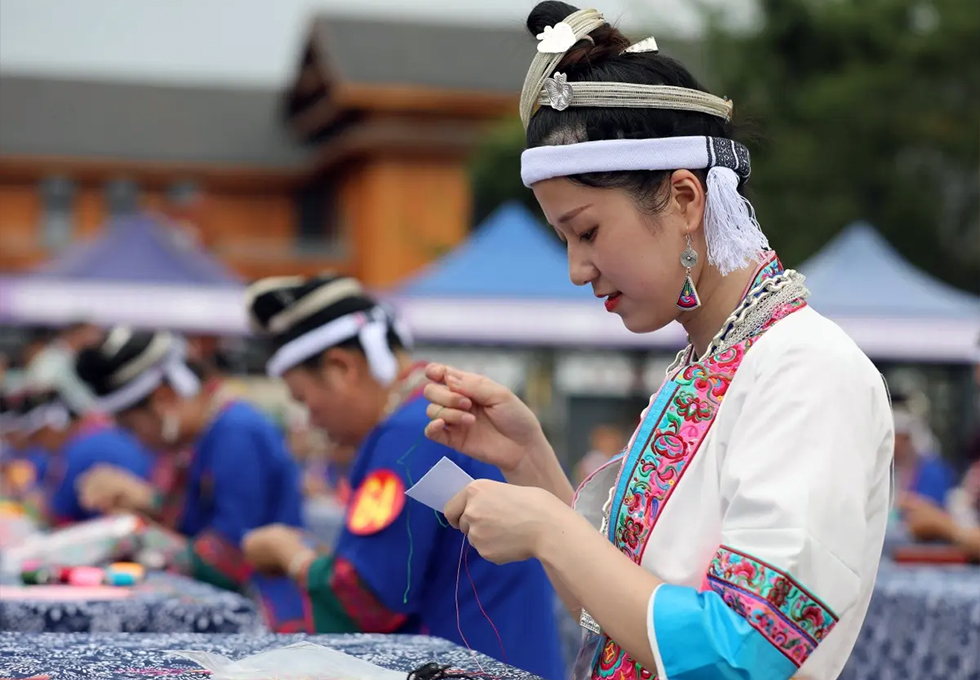 Ethnic people's old hand embroidery
Their embroideries have vivid colour and patterns that reflect their worship of nature. Most of the themes in the embroidery are inspired from nature and the relation between man and nature. In this trip, you will appreciate this cultural specialty and have a wonderful opportunity to further study the art and skill of this fine craftsmanship. You can join in the class at Tongle Miao Village which is an hour drive from the central area of Sanjiang County. Or if you have a tight schedule, you can experience ethnic embroidery at a workshop in Sanjiang County.
Farmer painting of the ethnic group
Type: Cultural Immersion/ Art & Architecture
Duration: Around 1 hour
Where to learn: Dong Villages in Sanjiang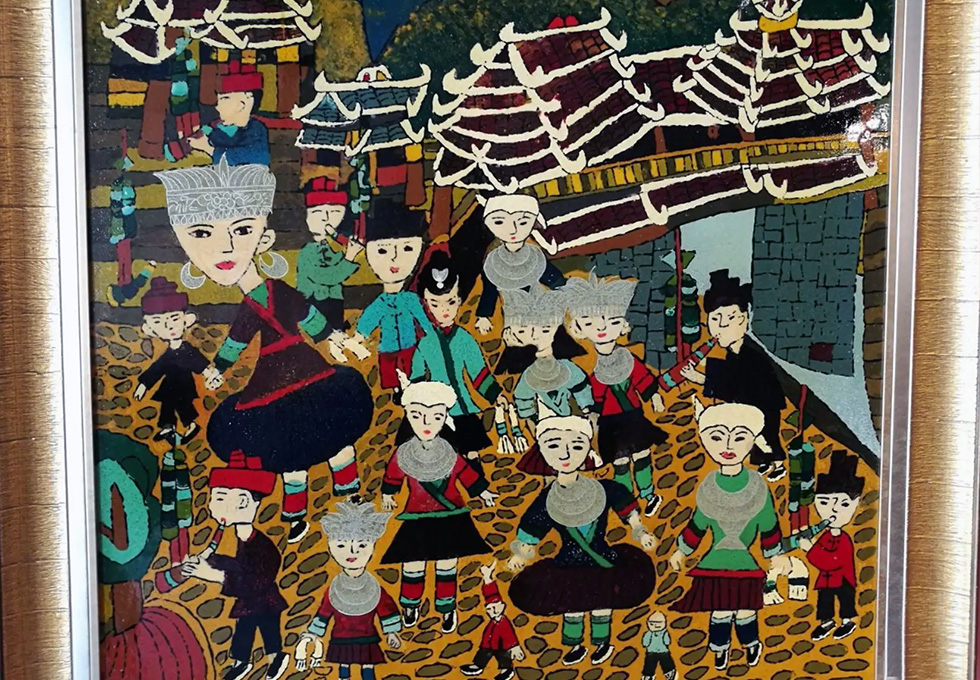 Farmer Painting
Living in the vast and hazy mountains, each ethnic minority village features an ornate, traditional drum tower, charming wooden architecture and nail-less 'wind and rain' bridges. Ethnic minorities have been following the mandate of heaven and obeying the way of nature and the theory that man is an integral part of nature in their culture. Most of the paintings are about their daily lives, which many are related to the environment they live in, such as bonfire dancing at the village square and harvesting on the field.
Farmer Painting
In your journey, you will have the opportunity to learn to draw farmer paintings on bamboo weavings done by locals. Your guide will introduce to you painting technique, the combination of colors and the way to structure your painting. At the end of the class, bring home your artwork as a unique souvenir. You can choose the size and type of bamboo weavings to paint on, as well as the venue you want to attend this class. Tell us about your preference while booking.
Oil tea from the Dong ethnic people
Type: Cultural Immersion/ Food
Duration: 1 hour
Where: Villages in Chengyang, Sanjiang
Tools for making oil tea
Oil tea is a distinctive flavour of Guilin and one of the favourite delicacy of ethnic people in Guangxi Province. Originated in the Tang dynasty, from the minorities living in the mountains, drinking oil tea can help them keep warm at night and in winter. There are different types of oil tea in Guangxi with each having its own characteristics. There are Gongcheng Yao oil tea, Longsheng Dong oil tea, Xing'an oil tea and Guanyang oil tea. Among all, Gongcheng oil tea is the most well-known. While in Longsheng, there is Dong oil tea which is milder than Gongcheng oil tea, and is more beginner friendly.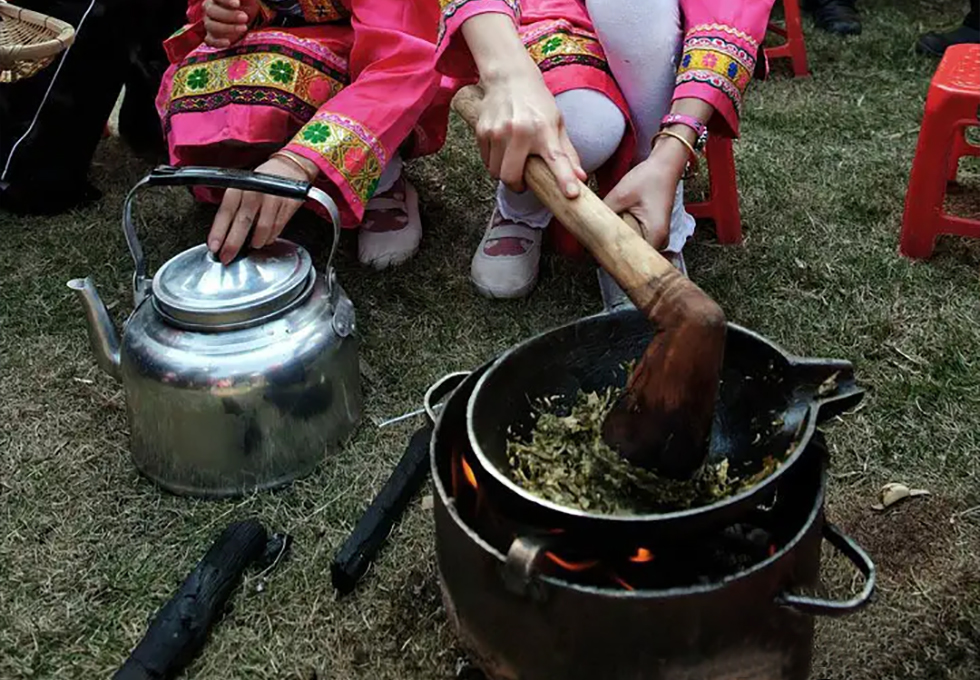 Tapping the tea leaves to get the juice out
Dong people will steam the sticky rice before letting it dry through airing in shade. Those dried sticky rice can be stored for a very long time. In a local's house you will learn how to make Dong oil tea with the guidance of the host. To make Dong oil tea, first, pop the dried sticky rice with oil until it becomes popcorn like. Then fry peanuts, soybeans and sticky rice made snakes till crispy. Later, stir fry tea leaves with garlic, ginger, salt and other seasonings with oil in a wok. Some will add an additional step by adding some water to those fried ingredients and pound it with a hammer-like wooden pestle until the aroma of tea fully emanates. This is why locals call it "da you cha", (which 'da' means to hit and 'you cha' means oil tea).
The correct steps for making oil tea
Ingredients for making oil tea
1. Prepare the ingredients needed to make the oil tea such as tea leaves, yin rice, peanuts, ginger, garlic, onion, etc.
2. Put the yin rice into a pan of boiling oil and fry it into popcorn, fish it out and set aside.
3. Put the sticky rice into the pan and fry until brown, add the tea leaves and fry together for a while, add water and bring to the boil.
4. Strain through a bamboo strainer to obtain oil tea.
5. add popcorn, spring onions, shredded ginger, peanuts, soybeans, sesame seeds, sweet potatoes and other spices, with pork liver, vermicelli, lean meat, shrimp, sour fish, sour pork and other side dishes, colour, aroma and taste of delicious oil tea is ready.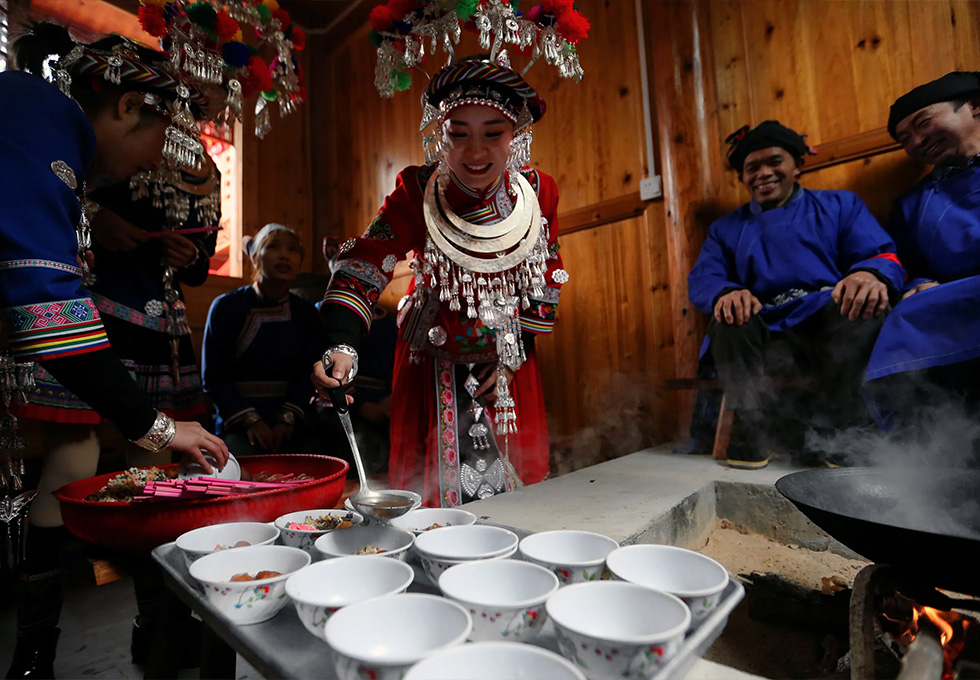 Making oil tea
For people who do not want the strong taste of tea leaves, they usually skip the step and add a lot of water to the mixture till it is boiled. Add some salt to the oil tea and mix it well. Pour the tea into a bowl and add some fried peanuts, soybeans, puffed rice and other seasonings like spring onion to the oil tea. Finally, the oil tea is ready, featuring unique colour, fragrances and taste. If asking about the taste, it is challenging to describe. It would be a slightly bitter taste in the beginning, with bitterness disappearing after a few spoons and a strong aftertaste of sweetness from the tea leaves. It is highly recommended that you to try it, you will either love it or hate it. But after all, this will be a special experience for your journey.
The Dong ethnic culture and Festival in Sanjiang
Type: Cultural Immersion/ Food/ Art & Architecture/ Relaxation
Duration: 1 Day
Location: Chengyang, Sanjiang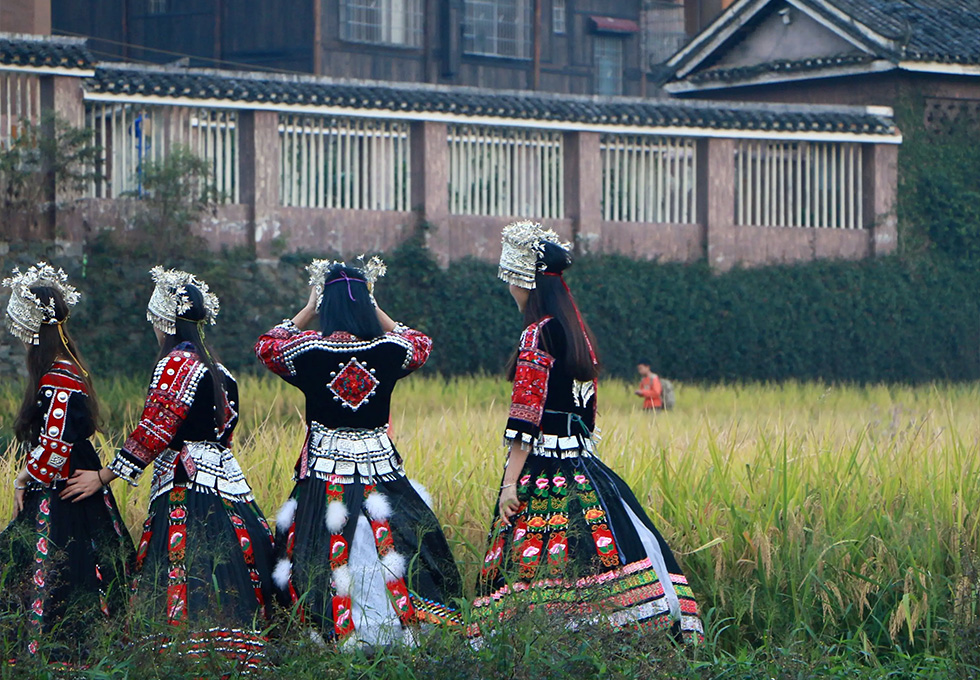 Dong Clothing
Chengyang, a quaint and bucolic gem where eight ancient villages skirt the winding river amidst verdant farmland, is filled with overwhelming wind and rain bridges, unique drum towers, and maze-like narrow alleys where you can see chickens run freely from one lane to another. See locals gather on bridges and village squares to socialize or have meetings. During festivals, people will meet at the village square to celebrate, which includes having a long table banquet, watching song and instrument performances, and enjoying bonfire dance. If you happened to come across any of their festivals during your trip, you can join in this huge communal dinner in the public square simply with little cost per person. Dinner usually starts at around 5 pm. Sample any of the hundreds of authentic dishes prepared by villagers, from Chinese sausage and bacon to sour fish, meat, and vegetables. The scent of spices and rice wine filled the square. There will also be a welcoming ceremony where a troupe of young men and women dress up in vibrant cotton and silk outfits will perform their local instruments.
Interesting Festivals in Sanjiang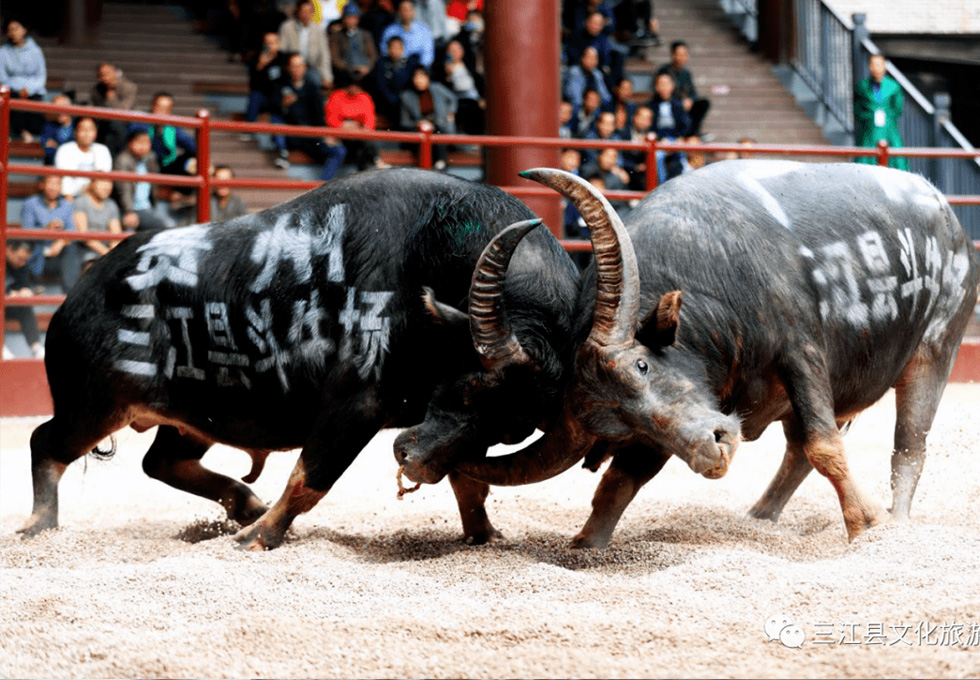 bullfights
15th August lunar calendar: Bullfighting Festival, after the bullfight, everyone takes the food and wine they have prepared at home to the wind and rain bridge, where they line up and raise their glasses together to celebrate the harvest.
14th July of the lunar calendar: the Drum Festival, which includes Lusheng competitions, song singing, Dong operas and banquets.
15th September lunar calendar: the Po Festival, which includes Lusheng competitions, song singing, Gui opera and Dong opera.
26th of October: Firecracker Festival, which includes firecracker grabbing, song singing, oil tea making and Dong opera.

Lusheng Festival

13th May lunar calendar: Dragon Boat Festival
5th May lunar calendar: Bullfighting Festival, featuring bullfights, song singing, and Dong opera.
8th April lunar calendar: the Bird Rice Festival, which includes black rice, bullfights, bird fights, song singing, and Dong opera.
3rd March lunar calendar: the Firecracker Festival, which includes firecracker grabbing, bird fighting, Song Singing, Dong opera, and lion dances.
2nd February lunar calendar: the Firecracker Festival
The 7th day of the first month of the Lunar New Year: the Lusheng Festival, which includes Lusheng competitions, dangling, and theatre performances.
The 3rd day of the first month of the Lunar New Year: the Firecracker Festival, which includes firecracker grabbing, ding-dong stomping, fire hall singing, and Dong opera.
The 1st day of the first month of the Lunar New Year: the Lusheng Festival, which includes Lusheng competitions, ding-dong stomping, song singing, and Dong opera.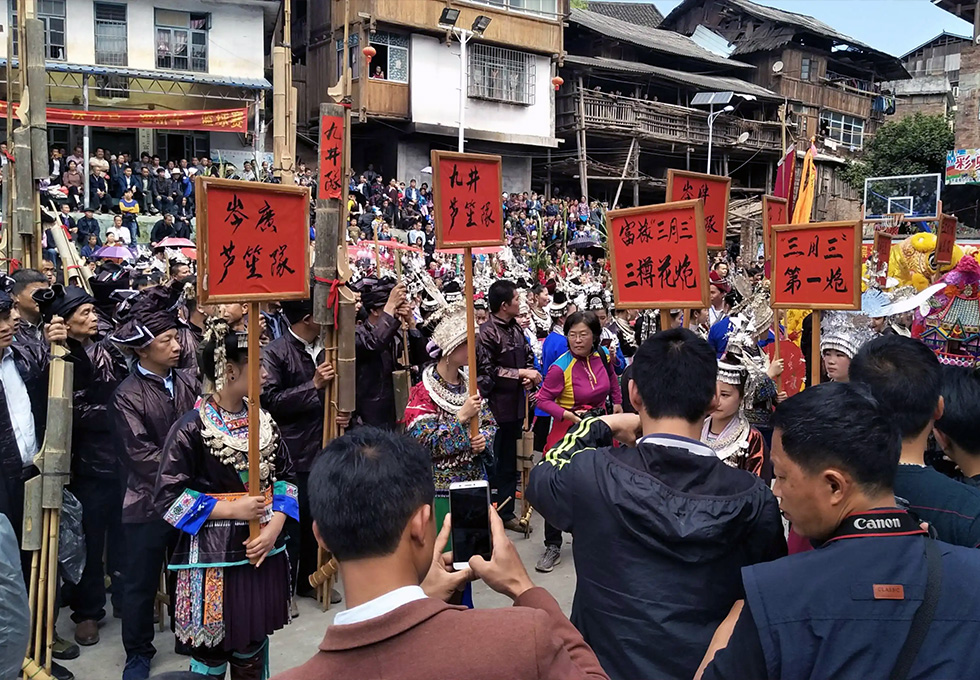 the Firecracker Festival
Stroll around these fascinatingly simple villages and have a glimpse into the traditional lifestyle. Visit one or two Dong ethnic families in the ancient village, where you can learn to play Dong ethnic Pipa, a local string instrument, and be stunned by Dong people's simple yet beautiful ethnic costumes. Their clothes are decorated with embroidered patterns. Dong costumes have different styles with the finest version only saved for important occasions. During the festive seasons, you can join in a bonfire dance at night with the locals at the village square. Booming drums set the tempo while wind and string instruments added finer touch. Situated in the mountainous region, these eight villages offer plenty of opportunities for hikes and cultural immersion. Spending a few days here is often common for you to explore this area thoroughly. You can also explore the tea plantation in Chengyang and take part in tea leaf picking.
How to plan a Sanjiang trip?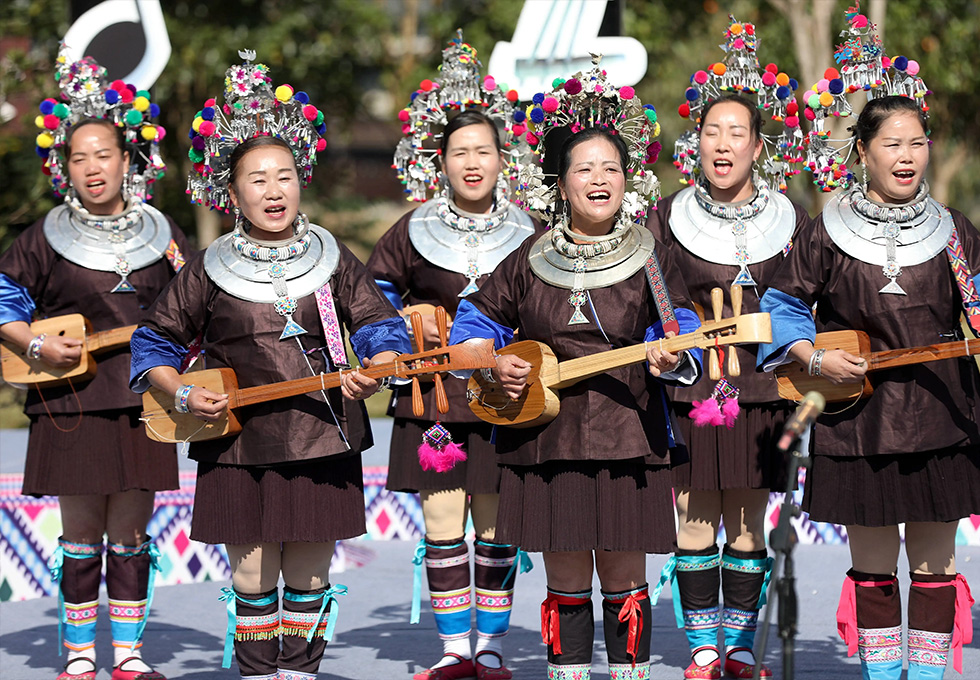 Sanjiang Dong Ethni Minority
A 2 days trip: Day 1 - Guilin to Sanjiang, visit the Dong Villages, do some local experiences and stay overnight; Day 2 - Explore the villages and experience like Oil Tea Making and drive back to Guilin after lunch

3 days trip: Day 1 - Guilin to Longji, visit Ping'an Village and Ancient Zhuang Village, stay overnight; Day 2 - Explore the villages and drive to Sanjiang, visit the villages, stay overnight there; Day 3 - Explore the ethnic villages, cultural experiences and drive back to Guilin in the afternoon.
You might be interested in: 6 Days Adventure Trip and 5 Days Guilin Including Longji Tour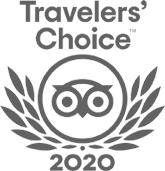 FABULOUS TOUR COMPANY
CHINA OCTOBER - NOVEMBER 2019 We researched several companies and studied reviews on Trip Adviser before contacting who did a very China Culture Tour with an initial query. Right from the outset Grace who owns the company was excellent. She emailed detailed with pictures information and a suggested…read more details
Karen from US
Ready to Create a Unique Dream Travel?