Sanjiang Travel Guide, Helpful Information for Planning a Unique Sanjiang Trip!
Facts of Sanjiang
Dong Ethnic Minority
Liuzhou City, the northern part of Guangxi
At the conjunction of Hunan, Guangxi, and Guizhou provinces
About 2 hours driving from Ping'an Village in Longji Terraced Fields
About 2 hours and 15 minutes driving from Guilin city
Top Attractions, what must do, and see
Sanjiang is usually referred to as the Sanjiang Chengyang Bazhai Scenic Area, a 30-minute drive from Sanjiang County; Sanjiang is famous for its wind and rain bridges, drum towers, villages with wooden houses, and its distinctive Dong culture, the most famous of which are the Chengyang Wind and Rain Bridge, the Mafang Drum Tower and the Chengyang Bazhai Scenic Area.
1. Chengyang Wind and Rain Bridge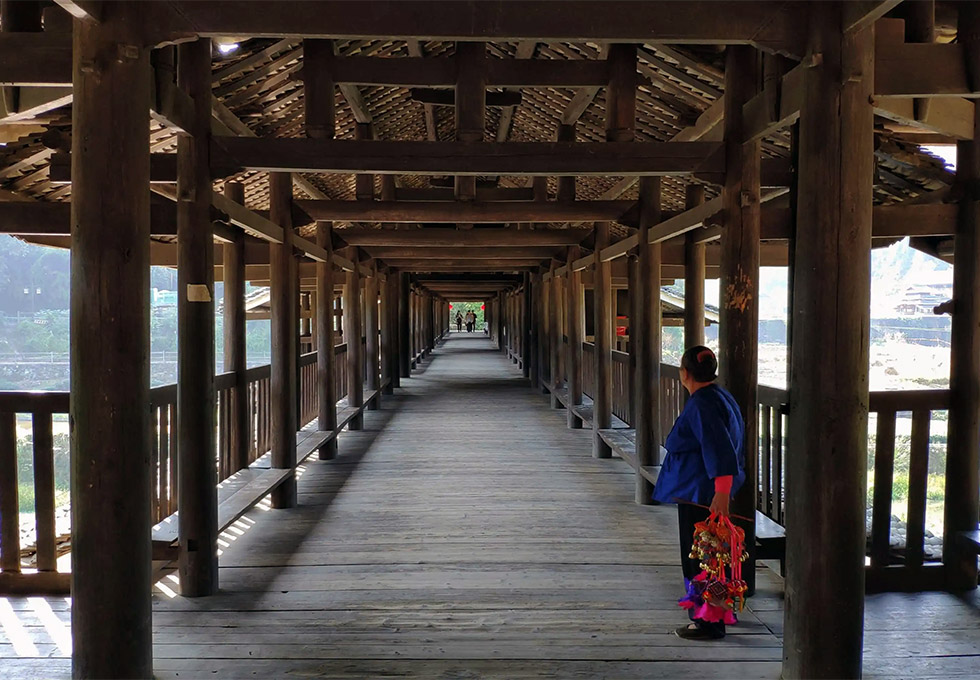 Internal structure
Also known as Chengyang Yongji Bridge and Chengyang Huilong(Dragon Meeting) Bridge; it spans the Linxi River and is a typical Dong architecture, with stone piers and wooden structures in the form of pavilions. It is mainly made of wood and stone, with 2 platforms, 3 piers, and 4 holes. On the piers are built 5 tower-style bridge pavilions and 19 bridge corridors, with the pavilions connected. Chengyang Yongji Bridge is a masterpiece of architecture, combining corridors, pavilions, and towers in one, unique in the history of Chinese and foreign architecture. It is a masterpiece of the Dong village wind and rain bridge, the best preserved and largest wind and rain bridge at present, the crystallization of the wisdom of the Dong people, and an artistic treasure in Chinese wooden architecture.
2. The Mapang Drum Tower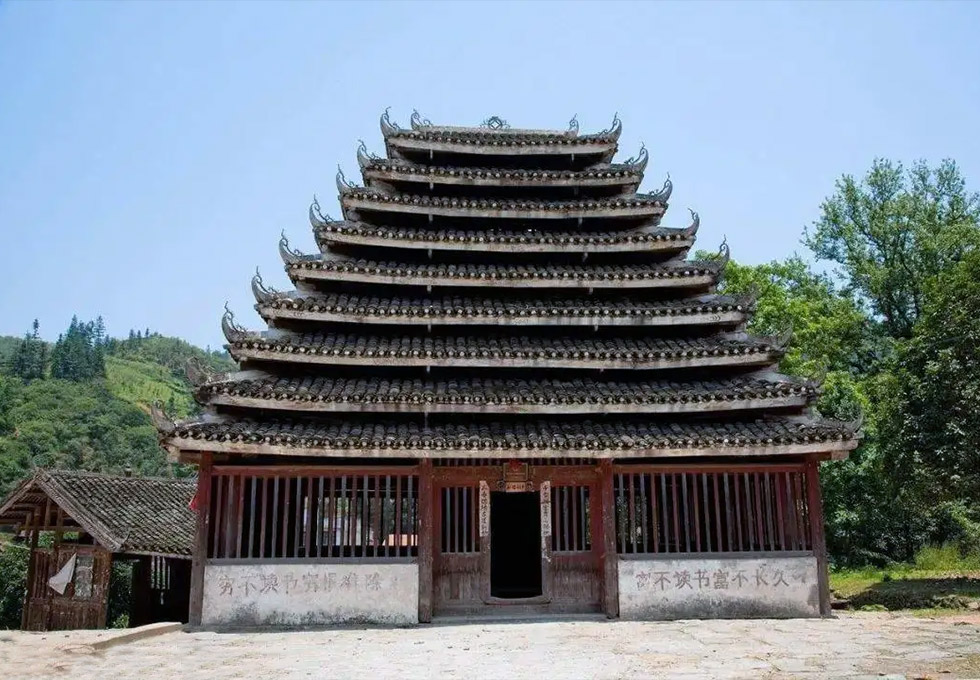 The Mapang Drum Tower
The Mapang Drum Tower is made up of four rectangular pillars of large cedar wood, 13 meters long and with a waist of nearly 2 meters, plus small pillars and flying eaves, stacked in layers. The building is 15 meters high, 11 meters long, and wide, with nine stories. The building resembles a magnificent palace, all chiseled and mortised with cedar wood, without a single nail. The craftsman who built the building, Lei Wenxing, was a versatile Dong architect. At the age of 17, he used a curved ruler and a bamboo pen to draw on a "zhang pole" made of half a bamboo pole, in the absence of drawings and calculation instruments.
3. Chengyang Bazhai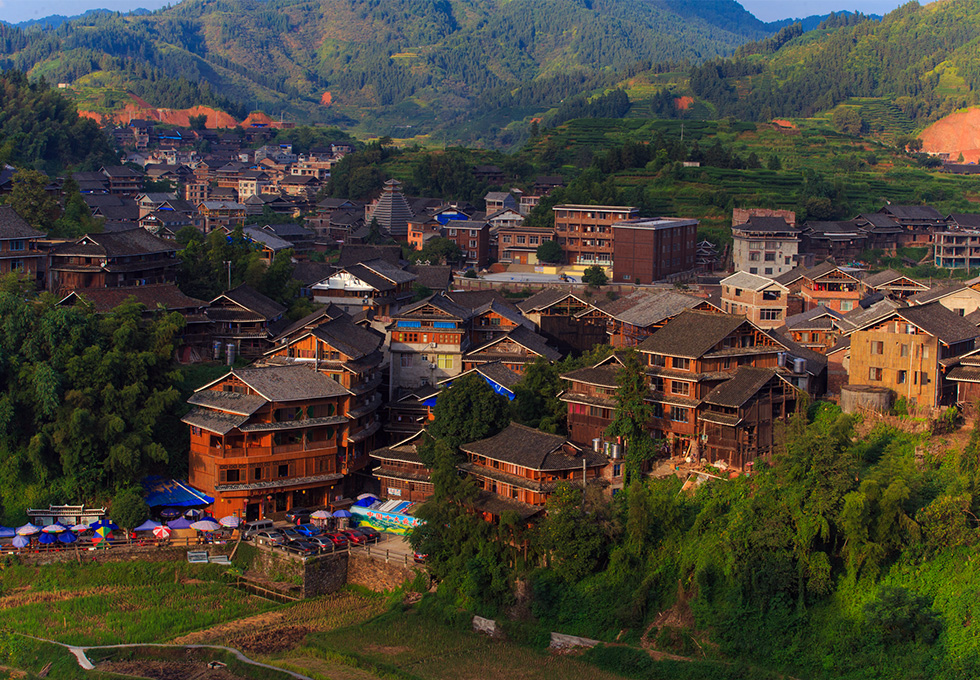 Dong Villages
Chengyang Bazhai(8 Dong Villages): Chengyang is made up of eight small villages named Ma'an, Pingtan, Pingzhan, Yanzhai, Dazhai, Dongzai, Jichang, and Pingpu. Home to nearly 10,000 Dong people, the area is famous for its many festivals and is known as the "Township of a Hundred Festivals", and when the Spring Festival arrives, there is a great deal of joy everywhere.
Unique Cuisine, what to eat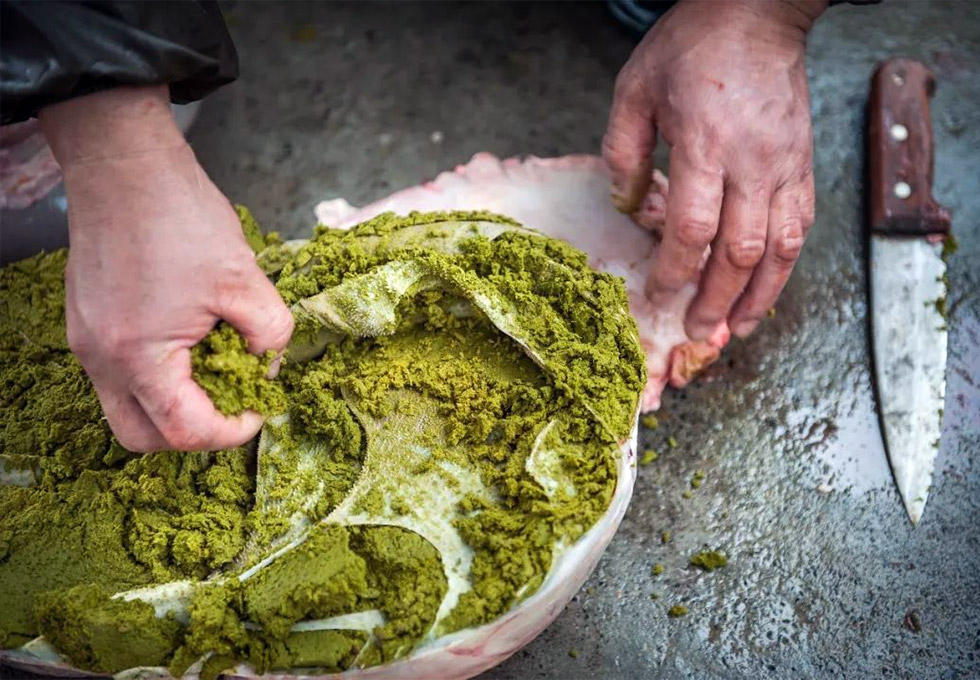 Niubie
What is one of the most interesting dishes of the Sanjiang Dong people? You must try it if you go there. It is the Niubie Soup, which is rich in nutrients and has the effect of clearing heat and detoxifying the body. It tastes like grass, and is slightly bitter in the mouth, but has a long-lasting sweetness and a slight chill in the mouth, making it very unique. The soup is not very tasty at first, and even a little strange, but the more you eat it, the more you enjoy it. Many foreigners are too scared to try this soup when they hear about the ingredients, but it is a very popular specialty among the locals.
When in Sanjiang, you may not have enough time to try all of the following delicious dishes.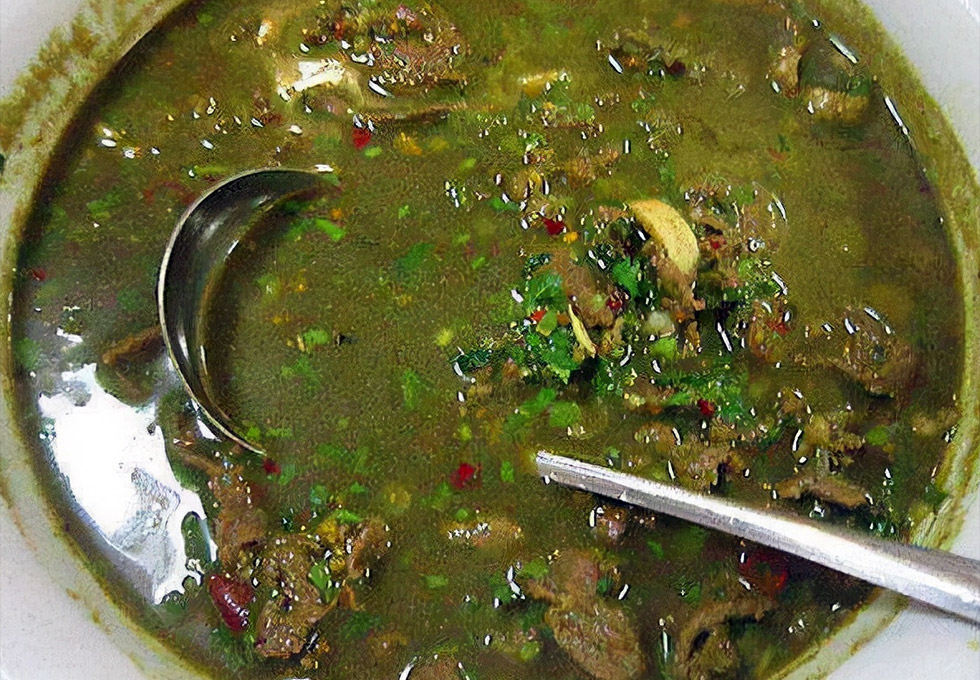 Niubie Soup
No. 1, Niubie Soup/牛瘪汤/niú biě tāng: made from the undigested grass and gastric juice in the cow's stomach, the soup can be simmered with ingredients such as beef mince
No.2, Fish in Sour Soup/酸汤鱼/suān tāng yú: Tender and sour meat.
NO. 3, Duck in sour soup/酸鸭/suān yā: sour and tasty with a strong meat texture
NO. 4, Rice Paddy Carp/荷花鱼/hé huā yú: tender and tasty(Carp raised in a rice paddy)
NO. 5, Beef Rice Noodles/牛肉米粉/niú ròu mǐ fěn: fragrant and smooth.
NO. 6, Dong oil tea/油茶/yóu chá: fragrant and rich in flavor.
NO. 7, Fish intestine congee/鱼片粥/yú piàn zhōu: fresh and sweet, nutritious and nourishing.
NO. 8, Sanjiang Bamboo Shoots/三江竹笋/sān jiāng zhú sǔn: Crisp, tender, tasty, and juicy bamboo shoots.
NO. 9, Sanjiang local preserved meat/三江腊肉/sān jiāng là ròu: tender, aromatic, fatty but not greasy
Accommodations, where to stay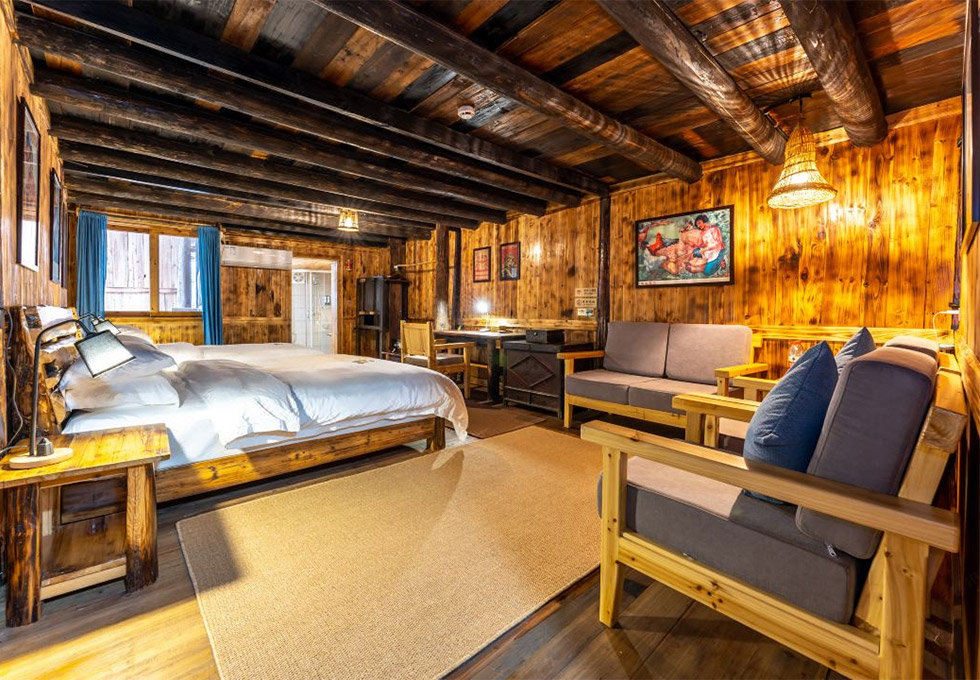 The best hotel in the villages
There are lots of accommodations in the Sanjiang Chengyang Bazhai Scenic Area, but there are no luxury hotels, only a few boutiques with local characteristics to recommend, one of our most recommended is Lost World Sanjiang Guest house, the owner is in the inbound tourism, the design and service are more deeply foreign guests like, the location is also very good.
Prices range from US$60 to US$150 a night at Lost World Sanjiang Guest house and room classification:
Standard room 35sqm
Family room 30-40 sqm
Family Suite 40-45sqm
Deluxe Family Suite-76sqm
Tip: all of the hotels in Chengyang Villages have no swimming pools.
Weather, when to travel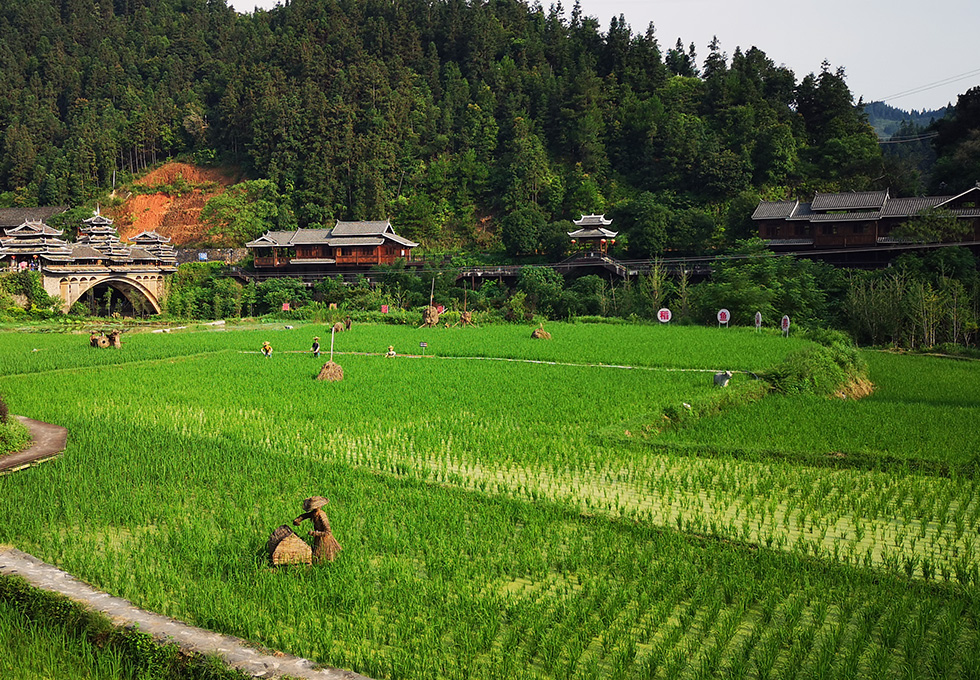 Spring
Sanjiang Dong Autonomous County belongs to the Central Subtropical and Southern Ridge Humid Climate Zone, with an average temperature of 17℃ to 19℃ throughout the year; it is suitable for farming in all seasons, with many cold waves and rains in spring, heavy rains and high temperatures in summer, easy droughts in autumn and cold frosts in winter.
January is the coldest month, with an average of 7.1°C; July is the hottest month, with an average of 27.4°C.
Summer is the peak rainfall season, accounting for 42-48% of the year.
Spring is the sub-peak season for rainfall, accounting for 30-35% of the year.
The autumn and winter seasons receive less rainfall.
What is the best time to visit?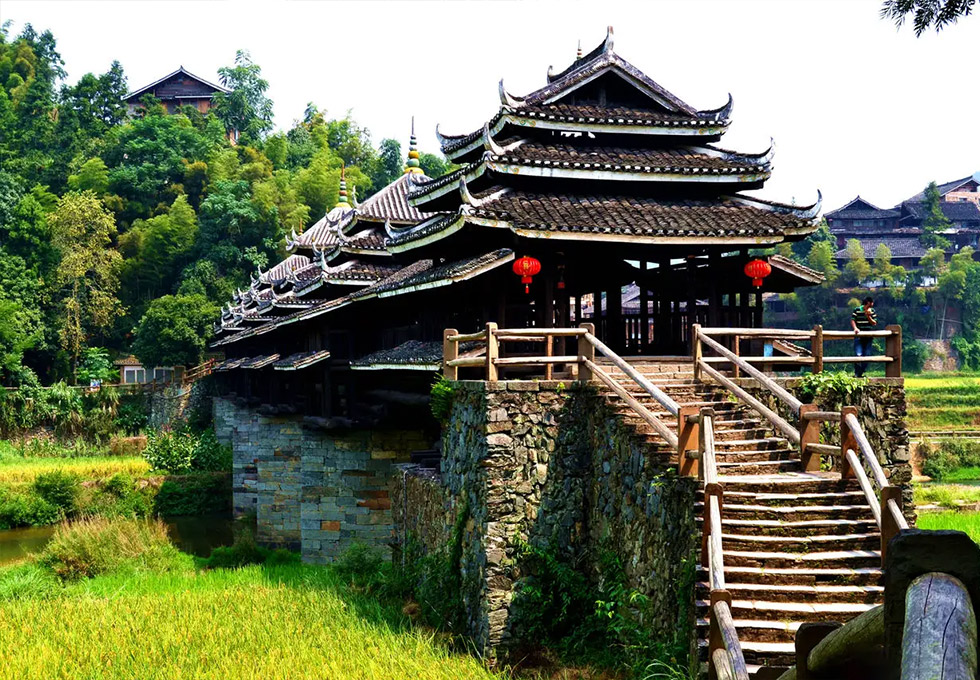 autumn
The best time to visit is spring, summer, and autumn: the lush green rice fields come alive in spring, and in summer and autumn when the rice harvest is in full swing and the golden farmland is a bountiful sight to behold. Winter is cold, but you can feel the cultural atmosphere of the Dong people, especially during the Spring Festival when there are many events such as the Flower Cannon Festival and the Lusheng Festival, etc.; the Dong girls and boys come out in their new clothes, which is a rare opportunity to see the sights.
Culture, Festivals, what to experience
Local dialects
The minority languages include Dong and Miao. In the villages around Guyi town, there are also Chinese Hakka (Liukia) speakers.
Folklore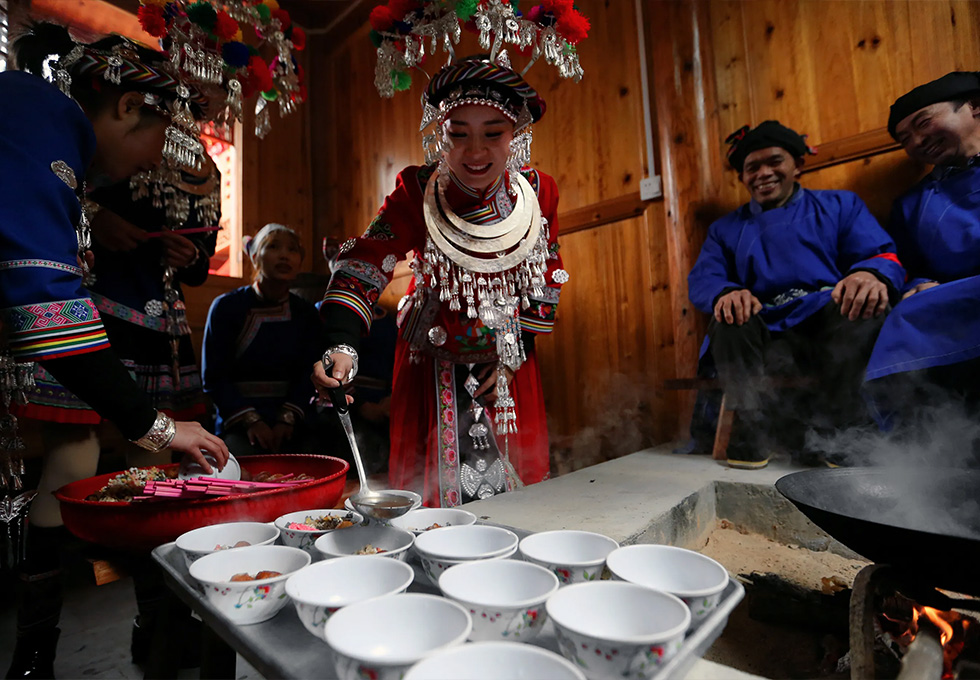 Oil Tea
The Dong people love to drink oil tea, and often hold cultural events such as peasant painting, Dong songs, Dong embroidery, and the "Hundred Families Banquet".
Architecture
There are 108 Dong wind and rain bridges and 159 drum towers in Sanjiang Dong Autonomous County, as well as a large number of wooden Dong dwellings.
Ethnic festivals
The bullfighting festival on the 15th day of the first month, the firecracker grabbing festival on the 3rd of March lunar calendar, the rally on the 15th of August lunar calendar, the new harvest festival on the 9th of September lunar calendar, and the winter festival on the 22nd of November lunar calendar. More Sanjiang Dong Festival >>
Dong Wedding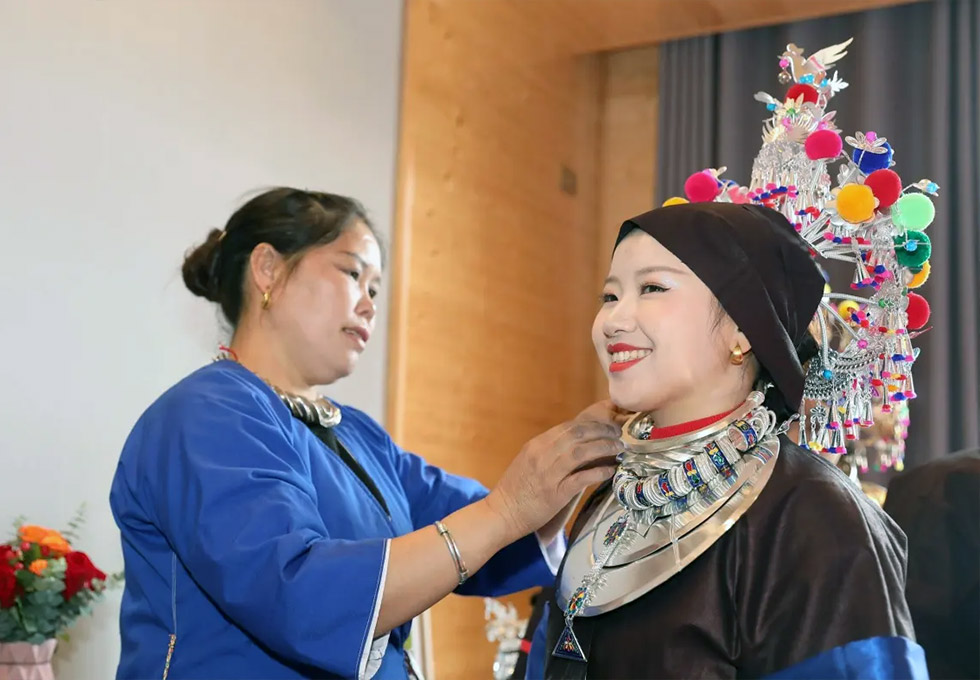 Dong Bride
The Dong wedding in Sanjiang Dong Autonomous County is usually held during the Spring Festival. "The bridegroom is not allowed to accompany the bride when she goes back to her bride's home. Instead, the bridegroom's brothers and sisters and friends and relatives carry the bride price and form a huge bridal procession, the longer the procession, the more prosperous the bridegroom's family is. In the evening, the unmarried young people in the bridal procession and the unmarried young people in the bride's cottage usually get together to chat and look for a man of their choice, which is called the "sitting night".
"Thief Catching Festival"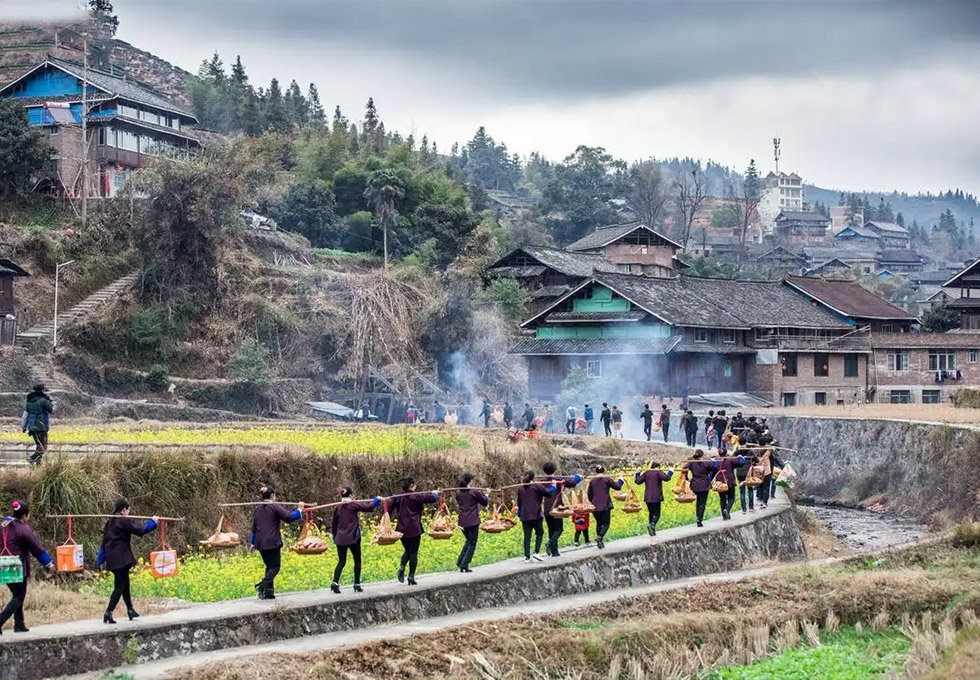 New Year Celebration
On the first day of the Chinese New Year, the Dong people in Tangchao Village, Dudong Township, Sanjiang Dong Autonomous County, Guangxi, gather together to hold a unique traditional festival to avoid evil spirits - the "Thief Catching Festival "The event is held on the first day of the Lunar New Year.
In addition, there are also customs such as the reed-sheng race, stepping on the song hall, carrying the "official" and "doye", sitting in the night with a song, collective weddings in Chengyang's eight villages, and road-blocking songs. What cultural experience do you want to experience in Sanjiang?
Travel Itinerary guide, how to plan a Sanjiang trip
Wind and Rain Bridge
Sanjiang does not have any big attractions, but rather exquisite architecture such as wind and rain bridges, drum towers, and wooden houses in the village is worth visiting. Some of the cultural experiences form an important part of the tour such as learning to make oil tea with the Dong people, cooking in a Dong home, painting with the Dong people, learning the Dong embroidery skills, working on the farm, participating in festivals, and so on.
For your reference, the following itinerary is available for Sanjiang.
Day 1: Arrive in Sanjiang, Chengyang Wind and Rain Bridge after lunch, explore a Dong ethnic minority village, and stay overnight;
Day 2: Explore villages and Mapang Drum Tower, Learn Dancing, and peasant painting and play two strings Guitar with Dong people, Bonfire night.
Day 3: Do your morning exercise by visiting local villages and learning Oil Tea Making, learn Ethnic people's old hand embroidery in a local residence after lunch
Day 4: Sanjiang Departure
Tips: Driving from Longji Terraced Fields takes about 2 hours, so after your Longji trip, you can continue the Sanjiang tour. And you can take a train to Congjiang in Guizhou after the Sanjiang travel, and Congjiang to Liping, Rongjiang, Zhaoxing, etc.
How to plan a Longsheng and Sanjiang trip?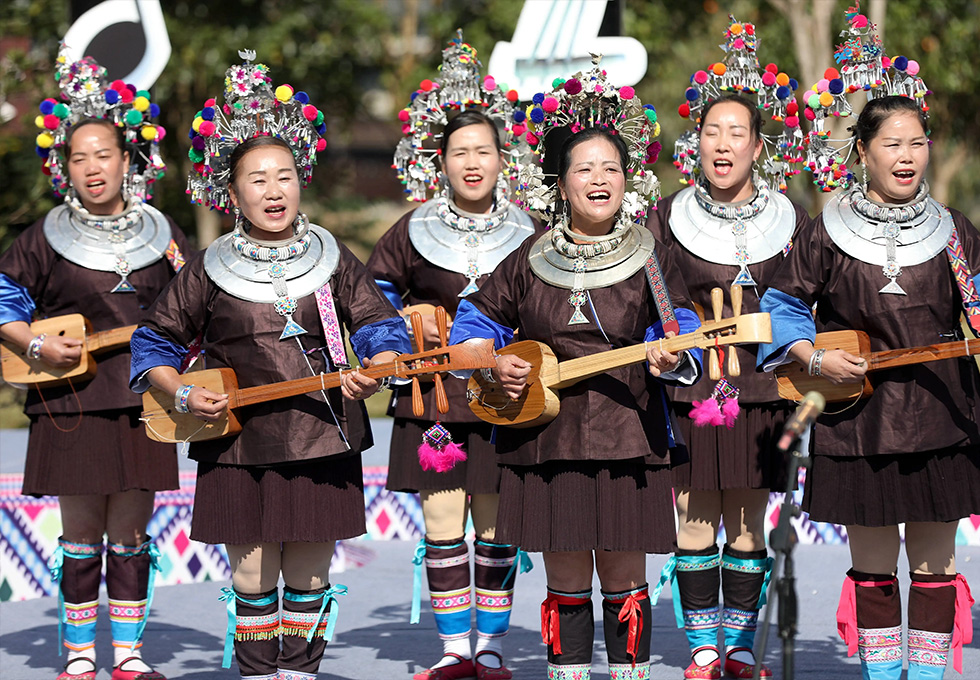 Sanjiang Dong Ethnic Minority
A 2 days trip: Day 1 - Guilin to Sanjiang, visit the Dong Villages, do some local experiences, and stay overnight; Day 2 - Explore the villages and experiences like Oil Tea Making and drive back to Guilin after lunch
3 days trip: Day 1 - Guilin to Longji, visit Ping'an Village and Ancient Zhuang Village, stay overnight; Day 2 - Explore the villages and drive to Sanjiang, visit the villages, stay overnight there; Day 3 - Explore the ethnic villages, cultural experiences and drive back to Guilin in the afternoon.
You might be interested in 6 Days Adventure Trip and 5 Days Guilin Including Longji Tour
What experience would enrich my Guilin trip?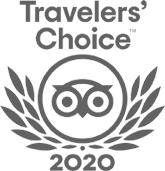 FABULOUS TOUR COMPANY
CHINA OCTOBER - NOVEMBER 2019 We researched several companies and studied reviews on Trip Adviser before contacting who did a very China Culture Tour with an initial query. Right from the outset Grace who owns the company was excellent. She emailed detailed with pictures information and a suggested…read more details
Karen from US
Ready to Create a Unique Dream Travel?