Yangshuo transportation, how to get there and get around
If you haven't booked a transfer from the airport or train station to Yangshuo, then the following information on transportation in Yangshuo will be helpful as it shows you how to arrive and depart from Yangshuo efficiently.
Transportation between Yangshuo and Guilin Airport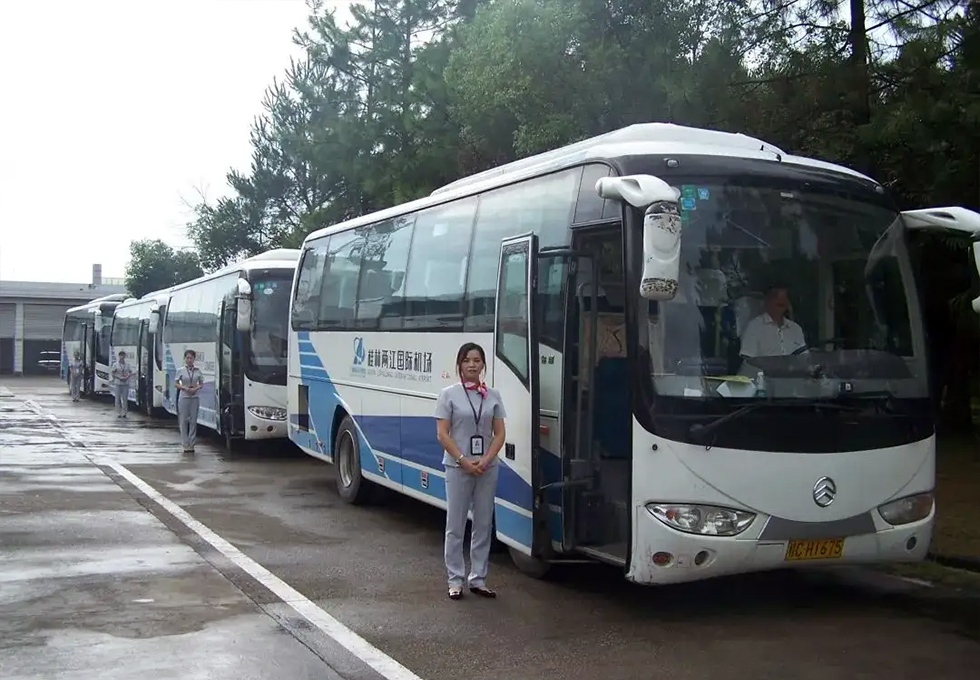 Air Shuttle Bus
About RMB60 per ticket, 90 minutes
Bus times from Yangshuo Bus Station to Guilin Airport are 07:00, 9:00, 11:30, 13:00, 14:30, 16:00, 17:30, and 19:00; during the covid-19 epidemic there are only two buses at 10:00 and 15:00.
Bus times from Guilin Airport to Yangshuo are 09:30, 11:00, 12:30, 14:00, 15:30, 16:30, 18:00, 20:00
By Air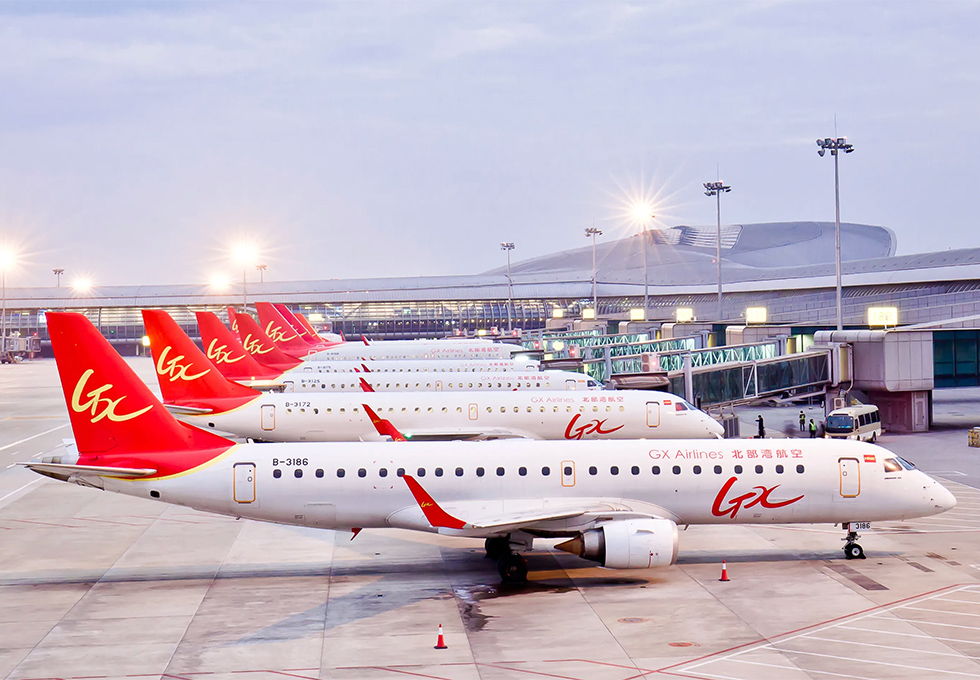 Guilin Airport
If you are coming from a distant city such as Beijing, Shanghai, Xi'an or Hangzhou, flights will be more suitable and inexpensive, and you can complete your departure and arrival in about half a day. After arriving at Guilin airport, you can choose from the several direct buses to Yangshuo bus station, which takes about 90 minutes and costs about USD10-15 a ticket.
Airport - Yangshuo 80KM about 1 - 1.5 hours
Buses from Yangshuo to Guilin Liangjiang Airport: about RMB60 per ticket, 90 minutes
Airport to Yangshuo: 09:30, 11:00, 12:30, 14:00, 15:30, 16:30, 18:00, 20:00
Yangshuo South Bus Station to Guilin Liangjiang Airport: 07:00, 9:00, 11:30, 13:00, 14:30, 16:00, 17:30, and 19:00; during the epidemic there are only two departures at 10:00 and 15:00.
By High-Speed Rail or Bullet Train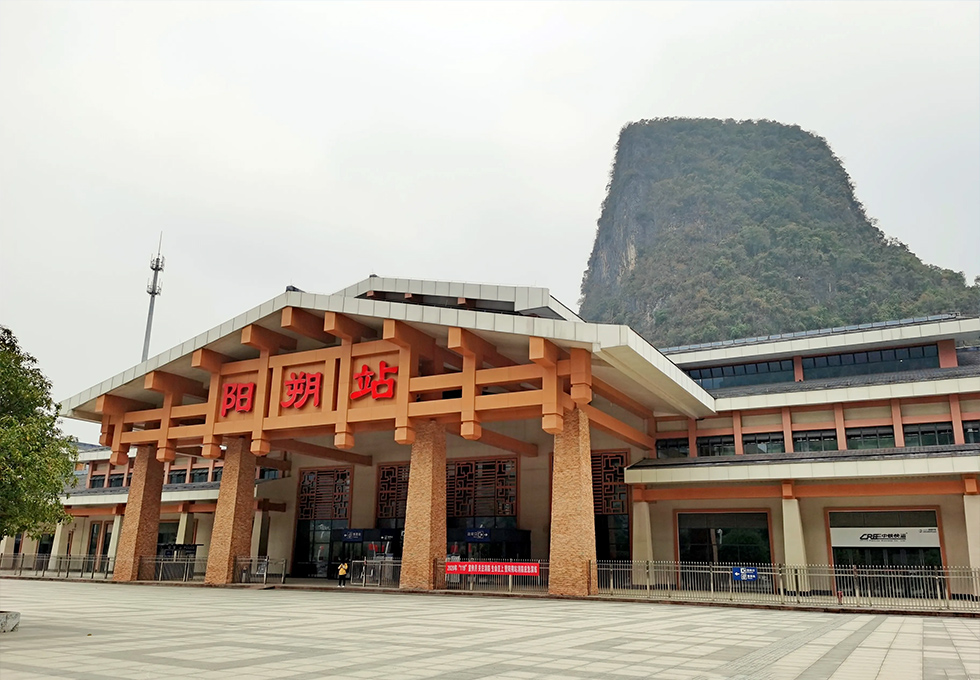 Yangshuo Train Station
Yangshuo station is located in Xingping town, about 50 minutes drive from Yangshuo West Street. If you are coming from the south or neighboring cities, high-speed trains or trains are the best options, taking only 2-6 hours to depart and arrive, with some direct trains and others requiring transfers, with fares ranging from USD30 to USD80 per person. You can take trains from Yangshuo train station to the three Guilin train stations: South, North, and West.
| From | Transfer station | To | Time | Price(CNY) |
| --- | --- | --- | --- | --- |
| Guangzhou | / | Yangshuo | 2 Hs | 140-420 |
| Shenzhen | / | Yangshuo | 3 Hs | 200-600 |
| Guiyang | / | Yangshuo | 3 Hs | 180-290 |
| Nanning | / | Yangshuo | 3 Hs | 150-250 |
| Chengdu | / | Yangshuo | 6-7 Hs | 450-750 |
| Kunming | Guilin Station/North | Yangshuo | 6-7 Hs | 400-650 |
| Chongqing | Guilin North/West | Yangshuo | 5 Hs | 350-400 |
| Changsha | Guilin Station/North | Yangshuo | 3-4 Hs | 200-350 |
| Wuhan | Guilin North | Yangshuo | 4-5 Hs | 350-1100 |
Tips
Some cities do not have direct trains to Yangshuo station and you will need to transfer to Guilin, buy your tickets to the train station you need to transfer to, and then transfer to Yangshuo station. There are three train stations in Guilin, Guilin Station, Guilin North Station, and Guilin West Station.
You can ask your hotel to book a bus ticket for you as many hotels have connections with bus drivers.
Guilin City - Yangshuo County 80KM about 1 hour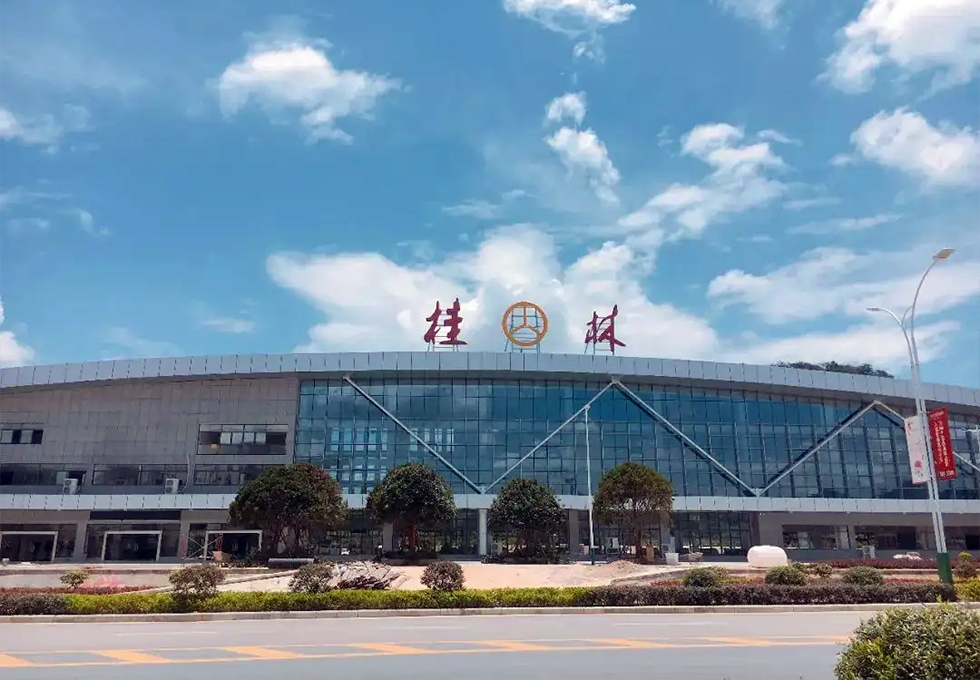 Guilin Bus Station
To get from downtown Guilin to Yangshuo, you need to take a taxi to Guilin South Bus Station and then buy a bus ticket to Yangshuo, which departs every 10 minutes. From Yangshuo to downtown Guilin, you can buy and take a bus from the same station.
You can also take a taxi from downtown Guilin, which takes about 1 hour and costs about RMB200-300 a taxi, which can seat 2-4 people, but four people will be slightly crowded.
By Cruise, 4 Hours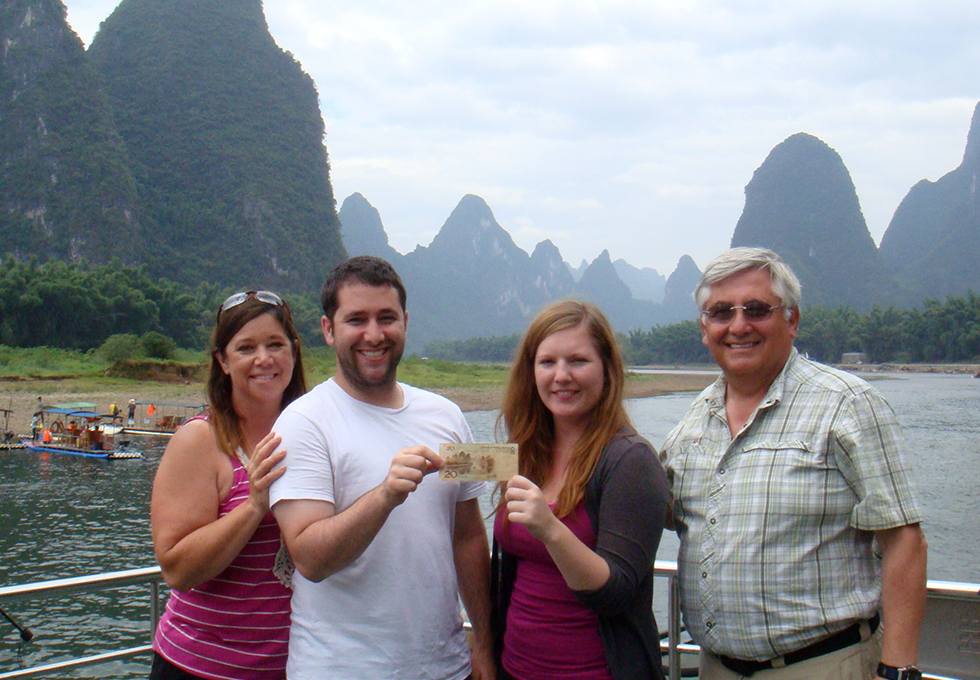 Li River Cruise
If your first stop is in downtown Guilin and you are staying overnight, then consider taking a 4-hour cruise on the Li River to Yangshuo the following morning; contact your hotel in advance to take you to your hotel. If you need a cruise booking service, contact us! There is no return cruise service to Guilin from Yangshuo.
Travel agency transfer service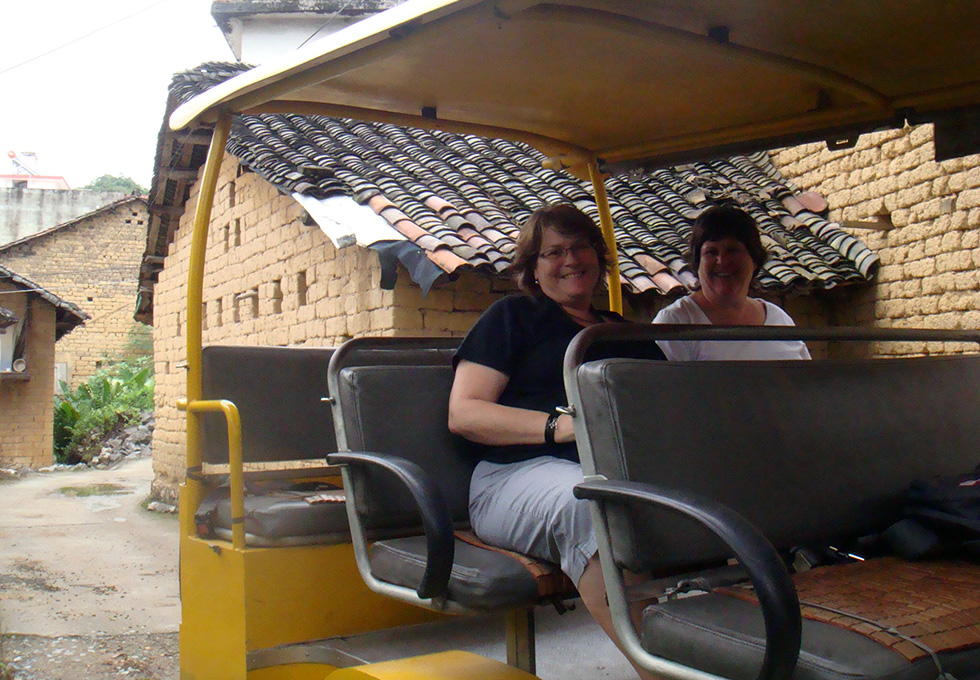 Golf Car Tour in Countryside
In addition to our customized travel service in Yangshuo, we also offer a transfer service from the airport to downtown Guilin or to Yangshuo. we can also arrange additional guided services, which will be more expensive than taking a taxi, but with relatively better service and car condition, and no communication barriers. Contact us if you are interested!
From Yangshuo to other places
From Yangshuo to Longsheng 140KM About 3-4 Hours
From Yangshuo South Bus Station to Longji Visitor Centre: 08:00 Price CNY90 for one ticket
From Bilian Cave Tourist Parking to Longji Terraces Jinkeng Dazhai: 08:00, 10:00,13:30 Price CNY90 a ticket
Yangshuo to Xingping 28KM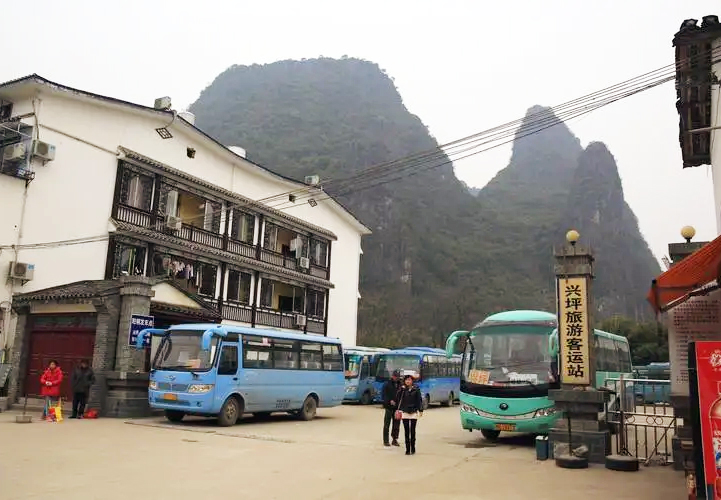 Xingping Bus Station
Yangshuo South Bus Station to Xingping Ancient Town: CNY10/seat, approx. 40 minutes
Yangshuo Fengming Car Park to Yangshuo High-Speed Railway Station (Yangshuo Railway Station is located in Xingping Ancient Town): CNY20/seat, about 50 minutes.
Yangshuo to Fuli Ancient Town 11KM
By van: Buy a ticket at Yangshuo South Bus Station, RMB3-5/person, about 15 minutes
Yangshuo High-speed Railway Line No.1: Yangshuo Fengming Parking Lot - Fuli Ancient Town
Bicycle or electric bike: about 50 minutes by bike, 20-30 minutes by electric bike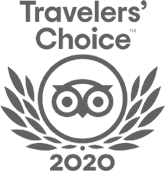 FABULOUS TOUR COMPANY
CHINA OCTOBER - NOVEMBER 2019 We researched several companies and studied reviews on Trip Adviser before contacting who did a very China Culture Tour with an initial query. Right from the outset Grace who owns the company was excellent. She emailed detailed with pictures information and a suggested…read more details
Karen from US
Ready to Create a Unique Dream Travel?