Excellent service for our 9 day, 3 city tour
Grace arranged our tours, accommodations, and transfers for our 9 day tour of China. We had to get our own visa but Grace provided needed documents.
Overall we had a wonderful trip and I would recommend this tour agency.
Hotels they chose were PERFECT and they were able to arrange connecting, nonsmoking rooms for us in each location. We stayed at Xi'an Wyndham Grand and Beijing Regent, both of which we LOVED and highly recommend. In Shanghai we decided to go to Disneyland and stay on property, which was also wonderful (see separate review).
Transfers, train tickets, inter-China plane tickets, drivers, and tour guides were all EXCELLENT and we had complete peace of mind that we would be hand-held throughout our entire stay. They provided bottled water continually as well which was needed. There was nothing that went wrong during all of our many travels and that's saying a lot in such busy, crowded places.
We went to the Mutianyu section of the Great Wall which we rode up by chairlift (not gondola) and down by toboggan slide. Loved the chairlift as it allowed for pictures without the glass in the way!
Food at the hotels was excellent; food at the pre-arranged lunches varied from just OK to great, but they were all very convenient to our touring so we didn't mind the two times they were just OK due to saving a lot of time.
Be aware to bring toilet paper and sanitizer everywhere!
We are home and getting settled again after our trip to China.
I want to say THANK YOU for such a wonderful trip. Everything went smoothly which is quite an accomplishment during a long trip with so many types of transportation!
We really enjoyed it all, and the hotels you chose were definitely perfect for our stay.
I hope you have a wonderful day, and I will leave a review on TripAdvisor soon!
Sincerely,
Jennifer Johnson from US, customized a Family Friendly China Tour to Xian Shanghai and Beijing
More Helpful Similar China Tour Reviews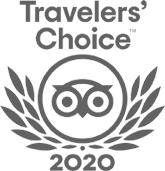 FABULOUS TOUR COMPANY
CHINA OCTOBER - NOVEMBER 2019 We researched several companies and studied reviews on Trip Adviser before contacting who did a very China Culture Tour with an initial query. Right from the outset Grace who owns the company was excellent. She emailed detailed with pictures information and a suggested…read more details
Karen from US
Ready to Create a Unique Dream Travel?