Ricks from US Customized a 23 Days China Tour with Yangtze
Nora,
I had a very great time in China with my partner.
There were some great WOWs.
*A negative wow in Beijing and elsewhere were the massive crowds of tourists, but your guides were skillful in helping us negotiate our way.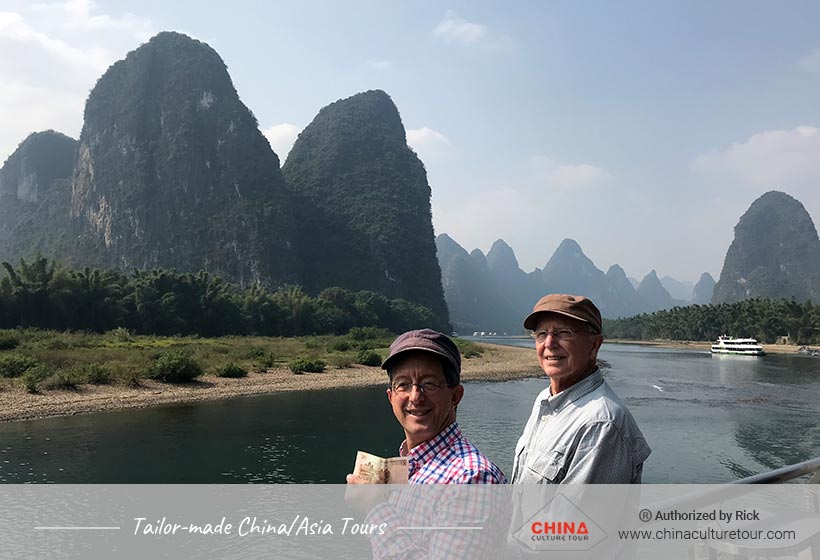 Scenery on RMB 20 Yuan, Guilin
*Of course, the Warriors of Xian were breathtaking.
*The dumpling making in Xian with Lily and family was fabulous. They were so gracious and the meal served was very good. It is a nice chance to get inside a private home and meet with locals.
*The Giant Buddha in Leshan was surprisingly wow-ful.
*The Jinsha Museum in Chengdu was extraordinary. It was a beautiful building and skillful display of artifacts. Not too crowded. We have an interest in history and archeology, which made it especially interesting.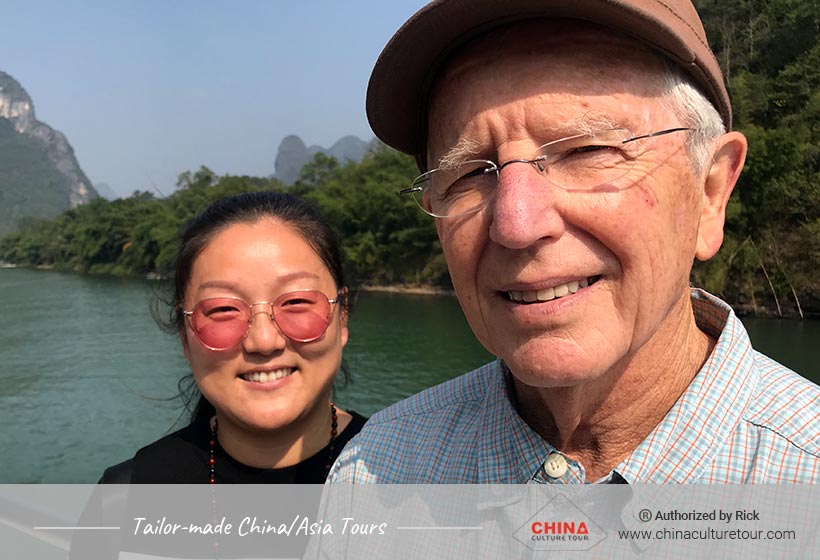 Li River Cruise, Guilin
*Pandas were a predictable wow, but the number of them and the ability to see them active was surprising. In US zoos they usually are sleeping or hidden away.
*Being able to travel on the bullet trains was a wow. I recommend first class.
*There were multiple wows on the Yangtze River cruise. Although not part of the itinerary, the night Three Kingdoms show at Fengdu was breathtaking. Also, loved the trip up Goddess Stream.
*West Lake. Everything about it was beautiful. Definitely a wow for scenery.
*Nanxun was a delightful day trip, although the drive was a bit long. Not so crowded.
*Shanghai. Astounding skyline, especially the night view from the Bund. Visitors MUST see it lit up. Also, the Shanghai Museum was thrilling. So many gorgeous artifacts. We didn't have enough time there.
*Loved the Longji Rice tour. A definite wow. They should make the Guilin area a priority.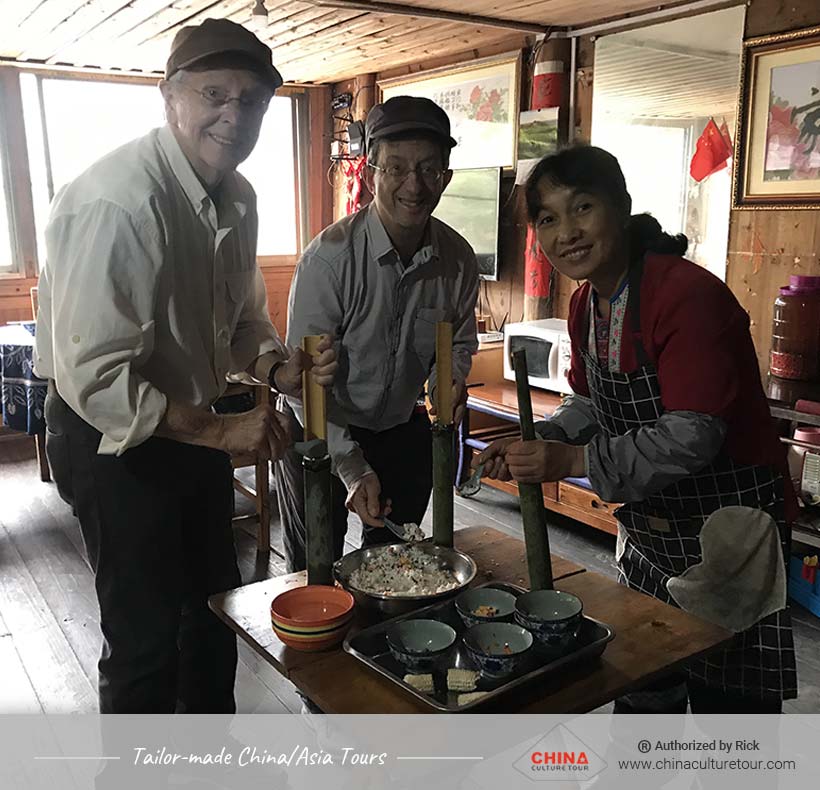 Bamboo Rice Making, Longji
*Li River cruise was a wow from start to finish, including Yangshuo. The couple who taught us bamboo rice in Yangshuo was a highlight. They served one of the best meals we had in China.
*The view from the Peak in Hong Kong is a definite wow.
Regarding the guide, it's difficult to say who was most outstanding. They were all excellent and we had great rapport with them all. We may have like Fei best, in part because she had the best English. Linda was terrific, quite friendly and very attentive. Cecilia was quite well organized and prepared and professional. Sophia made our entry into China easy. Jessica in Chengdu was great. Summer in Xian also excellent. The only negative on Vivi in Hangzhou was her English. Not so good. But she was very likeable and enthusiastic. She's young and could benefit from working on her English if she wants to be a tour guide.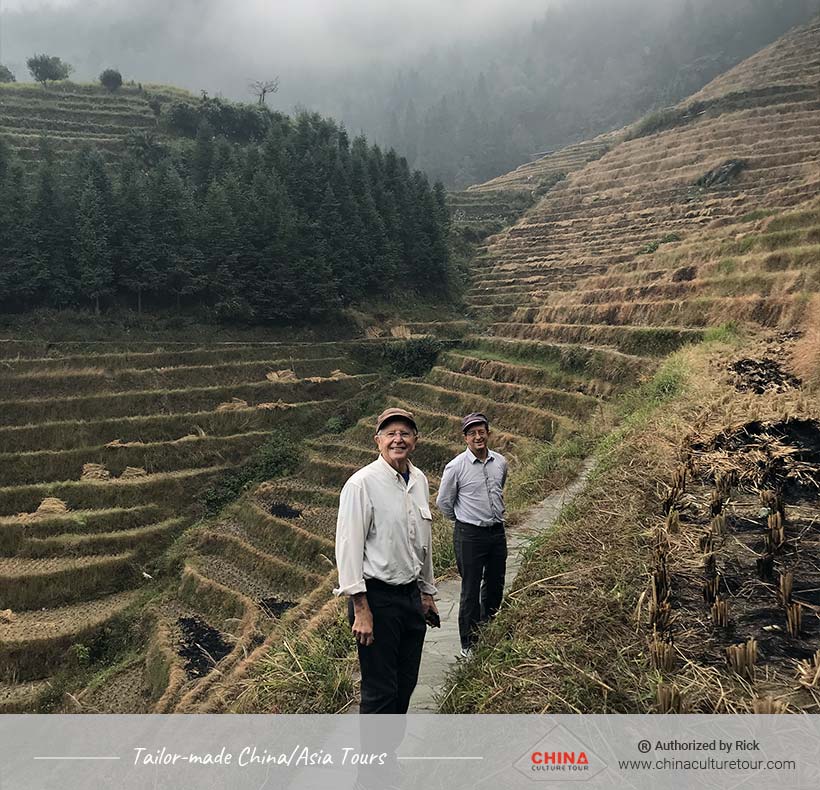 Hikig, Longji Rice Terraced Fields
For the most part, the hotels and meals were excellent. The New World in Beijing was probably the best. Rooms and location were great. Excellent buffet. The Ritz-Carlton in Chengdu was of course luxurious, but the restaurant was far too expensive and surprisingly the staff had poor English. The Eastern hotel in Xian was attractive and pleasant.
The Victoria Jenna was fine; service excellent. Hotels in Hangzhou and Shanghai very serviceable but the breakfast buffet in Hangzhou was crowded and our least favorite. Aroma Tea House was intimate and delightful; the staff had superb English. The Yangshuo Mountain Retreat was a little rustic but great location, profoundly beautiful view and fine service. Metropark Kowloon was a fine four-star hotel, but I might have opted for a five-star to end the trip.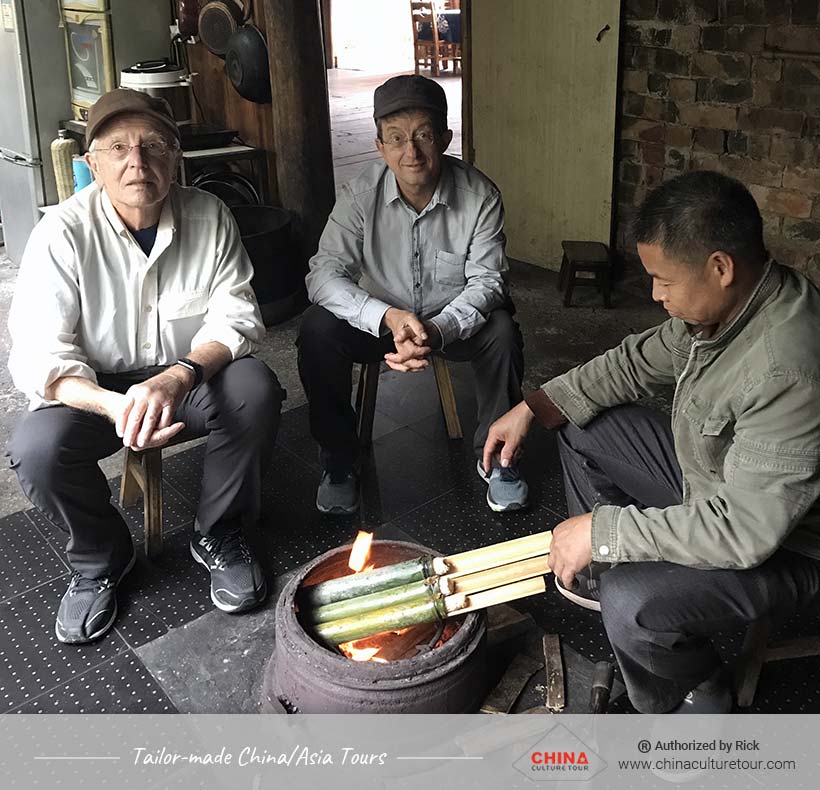 Bamboo Rice Cooking, Longji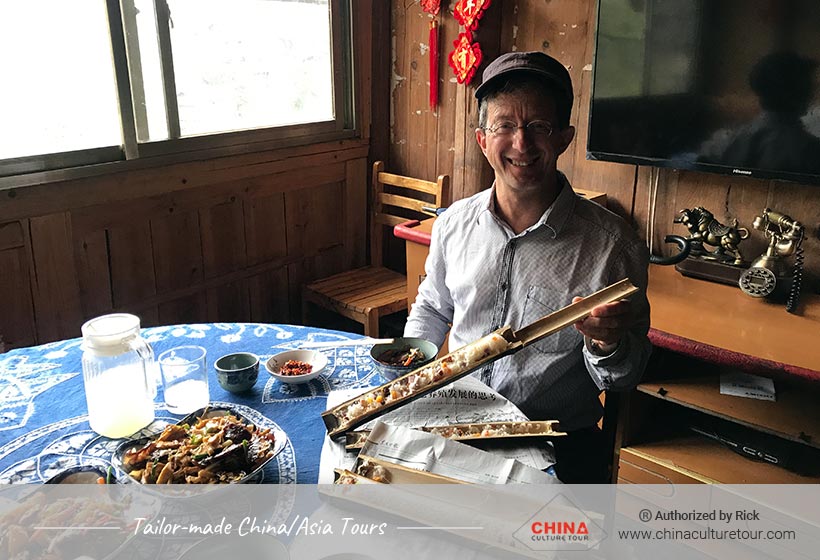 Bamboo Rice, Longji
I also have some suggestions for your future clients: In Beijing they should walk and walk on their own if they have a free day. So much to take in. The Giant Buddha at Leshan and Jinsha Museum are well worth visiting. They should definitely see the Three Kingdoms show at Fengdu on the cruise. The cruise itself is very pleasant and beautiful. Don't miss the Goddess Stream excursion. Hangzhou has a lot to offer if they have time. In Shanghai, make enough time for the Shanghai Museum. Even two separate visits because there's so much to see.The Shanghai Acrobats performance is splendid and should not be missed. If it's not on their itinerary they should make sure they buy tickets. Dinner outdoors in Xintiandi was great fun. I suggest mixing in five star hotels with the four stars, if it's in their budget, is desirable, especially on arrival. I would also recommend business class on internal flights more than an hour or so, especially if the traveler is larger. The seats are very tight for many Americans. I am average size for an American and the 3-hour flight from Shanghai to Guilin was pretty uncomfortable.
*Download WeChat before departure for China and get the WeChat connections with all guides. Also, I was very happy I had Express VPN on my phone since so many sites are blocked. That VPN gave me good connections from even remote sites like the Longji Rice fields.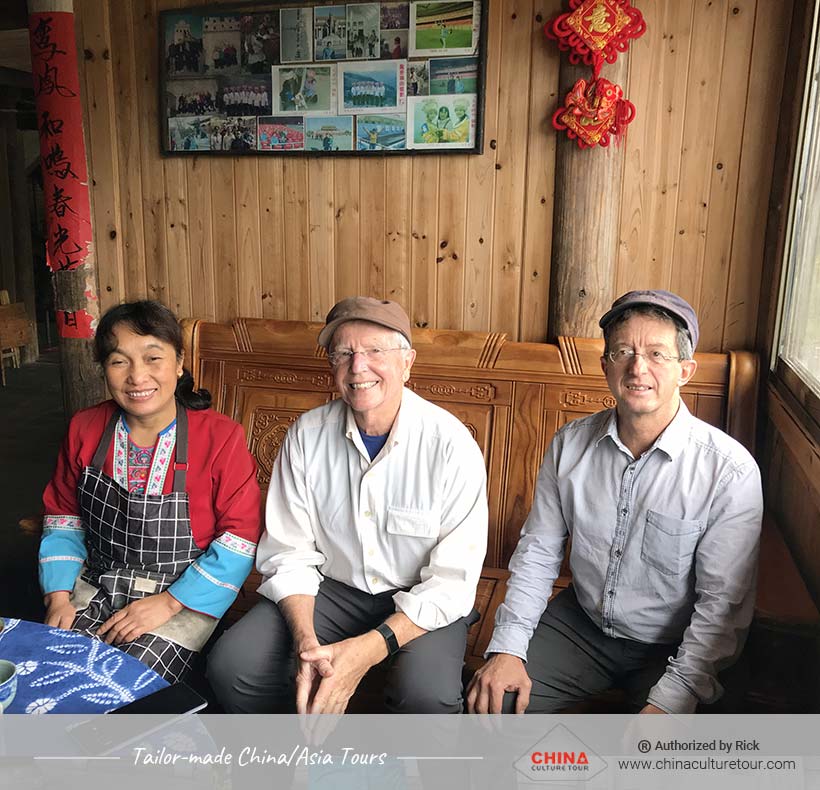 Local Family Visit , Longji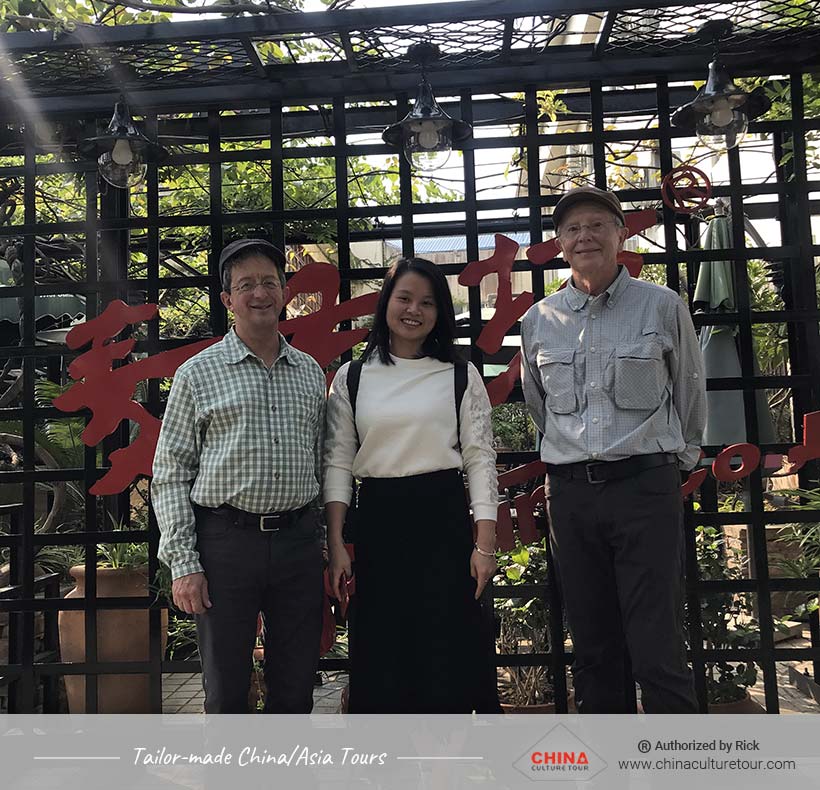 Li River Cruise, Guilin
*Also, we encourage travelers to break out of the hotels for dinner and wander (with a good map. My Google maps worked very well in most, but not all places.)
We LOVED the bullet trains and highly recommend First Class travel. There's more room for luggage, for one thing. Train stations are hectic and crowded and the extra comfort in First Class provides a good way to relax. If they have noise-cancelling head or earphones, they should bring them. Several times we were seated near some extremely loud passengers. Also, be sure to be clear where to meet your guide in Hangzhou and Shanghai. The train stations are quite large with at least two exits, and the signage in English not always clear. WeChat proved very helpful in this respect.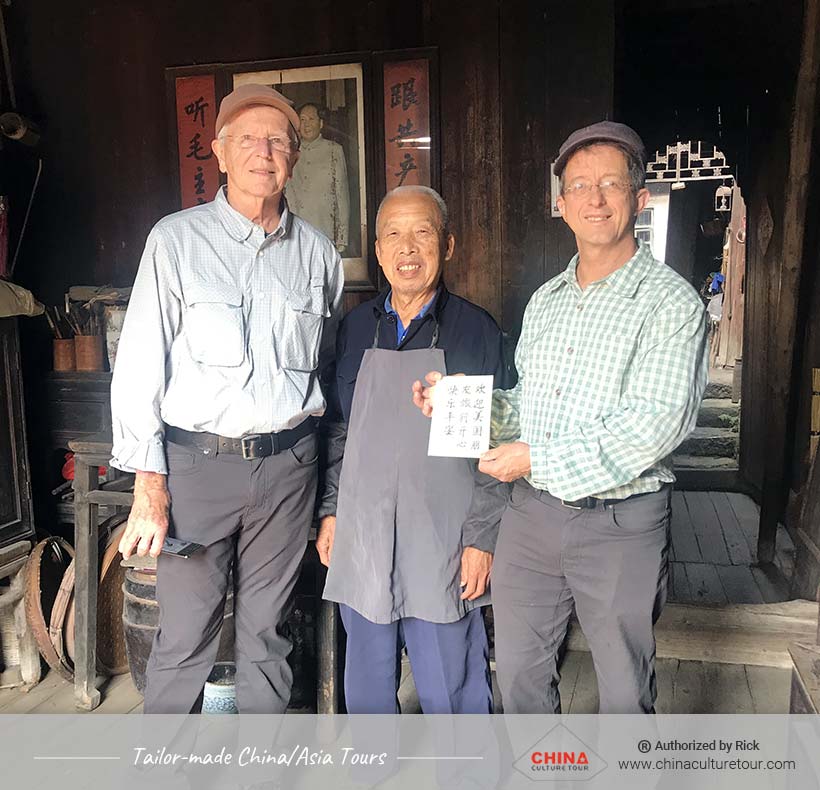 Family Visit, Guilin
I found you through an internet search. Reviews were excellent. I spent time working on itineraries with you and one other company. I found Nora very helpful and got great confidence through our frequent emails.
I would be happy to communicate with your potential clients through email first. I would decide after email chat about a phone conversation.
Rick from US, customized a China Tour with Yangtze River Cruise to Beijing Xian Chengdu Yangtze Cruise Hangzhou Shanghai Guilin and Hong Kong
More Helpful Similar China Tour Reviews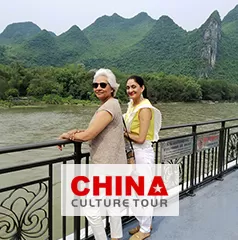 "
Hi Nora, We finally reached back home after a really wonderful stay in your beautiful country. You had done a wonderful... " Read More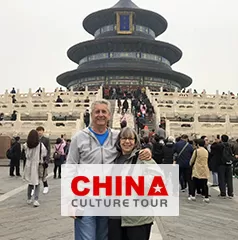 "
Hi Nora, We are fine and arrived home safe and sound. Thank you.Climbing to Station 20 at The Great Wall and the Potala... " Read More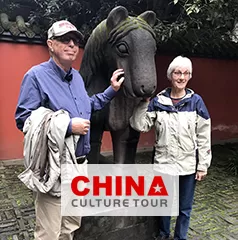 "
Hi Nora Here are a few pictures from our tour. We had an amazing time. Every day exceeded our expectations and held a new... " Read More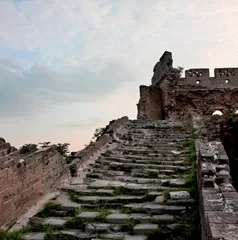 "
Dear Nora We were delighted to have the opportunity to meet you in Guilin and to find you just as delightful in person as... " Read More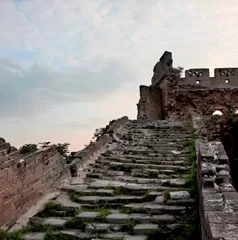 "
Lydia, We are well, thank you. We have recovered from our trip, and are getting Michaela ready to go off to school... " Read More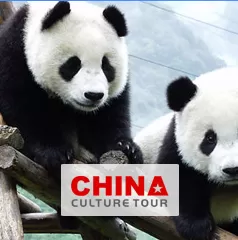 "
6 Stars If I can give China Culture Tour 6 stars, I would. We recently returned from a 14-day private tour of China which... " Read More

"
Hi Lydia An excellent tour operator with wonderful guides and drivers. A trouble free amazing holiday. Highly recommend!Lydia... " Read More
ANY QUESTIONS?
This tour is tailor-made and we can tailor to meet your reqeusts. Your personal travel consultant will contact you within 24 working hours!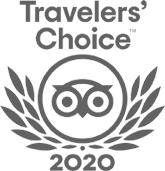 FABULOUS TOUR COMPANY
CHINA OCTOBER - NOVEMBER 2019 We researched several companies and studied reviews on Trip Adviser before contacting who did a very China Culture Tour with an initial query. Right from the outset Grace who owns the company was excellent. She emailed detailed with pictures information and a suggested…read more details
Karen from US
Ready to Create a Unique Dream Travel?