Tsim Sha Tsui
Tsim Sha Tsui is a part of Yau Tsim Mong District, located in the southern Kowloon Peninsula. It is separated by Victoria Harbor with the Central of HK Island and Wan Chai. Geographically speaking, Tsim Sha Tsui is a cape of the north Kowloon Peninsula and is adjacent to Harbor Plaza. Before removing mountains and filling up seas, the seawater near this area was hindered by Kwun Chung Mountain, which formed a long beach with an apex. The original coastal line of Tsim Sha Tsim was along Salisbury Road and Chatham Road. Within the two areas, there are two parallel capes - Kowloon Point and Blackhead Point. Between these two capes is a small bay. After many times that the sea was filled, Tsim Sha Tsui expanded. Today, it is still a highly-developed shopping area and is considered as the heart of Hong Kong.
Shopping and Tourism
In the daytime, the restaurants on either side of Nathan Road and many international boutiques are crowded with tourists. At night, the colorful lighting of Avenue of Star is the most eye-catching scene in HK. The shops hidden on the streets and lanes alongside Nathan Road make it an ideal place for tourists to buy souvenirs and delicious foods.
Shopping Sites
Park Lane Shopper Boulevard is a shopping mall in the east of Kowloon Park, Nathan Road, with clothing stores on either side.
Granville Road is covered with various clothing stores and accessory shops selling fashionable apparel and accessories. Rise Shopping Arcade is also nearby.
Lock Road - there are many famous stores selling old English books exclusively, of which Swindon Book is the largest.
Hillwood Road, also named "Tsim Sha Tsui Food Street," has many good restaurants that celebrities and actors often go to.
Knutsford Terrace is a paradise of delicious foods from all over the world.
Kimberley Street is a place where Korean food shops have gathered since the Korean Wave hit HK. It is known as "Little Korea".
Tourism
Avenue of Stars, former Police Headquarters, HK Astronomical Observatory, Kowloon Masjid, St. Mary's Canossian College, Rosary Church, St Andrew's Church,etc.
Hotels
There are many hotels in Tsim Sha Tsui, including the famed Peninsular Hotel, Intercontinental Hotels Group, Sheraton Hotel, Gateway Hotel Marco Polo, and Hyatt Regency which are the most famous ones. Generally, these hotels are equipped with great restaurants and banquet halls. Visit more hotels in Hong Kong >>
You might also like the following helpful information about Hong Kong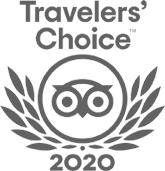 FABULOUS TOUR COMPANY
CHINA OCTOBER - NOVEMBER 2019 We researched several companies and studied reviews on Trip Adviser before contacting who did a very China Culture Tour with an initial query. Right from the outset Grace who owns the company was excellent. She emailed detailed with pictures information and a suggested…read more details
Karen from US
Ready to Create a Unique Dream Travel?