Food and restaurants, what and where to eat
Famous Food: Yangrou Paomo, Jiaozi/Dumpling, Oiled Noodle, Liangpi
Where to eat: Muslim Street, in the old city area
Xi'an is a famous tourist city known for its gourmet food and snacks. In Xi'an, you can savor Shaanxi's delicious food without any limitations.
When choosing between the gourmet food in Xi'an, we highly recommend "two feasts" and "two paomos."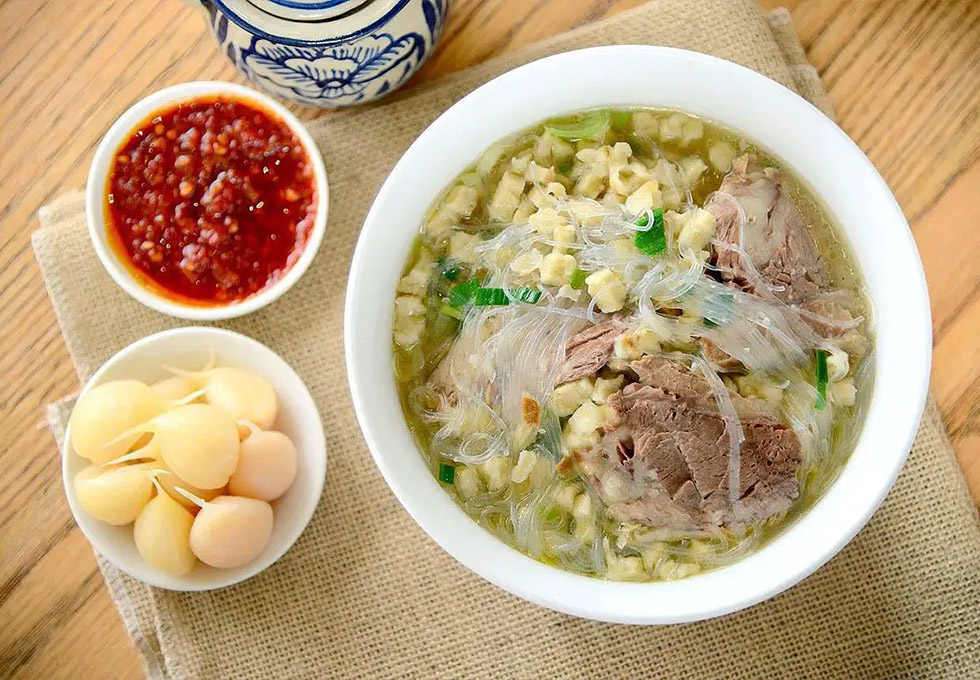 Yangrou Paomo
The "two feasts" are a Shaanxi local feast in Xi'an restaurants and dumpling feasts can be found in dumpling restaurants on Defachang and Jiefang Road. Shaanxi local snack feast is known as "Jinxiang Shaanxi." There are over 70 to hundreds of snacks throughout the province, together with traditional specialty dishes of Xi'an restaurants, and famous high-quality and innovative dishes. Defachang dumpling restaurant and dumpling restaurants on Jiefang Road are all a "China Time-honored Brand" and have had a long history. The dumplings they sell are unique and known as the "Historical Flavor".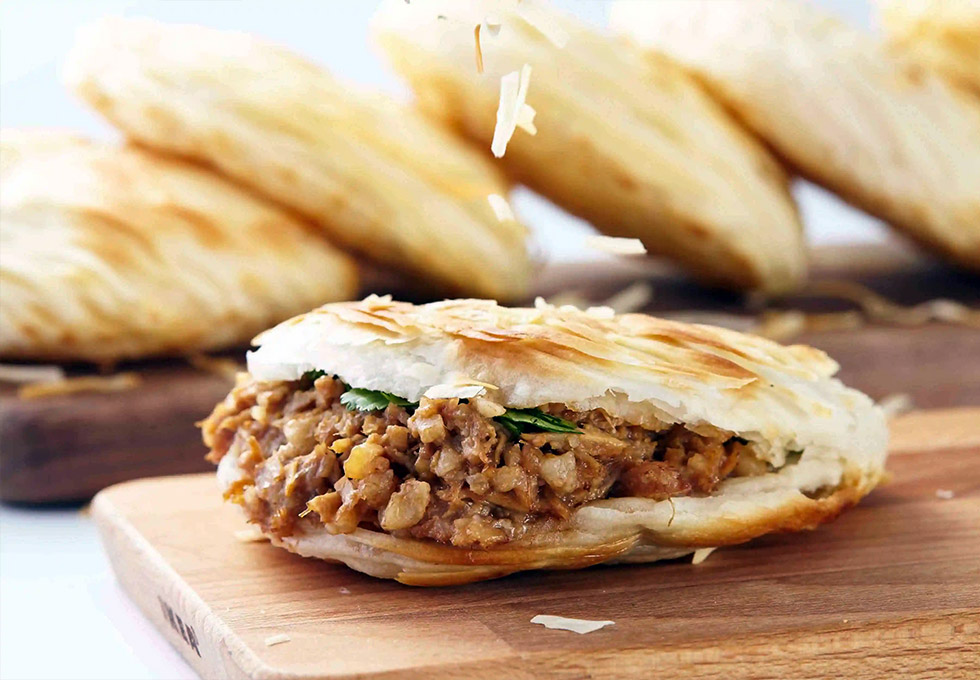 Rougamo-Chinese hamburger
The "two Paomo" are pita bread soaked in lamb soup and Hulutou Paomo. Pita bread soaked in lamb soup is renowned in Lao Sunjia restaurant and Tong Shengxiang restaurant while Hulutou Paomo is best made at Chunfa restaurant. Lao Sunjia and Tong Shengxiang are both famous China brands that have had a history of about a century. The Muslim main dishes and snacks, mutton in hot pot and beef in hot pot cooked by the two restaurants are delicious and tasty while full of local tastes. Chun Fasheng restaurant was built in 1920 and has a history of over 80 years. The name "Chun Fasheng" was selected by a celebrated person from Du Fu's poem "A good rain knows its season and comes when spring is here" which was written in 1920. It is said that the technique of Chun Fasheng Hulutou Paomo was taught by the King of Medicine Sun Simiao from the Tang Dynasty.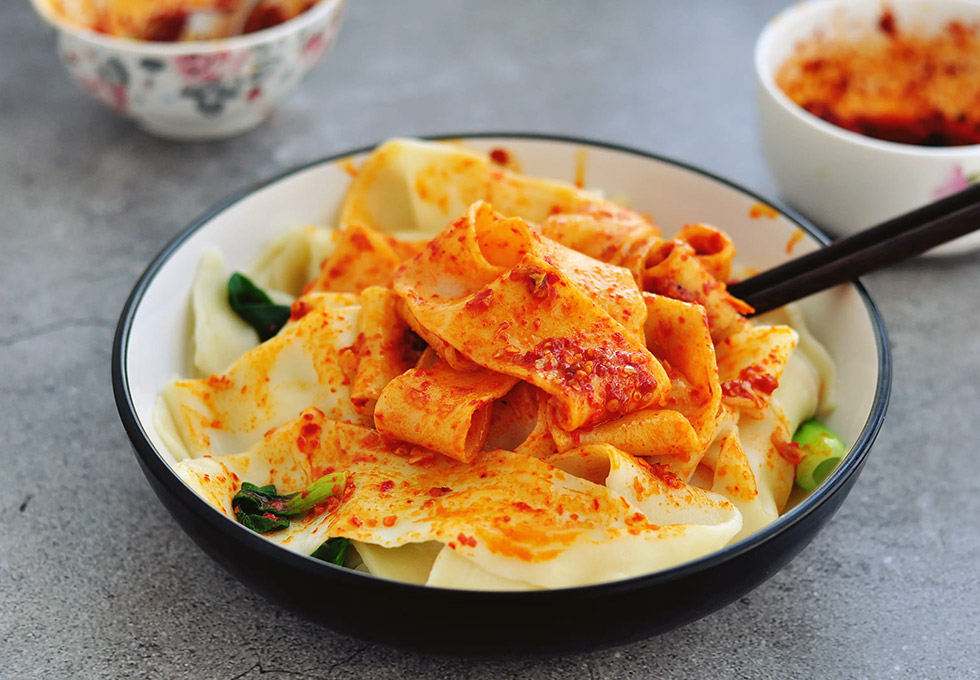 Liangpi
In addition, Xi'an dieting culture is full of intense northwestern amorous feelings. It is a pleasure to taste various local snacks while traveling in Xi'an. Chinese hamburgers, pita bread soaked in lamb soup, cold noodles, buckwheat noodles, Hulutou, roast meat, and rice noodle with sheep blood are local famous snacks. It is a unique experience to taste the local gourmet food when you travel to Xi'an. Having an unforgettable bowl of pita bread soaked in lamb soup, tasting a piece of Chinese hamburger, and eating a plate of cold noodles with hot pepper will leave you with a great impression of the ancient city-Xi'an.

Local Restaurants
Xi'an's local cuisine is dominated by noodles, beef and lamb; a large part of it is made up of Muslims from the northwest, who brought with them halal cooking methods that were widely accepted and enjoyed.
Lao Sun Jia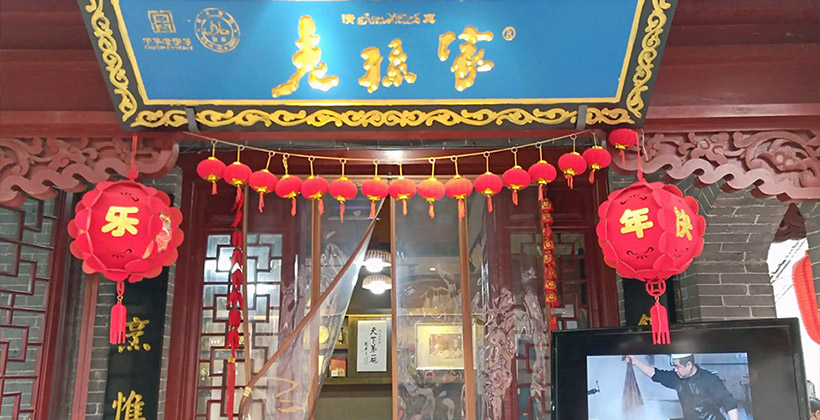 Lao Sun Jia Restaurant
Name: Lao Sun Jia/老孙家
Address: No.40 Beiyuanmen, Lianhu District/西安市莲湖区北院门40号
Features: Pita Bread Soaked in Lamb Soup/羊肉泡馍, Pita Bread Soaked in Beef Soup/牛肉泡馍, Halal Cuisine
The original restaurant, opened in 1898, is still the best place to sample Xi'an's most celebrated dish, yangrou paomo. There are now three branches, two of them located on Dong Dajie. The branch with the best reputation at the moment is located inside a large hotel. On the first floor, you can dine with the masses, which is not recommended since tourists will stand out and ultimately become the main attraction. The second floor is where you choose a snack at the xiaochi restaurant. Recommended dishes at Lao sun Jia include the lamb dumplings (suan tang shuijiao) and a local favorite, fenzheng yangrou, which are two steamed buns perched delicately on the side of a pile of mince and flour Yang Rou Pao Mo.
Xi'an Tong Sheng Xiang Restaurant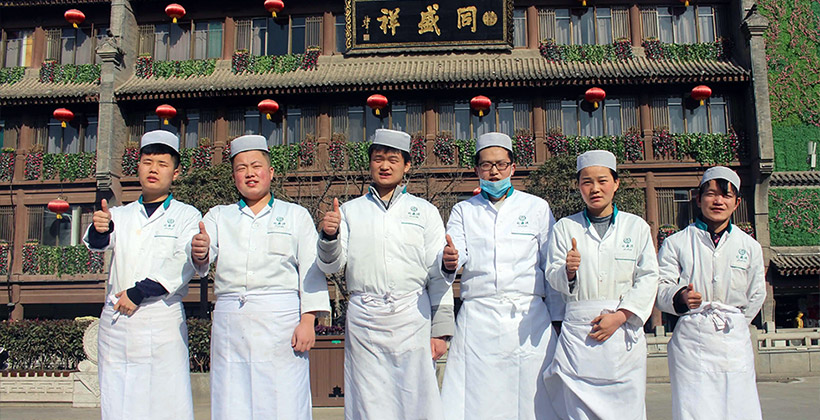 Tong Sheng Xiang Restaurant
Name: Tong Sheng Xiang/同盛祥饭庄
Address: No.5 West Street, Lianhu District/莲湖区西大街5号
Features: Pita Bread Soaked in Lamb Soup/羊肉泡馍, Pita Bread Soaked in Beef Soup/牛肉泡馍, Halal Cuisine
Tong Sheng Xiang (Prosperity and Fortune) Beef and Lamb Paomo Restaurant done in Tang Dynasty style, is a time-honored cuisine in the Xian Bell and Drum Tower Square. Yang Rou Pao Mo is a soup dish that involves breaking wheat flour flatbread into a bowl and adding mutton stock.
Tongshengxiang is known for its Niuyangroupaomo, which is a steamed bun soaked in beef or mutton soup. It is a delicious Xi'an specialty that consists of beef or mutton soup served with wheat flour flatbread. The hard bread is broken and added to the soup. The mixture is then eaten with pickled garlic cloves.
De Fa Chang
Name: De Fa Chang/德发长饺子店
Address: No.3 West Street, Lianhu District/莲湖区西大街3号
Features: various dumplings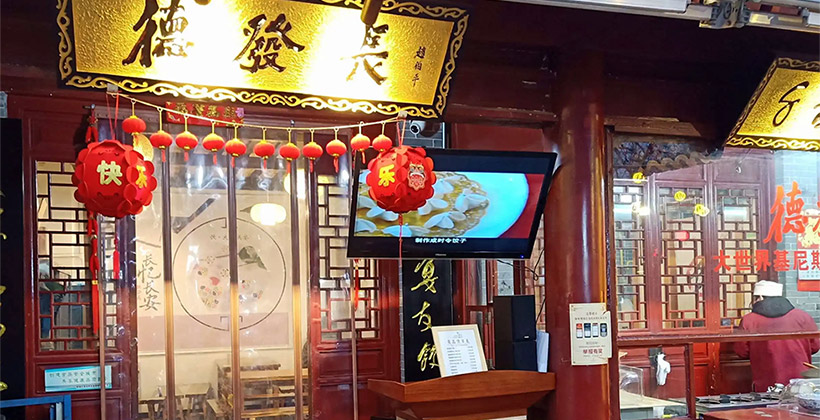 Defachang Restaurant
Defachang has many specialty dishes, but the most famous is jiaozi made of Shark fin. Another kind of jiaozi as big as a small fingertip filled with chicken meat. It is called a pearl jiaozi and is boiled in a hotpot of chrysanthemum soup. There is a vivid story that when Empress Dowager Ci Xi came to the city she asked her cook to give her something new, and the cook prepared this kind of jiaozi to please her. It was well received. She ate either three, six or nine, which is regarded as good luck in China. Today, the words are different, for having one jiaozi, means to go off smoothly, and two jiaozi for double happiness at the same time. When having a jiaozi, you can listen to the story and receive a blessing

You may be interested in the following activities that can add to your Xi'an tour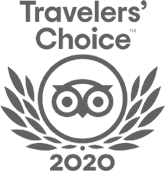 FABULOUS TOUR COMPANY
CHINA OCTOBER - NOVEMBER 2019 We researched several companies and studied reviews on Trip Adviser before contacting who did a very China Culture Tour with an initial query. Right from the outset Grace who owns the company was excellent. She emailed detailed with pictures information and a suggested…read more details
Karen from US
Ready to Create a Unique Dream Travel?