Top Xian luxury Hotels and best accommodations
Sofitel Legend People's Grand Hotel Xian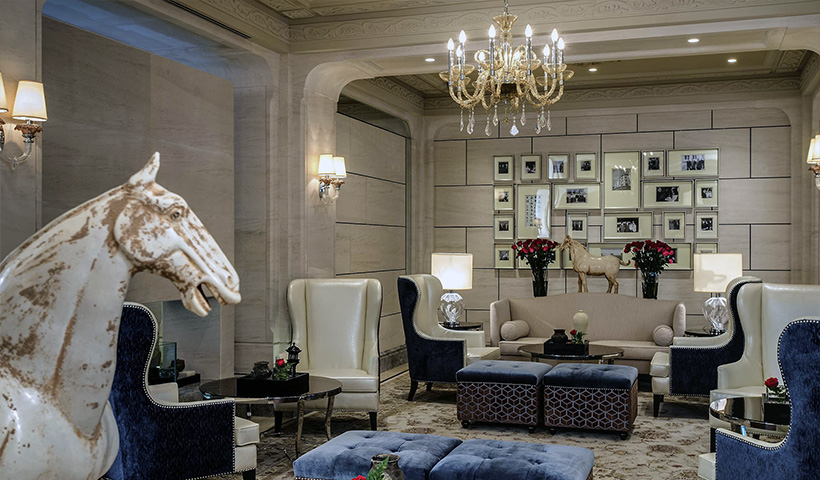 Sofitel Legend Xi'an was built in 1953 by Mr. Hong Qing, the chief designer of Northwest Design and Research Institute. The designer has taken advantage of the magnificent site of the former royal palace and the excellent geographic environment cleverly integrated the elegance and refinement of classical Chinese and French-Russian architecture, and selected a large number of French national flowers, Vetiver Iris, as elements of the whole building, highlighting the strong French style.
The hotel has a variety of well-proportioned, spacious, and luxurious rooms and suites, and is equipped with perfect facilities and equipment, bringing guests a unique enjoyment of time and space. Guests can not only feel the elegant fragrance of French flowers in the rooms but also feel the gentle care brought by Longfan toiletries.
The hotel also has a spacious garden, fitness facilities, swimming pool, spa, authentic Italian-style restaurant, Louis XIII exclusive bar, hotel museum, etc., and also provides one-stop personalized butler service for each guest, so that you can have an unparalleled luxury enjoyment.
Chinese: 西安索菲特传奇酒店
Star Rating: 5 Star
Rooms: 71 rooms and suites
Address: No.319 Dong Xin Street, Xincheng District / 西安东新街319号
Phone: +86 29 8792 8888
Shangri-La Hotel Xi'an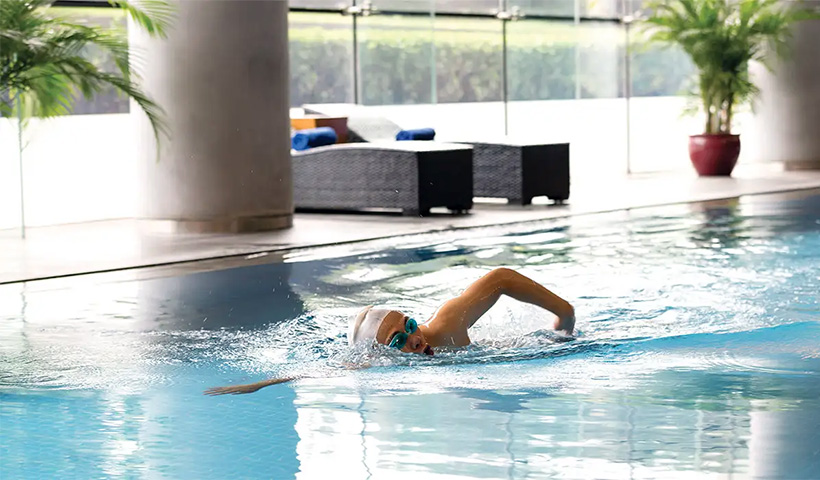 Located in the hinterland of Xi'an Hi-Tech Development Zone Shangri-La Hotel Xi'an is located in the largest commercial and recreational area of Xi'an. Easy transportation is guaranteed if you intend to visit local famous places like the Terra Cotta Warriors and Horses, along with the Xi'an Ancient City Wall. The hotel has luxury rooms and suites of various types, which are furnished with French windows that render you intoxicated with the beauty of the urban tapestry and garden view from the hotel. The hotel's 4-star restaurants and bars of distinctive styles will spoil you with alluring delicacies cooked by famous chefs from around the world. The restaurants and bars include Chinese-style Tian Xiang Ge, the tasteful Siam Garden, the exquisite Yi Café, and the elegantly-adorned Lobby Lounge. Later in the day, you will feel reluctant to say goodbye to these restaurants. The hotel's business center provides convenient services geared to the needs of business people. Facilities include a fitness center, a swimming pool, and a number of recreational facilities. You can relax here after a day's work. Additionally, the hotel is staffed with professional therapists who can help you achieve a balanced body and soul.
Chinese: 西安香格里拉酒店
Star Rating: 5 Star
Rooms: 393 rooms and suites
Dinning: 4 restaurants and bars
Address: No.38B Keji Road, Yanta District / 西安市科技路38号
Phone: +86 29 8875 8888
Sofitel Xi'an Remin Square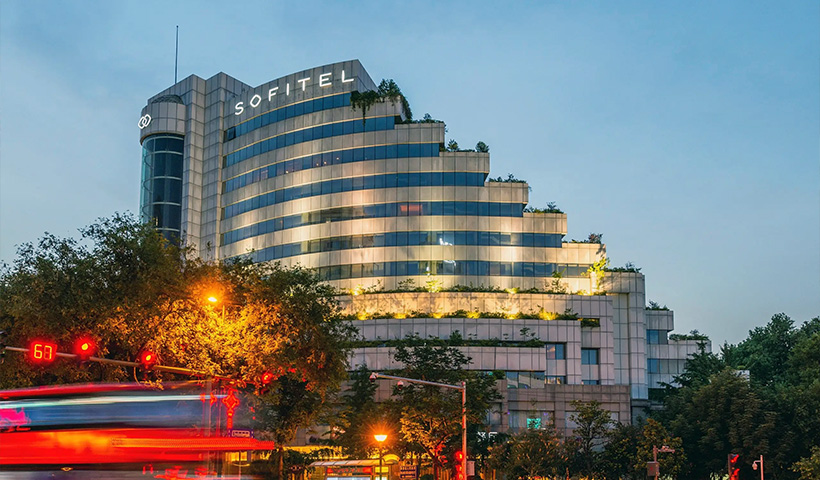 Sofitel Xi'an Remin Square is a combination of a modern lifestyle and a long history of Xi'an. Its facilities include fashion-forward rooms, decadent restaurants and bars, a professional spa, a gym, a magnificent banquet hall, a large-sized theater, and gardens with rare and precious trees. The hotel has a profound cultural richness of Xi'an and many places of historical interest. Many of the rooms and suites are equipped with exquisite furniture and modern decorations. The unique rainforest shower head, MyBed Sofitel beddings, and wireless broadband Internet access give you a luxury stay inspired by the French motto. Lastly, the lounges and boutique rooms provide personalized services and facilities for businesspeople.
Chinese: 西安索菲特人民大厦
Star Rating: 4-5 Star
Rooms: 178 rooms and suites
Address: No.319 Dongxin Street, Xincheng District / 西安新城区东新街319号
Phone: +86 29 8792 8888
Grand Mercure Xi'an on Renmin Square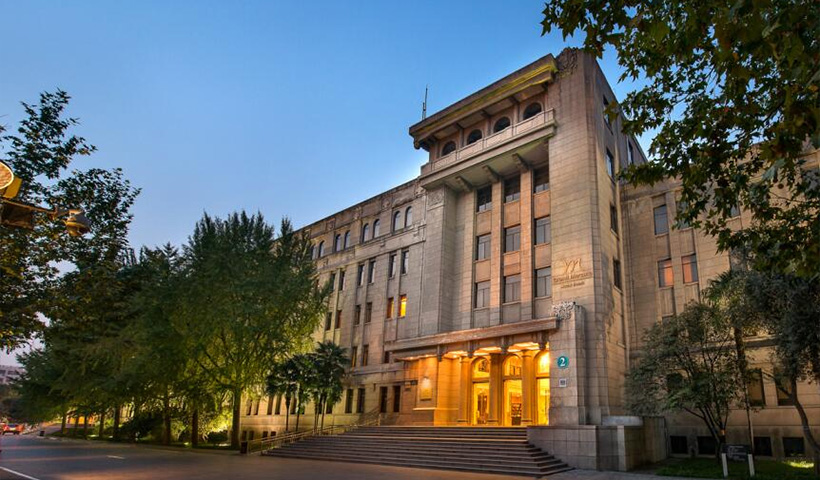 Engulfed by the Ming Dynasty City Wall and tranquil gardens, the Grand Mercure Xi'an on Renmin Square brims with the cultural richness of ancient Xi'an as it is the cradle of ancient Chinese civilization. As China's first ancient capital, Xi'an has wonderful facets of China's splendid culture as well as a long history, with its Terra Cotta Warriors and Horses listed as the eighth wonder of the world. Grand Mercure Xi'an on Renmin Square has a number of rooms and suites. The magnificence of this reflects the quintessence of the Renmin Building over the past 50 or more years. All the rooms feature a fusion of modern art and time-honored Chinese culture. Additionally, each room is equipped with complete facilities that include a safe box, a satellite TV, and other luxurious amenities.
Chinese: 西安豪华美居人民大厦酒店
Star Rating: 4 Star
Rooms: 194 rooms and suites
Address: No.319 Dongxin Street, Xincheng District / 西安东新街319号
Phone: +86 29 8792 8888
Tang Dynasty Art Garden
Located in Qujiang Scenic Area, a 5A tourist attraction of Xi'an, the Tang Dynasty Art Garden Hotel leans against the Giant Wild Goose Pagoda North Square (which is home to Asia's largest matrix music fountain). To its north is its neighbor, the world-famed Giant Wild Goose Pagoda (boasting a history of 1300 years) with a strip of wall on its western side. It stands next to the renowned Tang Dynasty Dacien Temple Relics Park (Chunxiao Park) on its eastern side and faces Datang Sleepless City and Datang Furong Garden from the South. It's a museum-like boutique hotel marked by the culture of the Tang Dynasty and geared for high-end guests who are fascinated by traditional Chinese culture. The hotel's building mimics the architecture of the Tang Dynasty, with a layout composed of three yards. With various rocks, waters, and ancient trees, the hotel has a beautiful landscape of ancient Chinese gardens with the nobility of the royal family. The hotel's exquisite rooms feature Chinese-style residences. The lobby, art gallery, and private banquet will give you a glimpse of the flavor of the Tang Dynasty. Meanwhile, you will enjoy the quietness and seclusion despite being in a bustling downtown area.
Chinese: 西安大唐博相府酒店
Star Rating: 3-4 Star
Rooms: 48 rooms
Address: No.6-1 Furong East Road, Qujiang New Area, Yanta District / 雁塔区,芙蓉东路6-1号
Phone: +86 29 8556 3333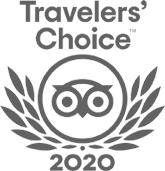 FABULOUS TOUR COMPANY
CHINA OCTOBER - NOVEMBER 2019 We researched several companies and studied reviews on Trip Adviser before contacting who did a very China Culture Tour with an initial query. Right from the outset Grace who owns the company was excellent. She emailed detailed with pictures information and a suggested…read more details
Karen from US
Ready to Create a Unique Dream Travel?