Lantau Island
Located at the south of the Pearl River, Lantau Island is the largest island in HK, almost twice the size of HK Island. The Lantau Peak (935 meters) on this island is the highest point and the second-highest peak in HK.
Lantau Island consists of mountainous terrain, scattered with few flat land areas. The majority of the population lives in Tai O town. Since the 1970s, Lantau Island has been a place for people to rest and relax on weekends and holidays.
Main Attractions
Hong Kong Disneyland, Big Buddha, Aehat Temple, Po Lin Temple, Tai O Village, Tsing Ma Bridge, Phoenix Mountain, Ngong Ping 360 Ngong Ping Square, Wisdom Path, Castle of Zhang Baozai, a pirate in the Qing Dynasty, and the longest bathing beach - Cheung Sha Wan Fishery.
The Favorable Time for Travel
The best time to travel around Hong Kong is in October and November. HK has a subtropical climate and a relatively higher average temperature of 22.8 degree Celsius. The weather is easily influenced by monsoons and the four seasons are distinctive in HK.
In the spring, you can wear a thin coat or sweater. As the climate in summer is hot and humid with rainfall and thunderstorm sometimes, short T-shirts and dresses made of cotton as well as overcoats and umbrella are necessary. The wind is mild and the sun is warm in autumn. Wearing a shirt, sweater and thin coat is appropriate. The climate is dry and slightly cold in winter, so it is feasible for you to wear a suit and thin sweater in HK during this time.
Camping
Kau Ling Chung is the most beautiful camping ground on Lantau Island, where you embrace its natural beauty and fresh air. There are plants spread all over the island. At night, you can light a bonfire and dance with your friends around it or sing to your heart's content. At midnight, walking along the beach barefoot, with the gentle breeze kissing your face, you may find blissful happiness. You can also climb to the top of the mountain to watch the sunrise or appreciate the view of the sea.
Campers
There are 7 campers imported from England. They are divided into small, middle, and large. Small and middle ones can carry 2 to 4 people while the large one carries 4 to 6 people. Each camper is equipped with air conditioning, an icebox, a cooking stove, a microwave oven, washrooms, and bathrooms. There are 4 grills in the camping ground provided for barbecue. People are only allowed to conduct activities in the campers that cannot be driven away.
Transportation
1. Waterway: Visitors can take a ferry or high-speed ship from Central to Silver Mine Bay on the island. The service time of the ferry is from 00:30 - 23:30 from Monday to Saturday and from 07:00 to 23:00 on Sundays and holidays.
2. Land Route: You can take MTR Tung Chung Line to New Town or take bus no. E21 at Olympic Station.
You might also like the following helpful information about Hong Kong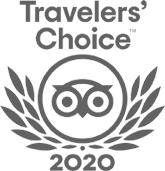 FABULOUS TOUR COMPANY
CHINA OCTOBER - NOVEMBER 2019 We researched several companies and studied reviews on Trip Adviser before contacting who did a very China Culture Tour with an initial query. Right from the outset Grace who owns the company was excellent. She emailed detailed with pictures information and a suggested…read more details
Karen from US
Ready to Create a Unique Dream Travel?