Top cultural activities, what to experience in Tibet
Prayer wheels that turn endlessly in local's hand; multi-coloured prayer flags that flutter in the crisp wind; magnificent monasteries heavy with aromas of incense. Shaped by over 1,000 years of Tibetan Buddhism, Tibet's obscure and ancient religion has produced one of the most enlighten cultures in the world. Venture into this land, a place believed to be nearest to heaven, to explore its archaic-looking religion and culture, sample some never-tasted-before cuisine and meet herders who kept their livestock moving, chasing the fresh pastures on Tibetan plateau. Despite the need of travel permit, this mysterious land is worth exploring for its endlessly photogenic landscape, all-new taste sensation, and fascinating cultural experience.
No. 1: Tibetan yak butter tea making
Type: Cultural Immersion/ Food/ History
Duration: 1.5 hours
Location: Lhasa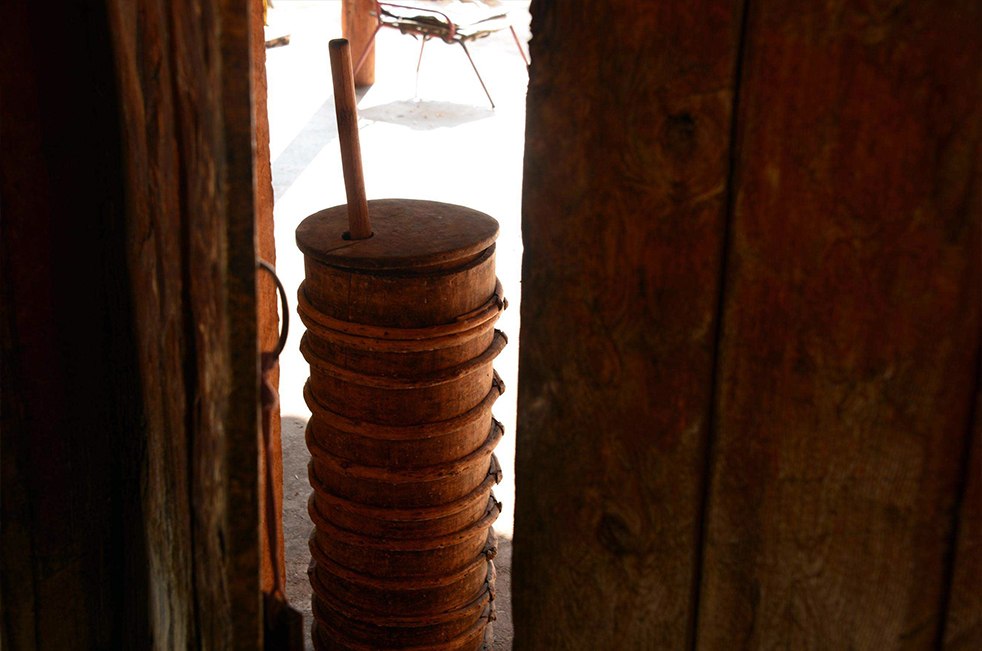 Tibetan yak butter tea making
Yak butter tea is a nutritious morning staple in Tibet. This fat-fuel energy drink can help nomads on chilly Tibetan plateau to go on about their days. In Tibet, serving the guest yak butter tea is a sign of hospitality, so if you receive a cup of yak butter tea from the local, don't refuse. In Lhasa, you will learn the traditional way of making yak butter tea from a local. This creamy drink is made from fermented black tea, brewed with salt until the mixture turns almost black. Then, pour through a strainer, filtering out those tea leaves, into a wooden butter churn. Large lump of yak butter is added before churning until butter blend well with savoury black tea. Enjoy it with some local snacks such as Khapse and Tsampa. Besides, you will get the chance to dress up in Tibetan costume before visiting Barkhor Street. With a history of 1,300 years, Barkhor Street is not only the holy walk path for pilgrims but also the historical and cultural centre of Lhasa. In the last half an hour, follow your teacher down Barkhor Street to know more about Tibetan culture and the lives of locals.
No. 2: Tibetan calligraphy writing
Type: Cultural Immersion/ Art & Architecture/ History
Duration: 1.5 hours
Location: Lhasa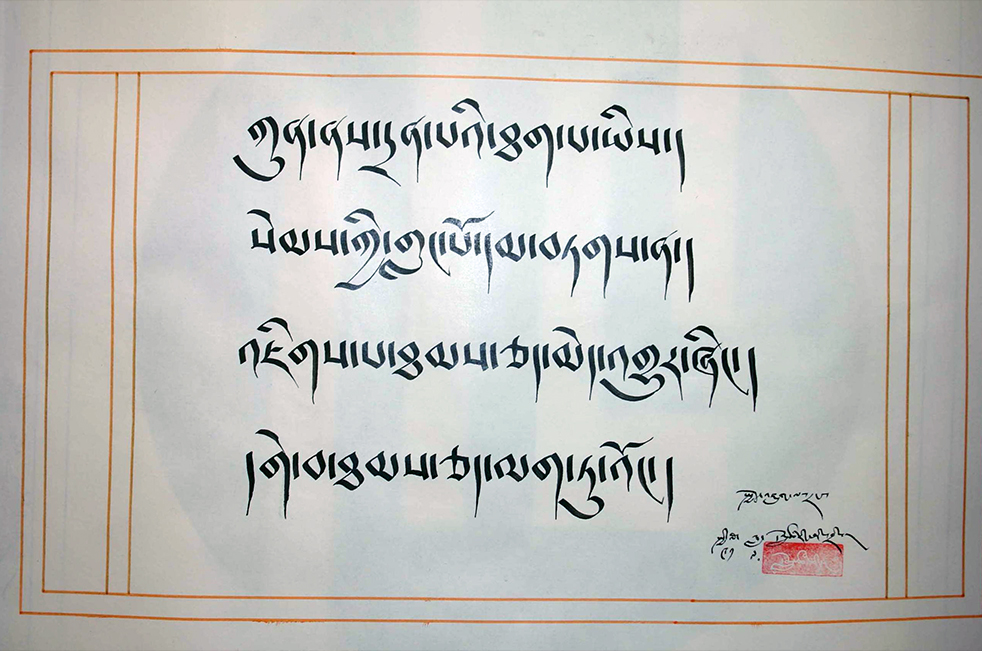 Tibetan calligraphy writing
Belonging to the Tibetan-Burman branch of the Sino-Tibetan language family, Tibetan language was created in the early 7th century, based on the writing system of ancient Sanskrit language in India. In this short session, you will learn how to speak and write some simple Tibetan words and phrases. Though learning a new language is not an easy task, however hard it is, knowing some basic phrases and a handful of words surely can make your journey in Tibet a different one. Here are some of the useful words and sentences you may want to memorise before venturing to Tibet (no worry even if you can't remember all, you will have your local guide with you):
| | |
| --- | --- |
| Hello | Tashi Delek (བཀྲ་ཤིས་བདེ་ལགས།།) or Kham-Sang (ཁམས་བཟང།།) |
| Nice to meet you | Khye ran jel-ne ga-po joong |
| How are you | Kayrang kusu debo-yimbay? (ཁྱེད་རང་སྐུ་གཇུགས་བདེ་པོ་ཡིན་པས།) |
| Goodbye | Shug Dan ja (when another person is staying),kha-Lay-pheb-A (when another person is going) |
| Thank you | Thuk-je-che་(ཐུགས་རྗེ་ཆེ་།) |
| Can you speak English | Khye-rang yin-ji-kay gyab thub gi yo pe |
| What is this | De Garey Rye |
| How much | Ga-Tsoe Re |
| Very expensive | Gong Chen-Po |
| Can you reduce the price | Gong Chak dang |
| I want this one | Nga-la Di-Go |
| Bathroom | Sang Choe |
| I'm lost | Nga lak Sung |
| Go to the airport | Nam-Thang la Phep |
By the end of this session you can bring home well wishes you have learn and written. Besides, you will also get the chance to dress up in Tibetan costume. In the last 30 minutes, follow your instructor down Barkhor Street, which is located at the centre of old town of Lhasa. With a history of more than 1,300 years, it is the oldest part of capital. Barkhor Street is the kora route around Jokhang Temple or Qoikang Monastery. Amble down the street in clockwise, see monasteries, prayer wheels and pilgrims as you learn about Tibetan culture and local life.
No. 3: Thangka painting lesson
Type: Cultural Immersion/ Art & Architecture/ History
Duration: 2.5 hours
Location: Lhasa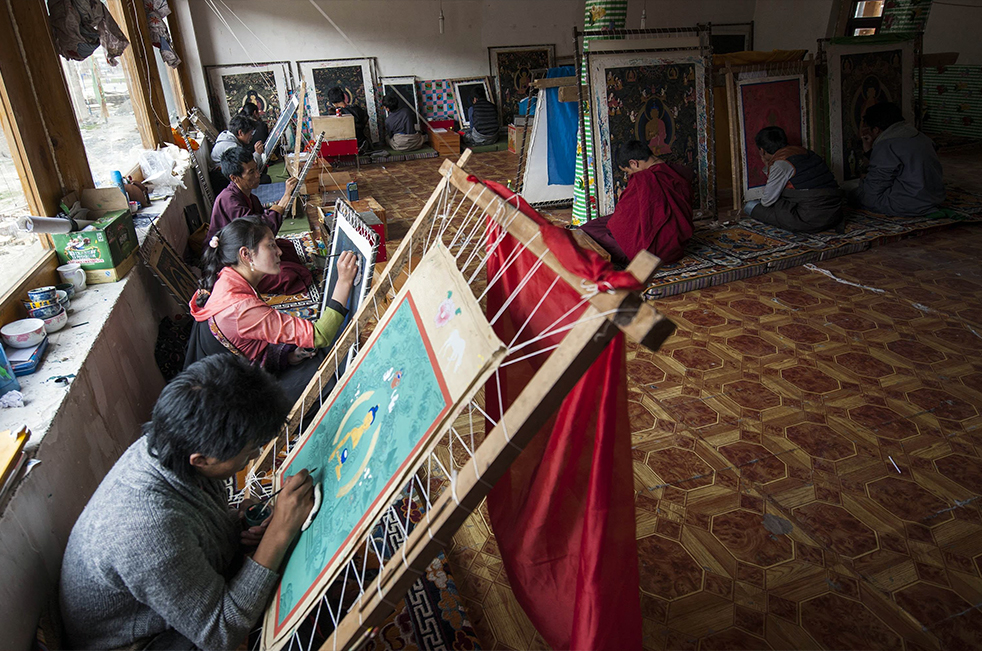 Thangka painting lesson
Thangka is a religious Buddhist painting which usually shows the history of Tibetan Buddhism, famous Bodhisattva and Buddha. Sometimes, you will find contiguous set of scenes blending one into the other in just one painting. This kind of painting is visually stunning and colourful. Some intricate paintings take months and even years to finish. In a workshop in Lhasa, you will get to learn how to paint simple thangka painting from a local thangka painter. Learn how to secure plain woven fabric or canvas on wooden frame and mix different pigments before concentrate on painting. You can bring home your art work as a souvenir. Besides, you can put on chuba (Tibetan costume) and take some photos on Barkhor Street. Then, follow your instructor down the street, see monasteries, prayer wheels and pilgrims as you learn about Tibetan culture and local life.
No. 4: Nomadic life experience
Type: Cultural Immersion/ Nature & Wildlife
Duration: Half a day (in summer)
Location: Near Ganden Monastery
For centuries, nomads have ranged across vast grasslands and dramatic landscapes of the Tibetan plateau with their grazing herds of sheep, goats, yaks and cattle. Nowadays, most people here live in fixed dwellings (at least in the freezing winter). But when the summer comes, they head for the hills and back to the land of their ancestors where their yaks have new grass to eat. Summer pastures also have medicinal flowers which the yaks need to eat in order to stay healthy. As these nomads get back to the old way of living in summer (at least for a few months), we will get the chance to visit a herding family near Ganden Monastery. The drive is roughly about an hour from Lhasa. Learn how to ride a horse, milking those yaks, and chase the livestock on horseback. See your host calling and whistling to keep his livestock moving as you travel across verdant plains dotted with yaks and nomads' tents.
No. 5: Princess Wencheng Live Show
Starting Time: Monday- Sunday 21:30
Duration: 90 minutes
Address: Cijiaolin Village, Chengguan District, Lhasa, China 西藏文化旅游创意园(Culture and Tourism Creative Park)
Princess Wencheng is the most famous and beloved queen in Tibetan history. The storyline of Princess Wencheng live show is based on historical event of matrimonial between Tibet king Songtsan Gampo and Princess Wencheng. It had promoted culture and economy exchange, harmonious relationship between the two kingdoms. As she travel from former Xi'an to Tibet, advanced technology and skills of Tang dynasty, such as farming, wool weaving, pharmacy and medical knowledge were taught to the Tibetan people. Beautiful costume, theatrical lighting with real mountains lit up and used as backdrop, hundreds of performers on a vast stage backed by galloping yaks, goats, horses and sheep – an unique and spectacular way of showing local song and dance, traditional customs and culture to the audience.
There are two screens on each side of the stage which give you an explanation of what is happening in English as well. This 90-minute epic in 5 acts is an outdoor show, thus, it may be greatly affected by weather. Keep track of weather forecast and bring sweater if necessary. Shelter is provided only for VIP seats. Also note that there are a number of steps to climb to reach the venue which can be quite tough for first day in Lhasa. You may want to put it on nights after when you are adapted to high altitude. Reach 45 minutes earlier in case of any heavy traffic jam. This live performance usually starts from late April to end of October. You can check the availability with us.
No 6: Himalaya song and dance performance
Starting Time: 20:00 (Monday- Sunday)
Duration: 80 minutes
Location: Lhasa Nationality Culture Palace of Fine Arts拉萨民族文化艺术宫(Taiyangdao 1st Rd, Lhasa, Tibet, China)
This is a Tibetan song and dance performance, combining local songs, dance, acrobatics, and vibrant costumes. There are total of four acts in the show, relating to history of the once glorious Guge Kingdom on Tibetan plateau, local religion, beliefs, customs, festivals and the well wishes of Tibetan people for their future. An impressive indoor show in Tibet worth attending.
No 7: Happiness on the way
Starting Time: 20:15 (Monday- Sunday)
Duration: 100 minutes
Location: Lhamo Art Centre藏戏艺术中心 (27 Beijing W Rd, Lhasa, Tibet, China)
It is believed that arriving Tibet is approaching of harmony and happiness. Even if one leaves Tibet, happiness is always there with him or her along the way. Happiness on the way performance at Lhamo Art Centre is a large scale thangka-style song and dance epic. It shows the charming Himalayan culture and vibrant Tibetan arts while telling the stories of how locals, through the development of Tibet, pray for happiness, in search of happiness and enjoy happiness. This show is performed by a group of local peasants and nomads with 99% of them without any professional training. Yet, with their own dancing and singing talents, most authentic vibe of Tibetan life, art and culture are brought to the audience. The team had performed on Beijing Olympic and Shanghai World Expo.
No. 8: Traditional Tibetan knife casting
Type: Cultural Immersion/ Art & Architecture
Duration: 1 hour
Location: Lhatse County of Shingatse
In the workplace of a local craftsman in Lhatse County and we will see how Tibetan knife is been made. Sparks of fire fly as he hammer the knife on sharpening stone. Tibetan knife is a traditional accessory for both Tibetan man and woman. It is usually used for cutting meat, self-defence, and hunting, or simply for decoration. Delicate and beautifully designed sheath, sparkling and sharp blade, one of the most famous Tibetan knives are from Lhatse. Many local craftsmen here take this craft of Lhatse knife as a way to support their family and to keep this century-old tradition and craftsmanship alive. Tibetan knife casting comprises of over 20 steps, including melting, refining, shaping, sharpening, and designing. These knives are handmade of high quality steel. Handle is usually made of ox horn, bone or wood wrapped with silver or copper wire. Sheath is adorned with exquisite patterns of animals, flowers, and Tibetan words along with gems or gold plate. There are various sizes, from 10 cm long to over a meter. Making a single Tibetan knife can take up to one month and the 10 cm long one needs three days to complete.
No. 9: Tibetan cuisine cooking class
Type: Cultural Immersion/ Food
Duration: Around 3 hours (start from 16:30)
Location: Lhasa
One session only can accompany maximum of six people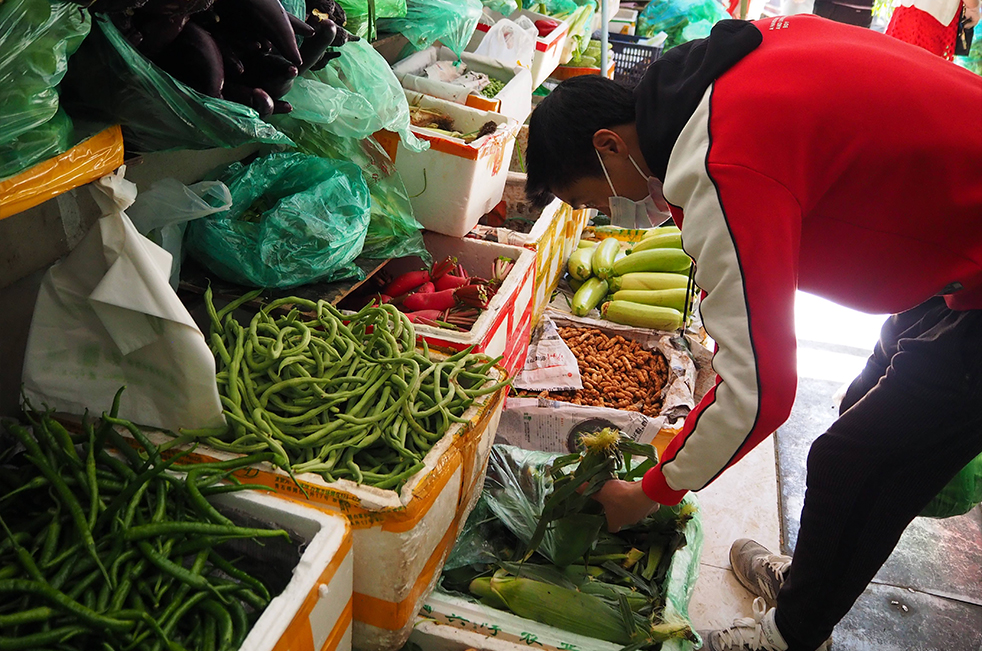 Tibetan cuisine cooking class
High altitude of Tibetan plateau has a significance influence on both its culture and cuisine, giving it a unique character. Due to the mountainous and harsh environment, Tibetan cuisine has the dominance of meat and dairy products (strict vegetarian will find food choice very limited). Although there is also noodles and dumplings here, but the flavour is significantly different from typical Chinese dishes and is heavily influenced by the neighbouring countries such as India, Bhutan and Nepal. When you are having meals in local restaurants, notice the lack of fish related dishes in Tibet because of their cultural and religious reasons.
In this half day cooking class, follow our chief to a local wet market and try your hand at preparing four authentic Tibetan dishes in one of the local restaurant in Lhasa. Dishes include Tsak Sha Momos (Tibetan beef dumplings) and sour turnip beef, an ancient cuisine which is highly popular amongst Tibetan people. Some may find Tibetan cuisine peculiar but give it a try and it will leave you a brand new experience.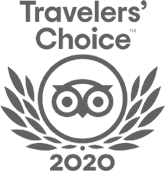 FABULOUS TOUR COMPANY
CHINA OCTOBER - NOVEMBER 2019 We researched several companies and studied reviews on Trip Adviser before contacting who did a very China Culture Tour with an initial query. Right from the outset Grace who owns the company was excellent. She emailed detailed with pictures information and a suggested…read more details
Karen from US
Ready to Build a Unique Dream Travel?