14 Days China Highlights & Tibet Everest Base Camp Tour
You've traveled to the classic and popular destinations of the world. So perhaps it's time for you to fulfill your wildest Dream of Tibet. Tibet is a place in your heart that cherishes its Buddhist traditions and heritages while sparks the world with it's the other-worldly landscapes. This 14 days China and Tibet tour is especially devised for utterly unforgettable travel experience, discovering the highlight attractions of China and finally venturing to Everest Base Camp.
Trip Highlights
Discover the historical traces and cultural foots of capital Beijing
Night walk on Simatai Great Wall
Explore Tibet's spiritual center with sacred ancient Buddhist temples
Incredible natural sceneries on the Tibet Plateau
Life-time expedition to Everest Base Camp
Customizable Tour Itinerary
Your China trip begins with a brief welcome meeting at the Beijing Capital International Airport. Transfer to your luxury hotel in downtown Beijing. Beijing is the cultural and political center of the country, with awesome museums, numerous historical sites and lively atmosphere. You may ask your China Culture Tour Guide for advice about nearby places to idle around and restaurant to dine.
Hotels: Beijing Aman Summer Palace, Beijing Double Happiness Courtyard Hotel, Beijing Fairmont Hotel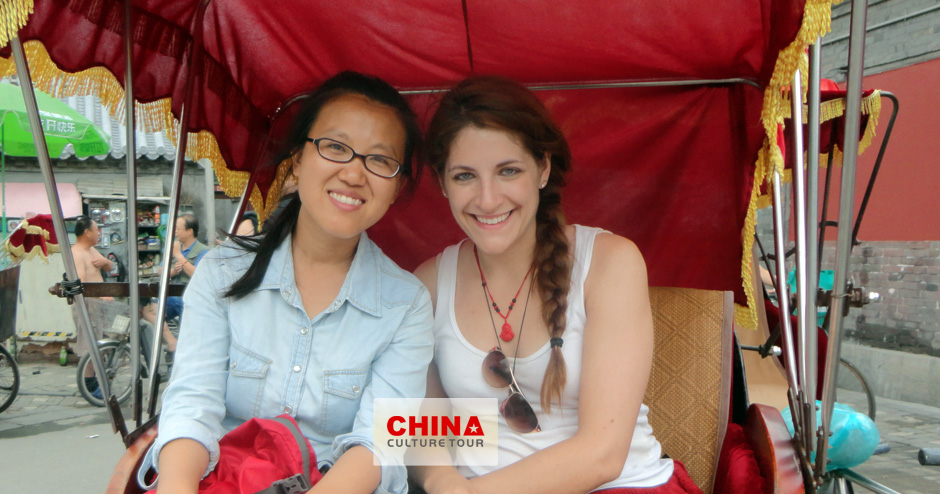 Hutong rickshaw
Start your tour with a walk across Tiananmen Square, the heart of Beijing and even China. Right next to the square is Forbidden City, which is among the most famous and biggest ancient royal palaces in the world, with remarkable wooden architectural complex including halls, chambers, rooms, gardens, pavilions, etc. Visit its Treasure Hall and the Clock Museum to admire some of the most valuable cultural relics of China.    
In the afternoon, hop in a vintage pedicab through hutongs – those narrow alleyways are in an intricate layout like a checker-board pattern. For the past 700+ years, hutongs, with its quadrangle complex and cultural sites, have experienced long historical changes and become a unique spectacle of Beijing.
Have a taste of Beijing, enjoying Beijing local cuisine today, including Peking Duck.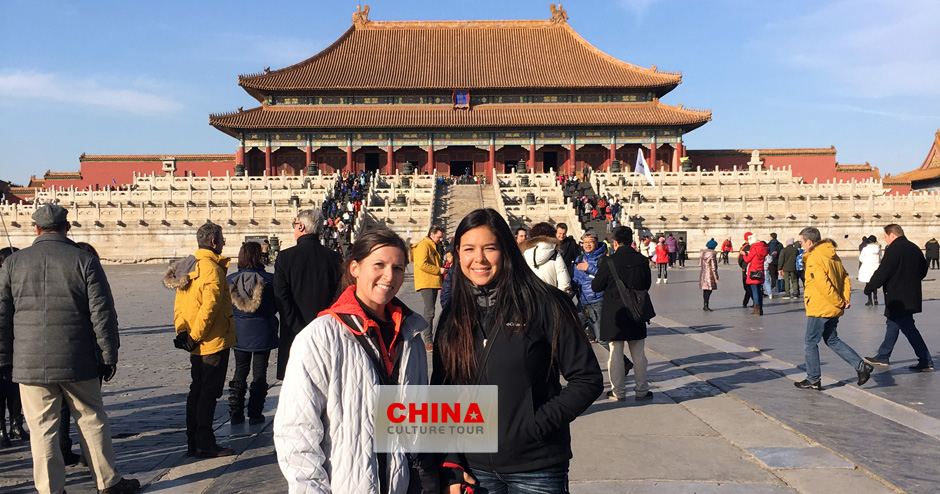 Forbidden City
View China's most representative garden – Summer Palace on a dragon boat cruise, favorably located at the Wanshou Hill and with the rolling West Hills as its backdrop. Based on the landscape of Kunming Lake and by using the garden technology of Jiangnan classical garden, Summer Palace is praised as a museum of Chinese garden.
Discover North China traditional folklores and a bustling food street at Gubei Water Town, which is situated right at the foot of Simatai Great Wall, one of the most beautiful and rugged section of the Great Wall of China. The evening tour of Simatai offers a very special adventurous experience – touring this immense ancient military engineering with lantern night and overlooking the Gubei Water Town by night.
Meals: Breakfast, Lunch,
Hotels: Beijing Gubei Water Town Hotel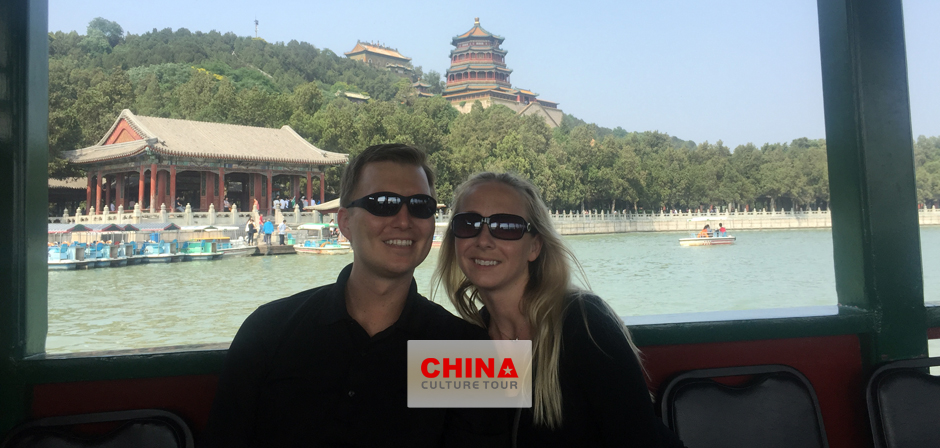 Summer Palace with Dragon Boat Cruise
You may have heard that activities to worship heaven played a crucial role in the ancient China Empire. The Temple of Heaven you visit today was just the most important site for kings to hold these activities during the Ming and Qing Dynasties. The solemn and magnificent architectures remind intact today.
Have a leisurely wander through Panjiayuan Market, the antique mecca in China that consists of the stalls, classical furniture area, stone carving area, modern collection area, etc.
Visit the largest Tibetan Buddhist temple in Beijing – Yonghe Lama Monastery. After it was converted into a temple from the former residence of Emperor Yongzheng, Lama Monastery has been shrouded an aura of holiness.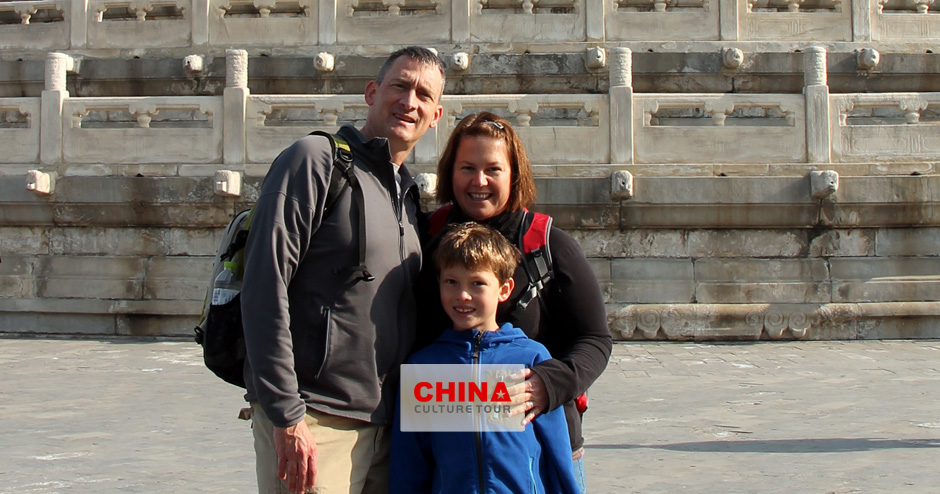 Temple of Heaven
Fly into Lhasa, city of sunlight and the holy city for Tibetan Buddhists. Located in the middle of Tibet Plateau, north of Himalayas, Lhasa is 3650m (12,000 feet) above sea level. So the rest of the day is to acclimate yourself to the high altitude, breathe the freshest air and view the bluest sky and snow-capped mountains. 
Meals: Breakfast,
Hotels: Four Points by Sheraton Lhasa, Intercontinental Lhasa Paradise, The St. Regis Lhasa Resort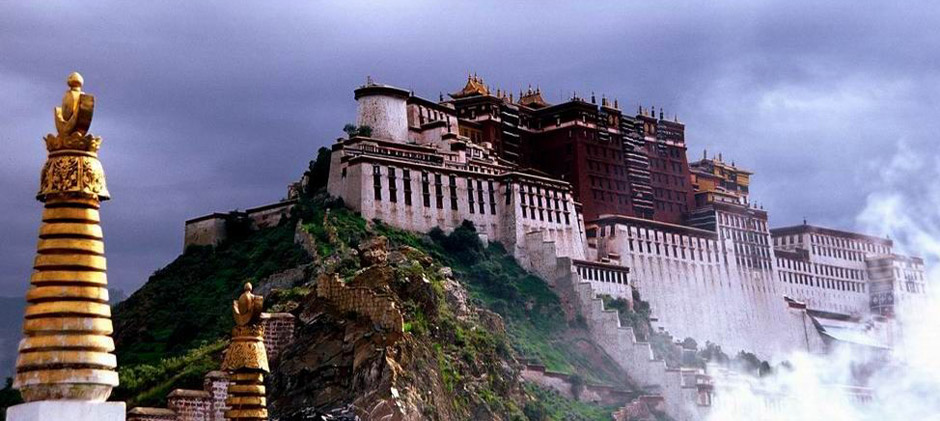 Potala Palace
Drepung Monastery was built in 1416 by a disciple of Tsongkhapa, founder of the Gelug Sect of Tibetan Buddhism. The largest temple in Tibet, The grand architectures of Drepung Monastery sprawl on the hill, resembling a mountain city.
Then visit a classical Tibetan garden – Norbulingka – the summer palace for Dalai Lamas. Furthermore, it is a plateau botanical garden, as boasting various exotic flowers and herbs transplanted from Himalayas, mainland China and even foreign countries.
There's chance you may attend a Buddhist debate at Sera Monastery. This tradition has been carried on for more than 600 hundreds. The tens of lamas dressed in scarlet robe are the debaters.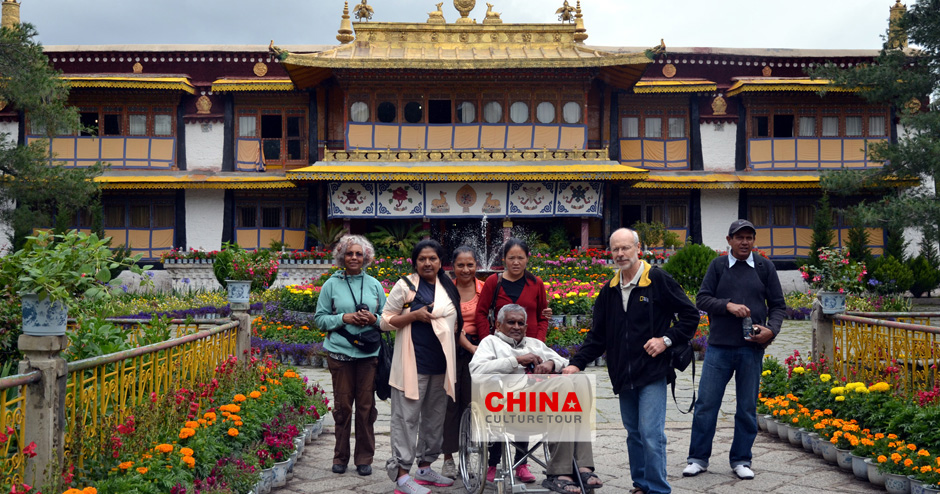 Norbulingka
The castle that is closest to heaven, Potala Palace is the symbol of Tibet and connects with Tibet's past. The long history, mysterious legends, outstanding architectures, numerous cultural relics, and devout pilgrims – find them all at Potala Palace.
With a history of over 1300 years, Jokhang Temple is the most sacred site in Tibet and makes Lhasa the holy city. You may join the pilgrims to walk around the temple, seeing them turning the prayer wheel, and listening to them chanting scriptures. It is a memorable spiritual journey. 

Wander the old corners and alleyways of Barkhor Street. The old city center is now becoming a bustling commercial center with local specialties for sale, but retains Lhasa's cultural traditions.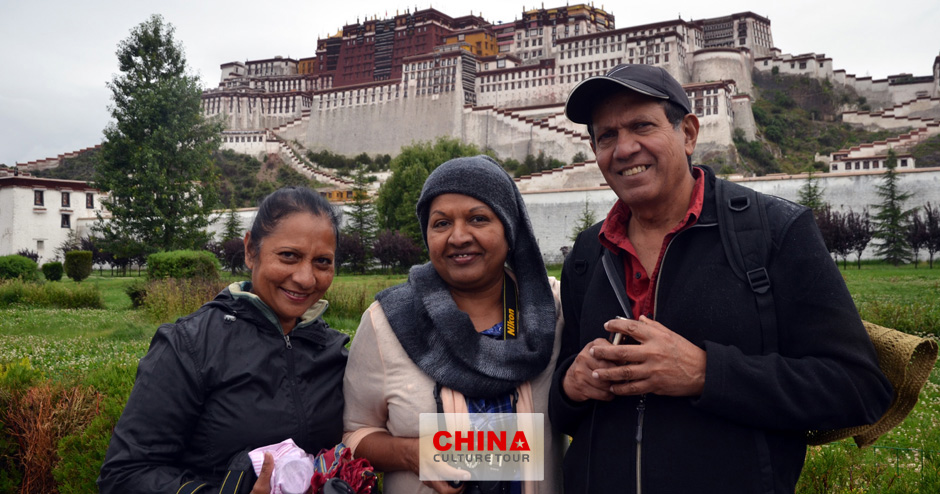 Potala Palace
Today continue your Tibet journey to Shigatse. Visit Yamdrok Lake and Palcho Monastery, and view Karuola Glacier en route.
One of the three holy lakes in Tibet, Yamdrok looks like a coral branch lying on this wild land, hence it is also called Coral Lake in Tibetan language. Walk around leisurely to take in breathtaking views of this emerald plateau lake and the surrounding wilderness scenery.
Founded in the early 15th century, Palcho Monastery is an ancient shrine that the Sakya School, Gardang School and Gelug School of Tibetan Buddhism are united.
Meals: Breakfast, Lunch,
Hotels: Qomo Langzong Hotel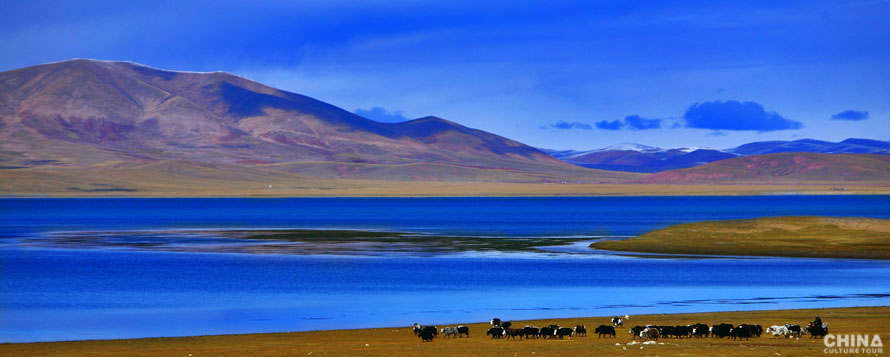 Yamdrok Lake
Drive for around four and a half hours from Shigatse through small villages to Tingri. You will never get bored of this scenic ride with wild sublime scenery all along. On the way, visit Sakya Monastery, the main temple of Tibetan Buddhism Sakya School, with cyan-red-white walls. Admire its 3000 beautiful murals and other Buddhist relics. There are many dharma assemblies to be held at Sakya Monastery throughout the year.
Relax during the rest of the day and prepare for tomorrow's trip to Everest Base Camp.
Meals: Breakfast, Lunch,
Hotels: Tingri Everest Hotel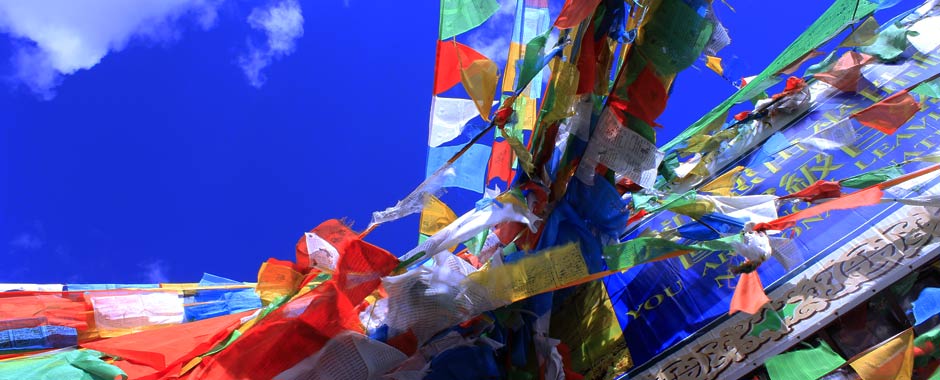 Colourful prayer flags flutter in the wind
Get up early this morning so as to make the most of your Mt. Everest Base Camp trip. It takes 3 to 4 hours' drive along the winding road from Tingri to Everest Base Camp. Take the rare chance to photograph Himalayas.
Arrive at Everest base camp - one of the best places to view and take photos of Everest. You may never reach the top of Everest, but at least make your way to the camp – experiencing yourself the unbelievable sense of accomplishment standing on the roof of the world.  
At 5154m, Rongbuk Monastery is the highest altitude temple on Earth and offers incredibly breathtaking views. You can hardly imagine the life here.
>> Eager for the sunrise/sunset at Mt. Everest, you may stay overnight at the Everest Base Camp. But make sure you have known that the air here is thin and the accommodation is very basic.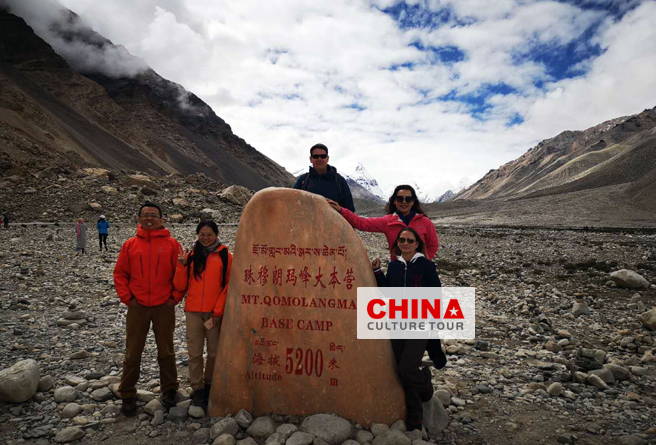 Everest base camp
Before driving back from Shigatse to Lhasa, visit Shigatse's highlight - Tashilunpo Monastery, another important and majestic temple of Tibetan Buddhism, but with different architectural style from those in Lhasa. It was also traditionally the preaching place of successive Panchen Lamas.
Enjoy the amazing scenery of rivers, lakes, plains, snow-capped mountains and Tibetan villages along the way, and arrive Lhasa.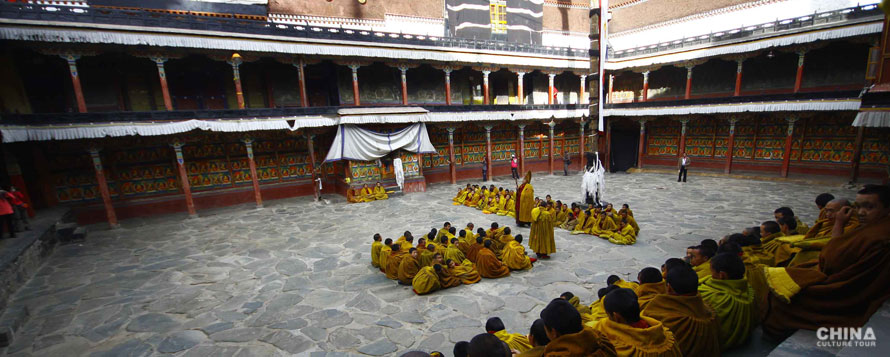 Tashilunpo Monastery
Bid farewell to Tibet. Enjoy your last minute sightseeing in Lhasa. Then fly toward east from Lhasa to Shanghai, landing China's most modernized city. Please understand that the flight will stopover in Chengdu or Xian, therefore, the whole journey takes about 6 hours.
Meals: Breakfast,
Hotels: Grand Central Hotel Shanghai, Four Seasons Hotel Pudong Shanghai, Grand Hyatt Shanghai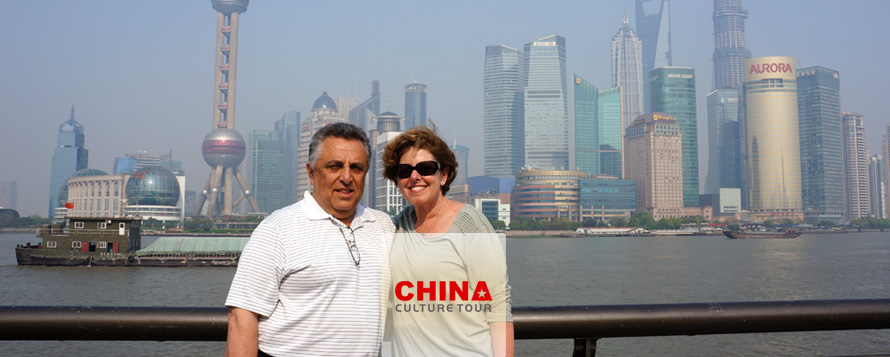 Shanghai Pudong area
Wander one of China's most famous historical streets – the Bund – the witness of the very beginning China's modern history. As the concession between 1844 and 1945, the Bund boasts over 50 striking colonial architectures
Later visit a typical Jiangnan garden – Yuyuan Garden, a private mansion built in 1559, with more than 40 meticulously-preserved structures and a wide diversity of plants and flowers. And discover the cultural root of Shanghai at the Town God Temple area, where you'll see many beautiful traditional architecture complexes and Shanghai's most popular food street.
Refresh your mind with an artistic experience in M50, enjoying the wonderful graffiti along the street and the art galleries. Then up Shanghai Tower, on the world's highest observation deck, to snap photos of Pudong skyline.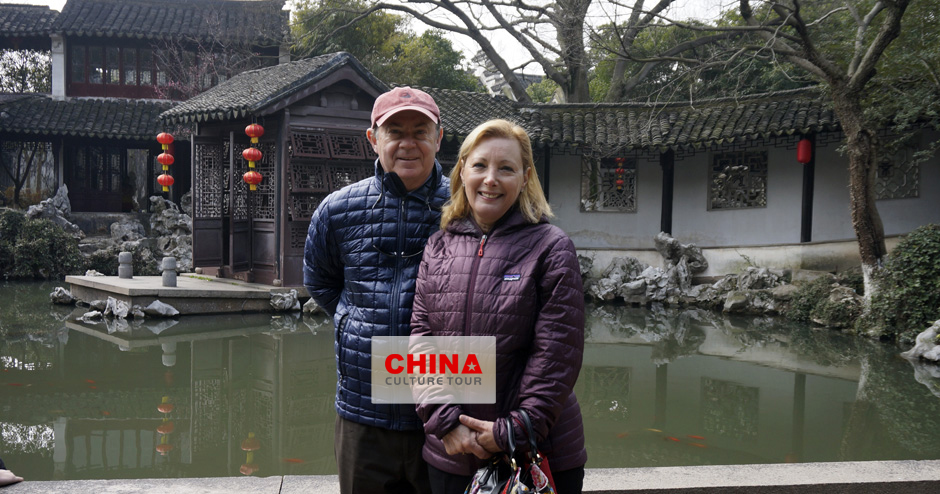 Yu Garden
Here comes to the end of your 14 days China & Tibet tour. After you are escorted to the airport and get through the security pass, wave goodbye to your guide, and China Culture Tour service ends.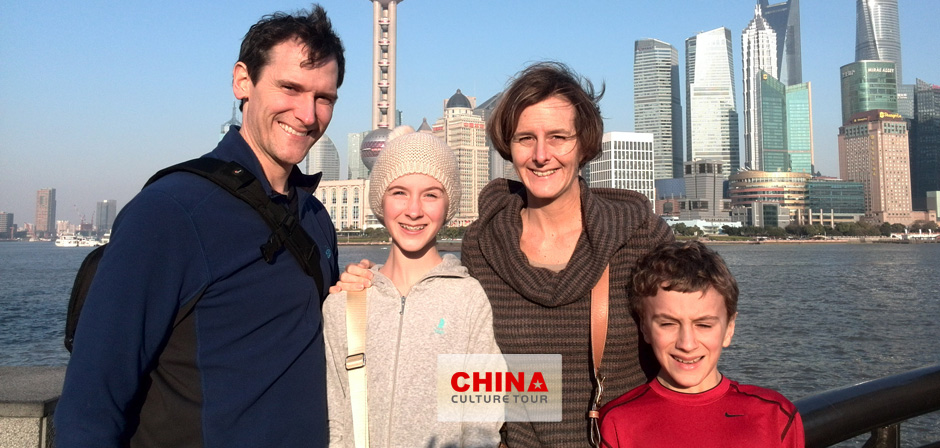 Pudong area
Price Includes
In-country transportationas noted in the itinerary.
Admission fees and activity expenses as noted in the itinerary.
Luxury or boutique hotels centrally located.
Meals in local restaurants as noted in the itinerary with complimentary drinking water.
Your own English-speaking guide service.
Your own chauffeur and vehicle service.
Price Excludes
International transportation.
Chinese tourist visa. (which enquired for most foreign passport holders)
Travel and medical insurance.
Meals, snacks, alcohol, etc. apart from those included in the itinerary.
Excess baggage charges.
Personal expenses.
Sights, excursions and activities not included in the itinerary.
Gratuities to guide and driver.
ANY QUESTIONS?
This tour is tailor-made and we can tailor to meet your reqeusts. Your personal travel consultant will contact you within 24 working hours!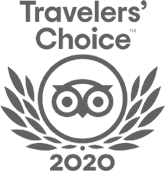 FABULOUS TOUR COMPANY
CHINA OCTOBER - NOVEMBER 2019 We researched several companies and studied reviews on Trip Adviser before contacting who did a very China Culture Tour with an initial query. Right from the outset Grace who owns the company was excellent. She emailed detailed with pictures information and a suggested…read more details
Karen from US
Ready to Create a Unique Dream Travel?