Sun and Moon Pagodas
Name: Sun and Moon Pagodas/日月双塔/rì yuè shuāng tǎ/
Where: Inside Fir Lake Scenic Area, Wenming Road, Xiufeng District, Guilin | 桂林市秀峰区文明路榕杉湖景区内
Open hours: 08:00-22:00
Entrace fee: RMB25 - 55
Tour time: 1 Hour
Best time to visit: at night
Get to there: Exit the Sheraton Hotel, walk across the road, follow the Li River walkway to the left, cross the Liberation Bridge, pass through Fubo Hill and walk about 1 KM to the front, the whole journey takes about 30 minutes!
Attractions nearby: Fubo Hill, Elephant Trunk Hill, Diecai Hill, Zhengyang Pedestrian Street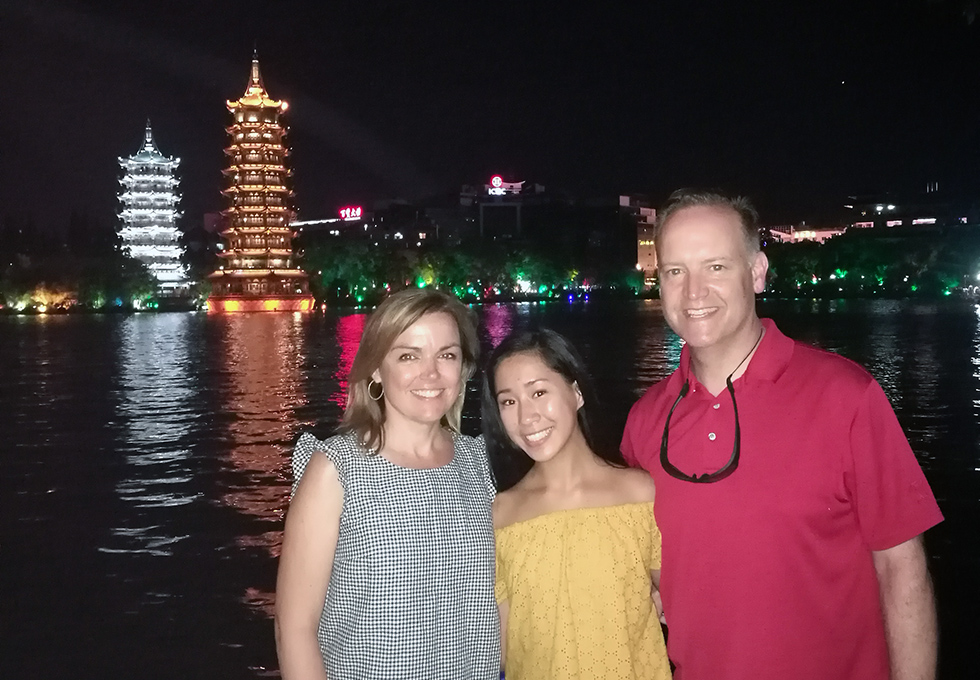 Sun and Moon Pagodas
The Sun and Moon Pagodas stand erect in the water of central Fir Lake (Shanhu). They are also known as Gold and Silver Pagodas because of their colors at night. The Sun Pagoda is the world's highest bronze pagoda, the world's highest bronze pagoda with an elevator, and the world's highest pagoda above water. The Sun and Moon Pagodas are a tourist site combining culture, art, religion, architecture, technology, and natural landscape.
At 41 meters high, the Sun Pagoda has 9 stories. It is 2 stories taller than the Moon Pagoda. The Sun Pagoda is made of bronze, while the Moon Pagoda is made of colored glaze. They stand next to each other, reflecting the beauty of each other. From the Moon Pagoda to the Sun Pagoda, there is a 10-meter glass tunnel that links the two underwater. When walking through the tunnel, one can see the fish above the head and on both sides.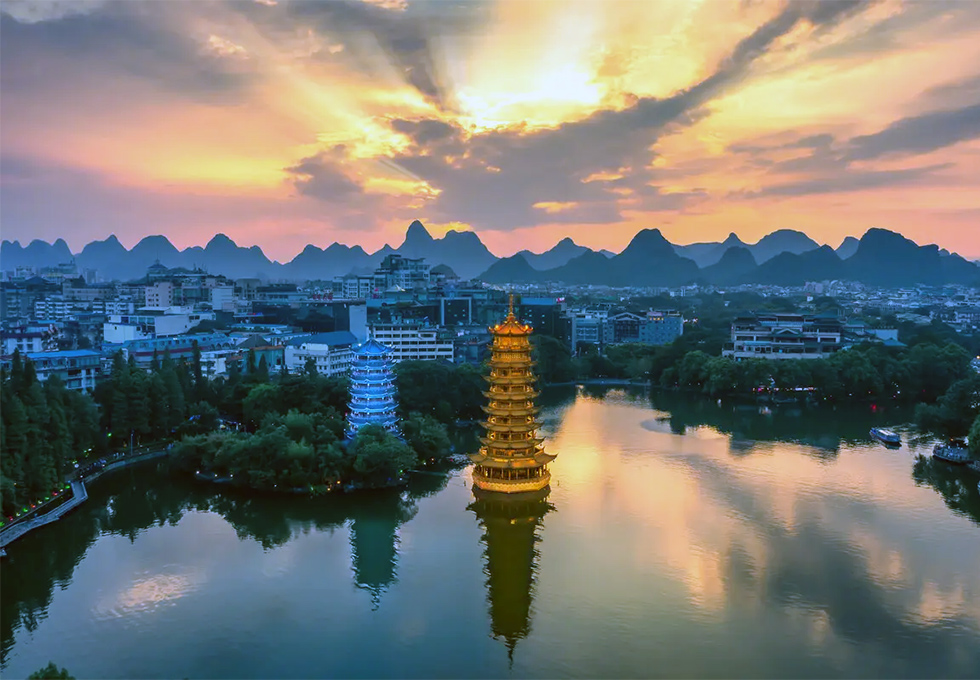 Sun and Moon Pagodas
Tourists are strongly recommended to visit the Sun and Moon Pagodas at night when the lights are on. You can take a walk first along Fir Lake before visiting. The golden and silver lights from the Sun and Moon Pagoda will shine on the lake and you. The colors from above the water and the reflection of color underwater may dazzle you. It is magical and refreshing.
When you climb the two pagodas you will see various statues of Buddhists and other historical and cultural symbols. While standing on top of the Sun or the Moon Pagoda, you will see downtown Guilin at night. It is so peaceful and harmonious that you won't want to leave.
What to do on a day trip?
What experience would enrich my Guilin trip?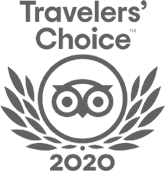 FABULOUS TOUR COMPANY
CHINA OCTOBER - NOVEMBER 2019 We researched several companies and studied reviews on Trip Adviser before contacting who did a very China Culture Tour with an initial query. Right from the outset Grace who owns the company was excellent. She emailed detailed with pictures information and a suggested…read more details
Karen from US
Ready to Create a Unique Dream Travel?