Top cultural activities, what to experience in Guangdong
Guangdong is a coastal province that has transformed drastically over the past decades. While bold new architectures dominate the area, a number of curious cultural offerings of the past can still be found scattering in those forgotten villages and streets.
Chinese lion head assembling
Type: Cultural Immersion/ Art & Architecture
Duration: 2 hours
Location: Foshan
No limitation on the number of participants, but 10 people and above can share a lower price.
According to historical records, lion dance can predate to the Tang dynasty, when it was performed for the emperors. Southern lion dance in Guangdong is one of the most popular traditional performances that mimic the behavior of lion. It has become an indispensable part of traditional festivals and some special occasions. The Chinese believed that lion dance brings good fortune and dispels evil spirits and negative energy. Lion dance is a fusion of dance and martial arts movements, accompanied by the rhythm of drums, cymbals and gongs. In Guangdong, most lion dancers are well-trained in Kung Fu movements, as sometimes the performers need to produce fierce movements to show power and masculinity of the lion. The colour of lion signify different characters, with the traditional colour used being red, yellow and black. In Foshan, you will visit a workshop where the craftsman makes Chinese lion head in the traditional way. Combine different parts and decorate your own mini lion head there.
Kungfu class
Type: Cultural Immersion/ Health & Fitness
Duration: Half a day
Location: Foshan
No limitation on the number of participants, but 15 people and above can share a lower price.
Foshan, regarded as the "Capital of Guangdong Kung Fu", is the main origin of Southern Kung Fu in China. First appeared as an independent type of martial arts in the Ming dynasty, Guangdong martial arts have developed rich fighting styles over the centuries. Guangdong Kung Fu with it essential core formed by traditional Chinese philosophy, has absorbed the teachings of Confucianism, Taoism and Buddhism. In this session, you will spend half a day learning the fundamental Kung Fu movements from a Kung Fu master. In the weekends evening, you will find some Kung Fu enthusiasts practicing Kung Fu movements with each other.
Chinese herbal sachet making
Type: Chinese Medicine/ Health & Fitness
Duration: 1 hour
Location: Guangzhou
The use of fragrant sachets in China can be dated back to 3,000 years ago before Qin dynasty. It is an aromatic herbs-filled bag, normally with wrapping made of silk and adorned with embroidery and colourful threads. It is as an ornament worn on the body and used to absorb sweat, repel insects, prevent one from getting sick easily, freshen up the mind and ward off evil. It also used to be gifts for children and for loved ones. In ancient China, fragrant sachets could be worn by both men and women. In this one hour session, you will learn how to make your own herb sachet. Know the benefits and functions of different Chinese herbs from your instructor. Choose the herbs you want to put in your sachet and grind them into powder using Chinese herb roller mill grinding tool. By the end of this session, you can bring home your own herbal sachet.
Cooking class – Cantonese cuisine
Type: Cultural Immersion/ Food
Duration: 3 hours
Location: Guangzhou
No limitation on the number of participants, but 10 people and above can share a lower price.
Guangdong has long been regarded as a famous paradise of diverse food. Guangdong cuisine is also known as Cantonese cuisine. It is one of the eight culinary traditions of Chinese cuisine and one of the most well-known Chinese cookeries internationally. The most distinctive characteristic of Cantonese delicacies is its freshness and mild tastes. In this tour, you will learn one to two traditional Cantonese dishes from the local and get beneath the skin of Guangdong through food. Some of the dishes to pick from are Teochew beef ball, Teochew peach-shaped kueh, sweet and sour pork with pineapple, Cantonese rice dumpling, and steam pork belly with preserved mustard greens. Teochew beef ball is made of beef that has finely pounded by two heavy iron bars, made into shape and then boiled and eat with local Shacha sauce. Teochew peach-shaped kueh is a traditional snack that usually served during festive seasons. Kueh is the local dialect, meaning snack, cake, puddling or dumpling. Usually stuffed with fragrant glutinous rice and other ingredients such as shrimps and Chinese sausage. The skin of kueh comes in different colours, but red and pink are the most common ones. Sweet and sour pork with pineapple is a featured dish from the Cantonese cuisine. It is an amazing stir fry and easy to make dish that tastes sweet and sour, with some fresh pineapple flavour. Bursting with flavour, it can be served over rice or noodles.
You might be interested in activities in Guangzhou those can spotlight your trip >>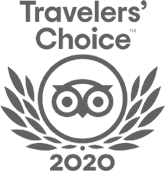 FABULOUS TOUR COMPANY
CHINA OCTOBER - NOVEMBER 2019 We researched several companies and studied reviews on Trip Adviser before contacting who did a very China Culture Tour with an initial query. Right from the outset Grace who owns the company was excellent. She emailed detailed with pictures information and a suggested…read more details
Karen from US
Ready to Create a Unique Dream Travel?