Guangzhou interesting hands-on cultural activities and safe adventures
Hand-on cultural activities
Making Traditional Cantonese Pastries: Learn to make Cantonese-style egg tarts, wife cakes, and other traditional pastries.
Calligraphy Class: Study traditional Chinese calligraphy and learn to write characters with a brush and ink.
Paper-Cutting Class: Learn to create intricate paper cutouts, a popular folk art form in China.
Silk Embroidery Class: Study the traditional technique of silk embroidery and create your own piece.
Traditional Tea Ceremony: Learn about and participate in a traditional Chinese tea ceremony.
Ceramic Painting: Paint and decorate your own ceramic pieces using traditional techniques.
These activities offer an opportunity to learn about and experience traditional Chinese culture and arts.
Soft adventures
Hiking: You can visit the Baiyun Mountain Scenic Area, which offers several trails and peaks to hike, including the famous "Sky Ladder" trail.
Rafting: Take a day trip to the nearby city of Conghua to go rafting on the South China Karst landscapes.
Cycling: Rent a bike and explore the city on two wheels, visiting scenic spots such as the Huacheng Square, Shamian Island and the Pearl River.
Kayaking: Rent a kayak and paddle along the Pearl River, taking in the city's skyline from a unique perspective.
Rock Climbing: There are several indoor rock climbing gyms in Guangzhou, offering a fun and challenging workout.
Zip-lining: Visit the Guangdong Flying Adventure Park to soar through the air on a zip-line.
Nature walks: Take a stroll through the Yuntai Garden and enjoy the lush greenery and natural scenery.
While Guangzhou may not offer the same level of outdoor adventure opportunities as some other cities in China, there are still plenty of options for those looking to add an active element to their trip.
View interesting activities in Guangdong province those can spotlight your trip >>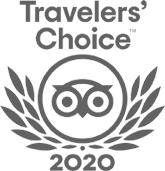 FABULOUS TOUR COMPANY
CHINA OCTOBER - NOVEMBER 2019 We researched several companies and studied reviews on Trip Adviser before contacting who did a very China Culture Tour with an initial query. Right from the outset Grace who owns the company was excellent. She emailed detailed with pictures information and a suggested…read more details
Karen from US
Ready to Create a Unique Dream Travel?