Top Chengdu cultural activities and best outdoor adventures
Chengdu, the capital of Sichuan province, is an emerging metropolis that remains the most Chinese of China megacities. Within the ring roads, be fascinated by heat-laden food, and gripping local entertainments. Go beyond the city to find a peaceful rural idyll; encounter wild pandas hidden in bamboo groves; weave through sea of tea bushes and make your own green tea from scratch. Venture north with us to discover Sichuan's Tibetan side, where green tea becomes yak butter tea, gentle rolling hills transform into snow-capped peaks, and Mandarin gives way to Tibetan. On this land of abundance, you will certainly discover more than just the popular Sichuan pepper with us.
Panda Volunteer Program in Chengdu
Type: Nature & Wildlife
Time: 9:00—15:10
Location: Wolong Panda Base/Dujiangyan Panda Base/Bifengxia Panda Base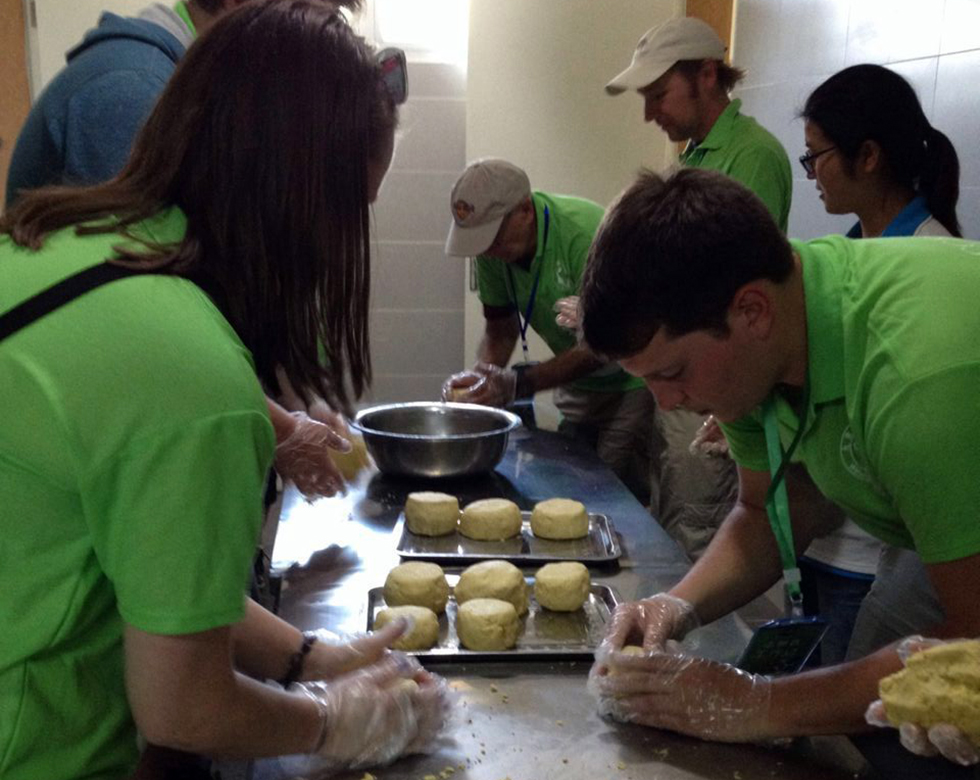 Get super close to panda in this volunteer program which will make your heart explode from cuteness! Chengdu Panda Base is where you can have a close contact with these furry and adorable creatures. This once-in-a-life-time panda experience will sure be engraved in your memory. Strongly recommend this program for family with kids and for panda lovers as this can be a really meaningful experience. Are you excited? You're about to engage in the world's coolest jobs on your trip! Put on the uniform and follow panda keepers who will first give you a brief introduction about some procedures and cautions. Here is the schedule of this program.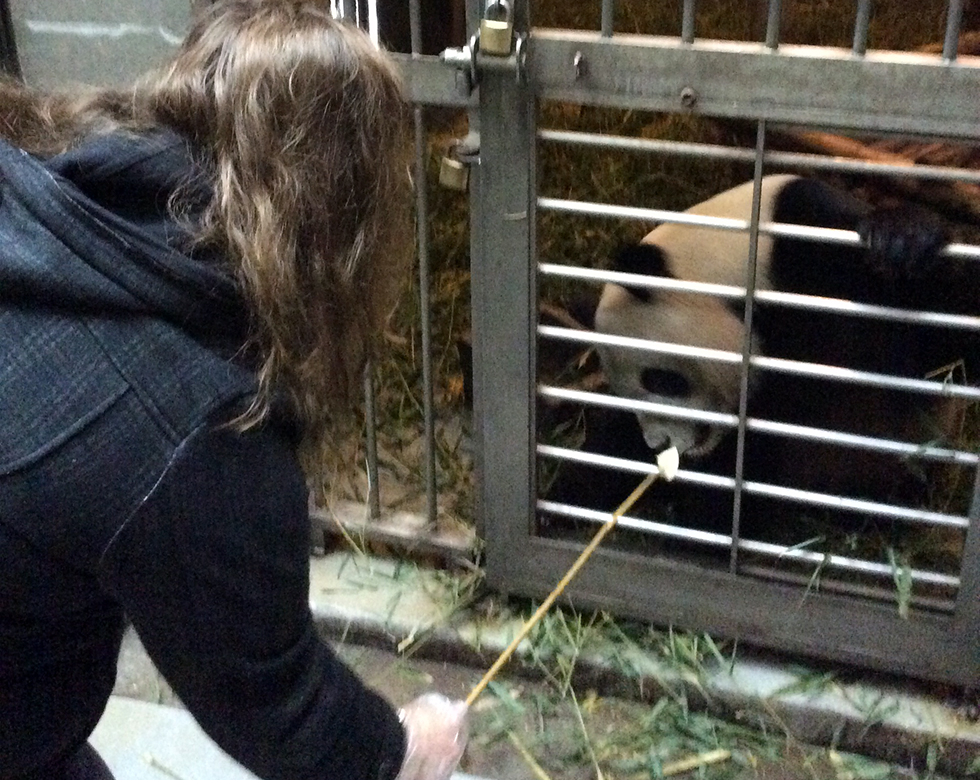 9:00-10:00 Cleaning pandas' enclosures (including picking poo poo, cleaning and rinsing the floor)
10:00-11:00 Visit the public area in the Panda Base and see more pandas (including some famous pandas back from other countries)
11:00-11:30 Feeding pandas (carrot, apple and other fruits) with your own hands
11:30-12:30 Lunch at the dining room
12:30-13:00 Free time
13:00-14:00 Watch documentary about pandas(panda rescuing and researching documentary to know more about pandas)
14:00-14:30 working and feeding(clean pandas' enclosures and feed panda again)
14:30-15:00 Making "panda cakes" by yourself
15:10 At the end of this program, you will receive a volunteer certificate and souvenir.
There is a unique opportunity to feed those lovely panda with a bowl of milk twice a day, one in the morning and one in the afternoon. You can even touch this fluffy creature while feeding (please do not take photos of the panda while feeding)!
Ultimate Experience of Sichuan Cuisine
Type: Cultural Immersion/ Food
Duration: Around 3 hours
Cooking Class: 1-1.5 hours
Location: Sichuan Cuisine Museum
Sichuan cuisine is well-known for its numbing hot flavour, abandon use of spices and vibrant colour. This half day cooking class at Sichuan Cuisine Museum will be an ultimate experience for foodies and for people who love Sichuan cuisine. At the museum, you will learn about the history of Sichuan cuisine, savour some traditional Sichuan dishes and try your hand at preparing it. Impress your friends and family back home with home-cooked Sichuan dishes that rival those of local Chinese restaurants.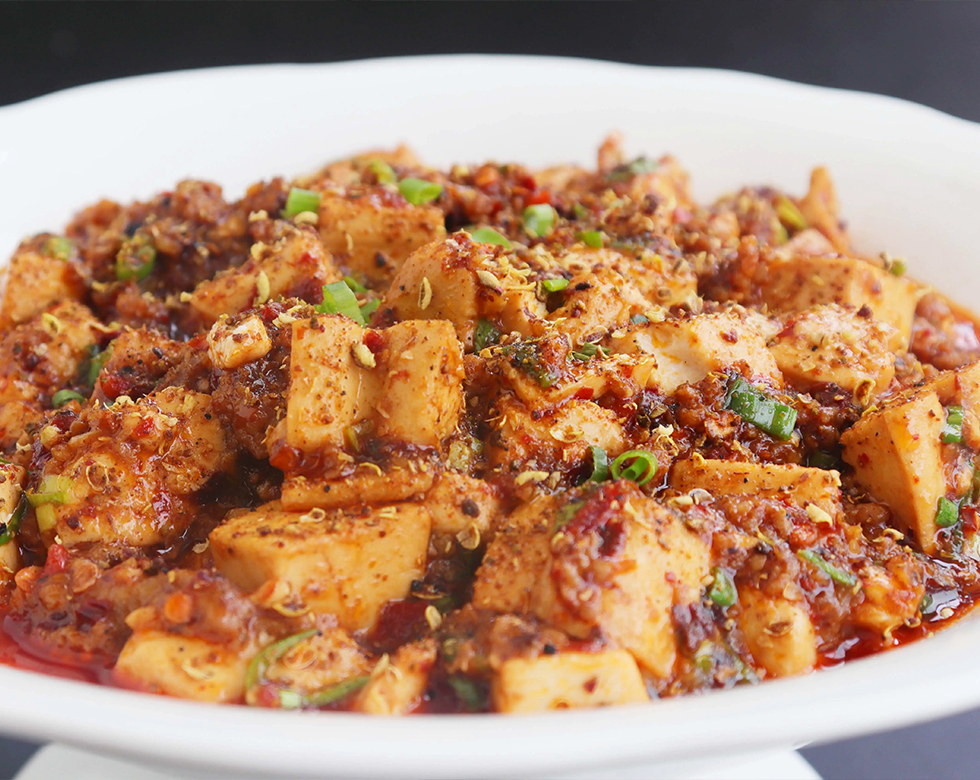 Ma Po Tofu
An hour drive from the city area, you will reach Sichuan Cuisine Museum which is the only comprehensive museum in the world about Sichuan culinary culture. Built in a combination of traditional Sichuan and western architecture style, this museum showcases the finest parts of Sichuan culture such as Sichuan tea, Sichuan wine, and Sichuan cuisine. Get the opportunity to enjoy authentic Sichuan snacks and food made by renowned chefs in the museum, and experience traditional ways of preparing food at different try out areas.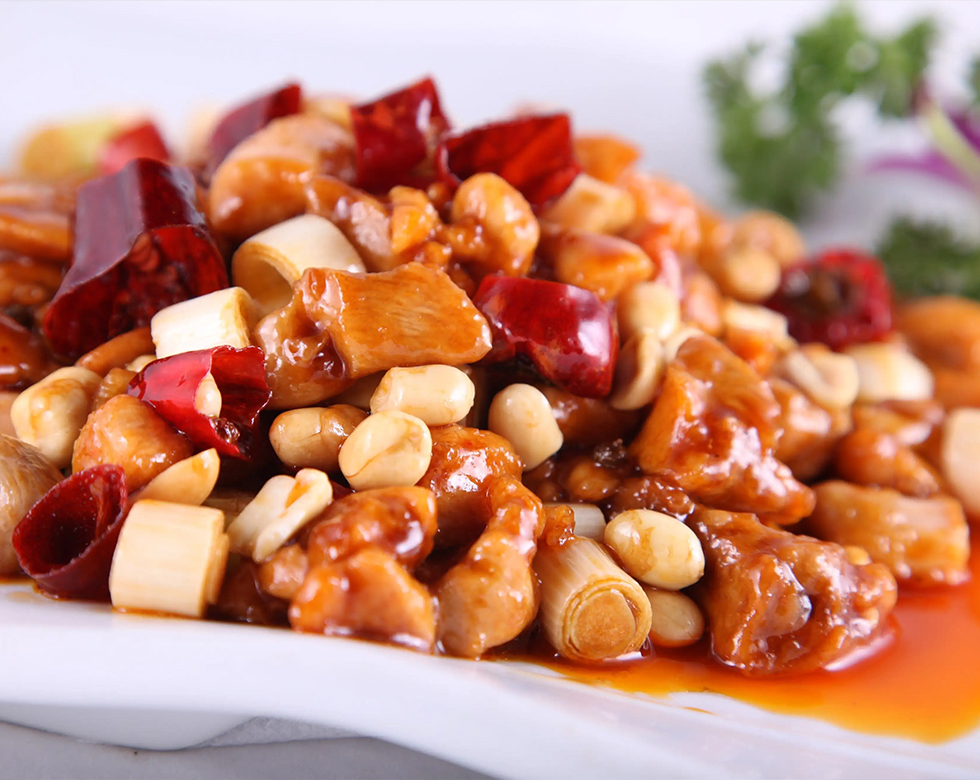 Kung Pao Chicken
The most exciting part of this tour is to learn how to prepare authentic Sichuan dishes from local chefs. Some common Sichuan dishes are Kung Pao Chicken (gong bǎo jī dīng宫保鸡丁), Ma Po Tofu (má pó dòu fu麻婆豆腐), Steamed Chinese Cabbage in Supreme Soup (kāi shuǐ bái cài开水白菜), Twice-cooked Pork (huí guō ròu回锅肉) and Dong Po Pig Knuckle (dōng pō zhǒu zi东坡肘子). Put on your chef's hat, uniform and apron, then create those dishes from scratch, from cutting techniques, wok works, and use of spices to the insider secrets for perfect presentation of your own dishes. Add your final touch before receiving feedback from a premier Sichuan chef. Taste your chefs-d'oeuvre and be amazed by how wonderful of a cook you are. At the end of the class, a special commemorative certificate "Rookie Master Chef" will be issued by the master chef to you. You can bring home the recipes of the dishes you have learnt in this cooking class.
Sichuan Opera Show
Opening Hours: 18:30—21:30
Show Time: 20:00—21:30
Address: No. 132 Qintai Rd., Qingyang District, Chengdu City, Sichuan Province (四川省成都市青羊区琴台路132号)
China has over thousands of local opus and Sichuan Opera is one of the oldest. Sichuan Opera show consists of dozen separate performances packed with wit, comedy, opera singing, amazing acrobatics, dancing, refined acting, puppetry, and rich percussion. Sichuan Opera is known for its distinct acts of face changing (biàn liǎn变脸), fire spitting (pēn huǒ 喷火) and rolling light (gǔn dēng滚灯). During the show, face changing performers switch masks to portray different personalities of the characters with just a few seconds. Different colours of the masks represent different characters, for example, red means loyalty, black means honesty and white means treachery. Most of the story lines are derived from Chinese classical novels, legends and folk tales. Sichuan Opera can entertain both children and adults. You will have the opportunity to get massage, photo taking with opera costume dressing, and even opera makeup on. VIP ticket offers the best seating area with one of the activities stated above. Come earlier before start of the performance to visit the back stage, see how performers put on their makeups and capture some memorable photos with them. Spend the night at Shu Feng Ya Yun Opera House to make your trip in Sichuan a memorable one. Please take note of the weather on the day and bring enough clothing or bring mosquito repellents, for this show is performed in the open air with shelter.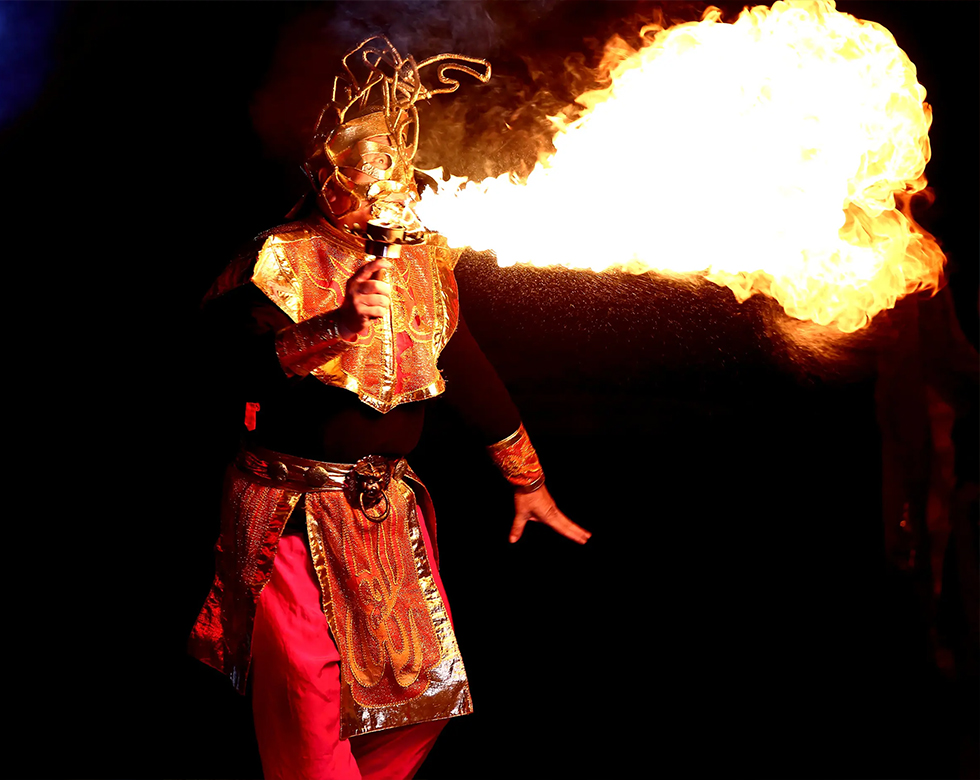 Fire Spitting
(If you are interested to learn Sichuan Opera singing with master from Shu Feng Ya Yun, feel free to consult our advisors to arrange a half day private lesson for you. You will have the chance to put on full makeup and costume while learning Sichuan Opera singing.)
Knowing Sichuan traditional Chinese herbs
Type: Cultural Immersion/ Chinese Medicine
Duration: Half a day
Location: Chinese Herbal Medicine Market at Chengdu International Trade City
Take a 40 minute drive from the city area, you will follow your guide to Chinese Herbal Medicine Market in Chengdu International Trade City. It is a comprehensive modern trade platform in Chengdu. Due to its fertile land, Sichuan produces abundance of Chinese herb. Each herb has its own role and healing purpose to help the body achieve harmony. Chinese herbal formulas, some in use for more than 2,200 years, are composed of ingredients chosen to function in combination with each other. In Chinese Herbal Medicine Market, there are more than thousands of stores selling Chinese herbs. In this session, your guide will introduce to you the names and benefits of some common Chinese herbs here. Some well-known Chinese herbs are Cordyceps Sinensis (dōng chóng xià cǎo冬虫夏草), Fritillaria Cirrhosa (chuān bèi mǔ川贝母), Coptis Chinensis (huáng lián黄连), Ligusticum Wallichii (chuān xiōng川芎) and Eucommia ulmoides (dù zhòng杜仲). Grows on the alpine slopes in the western provinces of China, Cordyceps Sinensis is a very precious medicinal caterpillar fungus, that the use of it appeared in traditional Chinese medicine 2,000 years ago. Fritillaria Cirrhosa, processed bulb of a flowering plant in Liliaceae family, is traditionally valued in China as an herbal remedy. It is commonly found in Gansu, Qinghai, Sichuan, Yunnan and Tibet. Coptis Chinensis, also known as Goldthread, is often used to treat gastrointestinal problems. Ligusticum Wallichii, also known as Ligusticum Root or "Sichuan Lovage Root", is an herb used to improve blood circulation. While, Eucommia ulmoides offers many health benefit including reduce high blood pressure, strengthen knees and lower back, and prevent or treat injury to joints. With over thousands of stores and plenty of Chinese herbal medicines, this market can be a paradise for those who are interested in Chinese medicine.
Lacquerware making experience Chengdu
Type: Cultural Immersion/ Art
Duration: 2.5 hours
Location: Chengdu Lacquerware Factory
As early as the late Neolithic period, around 3rd millennium B.C., the Chinese had discovered that the juice of Chinese lacquer tree (Toxicodendron Vernicifluum) could be used for coating objects, such as wood, bamboo and metal, intended as a form of waterproof protection. Among all Chinese lacquerwares, Chengdu lacquerware is famous for its durability against corrosion and aging. Chinese lacquer tree which is cleaned of impurities, can be used in its natural state. One of the active components in the sap from the lacquer tree is urushiol, which gives a softer finish and does not cause any sort of allergic or irritation to the skin. The lacquer is sticky, thus, must be applied slowly with brush. In this session, we will be visiting the only lacquerware factory in Chengdu to gain knowledge about Chinese lacquerwares and to make your own bookmark. Located opposite of Kuanzhai Alley, this lacquerware factory was first built in the 1950s. Due to the tedious work, not many workers are left working in the factory nowadays. Visit the workshops in the factory, interact with those craftsmen, appreciate some of the artworks in the exhibition area, and learn about this ancient Chinese decorative technique. Then, be guide by a craftsman to create a bookmark of your own and bring home this intangible cultural heritage souvenir of this cultural immersion experience. For children, instead of making a book mark that requires carving, they will be making phone stands.
Learn to play mah-jong
Type: Cultural Immersion/ Relaxation
Duration: 1-2 hours
Location: Renmin Park
In this one to two hour session, we will head to one of the city's many teahouses at Renmin Park. On weekends, locals occupy this park with dancing, Tai Chi and many other activities, among which the most popular one is playing mah-jong. Mah-jong, is a favourite pastime in Chengdu, and an important social activity for all ages. Developed from an ancient card game Ma Diao Pai in Qing dynasty, up to today, mah-jong still has some similarity to Ma Diao Pai. It is a game of skill, strategy, calculation and some luck. Visit a local teahouse at Renmin Park to have a cup of tea, while your guide tells you the rules of playing mah-jong. Practice some basic skills of this popular game before starting the real one with your private guide and driver.
Learning Guzheng
Type: Art & Music
Duration: 2-3 hours
Chinese Guzheng is an ancient plucked string instrument of the Han Chinese, which has more than 2,500 years of history. It is the parent instrument of Japanese Koto, Korean Gayageum, and Vietnamese Dan Tranh. With a length of 1.7 meters, Guzheng nowadays has 21 steel strings wounded with nylon and 21 movable bridges over a large resonant cavity. Those strings are tuned by either moving the bridges or by adjusting the tuning pegs. You will be wearing finger picks on both hands when playing the instrument. There are around hundreds of fingering techniques for Guzheng, and the more common ones are plucks, sweeps, tremolo and vibrato. In Chengdu, you will have the chance to learn this ancient Chinese instrument with professional instructors. Your instructor will tell you the history and different components of Guzheng before teaching you how to wear finger picks and to perform some basic fingering techniques. For music lovers and those who are interested in learning a new instrument, shouldn't miss this opportunity.
Life of old Chengdu
Type: Cultural Immersion/ Food/ Art/ Relaxation
Duration: Around 2.5 hours
Location: Yulin Community
Embroidery Class:
9:30-11:30 (Wed)
13:30-16:30 (Fri)
9:30-11:30(Sat)
Chengdu, provincial capital of Sichuan, is one of the world's fastest developing cities. The economic growth and urban planning of Chengdu in the past few decades are no doubt remarkable. In this tour, follow your guide to find out the life of an old community in this modernising city.
Yulin Community is one of the oldest communities in Chengdu, with around 30 years of history. It represents both the traditional and modern Chengdu community living. This fresh yet old Yulin community is filled with long standing residences, walls with vibrant coloured street paintings and newly opened shops. Stroll down the alley at Yulin Sixiang in the neighbourhood while your guide tells you some interesting stories about this community and appreciate those paintings on the alley walls. If you happened to visit the community in the morning, you can see elderly playing mah-jong inside shops and on the square, food stands fill the air with wonderful scents of various local breakfasts.
Visiting a local market is the best way to feel the authentic culture of this city. Take a five minute walk from Yulin Sixiang to Yulin Market, which is the soul of this community. There are hundreds of vendors selling fresh products every day, ranging from chicken and pork to Chinese broccoli and tomato. Many items here are seasonal and are not available year round. You can chat with the vendors and residents here to know the most authentic life in Chengdu.
Sichuan is famous for its Shu Embroidery, which has over 2,000 years of history. It is best known for its elaborate designs, bright colours, neat needle work and realistic subjects. Most common designs are flowers, panda, bamboo and figures in legends. For those who are interested to learn embroidery, there is an opportunity to attend an embroidery class at Mini Shu Embroidery Museum on Wednesday, Friday and Saturday. Guided by professional, you will learn some basic embroidery stitches before working on a cute panda design.
Shadow puppet making
Type: Cultural Immersion/ Art & Architecture/ History
Duration: 1.5 hours
Location: Chengdu Museum of Shadow Art
Watching shadow puppetry can be engaging but making your own shadow puppets can certainly be exciting and memorable. Near Qingcheng Shan (Qingcheng Mountain), which is a 1.5 hour drive from the city area, at Chengdu Museum of Shadow Art, you can deepen your understanding about Sichuan shadow puppetry. Your guide will introduce to you the history, types and characteristics of Sichuan shadow puppet while walking through the exhibitions in the museum. Chinese shadow puppetry is a form of theatre acted by colourful silhouette figures made from leather or paper, accompanied by music and singing. Manipulated by puppeteers using rods which are connected to joints of the puppets, figures create the illusion of moving images on a translucent cloth screen illuminated from behind. Many professional shadow puppetry artists can perform dozens of traditional plays. They master special techniques like simultaneous manipulation of several puppets, ability to play various musical instruments, and Sichuan opera singing. Many shadow puppetry artists also know how to carve puppets. Most of the shadow puppets are made from leather hide for its durability. Leather carving process is an arduous balance between perfectly sharpened blades, perfectly supple leather and masterful hand. In the museum, if you are lucky enough, get the opportunity to see how master carve translucent leather hide into characters in the workshop. Many of the characters are drawn from Chinese mythology such as the Monkey King from Journey to the West. A puppet normally have 12 to 24 movable joints. You will assemble different body parts of the puppet before painting it with the colours you like. There are variety of techniques and stages in the painting process such as gradations, colour mixing and colour contrast. Painting can make or break a perfectly cut puppet. Skilled painters can grab people from far with suitable play of colour. Careful colorations are required for one to identify different complicated designs within the puppet. However, for beginners, an easier version of puppet will be given for colouring. Lastly, use your very own shadow puppet and learn how to handle it behind a screen. During performance, puppeteers will press the puppets against a translucent cloth screen with a bamboo rod, and move their arms with two or more rods. Watch a shadow puppetry performed by national level masters at Tian Fu Yuan Theatre not far from the museum can surely be entertaining.
Shadow puppetry Show
Type: Cultural Immersion/ Art & Architecture
Duration: 20 minutes
Location: Tian Fu Yuan Theatre
Chinese shadow puppetry is a form of theatre for entertainment in ancient China before the invention of movie. It is acted by colourful silhouette figures made from leather hide or paper, accompanied by music and singing. Traditional type of shadow puppetry is manipulated by puppeteers using rods, those puppets create illusion of moving images on translucent cloth screen illuminated from behind. While in this show, different from a typical shadow puppetry, there is a combination of oversized screen, stage lighting, show effect, and gigantic fluorescent shadow puppets. Located in Dujiangyan Scenic Area, Tian Fu Yuan Theatre was the administration office of ancient local governors in Sichuan. Not open to the public and was used as the venue to host some important reception for world leaders, such as former U.S. vice president Joe Biden (in 2012) and president of Japan and South Korea (in Dec 2019). The shadow puppet show was well received by the leaders. The storyline is about the legend of how Li Bing, the local governor of Sichuan as well as a hydro-engineer in the Qin dynasty, contend against the evils to protect his people. Chinese shadow puppetry passes on information such as cultural history, social beliefs, oral traditions and local customs. It also spreads knowledge, promotes cultural values and entertains the community, especially the youth. With exquisite puppets, rich narratives and national level puppeteers, you will have a better understanding about the culture and history of Dujiangyan. Though the dialogue is in Chinese and there is no subtitle, your guide will tell you the storyline of the show in advance for you to have a rough idea of the show. There are total of 10 shows per day, 4 in the morning and 6 in the afternoon. Plan your trip well on the day with our advisors so to maximise your time here in Sichuan.
Sichuan medicine tour
Type: Cultural Immersion/ Chinese Medicine
Duration: 1 day
Location: Ruotian Chinese Medicine Centre
In this medicine tour you will learn about the names and benefits of some common Chinese traditional medicine, then join in theoretical and practical classes which deepen your understanding about Chinese medicine. Some common traditional Chinese therapies include acupuncture, Chinese cupping and tuina. Acupuncture (zhēn jiǔ针灸) involves the insertion of very thin needles through skin at strategic points on patient's body. It is commonly used to treat pain and for overall wellness. In traditional Chinese medicine, acupuncture is a technique to balance the flow of energy, also known as "qi". Chinese cupping therapy (bá guàn拔罐), which was practised even before Qin dynasty, involves placing heated cups on the skin to create suction that may stimulate blood flow and facilitate healing. Many believed that the suction helps facilitate the flow of "qi" in the body. Tuina is a form of Chinese therapy that involves the use of several types of bodywork, including knead, roll, brush and pressure along the meridians. The techniques of tuina were originally documented in an ancient Chinese medical text called Huangdi Neijing, which was written about 2,500 years ago. This tour involves morning and afternoon session. You will have a theoretical lesson with the doctor before seeing how to apply the knowledge in a real case scenario. Based on different illness, the doctor will apply suitable treatment accordingly. Also, you can try one of the treatments with the doctor here.
Sichuan tea culture
Type: Cultural Immersion
Duration: 2 hours
Besides the hot Sichuan peppers and favourite pastime, mah-jong, all-day tea–drinking tradition is as central to life in Sichuan. Many locals, especially the elderly, carry vacuum flasks filled with tea ready for drinking, or flasks pre-filled with tea leaves, ready for hot water wherever they go. There are teahouses almost everywhere in Sichuan, down a single street, you can spot more than five different teahouses, and same again can be found on the next. In this half day journey to experience Sichuan tea culture, you will pick tea leaves, dry the teas leaves, and savour your own tea.
Sichuan is one of the largest tea producing regions in China, there are many tea plantations outside the city. Normally we will visit the tea plantation in Mending Shan. Tea plantation at Mengding Shan is one of the earliest sites to process tea leaves, dating back to Western Han period. Along the way, your guide will share various interesting facts and information about different types of tea and the best period to pick tea leaves. Visit this tea plantation site and know more about Sichuan tea culture.
Breathe in the fresh air at this beautiful tea terrace field as you learn the delicate way of picking tea leaves from an experienced local farmer. Once you have gathered enough fresh tea leaves (250g—500g), head to the processing room and learn how to dry your own tea leaves. The fastest way is to fry the tea leaves until they are fully dehydrated. Savour a cup of your very own tea and bring home your final tea product home. You may want to have your lunch there, since it's near lunch time by the end of this session.
Spicy Chengdu
Type: Cultural Immersion/ Food
Duration: 1-2 hours
Location: Jinli Old Street/ Kuanzhai Alley
Deep in the heartland, in Sichuan province, Chengdu is known as one of the culinary capitals of China. The food here is the hottest in China and is increasingly famous all over the world for its distinctive fiery flavours. In this mouth-watering tour, you will experience the smell, taste and sight of a range of Chengdu culinary wonders at either Kuanzhai Alley or Jinli Old Street. Kuanzhai Alley, also known as "Wide and Narrow Alley", is an ancient street first built in Qing dynasty. It composes of three parallel lanes, namely the wide lane, narrow lane and a crossed lane. After several renovations, you still can see typical grey brick buildings down the alley. Similar to Kuanzhai Alley, Jinli Old Street is an ancient pedestrian street that blends well into the modern city, with most of its buildings can be dated back to Qing dynasty. Both streets are bustling with life and food stores that showcase Chengdu's rich food culture and way of life in both old and new. Stroll down the streets with the locals and discover many delicacies ranging from the hot, spicy and numbing hotpot to fried rabbit's head. Here, foodies can simply follow their nose to their beloved food. Your guide will take you to popular eateries that locals love. Watch the food being made and learn about what makes it so special to Chengdu locals. Some of local's favourite food are Sichuan Spicy Wonton, San Da Pao (a local glutinous rice ball dessert) and Stinky Tofu. Jinli Old Street and Kuanzhai Alley are no doubt one of the best places in Chengdu to hunt for food. The hot, spicy dishes and varied tasty snacks here are sure to whip up your appetite.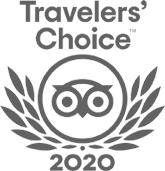 FABULOUS TOUR COMPANY
CHINA OCTOBER - NOVEMBER 2019 We researched several companies and studied reviews on Trip Adviser before contacting who did a very China Culture Tour with an initial query. Right from the outset Grace who owns the company was excellent. She emailed detailed with pictures information and a suggested…read more details
Karen from US
Ready to Create a Unique Dream Travel?