Top Sichuan Activities and Best outdoor adventures
Cycling in the countryside
Type: Cultural Immersion/ Fitness & Health/ Relaxation
Duration: Half a day
Distance: 40-50 km
Level of Difficulty: Easy
Take an hour's drive from the city area, explore the lovely countryside of Sichuan, and enjoy the laid-back and calming side of it. The ride takes you through beautiful and varied rural towns and villages while offering you the opportunity for sightseeing along the way. Time to hit the road once you have reached the starting point. Leveled and well-paved roads make this half-day trip suitable even for children and the elderly. This route takes you alongside lush greenery, fields of agriculture, and a still-in-use sub-canal from the Dujiangyan Irrigation Project which was built 2,000 years ago. Your guide will tell you interesting facts about the canal and the villages around it. On your way, encounter groups of rural residences often nestled within trees or fields of vegetation. Those plain white-washed wall, tiled sloping roof housings are surprisingly picturesque when accompanied by lush greenery around. Moreover, see some old pagodas, temples, new boutique guesthouses, and shops in the town occasionally grabbing your attention. Feel free to stop wherever you want to take some soothing photos and chat with the residents there. Stop at a family-owned restaurant in town and enjoy the most authentic flavor of rural Chengdu. Watch the wok work of the chef while waiting for your lunch to be ready.
Dengsheng Valley hiking
Type: Expedition/ Nature & Wildlife
Duration: 2-3 hours
Location: Dengsheng Valley
Take a three-hour drive from the city area, and get your chance to encounter a giant panda in the wild at Dengsheng Valley. With an altitude of around 3,100 meters, Dengsheng Valley is located on the rim of Wolong Natural Reserve which is the home of the giant panda. More than 100 wild giant pandas are living in this area. Comfortable climate, fresh air, and tranquil environment, you will follow a local guide into the dense forest and then down a stream in the valley. Trace the trail of the giant panda and have the chance to spot this endangered species or at least its footprint during your hike (please also understand that there is no guarantee of seeing a wild panda and even its footprint during the hike, this requires some luck). You may also spot other wild animals like golden monkeys, grizzly bears, red pandas, and dwarf musk deer in this natural habitat. On your way, discover some interesting plants, animals, and insects with an entertaining lesson given by your guide on these living things. Though a short hike, this is a fantastic opportunity to understand the habitat of the wild giant panda and to gain knowledge on species living there.
Sichuan bamboo weaving
Type: Cultural Immersion/ Art & Architecture
Duration: 1 hour
Location: Bamboo Art City in Qingshen County
The history of bamboo weaving in China can be dated back to more than 2,000 years ago in the Qin dynasty, and only became popular in the Qing Dynasty. Sichuan is famous for bamboo weaving, especially bamboo over porcelain, while Qingshen County is the home of bamboo weaving art in Sichuan. Bamboo over porcelain requires the use of many thin strands of bamboo threads. They are then woven tightly around ceramics, porcelain, or glass, covering the entire bottom half or even the whole of the object, usually for insulation purposes. Given the abundance of bamboo groves in Sichuan, bamboo provides a natural and sustainable material. Craftsmen only use bamboo between one to three years old for its flexibility. First, the bamboo skin is removed, leaving only the fiber underneath. Usually, this process takes hours to finish, without hurting the fiber underneath when removing the skin. Next, treat the bamboo with a strong fire, leaving it with a darker and richer tone. Then, separate the inner and outer layers of bamboo fibers by hand before further separating them into thin bamboo threads of even thickness and smoothness. In this session at Qingshen County, which is a 2-hour drive from Chengdu, you will try your hand at simple bamboo weaving with the guidance of a master. Admire the masterpiece done by the craftsmen and enjoy the fun of this fingering art. You can use bamboo threads to weave bamboo fans, key chains, or other decorative items which can be brought home as a souvenir of this journey.
Kung Fu Learning
Type: Cultural Immersion/ Fitness & Health
Duration: 1 hour
Location: Near Emei Shan (Emei Mountain)
Emei Shan in Sichuan is one of China's "Four Sacred Buddhist Mountains". Beyond its rich cultural heritage, Emei Shan also hosts a diverse range of plants and animals. Emei Kung Fu, created by Kung Fu master Situ Xuankong during the Warring States Period (475B.C.—221B.C.), was imitated from the behaviours of white apes living on Emei Shan. Emei Kung Fu similar to other Kung Fu, emphasises on external movements, strength, discovery of the potential of mankind and internal spirit of oneself. You will learn Changquan, which is developed from Emei Kung Fu, and some basic Kung Fu movements from a Kung Fu master in this lesson. If you are a Kung Fu lover or interested to know more about Chinese martial art and Kung Fu, then put this experience down on your to-do list while you are visiting Sichuan. Not to worry if you are fresh to Kung Fu, as step by step demonstration will be provided and the master will correct your movements during the lesson. Meet your Kung Fu master near your hotel and you will start your lesson there. A three to four hours in-depth Kung Fu lesson is also available at a Kung Fu school in this area; you can consult our advisors for more information.
Sichuan Buddhism tour
Type: Cultural Immersion/ Religion
Duration: Half a day
Location: Baoguo Temple
Emei Shan has a rich cultural heritage, and is one of China's "Four Scared Buddhist Mountains", with others being the Putuo Shan in Zhejiang, Wutai Shan in Shanxi and Jiuhua Shan in Anhui. Bodhisattva Samantabhadra, whose name in Chinese is Puxian, is the patron deity of Emei Shan. Samantabhadra in Mahayana Buddhism, the bodhisattva representing kindness or happiness. You can visit the prominent 48-metre tall golden statue of Bodhisattva Samantabhadra on the mountain peak. Baoguo Temple, first built in the Ming dynasty, is the largest temple on Emei Shan, settling on the mountain foot. In this half day tour at Baoguo Temple, you will join in the meditation with monks, learn about Buddhism doctrine, and have vegetarian meal in the temple. You can choose to stay overnight at Baoguo Temple, wake up early enough and get the opportunity to listen to morning chanting. Forget about your stress and pressure in the bustling city, unify your mind, learn about the art of forgiveness, boost your positive energy and find inner peace in this journey.
Experiencing Tibetan culture in Sichuan
Type: Cultural Immersion/ Art & Architecture/ Food
Duration: 3 hours
Location: Jiuzhai Valley area
For those people who are not able to go to Tibet due to many reasons, here is a fantastic opportunity for you to experience Tibetan culture in Sichuan. We will venture north, into a fairyland of alpine valleys and turquoise lakes, where you can find nine Tibetan villages in Jiuzhai Valley, literally means the valley of nine villages. The ancestors of Jiuzhai Valley originally migrated from Tibet, and their descendants have been living in the valley for generations. With the region dominated by Han Chinese, after generations, these Tibetan villages exhibit a mixture of lifestyles. On one hand, they maintain their own distinctive cultural tradition, such as their complicated architectural style, unique clothing, lively festivals and mysterious primitive religion. On the other hand, they live in harmony with the surrounding ethnic groups, influencing each other's culture.
In this journey, you will visit one of the Tibetan villages settling in the heart of lofty mountain ranges. Walk through the village, and experience Tibetan architectural style, traditional Tibetan paintings on the buildings, and traditional costumes of Tibetan people. Meet villager enthusiastically introduce their ethnic culture and living habits with your private guide doing translation for you. You will visit one of the families in the village, interact with them, learn Guozhuang square dancing or how to make butter tea, and have a special dinner there. Upon your arrival, the host will offer you a cup of delicious butter tea and Tsampa with both hands, along with yellow yak cheese and other snacks. The creamy butter tea is made with fermented Pu-erh black tea, brewed with salt, and topped with fermented yak butter. Some say that this drink tastes similar to Bulletproof Coffee. It's filling enough that people often compare yak butter tea to soup. There is this opportunity for you to learn how to make butter tea during the home visit. Tsampa, means "roasted flour" in Tibetan, is the staple food of Tibet which is made from barley. Follow the host around his or her house to appreciate some special architectural designs and paintings, listen to his or her story before learning a simple traditional Tibetan dance. Guozhuang square dancing is a Tibetan folk dance usually danced in public area as a way for people to socialise and relax after dinner. Guozhuang means "singing and dancing in a circle" in Tibetan language. The movements are easy, with people dancing in a circle and moving in one direction, swinging and shaking their arms. Fill your stomach with delicious traditional Tibetan food for dinner, before you enjoy a Tibetan night show nearby. This journey helps you understand more about the daily life of the Tibetan people, and appreciate their clothing, food, housing, and unique culture. If you have sufficient time, the splendour Jiuzhai Valley Scenic Area nearby is certainly worth a visit. During your booking, please tell us your preferences on whether you want to learn to make Tibetan butter tea or Guozhuang Square Dancing.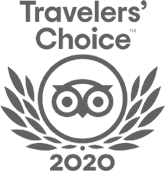 FABULOUS TOUR COMPANY
CHINA OCTOBER - NOVEMBER 2019 We researched several companies and studied reviews on Trip Adviser before contacting who did a very China Culture Tour with an initial query. Right from the outset Grace who owns the company was excellent. She emailed detailed with pictures information and a suggested…read more details
Karen from US
Ready to Create a Unique Dream Travel?