Macau Travel Guide
Brief History
At 38 nautical miles (70 kilometers) apart from Hong Kong and 145 kilometers from Guangzhou, Macau was formerly under the jurisdiction of Xiangshan County, Guangdong Province. It later experienced the Portuguese violent occupation, but eventually returned to the motherland on December 20th, 1999 as a Special Administrative Region after 400 years of foreign occupation.
Local Culture
Macau is home to a myriad of places of interest that have both Chinese traditional culture and a strong Portuguese atmosphere, typically found at the Ruins of St. Paul. Moreover, its thriving lottery industry has a reputation as the "Monte Carlo" of the East. Today, no place in Macau is noisier than the area around the city hall. The operation of Macau International Airport injects new vitality into the local tourism industry, making Macau a famed cosmopolitan tourist city.
As a world-famous free-trade port, Macau allows generous duty-free and quota-free policies in the import of raw materials and commercial installations. Also, free inflow and outflow of foreign exchange are guaranteed as a result of the local tariff policies, which are characterized by a low tax rate. With all these policies, you may relax and unshackle from your previous concerns to enjoy the streets and beach, shuttle amidst the countless European-style buildings as well as excellent delicacies and different types of vintage wine are also available.
The local export-oriented manufacturing industry, tourism and lottery industry, financial industry as well as the real estate industry that constitute the economic landscape of Macau are credited as the four engines driving its economic growth. Among these industries, the tourism and lottery industry which is composed of travel agencies, hotels, casinos, recreational places, and other auxiliary tertiary industries contributes the most to the local economy, with its generated income accounting for 1/3 of the local GDP. Located at the northern point of the tropical zone, Macau is subject to the influence of subtropical oceanic monsoons, the favorable conditions provided by which feed its abounding plant species. Macau has already successfully introduced many plant species that have a high aesthetic and economically due to their age of more than a century. Macau's economy is well-integrated with the Pearl River Delta, and ever since its return to the homeland, its tie with the mainland has been strengthened with the increased trade exchanges as well as the successive establishments of some major joint committees and other economic and trade cooperation committees (with Chongqing Province, Fujian Province, etc.) at all levels of administration.
In Macau, the local people observe both Chinese and western festivals. As for Chinese traditional festivals, large-scale festivities are held to celebrate festivals such as the Spring and Dragon Boat Festival. From New Year's Eve to the end of the next day, a stream of devout worshippers swarms to the Temple of Goddess, whether to show their gratitude for the bliss that the goddess bestows on them or to pray for luck in the coming year. Often, these activities are accompanied by setting up firecrackers and fireworks.
Macau is rated as a charming and tranquil city with an exotic atmosphere that is tailored to travel and living as it's free from the boisterousness of any modern metropolis. Since it was opened up as a commercial port 400 years ago, Macau has long been a window through which the Chinese people and people from all parts of the world get to know each other. There, you can find Chinese traditional temples, solemn catholic cathedrals, and other world-renowned casinos. It has been attracting investors and tourists from around the globe with its oneness of the Chinese and western cultures as well as its advantageous geographical location.
Attractions, things to do
Macau, also known as the "Vegas of the East," is a popular tourist destination known for its casinos, luxury hotels, and historical sites. Some of the top attractions in Macau include:
The Ruins of St. Paul's: This iconic landmark is a must-see for any visitor to Macau. The ruins are all that remains of a 16th-century Jesuit church and college and are now a UNESCO World Heritage Site.
Macau Tower: Standing at 338 meters (1,109 feet) tall, the Macau Tower offers panoramic views of the city and the surrounding region. Visitors can take the elevator to the observation deck or try one of the tower's thrill-seeking activities, such as bungee jumping or skywalking.
Senado Square: This picturesque square is located in the heart of the city and is surrounded by colonial-style buildings. It is a popular spot for shopping, dining, and people-watching.
Fisherman's Wharf: This waterfront development is a fun place to visit, with its replica of the Rio de Janeiro Christ the Redeemer statue, a gondola ride, and a variety of shops and restaurants.
Casinos: Macau is known for its casinos, and there are many to choose from, including the Grand Lisboa, the Venetian Macao, and the Wynn Macau.
A-Ma Temple: This ancient temple is dedicated to the Chinese sea goddess Matsu and is one of the oldest and most important temples in Macau.
Macau Museum: This museum offers a fascinating look at the history and culture of Macau, including its colonial past and its role as a major trading port.
Coloane Village: Located on the southern part of the island, Coloane Village is a charming and traditional village with a laid-back atmosphere. It is a great place to escape the crowds and experience local life in Macau.
Weather, the best time to visit
The best season to visit Macau depends on what you are looking for in your trip. Here are some options for different seasons:
Spring (March-May): The weather is warm and pleasant in spring, making it a good time to visit. This is also the time when the Macau Grand Prix takes place, which is a popular event for tourists.
Summer (June-August): Summer is hot and humid in Macau, so it may not be the most comfortable time to visit. However, if you are looking to escape the colder weather in other parts of the world, this may be a good time to visit.
Fall (September-November): Fall is a great time to visit Macau as the weather is cooler and more comfortable. This is also the time when the Macau Food Festival takes place, which is a great opportunity to try the local cuisine.
Winter (December-February): Winter is generally mild in Macau, with temperatures ranging from the mid-50s to the low 60s Fahrenheit (around 15-20 Celsius). This may be a good time to visit if you are looking to escape the colder weather in other parts of the world. Overall, the best time to visit Macau depends on your personal preferences and what you hope to get out of your trip.
Cuisine, what to eat
Macau, a former Portuguese colony, is a food lover's paradise, and it is famous for its unique blend of Chinese and Portuguese cuisine. Here are some of the top foods you should try when visiting Macau:
Portuguese Egg Tarts: Macau is famous for its Portuguese egg tarts, which are a sweet pastry filled with a creamy custard. You can find them at bakeries and cafes all over the city, including the famous Lord Stow's Bakery.
Bacalhau: Bacalhau is a Portuguese dish that is made with salted cod. In Macau, you can find many restaurants serving up this traditional dish, which is usually served with potatoes, onions, and olives.

Dim Sum: Dim Sum is a type of Cantonese cuisine that is popular in Macau. There are many dim sum restaurants in the city, and you can try a variety of dishes such as har gow (shrimp dumplings) and siu mai (pork dumplings).
Pork Chop Bun: The pork chop bun is a popular street food in Macau. It consists of a bun filled with a crispy pork chop and sometimes lettuce, tomato, and a special sauce. It is a simple but delicious snack that you should try when visiting Macau.
Portuguese Grilled Seafood: Macau is known for its fresh seafood, and one of the best ways to enjoy it is with Portuguese-style grilling. Grilled squid, sardines, and prawns are popular choices, and they are often served with garlic and lemon.
Serradura: Serradura, which means "sawdust" in Portuguese, is a popular dessert in Macau. It is made with layers of whipped cream and crushed biscuits, and it is a delicious and light way to end a meal.
Hotels, where to stay
Macau is a special administrative region of China known for its vibrant casino industry, historical sites, and luxurious hotels. The city has many luxury hotels that offer world-class amenities and services to cater to the needs of affluent travelers. Here are some examples of luxury hotels in Macau:
The Venetian Macao: The Venetian Macao is one of the largest hotel resorts in the world, offering more than 3,000 suites and a 15,000-square-meter casino. The hotel is designed to look like Venice, with canals, gondolas, and Italian-inspired architecture. It also features a large shopping mall, multiple restaurants, and a variety of entertainment options.

Wynn Palace: Wynn Palace is a luxurious hotel that features opulent decor, spacious suites, and world-class dining options. The hotel also has a large casino, a spa, and a performance theater that hosts shows and concerts.

The Four Seasons Hotel Macao: The Four Seasons Hotel Macao is a sophisticated hotel that offers guests panoramic views of the Cotai Strip. The hotel has a spa, a fitness center, and a rooftop swimming pool. It also features a variety of dining options, including a Michelin-starred Cantonese restaurant.

The Ritz-Carlton, Macau: The Ritz-Carlton, Macau is a five-star hotel that features luxurious rooms and suites with stunning views of the city. The hotel also has a spa, a fitness center, and a rooftop pool. It is located in the Galaxy Macau resort complex, which features a large casino, shopping mall, and multiple dining options.

MGM Cotai: MGM Cotai is a large hotel and entertainment complex that features more than 1,400 rooms and suites, as well as a variety of dining options, a spa, and a performance theater. The hotel also has a large casino with more than 1,500 slot machines and 500 gaming tables.

Overall, Macau's luxury hotels offer a wide range of amenities and services designed to cater to the needs of affluent travelers. With their opulent decor, world-class dining options, and top-of-the-line facilities, these hotels are a popular choice for visitors to the city.

Cultural activities and outdoor adventures
Some hands-on cultural activities and adventures to experience in Macau include calligraphy and tea making workshops, bungy jumping or tower climbing at the Macau Tower, and exploring the historic center of Macau, which is a UNESCO World Heritage Site.
Top activities in Macau you should try >>
Itinerary, how to plan a trip
Macau is a vibrant and multicultural destination that offers a unique blend of Chinese and Portuguese cultures, with plenty of attractions to explore, from its historic landmarks and colorful architecture to its world-class casinos and entertainment venues.
Start your trip by visiting the iconic Ruins of St. Paul's and the nearby Museum of Sacred Art and Crypt, then take a stroll through the charming Senado Square and the colorful alleyways of Taipa Village, where you can sample local delicacies such as egg tarts and pork chop buns; experience the thrill of the casinos at the Cotai Strip, which boasts some of the world's largest and most luxurious resorts, such as the Venetian and the City of Dreams.
For a more serene experience, take a relaxing walk along the scenic A-Ma Temple, or catch a stunning sunset from the Guia Fortress; and don't forget to try your luck at the famous Macau Tower, where you can bungee jump or skywalk from a height of 233 meters.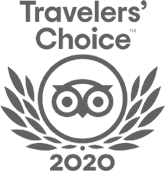 FABULOUS TOUR COMPANY
CHINA OCTOBER - NOVEMBER 2019 We researched several companies and studied reviews on Trip Adviser before contacting who did a very China Culture Tour with an initial query. Right from the outset Grace who owns the company was excellent. She emailed detailed with pictures information and a suggested…read more details
Karen from US
Ready to Create a Unique Dream Travel?