Top Macau luxury Hotels and best accommodations
Macau is a small city located on the western side of the Pearl River Delta in China, across the harbor from Hong Kong. It is known for its casinos, luxury hotels, and historical landmarks, such as the Ruins of St. Paul's, which is a UNESCO World Heritage Site.
Accommodation in Macau ranges from luxury hotels to budget hostels. Many of the luxury hotels are located on the Macau Peninsula, which is the older part of the city, and are often housed in historic buildings or have been newly built to replicate the city's colonial architecture. These hotels often offer amenities such as swimming pools, spas, and fitness centers.
In addition to luxury hotels, there are also a number of budget hostels and guesthouses available in Macau. These can be a good option for travelers who are looking for a more affordable place to stay while still having access to the city's amenities.
Overall, there is a wide range of accommodation options available in Macau, so travelers can choose the option that best fits their needs and budget.
The Venetian Macau Resort Hotel
The Venetian Macau Resort Hotel has top deluxe suites, which upgrade the standard of fashion. The commodious suite has an area of over 70 meters squared, with its grandeur bathroom adorned with marbles imported from Italy. Moreover, the hotel provides you with a good selection of suites so that you can feel at home. The hotel is outfitted with excellent restaurants, noodle shops, and 24-hour room services, obviating your fret over delicacies. Also, you can go to the relaxing bars, and take a sip of exquisite drinks and cocktails of every kind.
Four Seasons Hotel Macau, Cotai Strip
Standing in Cotai Strip that connects Taipa and Coloane, Four Seasons Hotel Macau will take you on a journey to explore your own Macau. Visiting a metropolis vibrant place, you can enjoy the considerate and meticulous services as well as the thrilling entertaining activities, ubiquitous fun of shopping, and the world's best catering services that the hotel has to offer. Four Seasons Hotel Macau enjoys an advantageous geographical location as it's located in the transportation hub: it connects the Grande Canale Shopping Center and is close to the Multifunctional Hall and well-equipped outdoor facilities.
Banyan Tree Macau
Banyan Tree Macau is a hotel equipped with deluxe suites and resort villas. Each of the deluxe suites is furnished with private bathtubs and each of the resort villas with private swimming pools. Guests that have a penchant for spas can enjoy the spa services in one of the 21 spa rooms or inside the suites. Additionally, you have a chance to appreciate and buy some cultural artworks displayed in the Banyan Tree Art Workshop of the hotel. Inside the hotel, there is a 1,330-square-meter banquet hall, which is available for the guests to host banquets and exhibitions.
Grand Lisboa Macau
The design of Grand Lisboa Macau is unique and spectacular, making it a piece of dazzling artwork that will simply add extraordinary grandeur to your trip. As a masterpiece by the hands of a seven-star hotel designer, the hotel has copious deluxe suites that are exquisitely furnished; and each room of the hotel is equipped with steam bathrooms, large (60 centimeters in diameter) showers and multidirectional massage bathtubs.
Sofitel Macau at Ponte 16
Sofitel Macau is one of the most competitive child hotels of ACCOR, which is a famed French hotel group. Located in the inner harbor area and close to the downtown area, it is encompassed by hills and waters and stands next to the Ponte 16 Casino. The entire edifice is characterized by the architectural style of southern Europe, which embodies the hotel's trait-"the arts of life." It displays elegance and fashion while also creating a special kind of recreational culture that goes far beyond the traditional idea of "family" for guests. Moreover, the hotel is equipped with casinos catering to various groups of guests.
Pousada De Sao Tiago
Located in Península de Macau, Pousada De Sao Tiago lies within the high-class residential area of Sai Van, Macau. Next to the downtown area, the hotel, in the shape of a fortress, is a Portuguese-style edifice that was renovated from Macau's first ancient castle 371 years ago, brimming with the romantic ambiance of the Eurasian landmass. The gorgeous and comfortable guest rooms, unique castle embellishments, and pleasant environment are rarely seen elsewhere in Macau. The hotel offers services and facilities of every kind, including bars, meeting rooms, tasteful dining halls, swimming pools, and open-air teahouses. In an elegant dining hall of antique beauty, you might enjoy the Portuguese and Spanish cuisines, quietly take a sip of the Portuguese-flavor vintage wines while relishing the landscapes of the inner harbor of Macau, or treat yourself to the local traditional-style afternoon tea.
Mandarin Oriental Macau
Located in Zona Nova de Aterros do Porto Exterior, Mandarin Oriental Macau enables you to overlook the panoramic view of Taipa Island and the South Bay Lake, and even look far into the distant ululating hills on China's southern coastline. The hotel is outfitted with elegant and exquisite deluxe suites and president suites. The unique and fashionable design of the suites ingeniously absorbs the European traditions and cultures that are exclusively owned by Macau and makes the hotel an ideal place for business people and tourists on vacation. With an area of 8,900 meters squared, the Mandarin Oriental Spa Center provides fitness, hairdressing, skincare, and massage services. There is the spa, guests can enjoy what their deluxe spa services have to offer.
Grand Emperor Hotel
Once you step into the reception hall of the Grand Emperor Hotel, you will feel that it's all majestic and spectacular. The graceful atmosphere created by the European palace-like architecture and the perfect professional services just adds more charm to each other. What's more, the hotel has excellent and comprehensive recreational facilities.
Here are some other luxury and boutique hotels in Macau that you may be interested in:
The Ritz-Carlton, Macau - This luxurious hotel features elegant guest rooms, multiple dining options, and a spa.
The St. Regis Macao, Cotai Central - This luxurious hotel features stylish guest rooms, a spa, and multiple dining options.
Hotel Okura Macau - This upscale hotel features elegant guest rooms, a spa, and multiple dining options.
Wynn Palace - This luxurious hotel features elegant guest rooms, a spa, and multiple dining options, including a casino.
Sheraton Grand Macao Hotel, Cotai Central - This luxurious hotel features stylish guest rooms, a spa, and multiple dining options.
Conrad Macao, Cotai Central - This luxurious hotel features elegant guest rooms, a spa, and multiple dining options.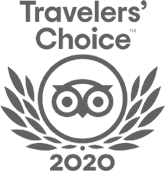 FABULOUS TOUR COMPANY
CHINA OCTOBER - NOVEMBER 2019 We researched several companies and studied reviews on Trip Adviser before contacting who did a very China Culture Tour with an initial query. Right from the outset Grace who owns the company was excellent. She emailed detailed with pictures information and a suggested…read more details
Karen from US
Ready to Create a Unique Dream Travel?