Guizhou Travel Itineraries
The travel itineraries in Guizhou mainly offer three directions
The second direction is southeastern Guizhou, starting from Guiyang and ending in Guilin.
The third direction is northeastern Guizhou, starting from Guiyang and ending in Fenghuang Ancient Town, which can be extended to Zhangjiajie.
For specific details, please refer to the following routes for each direction.
Southwest of Guizhou: Guiyang to Kunming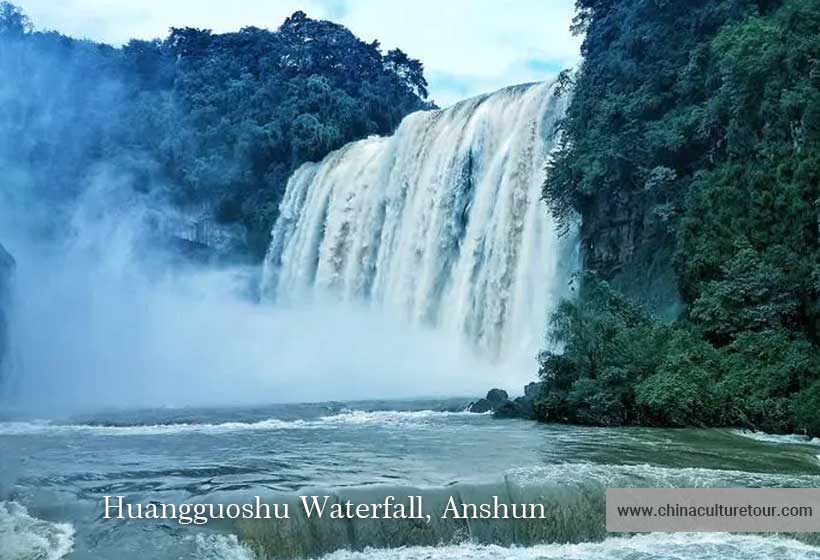 Huangguoshu Waterfall, Anshun
Guiyang-Kaili-Anshun-Huangguoshu-Xingyi-Kunming
Day 1: Day 1 Guiyang Arrival
Day 2: Guiyang to Kaili, Jidao Miao village, Langde Miao village, Datang Miao village, Getu village.
Day 3: Kaili-Guiyang-Anshun, Qingyan ancient town,Tianlong Castle Stone Village.
Day 4: Anshun to Huangghuoshu Waterfall, Huangguoshu Waterfall, Tianxingqiao Waterfalls.
Day 5: Huangguoshu Waterfall to Xingyi and Luoping, Wanfenglin(Thousand hills forest), and Malinghe Gorge.
Day 6: Luoping to Kunming, visit the stone forest on the way to Kunming. In March, Luoping is filled with golden rapeseed flowers!
Day 7: Kunming to Dali/Lijiang/Shangri La, etc. View Highlights Itinerary of Yunnan »

Northeast of Guizhou: Guiyang to Zhangjiajie
Guiyang-Kaili-Zhengyuan-Tongren-Fenghuang-Zhangjiajie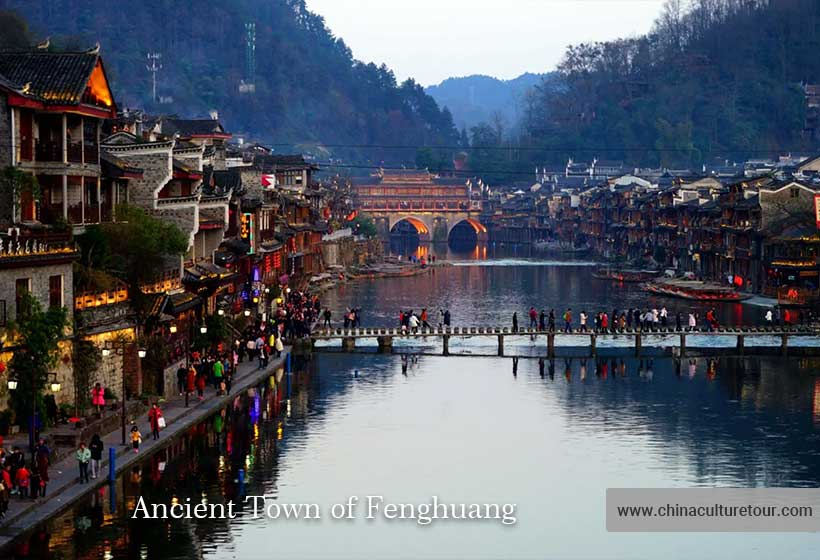 Ancient Town of Fenghuang
Day 1: Arrive in Guiyang, Qingyan Ancient Town.
Day 2: Guiyang-Yunfeng-Guiyang, Han Villages, Dixi Opera.
Day 3: Drive to Kaili, Kaili Ethnic Culture, Nanhua is a Long-Skirt Miao village, Langde Long-skirt Miao Village
Day 4: Kaili, Shiqiao Miao village, Qingman Miao village, Kaili Folk Museum.
Day 5: Kaili-Zhenyuan, Matang Geijia village/Xijiang Qianhu Miao Village, and Zhenyuan ancient town.
Day 6: Zhenyuan-Tongren, Black Dragon Cave, Mount Fanjing(UNESCO World Heritage Site)
Day 7: Tongren-Fenghuan Ancient Town, Jiangkou County, and Phoenix Ancient Town.
Day 8: Fenghuang-Zhangjiajie, continue an about 3-4 days tour in Zhangjiajie. View Itineraries of Zhangjiajie »
Southeast of Guizhou: Guiyang to Guilin
Guiyang-Kaili-Xijiang-Rongjiang-Congjiang-Zhaoxing-Sanjiang-Longsheng-Guilin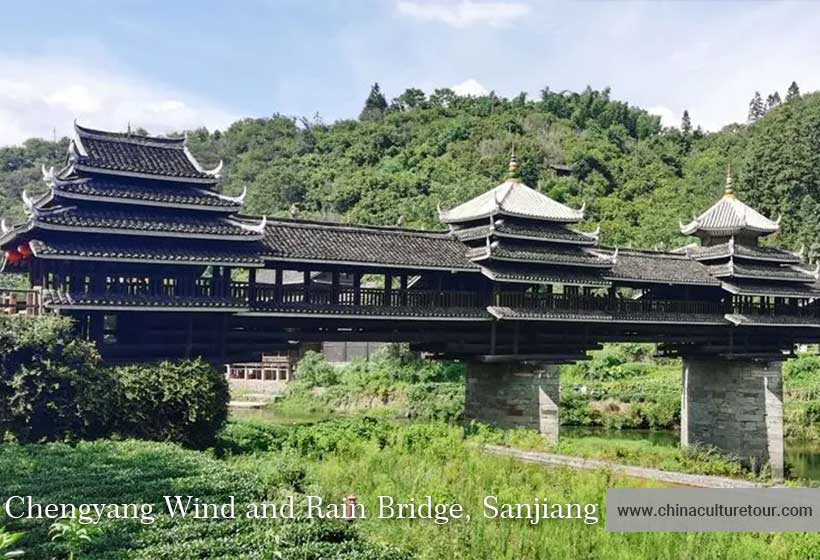 Chengyang Wind and Rain Bridge, Sanjiang
Day 1: Guiyang Arrival
Day 2: Guiyang to Kaili, Wanba Gejia Village, Jidao Miao Village.
Day 3: Kaili to Xijiang, Shidong Piantou Miao Village, Xijiang Miao Village.
Day 4: Xijiang to Rongjiang, Xijiang Miao Folk Museum, Paika Miao Village, Datang Miao Village, Water granary collection, Shiqiao Miao Village.
Day 5: Rongjiang to Zhaoxing, Biasha Miao Village, Zhaoxing Dong Village
Day 6: Zhaoxing, Zhaoxing Dong Village, Tang'an Dong People's Village, Shage Dong Village.
Day 7: Zhaoxing to Sanjiang, visit a local minority market, Chengyang Wind and Rain Bridge.
Day 8: Sanjiang to Longsheng, Dragon's Backbone Rice Terraces, local villages.
Day 9: Longsheng to Guilin, and Guilin to your next destination. View Itineraries of Guilin »

3 days highglihts of Guizhou
Day 1: Guiyang
Day 2: Kaili
Day 3:
The best 4-day Travel Itinerary
Day 1: Begin your tour in Guiyang, and visit landmarks such as Jiaxiu Tower, Qingyan Ancient Town, and Hongfu Temple. In the afternoon, travel to Kaili, the capital of the Qiandongnan Miao and Dong Autonomous Prefecture.
Day 2: Explore the Kaili Folk Museum, which showcases the traditions and customs of local ethnic minorities, and visit nearby villages such as Langde Miao Village and Xijiang Miao Village, where you can learn about Miao culture and see unique stilted houses.
Day 3: Travel to Leishan County, and hike to the famous Basha Miao Village, known for its unique customs, such as the male hair buns and crossbow shooting. Then visit the nearby Datang Short-skirt Miao Village, where you can see traditional dances and handicrafts.
Day 4: Return to Guiyang and visit the Guiyang Confucius Temple, a well-preserved temple built in the Ming Dynasty. In the afternoon, stroll through Qianling Park, a beautiful park with a lake, gardens, and pavilions, before departing for your next destination.
5 days
6 days
7 days
guizhou and guilin
guizhou and zhangjiajie
Customize Your Unique Guizhou Tour

If you are interested in the 7-day itineraries mentioned above, please contact us, and we will be happy to customize it and provide a quote tailored to your preferences.
Alternatively, if you would like to customize your Guizhou Tour, please visit our Guizhou Tour Customized Center. We assure you that you will receive a reply within 24 working hours.
Informative Articles for Your Guizhou Trip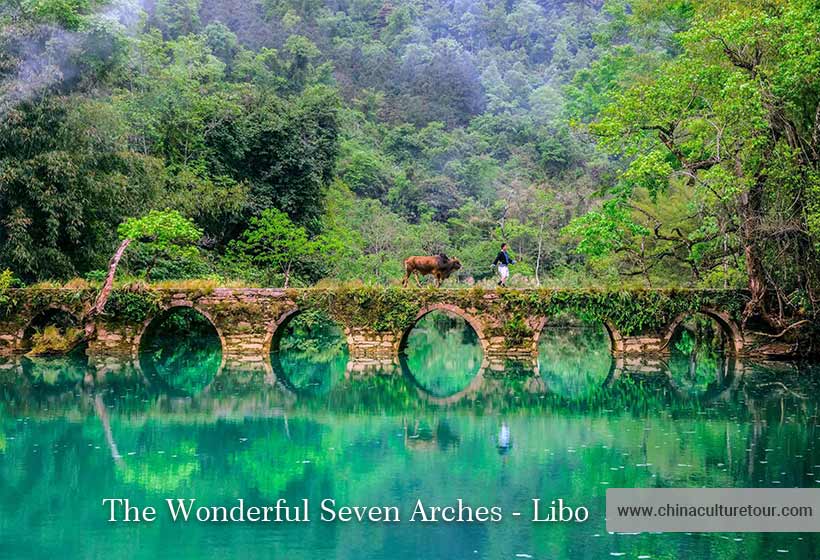 Seven Arches in Libo, Guizhou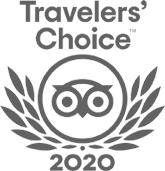 FABULOUS TOUR COMPANY
CHINA OCTOBER - NOVEMBER 2019 We researched several companies and studied reviews on Trip Adviser before contacting who did a very China Culture Tour with an initial query. Right from the outset Grace who owns the company was excellent. She emailed detailed with pictures information and a suggested…read more details
Karen from US
Ready to Create a Unique Dream Travel?