Luxury hotels and accommodations, the best option for your Guiyang tour
Top Hotels in Guiyang
Sofitel Guiyang Hunter 5**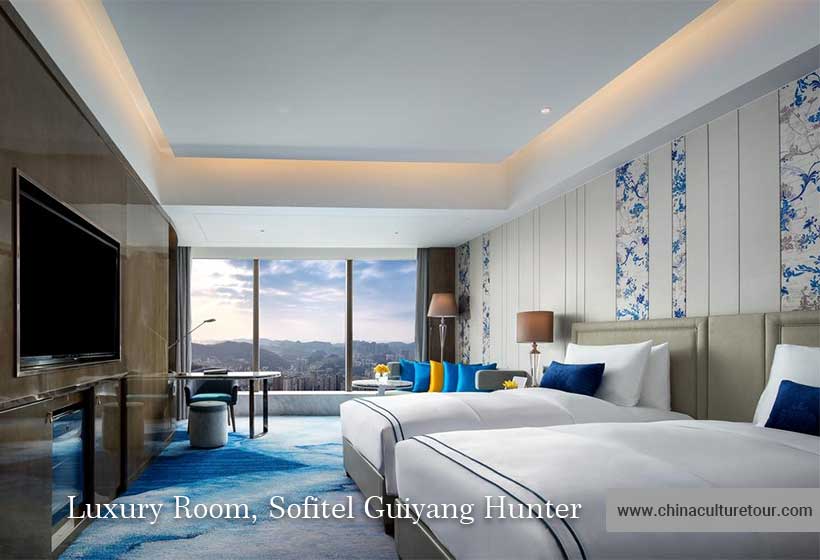 Sofitel Guiyang
Sofitel Guiyang Hunter is located in the city center, adjacent to the Hengte Shopping Center. The hotel has a total of 274 rooms, offering beautiful views of the Nanming River and Jiaxiu Tower. The rooms are furnished with Sofitel's MyBedTM bedding, L'Occitane, and Hermes toiletries, and equipped with panoramic bathtubs, intelligent sensors, and high-definition interactive systems, providing guests with an ultimate comfortable and luxurious stay experience. The hotel also features the So FIT fitness center and So SPA spa center, as well as several restaurants and bars including Le Xuanhua, KweeZeen Cloud Western Restaurant, and Le Bar. The banquet and conference facilities include two banquet halls and 11 multifunctional halls, all with natural lighting and advanced audiovisual equipment.
Add: No.33 Dusi Gaojiaqiao Road, Guiyang 550002 China
Ranking on Tripadvisor: click to view the reviews »
Sheraton Guiyang Hotel 5*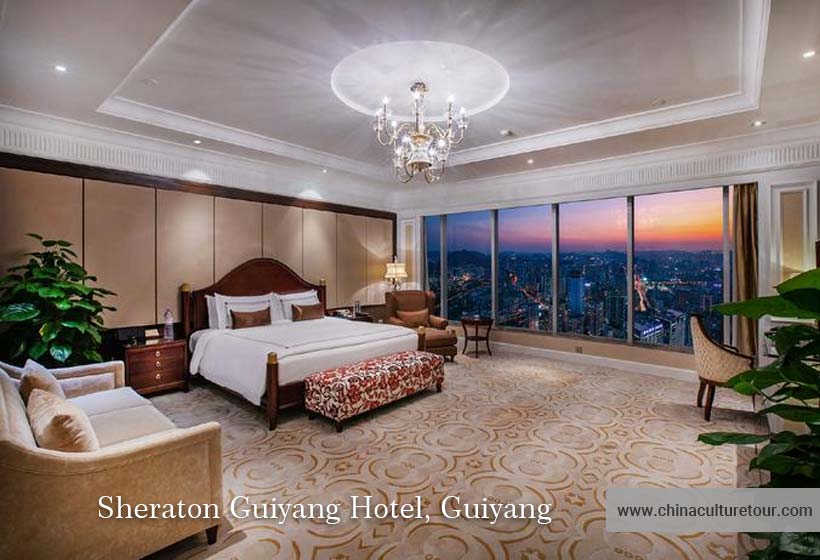 Sheraton Guiyang
Located in the bustling area of Guiyang and filled with the picturesque sceneries of the Nanming River, Sheraton Guiyang Hotel is Guiyang's most deluxe five-star hotel. With convenient transportation, it is a 5-minute walk to the railway station and a 15-minute drive to the airport (13 kilometers).
Sheraton Guiyang Hotel has 346 elegantly adorned rooms, including 41 suites and a president suite. The rooms have a cozy and modern impression. All the rooms are equipped with 32-inch liquid crystal TVs, high-speed broadband internet access, and comfortable bedding that can't be found elsewhere. Its commodious bathrooms are equipped with rainforest shower heads. Its spas, fitness center, and executive bar provide you with perfect places for relaxation. In addition, its Chinese and Western-style restaurants take you on a journey of exploring various, delicious delicacies. Moreover, it has a large conference hall equipped with the most advanced facilities.
Add: 49 Zhong Hua Nan Road, Guiyang 550002 China
Ranking on Tripadvisor: click to view the reviews »
Hyatt Regency Guiyang 5*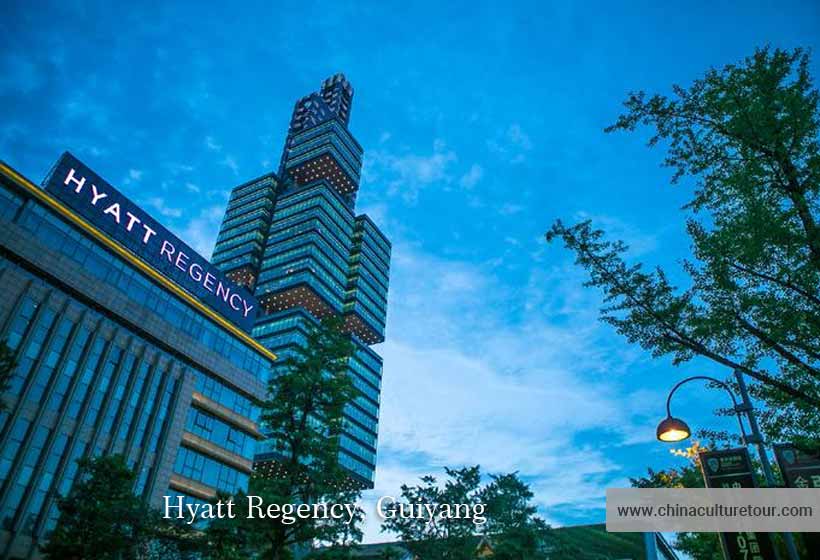 Hyatt Regency, Guiyang
Located in southwestern China, Guiyang is the capital city as well as the commercial, economic, and cultural center of Guizhou Province. Located at the heart of Jinyang's new downtown, the Hyatt Regency Guiyang is a vital component of the Zhongtian International Exhibition Center. It is next to the municipal government of Guiyang, the administrative center, and the Jinyang Commercial Center. In addition, it stands next to Guanshan Park where you can get closer to nature and take a breath of fresh air. The thick verdant plants are also a feast for your eyes.
The design of the hotel, which is taken care of by the world-renowned KKS Company, features a fusion of fashionable and simple architectural styles along with elements influenced by local ethnic groups. The layout of the hotel as a whole takes advantage of the local architectural style and customs, which emphasize that the city and its surrounding mountains should live side by side in harmony. Considering that, the hotel is characterized by staircase gardens, smooth curves, and laminated colors. The hotel has 366 deluxe cozy rooms and suites, each of which is equipped with advanced business amenities, including a large office desk, IDD telephone, voice message telephone, high-speed broadband Internet, liquid crystal TV, and a personal safe box. In addition, its executive floors are furnished with rooms of higher quality, with complete preferential and personalized services.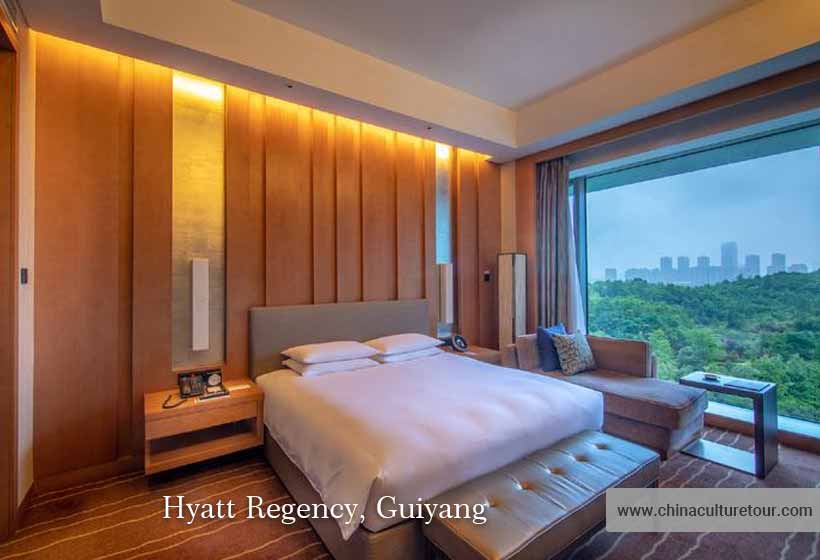 Hyatt Regency, Guiyang
Transportation to Scenic areas: 13 kilometers away from Jiaxiu Tower (about 20 minutes by taxi); 10 kilometers away from Qianling Park (about 20 minutes by taxi)
Add: No.7 Zhongtian Road Guanshanhu District, Guiyang 550081 China
Ranking on Tripadvisor: click to view the reviews »
Top Hotels in Kaili
Hampton by Hilton Kaili 4*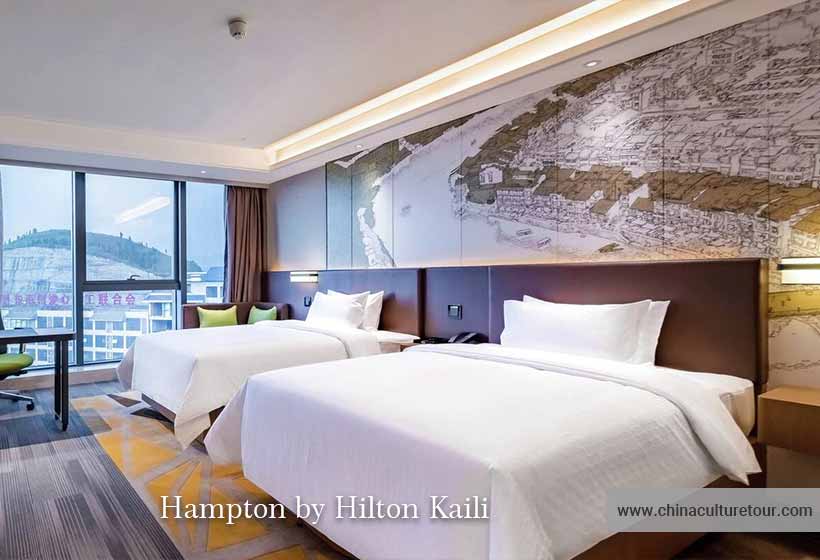 Hampton by Hilton, Kaili
Hampton by Hilton Kaili is located on Kaikai Avenue in Kaili City, Qiandongnan Prefecture. It is adjacent to Kaili South Station and the exit of Shanghai-Kunming Expressway. It is approximately 34 kilometers away from "China's West Jianger Qianhu Miao Village" with a driving distance of 40 minutes.
The hotel has over a hundred exquisite guest rooms and is equipped with function facilities such as meeting rooms, Chinese and Western dining services, and a fitness center. The hotel has convenient transportation, superior location, and beautiful surroundings. It is an international brand hotel under Hilton. The hotel rooms feature Serta dual-patented mattresses and eco-certified bedding, following the American "Hampton Bed" standard, to create a cloud-like sweet dream experience. The rooms are equipped with a family sofa bed: with just two easy steps, a casual sofa can be transformed into a comfortable 1.5-meter bed. It not only retains the enjoyable moments of friends gathering but also extends the sleeping space for families with children, meeting the needs of expanding sleep space without being disturbed by the staff.
Add: 73 Kaikai Avenue, Kaili, Qiandongnan, China
Wyndham Kaili Downtown 4*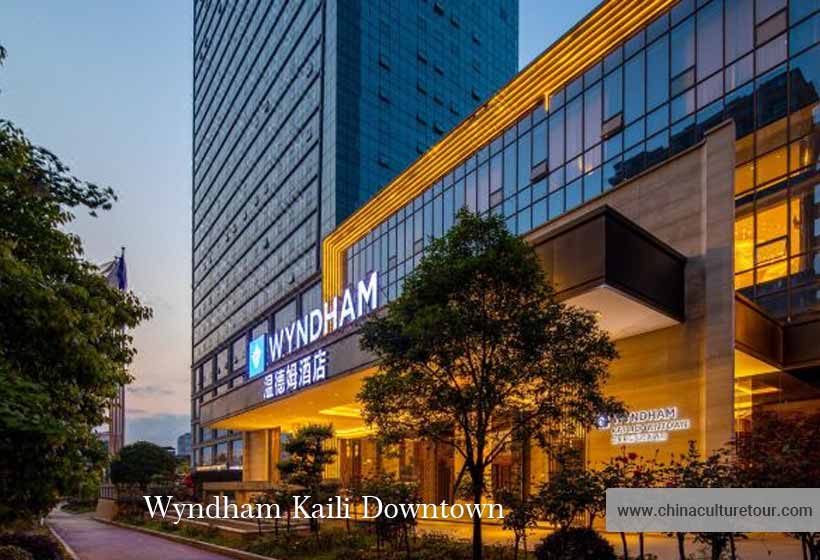 Wyndham Kaili Downtown, Kaili
Wyndham Kaili Downtown is located on Jinshan Avenue in Kaili City, Qiandongnan Prefecture. It enjoys a superior regional position. It is adjacent to the municipal government and Wanda Plaza, with a distance of approximately 2.2 kilometers from the prefectural government. It is about a 30-minute drive from Xijiang Qianhu Miao Village and about a 50-minute drive from Danzhai Wanda Town.
The hotel features a twin tower architectural design, grand in scale. With 27 floors, the total building area is approximately 50,000 square meters, with over 300 underground parking spaces. The hotel offers 331 modern and minimalist-style guest rooms/suites, featuring a contemporary design that allows for a panoramic view of Kaili's beautiful scenery. There are over 2,000 seats available in the dining area, including an all-day international buffet restaurant, 10 Chinese private dining rooms with a fusion of Chinese and Western elements in their decor, and specialty restaurants, providing exquisite cuisine tailored to your taste. The hotel is equipped with five large, medium, and small-sized conference halls, and the 800 square meter pillar-less banquet hall is an ideal venue for hosting large exhibitions, corporate events, themed weddings, and various other activities. With its beautiful environment, luxurious facilities, and first-class service, the hotel is the preferred choice for high-end government affairs, business activities, and leisure entertainment in the local area.
Add: No.1 Jinshan Avenue, Kaili, Guizhou, China
Top Hotels in Anshun/Huangguoshu Waterfall
Bolian Resorts & Spa Huangguoshu 5*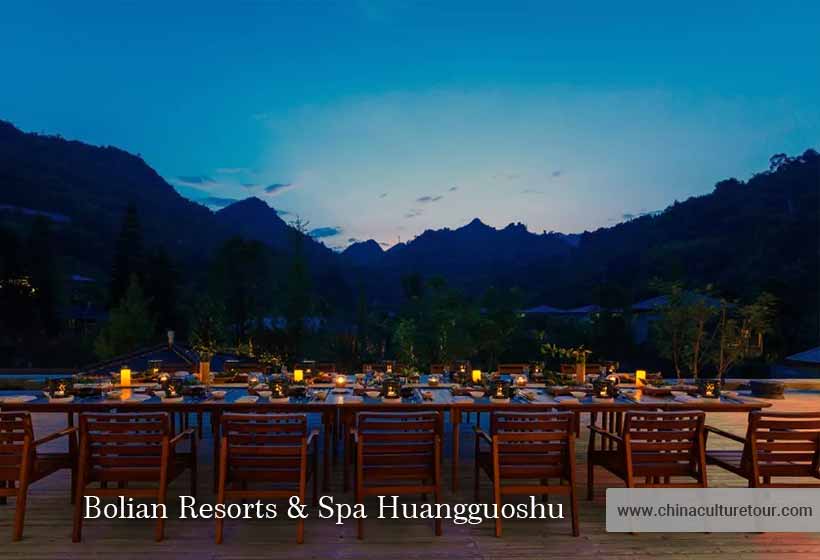 Bolian Resorts & Spa Huangguoshu, Anshun
Bolian Resorts & Spa Huangguoshu is located in the scenic area of Huangguoshu in Anshun City, southwestern Guizhou Province. It is the fifth high-end wellness resort hotel under the Bolian Group. The elegant and beautiful Bolian hot springs flow quietly along the winding paths of the hotel. Huangguoshu Bolian Hot Springs ingeniously combines the historical and cultural heritage of Guizhou, the characteristics of ethnic minorities, the karst landform features, and the natural landscape of the Huangguoshu scenic area. At the same time, it inherits the classical style of Bolian, embodying a sense of simplicity and seclusion. The 26 unique hot spring pools in the resort are like sparkling pearls scattered in a lush and private garden, radiating a brilliant luster amidst the greenery. The hot spring area of Huangguoshu Bolian Resort is divided into four areas: Aromatic Springs, Forest Springs, Therapy Springs, and Scenic Springs, with a total of 26 pools. The hotel offers a total of 65 rooms in 17 buildings.
Add: Inside the Huangguoshu Scenic Area, Anshun, Guizhou, China.
Ranking on Tripadvisor: click to view the reviews »
DoubleTree by Hilton Hotel Anshun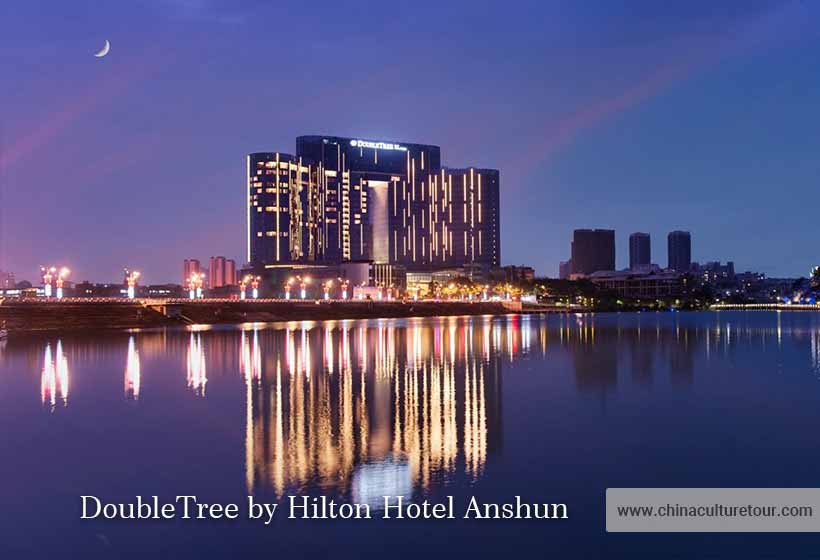 DoubleTree by Hilton Hotel Anshun
DoubleTree by Hilton Hotel Anshun is located on the shores of Hongshan Lake in the city center, adjacent to the municipal government. It is approximately 40 kilometers away from the Huangguoshu Waterfall Scenic Area, and the Anshun Confucian Temple Scenic Area can be reached on foot from the hotel.
Inside the guest rooms, you can enjoy panoramic views of Hongshan Lake or the city through floor-to-ceiling windows. In addition to watching domestic and international TV programs on the 42-inch high-definition LCD TV, you can easily access the wireless network at the spacious work desk. Furthermore, the rooms are equipped with a separate bathtub, rainforest shower, and a range of toiletries, allowing you to relax and rejuvenate. Guests staying in executive rooms or suites can enjoy exclusive privileges at the Executive Lounge, including buffet breakfast, cocktail hours, and stunning views of Hongshan Lake.
The hotel features a 1,200 square meter pillarless grand ballroom and eight multifunctional halls, equipped with a business lounge and advanced audiovisual technology.
Additionally, you can visit the hotel's fitness club for a workout or indulge in the indoor heated swimming pool for a refreshing swim. You can also completely relax your body and mind with soothing and pleasant spa treatments. DoubleTree by Hilton Hotel Anshun is an excellent choice for both business and leisure travelers.
Add: No.42 Hongshanhu Road, Anshun 561000 China
Ranking on Tripadvisor: click to view the reviews »
Customize Your Unique Guizhou Tour

If you are interested in planning a private Guizhou tour, please contact us, and we will be happy to customize it and provide a quote tailored to your preferences.
Alternatively, if you would like to customize your Guizhou Tour, please visit our Guizhou Tour Customized Center. We assure you that you will receive a reply within 24 working hours.
Informative Articles for Your Guizhou Trip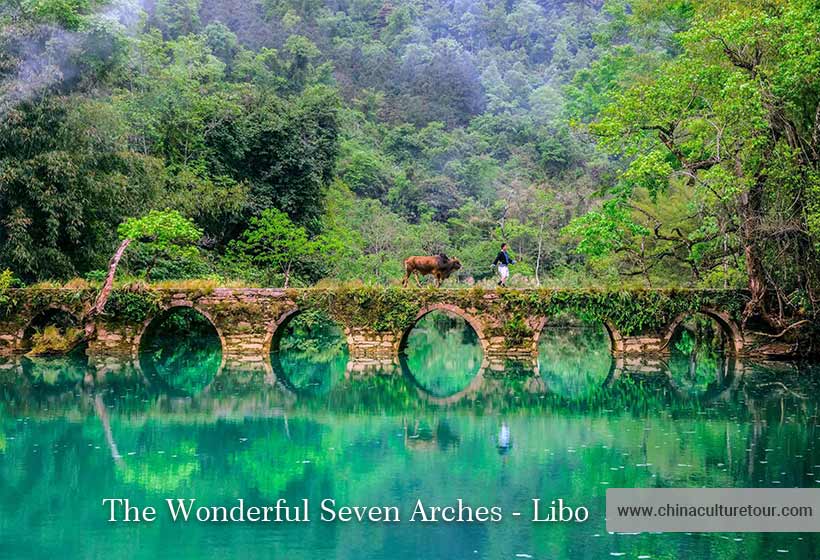 Seven Arches in Libo, Guizhou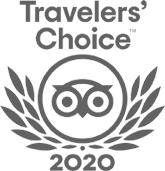 FABULOUS TOUR COMPANY
CHINA OCTOBER - NOVEMBER 2019 We researched several companies and studied reviews on Trip Adviser before contacting who did a very China Culture Tour with an initial query. Right from the outset Grace who owns the company was excellent. She emailed detailed with pictures information and a suggested…read more details
Karen from US
Ready to Create a Unique Dream Travel?