Datong Travel Guide, How to Plan a Best Datong Trip!
Facts
Datong, which is located in the northern region of Shanxi Province, is the center of northern Shanxi Province. It borders Inner Mongolia in its north and Hebei Province to its east. Datong has 5 administrative districts and 7 counties, with an area of 141,130 meters and a population of 2,848,000. It is 380 kilometers away from Beijing and 352 kilometers from Taiyuan.
Brief History
Datong is a city has a rich history dating back over 2,000 years. During the Han Dynasty (206 BCE–220 CE), Datong was an important military stronghold and trade center. In the Northern Wei Dynasty (386–534 CE), Datong became the capital of the dynasty and flourished culturally and economically.
During the Ming and Qing Dynasties (1368–1912), Datong served as a strategic military and economic center. However, it was heavily damaged during the Second Sino-Japanese War (1937–1945) and again during the Chinese Civil War (1945–1949).

Since the founding of the People's Republic of China in 1949, Datong has been rebuilt and developed into an important industrial city, particularly in the energy and mining sectors. It has also become a popular tourist destination due to its historical significance and cultural attractions, such as the Yungang Grottoes, a UNESCO World Heritage Site featuring thousands of Buddhist statues and carvings.

What to do
World-known scenic areas include world culture heritages such as the Yungang Caves and other relics under national and provincial protection, such as Huayan Temple, Shanhua Temple, Nine-Dragon Screen, Yinxian Wooden Temple, Hanging Temple in Henshan Mountain, and others. Local cultural activities such as knotting class etc. is worthy trying while traveling in Datong.
Top Attractions
Yungang Grottoes: The Yungang Grottoes are a UNESCO World Heritage Site and one of the most famous attractions in Datong. The grottoes are a collection of Buddhist statues and carvings that date back to the 5th and 6th centuries.
Hanging Temple: This temple is located on the side of a cliff and is a unique architectural marvel. It was built more than 1,500 years ago and features Buddhist, Taoist, and Confucian elements.

Datong City Wall: The Datong City Wall is a well-preserved fortification that was built during the Ming Dynasty. It is one of the largest city walls in China, and visitors can walk along the top of the wall for panoramic views of the city.

Nine-Dragon Screen: This is one of the three famous "Nine-Dragon Walls" in China, and it is the oldest and largest of the three. The screen is made up of 426 glazed tiles and features nine different colored dragons.

Huayan Temple: This temple is one of the largest Buddhist temples in Datong and dates back to the Liao Dynasty. It features a large number of ancient Buddhist artifacts and statues.

Shanhua Temple: This temple is also known as the "Temple of Benevolence and Longevity," and it is one of the oldest temples in Datong. It features a large number of ancient statues and artifacts.

Wooden Pagoda in Ying County: Located about 70 kilometers from Datong, the Wooden Pagoda in Ying County is one of the oldest and tallest wooden structures in China. It was built during the Liao Dynasty and is a unique example of ancient Chinese architecture.
More about the top attractions in Datong >>
Top Activities
Visit the Yungang Grottoes: The Yungang Grottoes are a UNESCO World Heritage Site and contain more than 51,000 Buddhist statues and carvings. Visitors can not only admire the stunning artistry and beauty of the sculptures but also try their hand at stone carving under the guidance of a skilled artisan.
Learn to make paper-cuttings: Paper-cutting is a traditional Chinese folk art that has been passed down for generations. You can visit a paper-cutting workshop in Datong to learn how to make paper-cuttings and create your own unique design.
Experience traditional Chinese painting: Datong has a rich history of traditional Chinese painting, which includes a variety of styles and techniques. You can take a painting class with a local artist and learn how to use a brush to create a beautiful work of art.
Explore the ancient city walls: Datong's ancient city walls are a testament to the city's long and storied history. Visitors can walk along the walls and even participate in a traditional archery contest.
Attend a folk dance performance: Datong is known for its vibrant folk dance culture, and you can watch a live performance by local dancers. You may even get the opportunity to join in and learn some of the moves yourself.
More activities those can spotlight your trip >>
Top luxury hotels, where to stay comfortably
Datong offers a diverse range of hotels, from luxurious and modern accommodations to traditional and cultural guesthouses, all providing a comfortable and convenient stay for visitors exploring the ancient city's rich history and natural beauty.
Datong Green Garden Hotel: This 5-star hotel is located in the heart of the city, close to the famous Nine Dragon Screen and other historic sites. The hotel features spacious rooms, a fitness center, a spa, and a range of dining options.
Crowne Plaza Datong: This 5-star hotel is located near the city center and offers comfortable rooms with modern amenities. The hotel features an indoor pool, a fitness center, several restaurants, and a bar.
Holiday Inn Datong City Centre: This 5-star hotel is located in the heart of the city and offers luxurious rooms with views of the ancient city wall. The hotel features a fitness center, an indoor pool, several dining options, and a rooftop bar.
Howard Johnson Jindi Plaza Datong: This 5-star hotel is located in the city center and offers modern and stylish rooms. The hotel features a fitness center, a spa, a restaurant, and a bar.
Grand Metropark Wanshi Hotel Datong - a 5-star hotel with spacious and elegant rooms, a fitness center, and multiple restaurants and bars.
Datong Yunzhong Traditional Courtyard - a boutique hotel located in the heart of Datong's old town, offering a traditional Chinese courtyard experience.
What food can satisfy you
Datong's cuisine offers a unique blend of traditional Northern Chinese dishes with influences from neighboring regions, featuring a range of hearty meat-based dishes, savory noodles, flavorful dumplings, and mouth-watering street snacks, all of which reflect the city's rich cultural heritage and are sure to delight any food lover.
Shanxi Noodles (刀削面): This is a staple food in Shanxi cuisine. The noodles are hand-cut into thin strips and served in a savory broth with vegetables and/or meat.
Fried Dough Twists (麻花): A popular street snack in Datong, fried dough twists are crispy and savory. They are typically served with a variety of dipping sauces.
Datong Roast Duck (大同烤鸭): This is a local specialty that is similar to Beijing roast duck. The duck is roasted until the skin is crispy and served with thin pancakes, scallions, and hoisin sauce.
Yan Cai (腌菜): This is a pickled vegetable dish that is made with mustard greens and red pepper. It is often served as a side dish or used as a seasoning for other dishes.
Hand-Pulled Noodles (拉面): Another popular noodle dish in Datong, hand-pulled noodles are made by stretching and pulling dough until it forms long, thin strands. They are often served in a flavorful broth with meat and vegetables.
Fried Rice with Dates (枣糕): A sweet and savory dish made with sticky rice, dates, and meat. It is often served as a dessert or as a snack.
Shanxi Vinegar (陈醋): Shanxi vinegar is a famous local product that is made from fermented sorghum. It has a rich and complex flavor and is often used as a dipping sauce or seasoning for other dishes.
Transportation, how to get there
Datong has an advanced transportation system. It is the railways hub of the Jingbao line and the Northern Tongpu line. People can reach Taiyuan, Beijing, Changchun, Baotou, and Hangzhou from there. Also, the Dayun, the Jingda, the Deda expressways begin in Datong. Buses of Datong Xinnan Station can reach Beijing, Taiyuan and other cities in China.
Travel itineraries for Datong
A recommended travel itinerary for Datong could include visiting the Yungang Grottoes to marvel at the ancient Buddhist art, exploring the impressive Hanging Monastery and experiencing the unique architecture of the Wooden Pagoda, while also immersing oneself in the local culture by indulging in the traditional Shanxi cuisine and visiting the bustling night markets.
Day 1: Visit the Yungang Grottoes, a UNESCO World Heritage site and one of the most impressive examples of ancient Chinese Buddhist art. Head to the Hanging Temple, a unique temple that appears to cling to the side of a cliff. Return to Datong and explore the city's night market, where you can sample local street food and shop for souvenirs.
Day 2: Visit the ancient city walls of Datong, which date back to the Ming dynasty. Explore the Nine Dragon Screen, a colorful and intricately decorated screen that is one of the largest and oldest of its kind in China. Take a stroll through the Huayan Monastery, a beautiful Buddhist temple that is illuminated at night.
The best time to travel
The best time to visit Datong, China is during the months of September to November and March to May when the weather is mild, the skies are clear, and the famous attractions such as the Yungang Grottoes, Hanging Temple, and the Shuanglin Temple are less crowded, making it the perfect time to explore the city's rich history, culture, and natural beauty.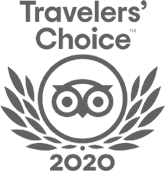 FABULOUS TOUR COMPANY
CHINA OCTOBER - NOVEMBER 2019 We researched several companies and studied reviews on Trip Adviser before contacting who did a very China Culture Tour with an initial query. Right from the outset Grace who owns the company was excellent. She emailed detailed with pictures information and a suggested…read more details
Karen from US
Ready to Create a Unique Dream Travel?