Luxury Hotels and accommodations, where to stay in Guilin
Shangri-La Guilin
Located on the waterfront of the Li River, the Shangri-La Hotel Guilin is fully Chinese in its design. Covering an area of 68,000 square meters, it's ideal accommodation for business trips and holidays. The hotel has spacious rooms of all kinds, each with excellent views of the picturesque Li River and the verdant gardens. The hotel has top-tier restaurants and bars to suit every taste. You will be spoiled with the luxurious selection, ranging from cocktails and exquisite delicacies to the snacks served on the waterfront. Catering needs of all kinds can be arranged here. The hotel has a large-sized pillar-free banquet hall that covers an area of 1800 square meters (9 meters high), with a seating capacity of 1600. In addition to catering and recreational facilities, many other amenities and services are available. The experienced staff will stand ready to provide you with superb services.

Nearby attractions: Wal-Mart, Folded Brocade Hill (Diecai Hill), Mulong Lake, about 10-15 minutes drive to city center
Sheraton Guilin Hotel
One of the largest cities in Guangxi Zhuang Autonomous Region, Guilin is only 50 minutes away from Hong Kong by plane. Sheraton Guilin Hotel is a 5-star hotel in the charge of Starwood Hotel Group. Located in downtown Guilin, on the waterfront of the Li River, the hotel is at a prime location if you intend to visit the Central Plaza and Zhengyang Pedestrian Street. It's only a several minutes walk to the famed Elephant Trunk Hill and Fubo Hill and a 30 minute drive to Guilin Liangjiang International Airport. The hotel has 408 rooms (suites) of various types, including luxury suites, executive rooms and superior rooms. All of the rooms offer a panoramic view of the Li River as well as the hotel's Hua Ting Garden. Each room is equipped with Sheraton's exclusively designed beds for optimal sleeping conditions. Other facilities include a gym, an Internet area, and an executive floor. The hotel has 3 Chinese and Western-style restaurants and a bar. The Chinese restaurants serve Cantonese and Sichuan cuisines as well as local Guilin dishes; the Western-style restaurant serves a variety of Western dishes and provides 24-hour room services. The hotel has 10 meeting rooms of different sizes, the largest with a seating capacity of 240. Each meeting room is fully equipped with modern facilities.

Nearby attractions: Seven-Star Park, Fubo Hill, Reed Flute Cave, Elephant Trunk Hill, Nengren Temple, Guilin Ocean Aquarium, Catholic Church.
Guilin Bravo Hotel
Located in the Two Rivers and Four Lakes Scenic Area, Guilin Bravo Hotel (Grand Wing) is ideal for business trips and holidays. It is only a 10 minute walk to the most bustling commercial district in downtown Guilin, several minutes walk to the Elephant Trunk Hill Night Market, and 30 minutes derive to Guilin Liangjiang International Airport. The hotel rooms are the most spacious of all the 5-star hotels in Guilin, each with an average area of 40 square meters. The rooms are adorned with European-style decorations, such as crystal pendant lamps, white European-style furniture and the silver embellishments of Guangxi's ethnic minority groups. All these create a tasteful and elegant ambience. In addition, each room is equipped with a fashionable public office area, a large LCD TV, soft and luxurious bedding, and other modern facilities. It's worth mentioning that Guilin Bravo Hotel is the first luxury hotel in Guilin to provide free wireless Internet access. Other room facilities include an air conditioning system, safe box, free broadband Internet access, IDD telephone, DDD telephone (for free), 24-hour satellite TV, free movie channels, refrigerator, mini bar, and electric kettle. Non-smoking rooms are also available for your convenience.

Nearby attractions: Elephant Trunk Hill Park, Elephant Trunk Hill Night Market
Yangshuo Mountain Retreat
The construction of Yangshuo Mountain Retreat has its roots in a simple idea, environmentally-friendly accommodation. At the very beginning, no air conditioners, western-style kitchens or computers were provided in the retreat and the reception counter was equipped with only a telephone and a fax machine. As the retreat is gained popularity with tourists, necessary appliances were added. Today, the retreat is fully equipped with air conditioners, computers, wireless Internet access and pizza ovens. The retreat stands firm in its devotion to the idea of a truly basic, no fuss retreat. The furniture is basic bamboo and the restaurant's menu reflects basic local cuisine, with a few imported beers her and there. Visitors from around the world can truly experience the beauty and tranquility of Yangshuo here.
Longji Li An Lodge in Longsheng
Located in the "A Moon Accompanied by Seven Stars" Scenic Spot of Guilin, Longji Li An Lodge has perfect views of the picturesque terraced fields. After 8 years of construction, the lodge has 16 distinctly themed rooms. The lodge is a wooden structure that is a perfect fusion of traditional Chinese culture and taste. Longji Li An Lodge is unlike anywhere else in the world. All of the rooms are priced at over 2000 RMB. The rooms on the 3rd and 4th floors are even more expensive, over 4000 RMB.

To the West Street: about 20 minutes drive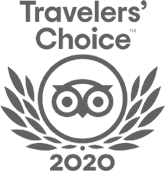 FABULOUS TOUR COMPANY
CHINA OCTOBER - NOVEMBER 2019 We researched several companies and studied reviews on Trip Adviser before contacting who did a very China Culture Tour with an initial query. Right from the outset Grace who owns the company was excellent. She emailed detailed with pictures information and a suggested…read more details
Karen from US
Ready to Create a Unique Dream Travel?