Food and restaurants, what and where to eat in Guilin
Taste-Made Restaurant
Taste-Made Restaurant is the first restaurant to present "Guilin local delicacies with a new concept" in Guilin. This famous restaurant is located near Seven-Star Hotel in Seven-Star District. With an area of 3,500 square meters, Taste-Made Restaurant is filled with a modern atmosphere. The "Guilin local delicacies with new concept" represent the essence of local Guilin food and absorbs the quintessential component of eight big cuisines of China (Chuan, Yue, Xu, Lu, Zhe, Xiang, Min, Hui). Some dishes also combine the cooking style of the Western countries making the restaurant a unique one in Guangxi. The price there is fairly reasonable with excellent services and a good environment. Additionally, there is an English menu to accommodate foreign visitors.
Mc Found Restaurant
Mc Found is "麦香坊" in Chinese. "麦" translates to wheat, which is the main crop of northern China. "香" refers to the fragrant smell of food in the restaurant. "坊" implies a traditional and simple house. The three characters together give one a sense of reliability. With a history of more than 10 years and a few branches in Guilin, Mc Found features the cuisines and cooking styles of northern China. The food in Mc Found is exquisitely prepared and cooked. There, chefs aim to provide the clients with a feeling of home, instead of an expensive restaurant.
Forest of Fortune
In Chinese, "Forest of Fortune" is "聚福林." The Forest of Fortune lies on Zhengyang walking street in downtown Guilin. You can find many kinds of dishes there at a reasonable price. The soups and rice porridges there are highly recommended.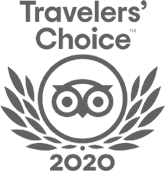 FABULOUS TOUR COMPANY
CHINA OCTOBER - NOVEMBER 2019 We researched several companies and studied reviews on Trip Adviser before contacting who did a very China Culture Tour with an initial query. Right from the outset Grace who owns the company was excellent. She emailed detailed with pictures information and a suggested…read more details
Karen from US
Ready to Create a Unique Dream Travel?