Emei Mountain Travel Guide
Mount Emei is located 150 kilometers southwest of Chengdu and 37 kilometers east of Leshan City. It is one of the four famous Buddhist mountains in China and also a famous tourist destination. In 1996, Mount Emei was listed as a world natural and cultural heritage by UNESCO.
The natural landscape of Mount Emei
There are many tall ancient trees, beautiful waterfalls and streams, 1600 kinds of medicinal plants as well as more than 2300 kinds of animals, especially lovely monkeys. The main peak of Mount Emei - Wanfo Peak is 3099 meters above sea level. Standing on the top of the mountain, you can admire the snow-capped mountains in the west and the vast plains in the east. In addition to the scenery of the Golden Summit, there are also four peculiar landscapes on Mount Emei: sunrise, sea of clouds, Buddha's light and holy lantern. Mount Emei is lush, quiet and beautiful all year round. The landscape changes with the seasons, altitude and climate, and it is a wondrous and mysterious world.
Main Attractions
Mountain Emei Scenic Area covers an area of 154 square kilometers and is mainly composed of 4 scenic spots: Baoguo Temple, Qingyin Pavilion, Wannian Temple and Golden Summit.
Baoguo Temple: Located at the foot of Mount Emei, formerly known as "Hui Zongtang", it was built in the 43rd year of Wanli in the Ming Dynasty (1615 AD). In the 42nd year of Kangxi (1703 AD), Emperor Kangxi wrote the name of the temple "Baoguo Temple". Baoguo Temple faces south and covers an area of 100 mus with majestic halls and lush trees. There are four buildings: Maitreya Hall, Daxiong Hall, Seven Buddha Hall and Puxian Hall, which are built leaning the mountain and rise step by step. Baoguo Temple is the first temple in Mount Emei and the center of Buddhist activities in Mount Emei.
Qingyin Pavilion: Located in the middle of Mount Emei, it was built in the fourth year of Emperor Xizong of Tang Dynasty (877). This pavilion is built on the ridge between Heilong River and Bailong River. There are dense forests around the pavilion with Shuangfei Pavilion under it. There is a bridge on both sides of the pavilion, like a pairs of swings, hence the name, Shuangfei Pavilion. Here throughout the year, no matter day or night, there is the sound of gurgling water. The single and clear sound of water plus the two bridges, it is known as 'Double Bridge with clear water sound'. Qingyin Pavilion, surrounded by water and mountains, also with beautiful scenery, is regarded as an architectural model of Chinese Buddhist temple.
Wangnian Temple: It is one of the oldest ancient temples in Mount Emei. In the fifth year of Long'an in the Eastern Jin Dynasty (401), it was named "Puxian Temple" when it was founded. When it was rebuilt in the twenty-eighth year of Wanli in the Ming Dynasty (1600), the emperor Shenzong of Ming dynasty bestowed a tablet of 'Shengshou Wannian Temple'. Wannian Temple is one of the eight temples of Mount Emei, with scenic spots such as No-beam Brick Hall, Weie Hall, and White Water Pool. There is a very exotic Buddhist building in the monastery imitating the Indian Gena Temple, which is unique among the many Chinese-style monastery buildings in Mount Emei. Wannian Temple enjoys a quiet environment and retains a large number of historical steles, among which the most famous is the "First Mountain Stele" written by Mi Fu, a calligrapher in the Song Dynasty. Wannian Temple can be reached by cable car or on foot for 40 minutes.
Golden Summit: It is located on the second peak of Mount Emei, adjacent to the Wanfo Peak on the top of Mount Emei. Golden Summit is the greatest concentration of temples and attractions in Mount Emei. Looking far from the distance on the mountain top, you can get a panorama of Chengdu Plain. When the weather is good, you can see Gongga Snow Mountain. At Golden Summit, you can enjoy the four major landscapes of Mount Emei: the sunrise, the sea of clouds, the Buddha's light and the holy lantern, and you can also worship the world's tallest golden Buddha, the 48-meter-high statue of Samantabhadra in all directions, which is the symbol of Mount Emei.
History of Mount Emei
According to archaeological data, there are traces of human habitation in Mount Emei in ancient times. As early as 5,000 years ago, Emperor Xuanyuan came here twice to study Taoism. A monk built the first monastery here 1900 years ago. In the mid-ninth century AD, Emperor Zhao Kuangyin of the Song Dynasty sent a sangha to visit India. After returning to China, they built a Buddhist temple in Mount Emei, translated scriptures, taught the Dharma, and cast a giant bronze Buddha statue of Puxian with a weight of 62 tons and a height of 7.85 meters. The bronze Buddha statue is enshrined in today's Wannian Temple and has become a fine product among the Buddha statues of Mount Emei, with extremely high cultural and artistic value. Since then, Mount Emei has become one of the holy places of Buddhism.
Religious Culture of Mount Emei
Mount Emei is the dojo of Puxian Bodhisattva. There are 26 temples and historic sites on the mountain, and the famous ones are Baoguo Temple, Fuhu Temple, Elephant Washing Pool (Xixiangchi), Longmen Cave, Wannian Temple, Sheshen Cliff, and Emei Golden Summit and so on. All Buddhist buildings, grotto statues, instruments, rituals, music and paintings, etc. all show the strong flavor of Buddhist culture. Mount Emei is one of China's famous destinations for tourism, Buddha worship and summer escape.
Hot Springs of Mount Emei
The hot springs of Mount Emei are unique because of their unique geological structure and landscape features. There are two types of hot springs in Mount Emei: one is radon-containing hot springs, which are collected from a depth of 3,000 meters underground. The hot spring is clear and transparent with great water volume, and the water temperature of the outlet reaches 68°C. It is rich in a variety of microelements and minerals that are beneficial to human health, known as 'The Noble in Hot Springs'; Another is the sulfur hot spring, which originates from the depths of the earth more than 2,000 meters below Mount Emei. It is rich in a variety of minerals that are beneficial to human health care. The temperature of wellhead is 63°C, which has high medical and health care value. If you want to experience the hot springs of Mount Emei, we recommend the Hot Spring of Hongzhushan Hotel located next to Baoguo Temple in Mount Emei. As the first high-quality hot spring spa in Southwest China, more than 20 hot spring pools are shady by green trees. Rich negative oxygen ions, rare radon-containing hot springs, French aromatherapy, the perfect fusion of traditional Chinese medicine, plus a beautiful and comfortable environment, this is a good place to relax.
How to tour
Walk + Sightseeing bus + cable
Tour Route Recommendation: Gate of Mount Emei – Baoguo Temple – Fuhu Temple – Leiyin Temple – Qingyin Pavilion – Wannian Temple (up and down by round ways cable car or walk 40 minutes) –Yixiantian - Natural Ecology Monkey Reserve – Jiulinggang – Elephant Washing Pool – Leidongping - Jieyin Palace (take the cable car to) – Golden Summit – Take the sightseeing bus down
Sightseeing bus stations: Baoguo Temple Passenger Transportation Center, Wuxiangang Station, Wannian Temple Station, Zero Kilometer Station, Leidongping Station
Cableways: Wannian Cableway and Golden Summit Cableway
Tips: There is no need to hike the whole way to the top due to the steep and long slope. It is Labor-consuming and there are no essential attractions on the way. It is recommended to choose a combination of sightseeing bus, cableway and hiking.
One/Two day tour suggestion
If there is no suitable tour for you, contact us and create your own Chengdu tour!
How to get to
Chengdu to Mount Emei Scenic Area
Coach:
There are shuttle buses from Chengdu Xinnanmen Station and Chengdu East Station Bus Station to Mount Emei. The journey takes 2.5 hours and the fare is RMB42.
There are shuttle buses from Leshan Central Station and Xiaoba Station to Mount Emei. The buses from central station run every 30 minutes, which takes about 30 minutes, and the fare is RMB11. In 2018, the No. 601 bus (Jiahua Cement Plant-Baoguo Temple Station) was operated, running between Leshan City Central District and Emeishan City.
Train: There are intercity express trains from Chengdu East Railway Station to Mount Emei. There are 12 trains between 07:32 and 19:50 every day. The ticket price for the second-class seat is RMB65, and the journey takes about 1 hour.
Emeishan City to Mount Emei Scenic Area
Bus:
From downtown Emei, take No. 1 and No. 7 bus to Huangwan Station, or No. 5 to Fuhu Temple. Among them, No. 7 and No. 5 pass through Baoguo Temple Passenger Transportation Center
From Emeishan High-speed Railway Station to Mount Emei by bus: Take No. 12 bus to Fuhu Temple (via Baoguo Temple Passenger Transportation Center)
Taxi: The starting price of a taxi in Emeishan City is RMB5 within 2 kilometers (30% increase of price at night), and the meter is billed.
Note: Taxi is not allowed into the scenic spot. You can transfer to the sightseeing bus of the scenic area after arriving at Baoguo Temple Passenger Transportation Center or Huangwan Station.
Rickshaw: Characteristic means of transportation in downtown Emei, it is inexpensive and comfortable for 2 people. The price varies from RMB2 to RMB10 according to the distance.
Useful Info
Admission Ticket during Peak Season: (16th January to 14th December): entrance ticket: RMB160; Wannian Cableway (up): RMB65; Wannian Cableway (down): RMB45; Golden Summit Cableway (up): RMB65; Golden Summit Cableway: RMB55
Admission Ticket during Slack Season: (15th December to 15th January of the next year): entrance ticket: RMB 110; Wannian Cableway (up): RMB30; Wannian Cableway (down): RMB20; Golden Summit Cableway (up): RMB30; Golden Summit Cableway: RMB20
Where: Huangwan Town Emeishan City, Leshan, Sichuan Province
Tel: 400-8196-333
When is it opened: 16th January to 14th December: 6:00-18:30; 15th December to 15th January: 7:00-17:50
Recommended Time: 1 to 2 days
Recommended Seasons: All seasons, spring (March to May) and autumn (September to November) are the best
Specialties of Emeishan: Emei Xue Ya Tea, Emei konjak, Emei bamboo shoots, Tofu pudding, Xiba Tofu, Fermented bean curd
Recommended restaurants nearby
Jinshan Emei Intangible Heritage Museum·Ancient Heritage Cuisine (Sichuan cuisine, average cost: RMB200 pp): Add: No. 64 Dongxin Road, Emeishan, Sichuan. Tel: 0833-5566699
Emei Rural Family Dinner (Sichuan cuisine, average cost: RMB60 pp): Add: Opposite to Maluqiao Community, Chaobai Road, Emeishan City. Tel: 0833-2222262
Fu Hui Yuan Qingxin Vegetarian Restaurant (Vegetarian dishes, average cost: RMB25 pp): Add: No. 139 Hubin West Road, Emeishan City. Tel: 18283386161
Recommended hotels nearby
Hongzhushan Hotel: Add: Beside Baoguo Temple, Emeishan. Tel: 0833-5525888
Holiday Inn Express Emei Mountain: Add: Danran Street, 3rd Section of Jingqu Road, Ehong Road, Huangwan Country, Emeishan. Tel: 0833-5058555
Mercure Hotel Emeishan Mountain: Add: No. 2 Guangming Avenue, Suishan Town, Mount Emei. Tel: 0833-5326666
Nearby Attractions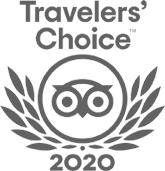 FABULOUS TOUR COMPANY
CHINA OCTOBER - NOVEMBER 2019 We researched several companies and studied reviews on Trip Adviser before contacting who did a very China Culture Tour with an initial query. Right from the outset Grace who owns the company was excellent. She emailed detailed with pictures information and a suggested…read more details
Karen from US
Ready to Create a Unique Dream Travel?