Julie, Willie and Jenny from Australia Customized a 15 Days Senior Tour of China
Hi Grace,
My sincere apologies for not getting this back to you earlier. Thank you, thank you for such an amazing tour of China. We absolutely loved every minute of it. There was nothing we would have changed except we wished we had more time. Everything and everyone was awesome, we all came away loving China.
Who could ever believe that they could have the Great Wall of China to themselves, we did AMAZING!
Our guides were all amazing as you did so well arranging each guide. We would recommend all of them. Each time we had a new guide. They were so suited to where we were and we learnt something different about your culture each time.
People ask us about our trip and we tell them that it was amazing. And if you go private tours are the only way to go and China Culture Tours is the company to use.
Once again Grace we cannot thank you enough for organizing such a memorable tour.

Thanks
Julie, Willie and Jenny from Australia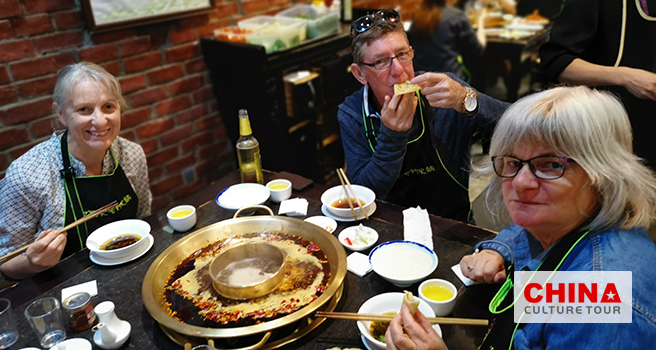 Chengdu
Every attraction we visited was memorable. Thanks to you Grace, your guides and drivers we had one memorable trip. We came to China for the Great Wall, Terracotta Warriors and the Pandas, but really didn't have an idea of what else to expect. The tour you organized us just exceeded all expectations and more. We came away loving China the people and how friendly they were, the cleanliness of everywhere we went and how safe you felt walking around. If we had to choose something the best, it would probably be the Great Wall because of the fact that we had it to ourselves when we first arrived so that was pretty amazing. Willie was in awe of the terracotta soldiers and could have stayed there all day.
All our guides were outstanding they were all different but very suited for each city so we have to say they were all outstanding.
TOM: Beijing for his VIP treatment and getting us to the Wall and having it to ourselves was awesome. We had a very wet and cold day at the Forbidden City, but Tom still managed to make it an enjoyable fun day.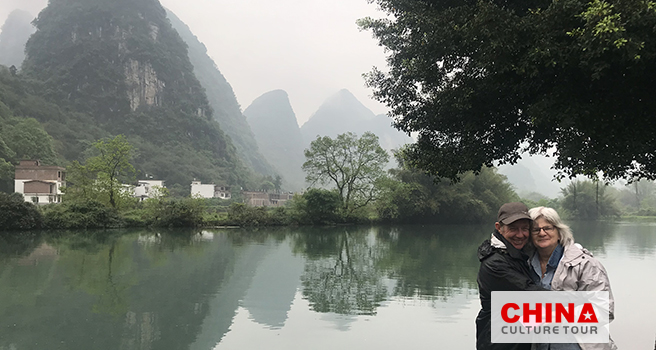 Guilin
SUMMER: Xian for her history about the emperors and being able to tell the stories and keeping us interested. Her knowledge of the terracotta soldiers made our visit the best. We didn't think we would get Willie to leave.
VIVIENE: Chengdu for her love of the Pandas which was the reason we visited Chengdu. Also going out of her way to organize tickets at such short notice for the Sichuan Opera and staying back to make sure we found our way and were seated. She is such a lovely vibrant young woman.
LINDA: Guilin/Yangshuo so full of life and excited about her job. We loved our cruise on the Li River even though it rained but Linda was still enthusiastic. Our bike ride was lots of fun and laughs, lots of stops along the way for photos even with a bride and groom.
SUMMER: Shanghai did an amazing job keeping us on track as we had a lot to see in the one day and thanks to her we did get to see it all.
CAROLINE: Suzhou vibrant personality knowledge of customs and lifestyle made our visit to Tongli village the one we will never forget.
All our drivers were punctual, professional, and very patient and always greeted us with a smile.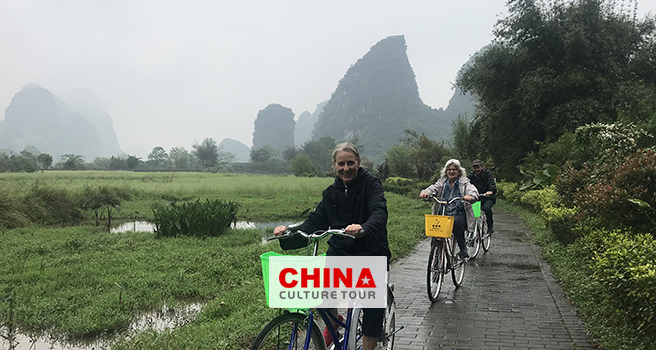 Yangshuo
Mr. Soong (not sure of the spelling) our driver in Beijing with Tom was our favorite he interacted with us and laughed with us when we were trying to talk to him.
The hotels were all excellent but our favorites were: Double Happiness Courtyard Hotel Beijing, Yangshuo Mountain Retreat Hotel, We did appreciate the gardens at the Garden Hotel in Suzhou.
All our breakfasts were very plentiful and yummy. With all our lunches we never had anything that we didn't like and there was so much food.
The fast train is well-oiled machine, punctual and so smooth. We enjoyed travelling by train as we could see the countryside.
We were wowed by everything! But the Impression Liu Sanjie really did wow us.
For suggestions to pass on to other travelers, we think that they should just travel with China Culture Tours and see it all! For us, things not to be missed are the Impression Liu Sanjie, Yangshuo Mountain Retreat and Tongli Water Town.
The reason we chose China Culture Tours was because of you Grace. From our first contact, you were so helpful and listened to what we were interested in and tailored our tour around things we liked.
Best decision we could have made.
Julia from Australia, customized a Senior Friendly China Tour to Beijing Xian Chengdu Guilin Suzhou and Shanghai
More Helpful Similar China Tour Reviews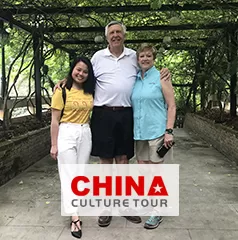 "
Hi Nora, We have many wonderful experiences in 21 days! There were many "wow" moments - How modern China's cities... " Read More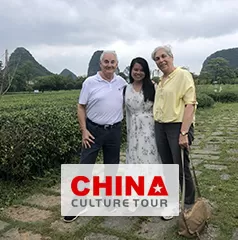 "
Trip of a Lifetime My husband and I had always wanted to go to China but I do not like group tours. I went online and researched... " Read More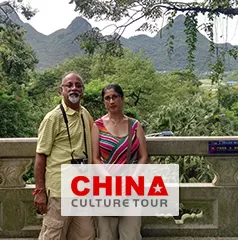 "
Good Morning Grace, Greetings from a sunny autumn day in London! Sorry for my delayed email, with the Diwali, the festival... " Read More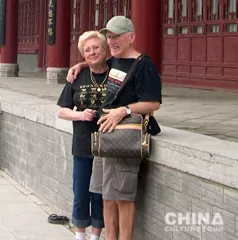 "
Hi Joni: We had an absolutely wonderful trip to China and were more than happy with Morgen Mo's recommendations and service. Actually... " Read More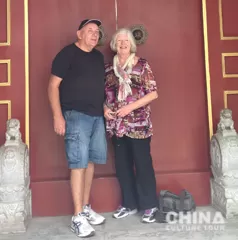 "
Dear Grace, Good to hear from you. We have completed the survey below. Beijing We like the Terracotta Warriors. They were... " Read More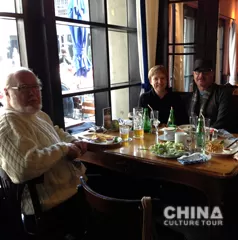 "
Dear Grace, Please find our answers to your questionnaire and thanking you again for organizing this wonderful China trip. Everything... " Read More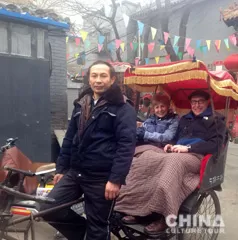 "
Hello Grace, The experience we had in China was outstanding. It was very educational and enlightening. Beijing Shanghai Xi'an "We... " Read More
ANY QUESTIONS?
This tour is tailor-made and we can tailor to meet your reqeusts. Your personal travel consultant will contact you within 24 working hours!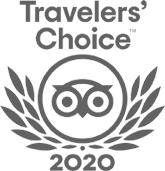 FABULOUS TOUR COMPANY
CHINA OCTOBER - NOVEMBER 2019 We researched several companies and studied reviews on Trip Adviser before contacting who did a very China Culture Tour with an initial query. Right from the outset Grace who owns the company was excellent. She emailed detailed with pictures information and a suggested…read more details
Karen from US
Ready to Create a Unique Dream Travel?