Hana from US Customized a 20 Days China Silk Road Heritage Tour
Hi Nora,
We had a very great time in China. Please check my feedbacks below.
Guide: Two of our guides were outstanding, Peter in Datong and Summer in Xi'an.
Summer was very knowledgeable, and spent time when we were driving showing us photos on her cell phone and explaining the background of places we were going to visit. She was spontaneous, very friendly, and eager to answer all our questions – good English. Attentive, considerate and well-prepared.
Peter gave us a lot of background information about Datong and the whole region, pointed out places we were passing (much discussion about coal mines and alternative energy. He showed us places in Datong that we could walk to after our daily tours, shared his enthusiasm for the Hanging Monastery and Yungang grottoes and told background history and stories, he clearly loved the city and region and culture. I also appreciated his teaching us some Chinese vocabulary. A very intelligent, friendly and considerate guide, very good English language skills.
Helen in Dunhuang was also very good – friendly, enjoyed telling us background information and pointing out landmarks as we drove. Also, managed changes due to sandstorm when we were visiting the Mogao grottoes, and was very attentive throughout.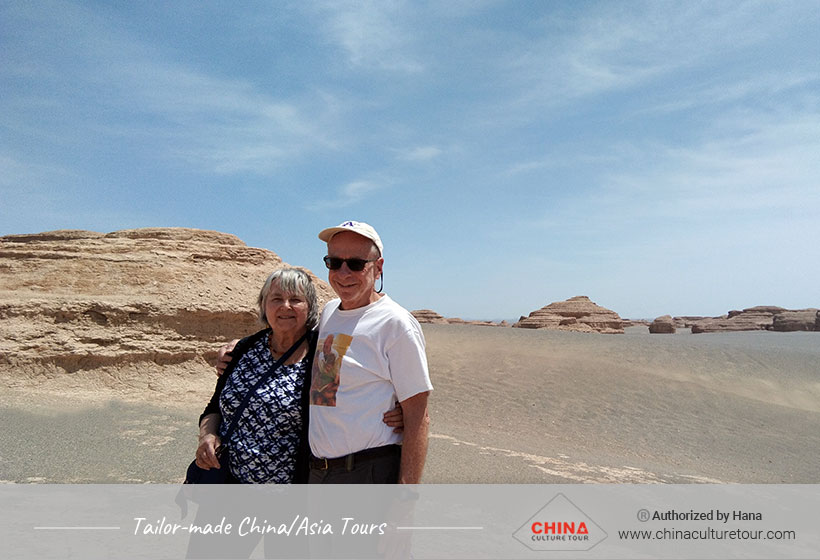 Jiayuguan Pass, Dunhuang
Hotel and meals: Best meals – Restaurant selected by Peter on way to Hanging Monastery near Datong. Excellent food. It was particularly enjoyable because he came to our table 2-3 times while we ate to check on us and give information about the food
Also, vegetarian restaurant selected by Lily in Beijing. We had originally requested this when making our plans because in Beijing we were with our son and his vegetarian wife, but Lily had not received the information.
Other restaurants were generally good – except for a few which had too much glutinous thickening sauce, too much oil, and not enough fresh vegetables. It was very helpful when the guides took the time to explain the menu, ask us for preferences, and make recommendations.
Hotel buffet breakfasts were reliable and varied, with plenty of choices of Chinese and European food. In Xiahe we were automatically seated near a toaster and served a European-style breakfast – no choice! (We did not travel to China to eat European food)
On 3 occasions our departure time was before the hotel breakfast time – one hotel provided a (mediocre) pre-packed breakfast with nearly raw hard-boiled eggs. Travel plans should include an alternative for breakfast.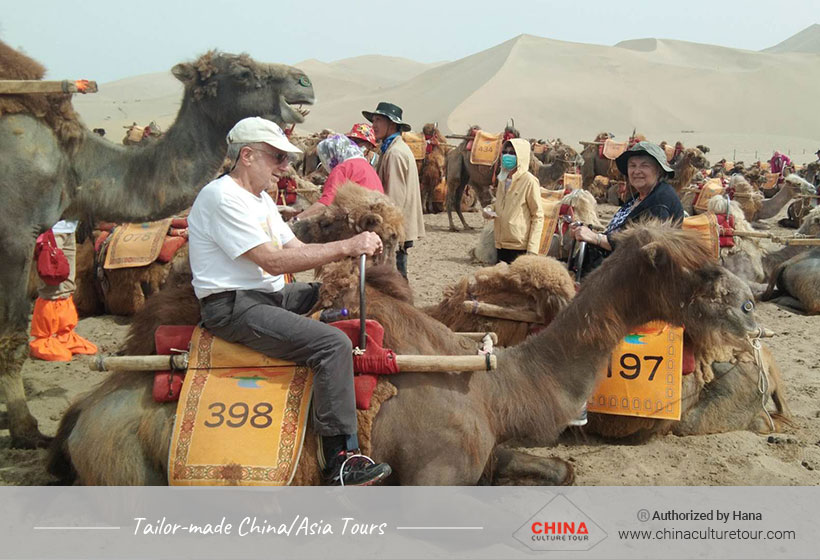 Dunhuang
Suggestions or tips for other travelers: It would help to know the travel time when driving to sites, and also how long was allowed for each site visit.
We very much appreciated receiving bottles of water every day.
Also – we received maps in most places- but I would appreciate time to look at the map with the guide for an explanation of the places, locations and distances. The cities are very large, and visitors need to know something about them, not just drive from airport to tourist site.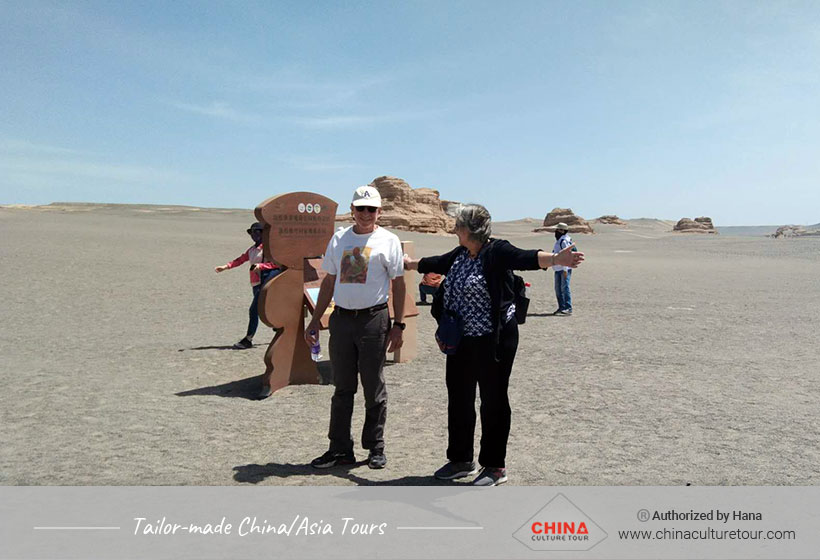 Jiayuguan Pass, Dunhuang
One more comment – the wifi was not always very strong in some hotels, so I could only send brief texts (no photos, for example) and I could not always access WeChat.
Fast train travel: the fast train is excellent – very clean, organized, and efficient. Stations are VERY large, and some have two or more exits, so tour guides should inform clients where to meet.
Thanks so much for your help before and during the tour.
Hana from US, customized a China Silk Road Tour to Beijing Dunhuang Xiahe Xian Yangtze Wuhan and Datong
More Helpful Similar China Tour Reviews

"
Hi Grace, The holiday was great! We loved everything! Very well organized! The hotel in Dunhuang was magic! We had breakfast... " Read More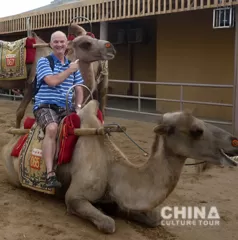 "
Hi Grace, We are back home after a wonderful silk road trip - thank you so much for all your help before and during the... " Read More
ANY QUESTIONS?
This tour is tailor-made and we can tailor to meet your reqeusts. Your personal travel consultant will contact you within 24 working hours!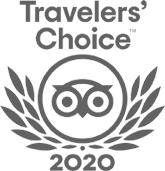 FABULOUS TOUR COMPANY
CHINA OCTOBER - NOVEMBER 2019 We researched several companies and studied reviews on Trip Adviser before contacting who did a very China Culture Tour with an initial query. Right from the outset Grace who owns the company was excellent. She emailed detailed with pictures information and a suggested…read more details
Karen from US
Ready to Create a Unique Dream Travel?