Zhouzhuang Water Town
Located 30 kilometers southeast of Suzhou City in Jiangsu Province, Zhouzhang is a typical ancient town in Southern China. It is one of the most famous waterside towns, also known as "Venice of the East" due to it well-preserved ancient residences, elegant waters, and local customs.
Its unique geographical location has served as an important distribution for commodities like grain, silk, porcelain, crafts, among others since the Yuan Dynasty. Zhouzhang is surrounded by rivers and canals on all sides and has attracted thousands of artists, photographers and millions of visitors home and abroad. Its winding rivers, arched stone bridges, wooden boats and well-preserved ancient buildings are all highlights of the town.
The main roads in Zhouzhuang are actually water lanes where boats are a common means of transportation. In front of every residence, there is an water lane. The small docks enable residents to do their laundry. Tourist boats are available in Zhouzhuang. Visitors can take a man-powered boat to go around the town.
The most famous sites in Zhouzhuang are the Twin Bridges which were built in the Ming Dynasty and considered as symbol of Zhouzhuang, while others include Fuan Bridge, Shen House, Zhang House, Milou Tower, Chengxu Taoist Temple and so on.
In Zhouzhuang, more than 100 residential houses were built during the Ming and Qing dynasties. Many of them are beautifully decorated with fine furniture and even a garden with a water lane in it. The most famous is the Shen House near the Fuan Bridge. This big house was built in the mid 18th century as the private residence of a wealthy merchant named Shen Wanshan. Shen was the first millionaire of the south of Yangtze River in the early Ming Dynasty. This Shen House occupies an area of more than 2,000 square meters and consists of more than 100 rooms equipped with elegant furniture and connected rooms by arcades and aisles.
Besides visiting these scenic areas in Zhouzhuang, you can treat yourself to delicious local food in the Shen Family Restaurant. You can enjoy Zhouzhuang local cuisine there.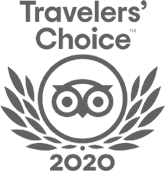 FABULOUS TOUR COMPANY
CHINA OCTOBER - NOVEMBER 2019 We researched several companies and studied reviews on Trip Adviser before contacting who did a very China Culture Tour with an initial query. Right from the outset Grace who owns the company was excellent. She emailed detailed with pictures information and a suggested…read more details
Karen from US
Ready to Create a Unique Dream Travel?