Xitang Ancient Town
As one of 6 ancient towns in Southern China, Xitang has natural scenery and is located in Jiashan County, Jiaxing City, Zhejiang Province. Xitang is less than 100 kilometers away from the city center of Shanghai, Suzhou, and Hangzhou. The biggest difference between Xitang and other ancient towns is that all the streets by the rivers have ceilings. The length of the corridors are about 1,000 meters. Additionally, in this waterside town residents make full use of every piece of land available. The shops and houses are very close to one another forming about 120 narrow alleys, which allow only 2 people at a time.
Due to the rainy weather, residents in Xitang invented the ceilings for their street corridors. Each family puts a ceiling over a stone-built corridor in front of its house. The ceilings connect one to another, forming "ceilinged corridors." The ceilinged corridors have attracted many tourists. On a cool day, there's no need to worry about the sun or rain as these corridors protect everyone. Visitors can enjoy the originality of the Ancient Town.
Xitang has been prosperous since Yuan Dynasty based on its fish, rice, and silk. During the Ming and Qing Dynasties, it was an important town for commerce and handcrafts in Southern China. Residents in Xitang live a very peaceful life. Grandparents play with their grandchildren outside their home either in the ceilinged corridors, bridges, or alleys. Women wash vegetables alongside rivers outside their house.
Xitang is densely composed of rivers and has a very quiet natural environment. With nine rivers running through this town, there are eight divisions and about 104 stone bridges of different types that are linked. Standing on a bridge and watching boats go through will give you a glimpse into the past. Boat tours are available upon request for tourists. Sitting on a boat slowing above the quiet water, you may not want to leave the boat any more.
The simplistic lifestyle and peacefulness of Xitang offers visitors the experience of simplicity and leisure. Also, ancient houses, stores, and temples, along with the local delicacies are there to enjoy.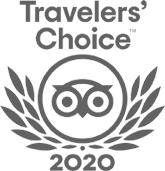 FABULOUS TOUR COMPANY
CHINA OCTOBER - NOVEMBER 2019 We researched several companies and studied reviews on Trip Adviser before contacting who did a very China Culture Tour with an initial query. Right from the outset Grace who owns the company was excellent. She emailed detailed with pictures information and a suggested…read more details
Karen from US
Ready to Create a Unique Dream Travel?