Shanghai World Financial Center
Shanghai World Financial Center is a 101-story, 492-meter tall skyscraper located in Pudong New Area. It is the second tallest building in Shanghai at the heart of Shanghai's financial district. Officially opened on August 28, 2008, this building is a center with a variety of uses. There are offices of world-renowned enterprises, conference rooms, hotels, observation decks for tourists, and shopping malls on the ground floors, among other elements. The Park Hyatt Shanghai with 174 rooms inside the Center is the tallest hotel in the world.
There are 3 Observation Decks designed for tourists in the Shanghai World Financial Center. The first observation deck is 423 meters high on the 94th floor is the Observation Hall, while the second is 439 meters high located on the 97th floor. The second Observation deck is named "Observation Bridge". The highest Observation deck is 474 meters high on the 100th floor, also known as the Observation Corridor. The most distinctive feature is an aperture at the peak designed for reducing wind pressure.
The Observation Hall occupies an area of 750 square meters. If you stand by the windows, you can see both the old and new Shanghai along the Huangpu River. Observation Bridge is like a bridge crossing the sky. Looking out of the glass-roof makes you think about touching the sky and clouds. The Observation Corridor is 55 meters long and is the tallest tourist facility in the world. There are floors made of glass for tourists to walk on to feel peaks under their feet.
The skyscraper's roof is 492 meters high and is the 2nd highest roof in China. Shanghai World Financial Center is considered by architects as the best skyscraper completed in 2008. It features three floors of parking underground. Shops are on the first five floors, office space on floors 7 to 77, and Park Hyatt Shanghai on floors 79 to 93.
To reduce sway of the building caused by earthquakes or windstorms, there are two dampers below the observation floors. After the terrorist attack on September 11, 2001, measures were taken and facilities were added to protect the building from possible future attacks. They include adding two external elevators and construct twelve fire-proof spaces for evacuees.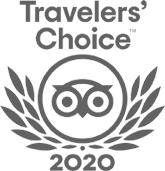 FABULOUS TOUR COMPANY
CHINA OCTOBER - NOVEMBER 2019 We researched several companies and studied reviews on Trip Adviser before contacting who did a very China Culture Tour with an initial query. Right from the outset Grace who owns the company was excellent. She emailed detailed with pictures information and a suggested…read more details
Karen from US
Ready to Create a Unique Dream Travel?