Shanghai Old Street
Shanghai Old Street is an ideal street for you to discover what Shanghai was like a hundred years ago. Shanghai's earliest bank, gold shop, jewelry store, teahouse, bar, theater, and commercial building, are located here. Shanghai Old Street was originally called Fangbin Road. It is near Yuyuan Garden. Running an east-west direction, it is 825 meters long.
From east to west, the architectural style and the industrial layout present you the evolvement from the Ming and Qing Dynasties to the early 20th century, and to the period when western culture swarmed in. The whole street features traditional business, emphasizing local customs and creating a historical and cultural atmosphere.
Shanghai Old Street is divided into east section and west section. The east section retains the characteristics of residences in the late Qing Dynasty. The houses on both sides of the street decorated checkered windows and the facades of the shops have wooden boards, balustrades, and swing doors and so on. The roofs have upturned eaves and laced drainpipes. The western section is filled with the architectural style of the Ming and Qing Dynasties. They all showcase the old Shanghai.
There is a number of antique and curio stores in the west section, as well as restaurants and teahouses. While in the east section, there is a variety of shops including florists, shoes and clothing retailers, noodle restaurants and specialty dealers selling Chinese tea and snacks, such as "Five Fragrant Beans".
Visitors to Shanghai Old Street will find many stores with a history of more than one hundred years, such as Pharmacy Dong Hanchun (童涵春), Food Store Lao Tongsheng (老同盛), Glasses Shop Wu Liangcai (吴良材), Luxury Shop Qiu Tianbao (裘天宝) and a lot of traditional restaurants.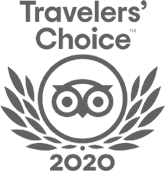 FABULOUS TOUR COMPANY
CHINA OCTOBER - NOVEMBER 2019 We researched several companies and studied reviews on Trip Adviser before contacting who did a very China Culture Tour with an initial query. Right from the outset Grace who owns the company was excellent. She emailed detailed with pictures information and a suggested…read more details
Karen from US
Ready to Create a Unique Dream Travel?