Weather, the best time to visit Macau
The best time to visit Macau depends on your personal preferences and what you want to do while you are there. Some factors to consider include weather, crowds, and special events.
If you prefer mild weather, the best time to visit Macau is from October to December or from March to May when temperatures are pleasant and there is less humidity.
If you prefer to avoid crowds, it is best to avoid visiting during major holidays, such as Chinese New Year or the Macau Grand Prix(Around mid-November, www.macau.grandprix.gov.mo/en/info/schedule), as these times can be very busy.
If you are interested in experiencing special events or festivals, you may want to plan your trip around one of Macau's many festivals, such as the Macau International Fireworks Display Contest or the Macau Arts Festival.
Overall, the best time to visit Macau will depend on your personal preferences and what you hope to experience while you are there.
The best seasons for traveling to Macau are autumn
Macau has warm and rainy weather conditions with an obvious division between the humid and dry seasons due to its coastal region location. Spring lasts from April to May, summer from May to September, autumn from September to December, and winter from January to March. It's hot and rainy in summer while cold and dry in winter, warm and foggy in spring, and sunny and cloudless in autumn.
Macau has the coldest month in January with an average temperature of 14.6℃, but with the lowest temperature above 5℃. So, travelers from the northern part of China find it warm and comfortable even in the winter. All you need are cardigans, sweaters, and coats.
Summer (the rainy season) lasts from May to September and is the off-season for the local tourism industry. Although it's hot in summer, you can get a chance to go swimming and surfing in the Pantai Pasir Hitam during this season.
Weather Tips
Typhoons are the regular visitors in summer. Once they approach Macau and the No. 8 signal is hoisted, flights and sails between Hong Kong and Macau will be canceled temporarily. Chances are high that the Governor Nobre de Carvalho Bridge and the Estrada do Istmo Road will be closed as a result of the typhoon. If you travel to Macau in summer, you should watch the weather closely.
If you go in the summer, you should equip yourself with lightweight and portable cotton clothes or T-shirts. If you go in the winter, you need to bring wool-based clothes and coats with you because it is cold. Lastly, if you go in the spring or autumn, it is advised to bring sweaters or jackets with you.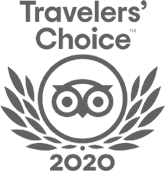 FABULOUS TOUR COMPANY
CHINA OCTOBER - NOVEMBER 2019 We researched several companies and studied reviews on Trip Adviser before contacting who did a very China Culture Tour with an initial query. Right from the outset Grace who owns the company was excellent. She emailed detailed with pictures information and a suggested…read more details
Karen from US
Ready to Create a Unique Dream Travel?