St. Domingo's Church
St. Domingo's Church is attached to the former St. Dominic Hospital, which was initially built by the Spanish missionaries from the Philippines arriving in Macao in 1587, and shortly after it was governed by the Portuguese disciples. Indeed, the church was originally dedicated to worshipping the Lady of the Rosary. It was built with camphor wood and later renovated with mortar solid bricks, it's characterized by the Portuguese architectural style prevailing in the East back in the 17th and 18th centuries.
Three halls constitute the church. The main hall, both deep and wide, is separated from the other parts of the church by a solid brick-made arch. The ceiling inside the church is embellished with decorative patterns, including a crown pattern that is incorporated into the main altar, and the door is exquisitely carved; the inner part of the hall is scattered with a riot of colors, with glass-made patterns that have different shapes and colors that may stimulate your voluptuousness; on the altar is the statue of Virgin Mary, with the Christ Child nestling in her arms. The church is dedicated to the Madonna of Fatima, who is widely known by the Portuguese.
Parades of the statue of Lady of Fatima are held annually on May 13, with this church as the starting point and the Chapel of Bishop Hill as the destination. Mass is held during the parades.
There are many quaint oil paintings and statues inside the church, among which the statue of Jesus Christ has the highest reputation. The Macao government comprehensively renovated the church and set up a treasure trove containing religious sacred objects in the three-story bell tower in the year 1997, collecting many artistic mass supplies and refined wood-carved statues.
As a cultural heritage of Macau, St. Domingo's Church is often appointed as one of the places where the annually held Macau International Music Festival is located. You'll be happy to be there to appreciate the art crystallized in the relics that have been subject to the test of centuries history. Currently in Macau, it is the church that holds music concerts the most frequently.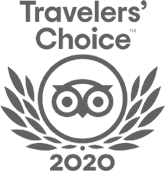 FABULOUS TOUR COMPANY
CHINA OCTOBER - NOVEMBER 2019 We researched several companies and studied reviews on Trip Adviser before contacting who did a very China Culture Tour with an initial query. Right from the outset Grace who owns the company was excellent. She emailed detailed with pictures information and a suggested…read more details
Karen from US
Ready to Create a Unique Dream Travel?