Senado Square
Located in the opposite side of the headquarter of the Civic and Municipal Affairs Bureau, Senado Square is all paved with gravels, and its nearby roads have been designated as a pedestrian precinct where people like to gather for recreation and leisure.
In the center of the square, there is a fountain, which is the symbol of the square. Today, a celestial globe that symbolize Portugal's maritime expedition placed in the spray pool. When the night falls, the lighting effects add more charm to the square.
Often, visitors have differing opinions on the Senado Square when they visit during different seasons. During festivals like the Chinese Lunar New Year, Mid-Autumn Festival and Christmas, the square is decorated to create a festive atmosphere. Meanwhile, its surrounding European architectural complexes help to achieve the full integration of Chinese and western cultures. Also, Senado Square is a popular place for staging events. Every corner of the city will be turned into stages when the annually held "Macau Fringe Festival" arrives, and everybody passes by the square will unknowingly become participants.
The square has been a busy commercial area for ages, with countless shops and souvenir stores appealing to tourists that visit to shop. Nothing is more precious than the well-preserved two or three-story Chinese and western-style houses that were built in the past. Also, western-style buildings such as the Rosary Church, Holy House of Mercy and Leal Senado, and such Chinese-style temple as the Third Street Center all lie in its vicinity. The modern local life-styles and the old buildings manage to live in harmonious coexistence, crystallizing the oneness of Chinese and western cultures. This is where Macau's uniqueness lies in.
In Macau, there are many squares paved with Portuguese black and white wavy gravels, resembling a sea of rolling and surging waves. Patterns describing the marine creatures and the local scenic areas make the "sea" more three-dimensional, which offers a full expression of Portugal's maritime industry. Due consideration was given to Macau's bygone image as a fishing port when the local squares were constructed. Among all local squares, Senado Square is the most typical.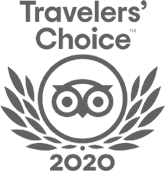 FABULOUS TOUR COMPANY
CHINA OCTOBER - NOVEMBER 2019 We researched several companies and studied reviews on Trip Adviser before contacting who did a very China Culture Tour with an initial query. Right from the outset Grace who owns the company was excellent. She emailed detailed with pictures information and a suggested…read more details
Karen from US
Ready to Create a Unique Dream Travel?