Ruins of St. Paul's Cathedral
Ruins of St. Paul's Cathedral was originally designed by an Italian Jesuit priest, and later constructed by Japanese artisans with superb craftsmanship. The construction started in 1602 and was completed in 1637, however, the step stones in front of the church were later completed.
St. Paul's Cathedral, which was attached to the College of St. Paul, was the largest Catholic Church in the East back then, enjoying a fame as the "Oriental Vatican." The college was the first Western-style University established in the Far East, with a stream of foreign missionaries who went to study Chinese from 1594 (the founding year of the college) to 1762 (when the college was closed). Thus, the college became an important base for missionaries to enter China making remarkable contributions to promoting the religious and cultural exchanges between Europe and China.
From its prototype to its only extant anterior wall, the cathedral has been in a close relationship with fires as it has gone through three fires accidents. Its buildings, destroyed but rebuilt repeatedly, have witnessed the vicissitudes of the cathedral. The original St. Paul's Cathedral was built by blending the architectural style prevailing in the European Renaissance Period and the Oriental architectural style, featuring both Western and Chinese styles as well as exquisite carvings. The constructions of the Ruins of St. Paul alone cost 30,000 taels of silver 300 years ago.
When the night fell on January 26, 1835, the cathedral caught fire that subsequently demolished the cathedral. Fortunately, the anterior wall of the cathedral, which was its most precious structure survived the fire and became what is known as today's Ruins of St. Paul.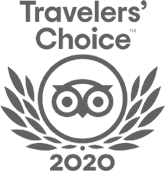 FABULOUS TOUR COMPANY
CHINA OCTOBER - NOVEMBER 2019 We researched several companies and studied reviews on Trip Adviser before contacting who did a very China Culture Tour with an initial query. Right from the outset Grace who owns the company was excellent. She emailed detailed with pictures information and a suggested…read more details
Karen from US
Ready to Create a Unique Dream Travel?