Macau Museum
Macau Museum was built on Monte Fort and inaugurated on April 18, 1998, aiming at preserving the relics that reflect the historical evolvement of Macau over centuries when Eastern and Western cultures blended with one another and local traditions, customs, and cultures. The collections in the museum have historical significance and remind people of their past. In the museum, visitors are able to capture the peaceful coexistence between different ethnic groups living in Macau and the city's historical evolvement.
Macao Museum is composed of three stories:
The first floor is dedicated to showing Macau's history. Items on display offer you insight into the origin of Macau and the respective historical evolvement of China and Portugal before Alvares arrived in the Pearl River Delta, and introduce to you the trade, religious and cultural contacts that converged in Macau thereafter and the unique culture fostered over centuries of history.
The second floor embraces the theme of folk art and traditions, helping visitors understand the traditions and folk art of Macau as well as the local industries and activities that are now on the verge of extinction. Items on display reveal the historical stages of Macau in all dimensions that include recreation, life-styles, religious rituals and festivities, among others. Through these items, the rich and unique local life-styles of different ethnic groups living in coexistence and mutual tolerance are highlighted.
The third floor shows modern tapestry and life-style of Macau people, while subtly expressing their wishes for the future.
Also, works of writers that have a close relationship with Macau are displayed in the museum, including the two famous Portuguese writers Camões and Bailey Pessanha. The final part of the exhibition introduces to visitors the opportunities in Macau since it was designated as an SAR of the People's Republic of China.
Having visited the museum, you can tour the Monte Fort and overlook the majestic scenery of the city. Gift shops and sidewalk cafes are to be found next to the museum.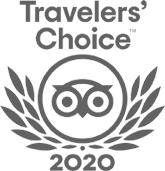 FABULOUS TOUR COMPANY
CHINA OCTOBER - NOVEMBER 2019 We researched several companies and studied reviews on Trip Adviser before contacting who did a very China Culture Tour with an initial query. Right from the outset Grace who owns the company was excellent. She emailed detailed with pictures information and a suggested…read more details
Karen from US
Ready to Create a Unique Dream Travel?