Songyang Academy
Located at the southern corner of the bottom of Mt. Songshan, Songyang Academy is 3 kilometers north of Dengfeng County. Nestled amidst surrounding mountains and streams, it is a secluded and peaceful environment, thus an ideal place for education. Outside the entrance of the academy, there is a stele, the characters on which is said to be written by Li Linfu (a prime minister of the Tang Dynasty).
With a history of over 1,200 years, Songyang Academy is one of the most exquisite steles in Mt.Songshan. Inside the academy, there are structures such as Boyue Study, Jingwen Study, Sanyi Study, Xianxian Palace Hall, Lize Hall and Cangshu Mansion, etc.
Built in 484 AD, Songyang Academy was once designated as an imperial palace by Emperor Wu Zetian of the Tang Dynasty and was later officially called, Songyang Academy during the reign of Emperor Renzong of the Song Dynasty. It is credited as one of China's four most famous academies, the others being Jvyang Academy (also referred to as Yingtian Academy) of Jvzhou, Yuelu Academy of Hunan and Bailudong Academy of Jiangxi. Such masters of Neo-Confucianism as Cheng Hao and Cheng Yi once gave lectures here. The "Marshal Cypress" and the "Stele of the Tang Dynasty" are important cultural artifacts of the academy.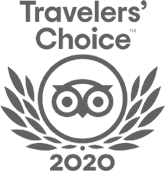 FABULOUS TOUR COMPANY
CHINA OCTOBER - NOVEMBER 2019 We researched several companies and studied reviews on Trip Adviser before contacting who did a very China Culture Tour with an initial query. Right from the outset Grace who owns the company was excellent. She emailed detailed with pictures information and a suggested…read more details
Karen from US
Ready to Create a Unique Dream Travel?