Six Harmonies Pagoda, Hangzhou
Located at the bottom of Yuelun Hill and facing Qiantang River, Six Harmonies Pagoda was built by the King of Wuyue (970 AD) to suppress the tide of Qiantang River. The outlook of the pagoda is generous and dignified, just like a general guarding the area. It is recorded that the pagoda was also served as a lighthouse for sailors. The name "Liuhe" came from the six Buddhist ordinances. It is also said that Liuhe represents the harmony of these six elements, including: heaven, earth, east, west, south, and north.
With a height of 60 meters, this grand pagoda has 7 stories, but it appears like 13 stories from outside. It is one of the tallest pagodas in southern China. Looking from the ground, you can see the majestic appearance of the pagoda. Looking down from the top of the pagoda, you can see the spectacular view of Qiantang River and its wide surface.
There is a spiral staircase from the ground flood to the top. The ceilings of each story have carved and painted figures: such as human shapes, animals, flowers, and Chinese characters. Each story is composed of four sections: exterior walls, a corridor, a small chamber, and interior walls. Each story is spacious enough and convenient for people to walk around and appreciate the beauty.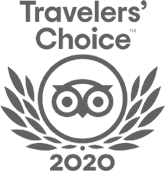 FABULOUS TOUR COMPANY
CHINA OCTOBER - NOVEMBER 2019 We researched several companies and studied reviews on Trip Adviser before contacting who did a very China Culture Tour with an initial query. Right from the outset Grace who owns the company was excellent. She emailed detailed with pictures information and a suggested…read more details
Karen from US
Ready to Create a Unique Dream Travel?