Linygin Temeple, Hangzhou
Located in the northwestern region of Hangzhou, Lingyin Temple is one of the largest Buddhist Temples in China. It has many small pagodas and grottoes. Its name means temple of the soul's retreat in Chinese. The Feilai Peak is just next to Lingyin Temple. This ancient temple locates among the peaks, with century-old trees surrounding, it is a quiet monastery with beautiful and attractive scenery.
The temple was founded in 326 in the Eastern Jin Dynasty by an Indian monk named Huili. When he first came here and saw the beautiful peaks, he thought that this was the retreat for souls, so he constructed the Lingyun Temple. It quickly became a worship center for the Chan sect. With 9 buildings, 72 halls, 18 pavilions, and about 1,300 rooms, the temple was once home to more than 30,00 monks.
Since the Song Dynasty, the temple suffered 16 periods of destruction and restorations. Most of the current buildings in the temple are restorations from the Qing Dynasty. Today, the temple is a thriving destination for both pilgrims and tourists. It is regarded as one of the richest temples in China.
Based on a north-to-south axis with the main entrance in the south, there are three main halls in Lingyin Temple, which are Hall of Heavenly Kings, Grand Hall of the Great Sage, and Hall of the Medicine Buddha. The main entrance is through the Hall of Heavenly Kings. With heavy gates, the hall is guarded by statues of the Four Guardians. One of the most famous Buddhas in the Hall of Heavenly Kings is the Laughing Buddha.
At the Grand Hall of the Great Sage, there is 24.8-meter tall statue of Sakyamuni made in the Tang dynasty. It is one of the largest wooden Buddha statues in China and a precious piece of religious artistic work.
In addition to its three main halls, there are the Sutra Library, Huayan Hall, Hall of the Five Hundred Arhats, and many exquisite courtyards.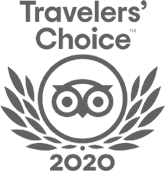 FABULOUS TOUR COMPANY
CHINA OCTOBER - NOVEMBER 2019 We researched several companies and studied reviews on Trip Adviser before contacting who did a very China Culture Tour with an initial query. Right from the outset Grace who owns the company was excellent. She emailed detailed with pictures information and a suggested…read more details
Karen from US
Ready to Create a Unique Dream Travel?