Feilai Peak / Flying Peaking, Hangzhou
Feilai Peak is located in the west of West Lake and next to Lingyin Temple. Feilai means "flying from afar" in Chinese. With rocks that have grotesque shapes, the peak is a one-of-a-kind scenic area. It is also the gem of grotto art in South China. When the Indian Monk Huilin visited Hangzhou about 1,600 years ago and saw the peak, he stated, "This peak is the Black Eagle Hill in India. How could it fly here?"
There are some legends about the Feilai Peak. However, only one is widespread. One day, Ji Gong who is a legendary monk living in Lingyin Temple and loving helping people with a magic fan, predicted that there would be a hill flying here to land on the village. He feared that the hill would destroy the whole village, so he informed the villagers to evacuate shortly after. However, people always said that Ji Gong was joking because he seemed crazy most of the time, so they ignored home. Upon arrival to the hill, Ji Gong ran into a wedding ceremony and took the bride away and ran outside the village. The villagers left and ran after him. As they ran outside the village, the wind blew wildly. After a thunder, a hill landed in front of the Lingyin Temple and the whole village was covered by the hill. After, people realized that Ji Gong saved their lives.
Feilai Peak is 168 meters above the sea level. Marvelous caves were formed because of erosion by water. In Shexu Cave (the gleam of the sky), if you look from top of cave at a proper time, you will see a beam of sunlight penetrating into it, which is known as "one thread of heaven."There is a statue of Guanyin (Avalokitesvara: Goddess of Mercy) in Longhong Cave. You can hear the babble of the running water in Zangliu Cave.
Approximately 470 statues are found on the walls of the cliff. There are exquisite statues of Buddha that were carved during the Song and Yuan Dynasties. These are precious historical artifacts. There are also a variety of peculiar stone figures including a dragon, elephant, tiger, and so on that have shaped naturally.
In 1993, imitating grottoes were exhibited there. There are many imitations of grottoes of Leshan Giant Buddha in Sichuan Province, Longmen Grottoes in Henan Province, and Maijishan Grottoes in Gansu Province, and so on. Statues of Buddha from different places, different Dynasties are created, particularly those of the Yuan Dynasty.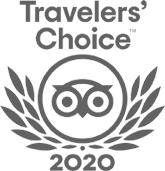 FABULOUS TOUR COMPANY
CHINA OCTOBER - NOVEMBER 2019 We researched several companies and studied reviews on Trip Adviser before contacting who did a very China Culture Tour with an initial query. Right from the outset Grace who owns the company was excellent. She emailed detailed with pictures information and a suggested…read more details
Karen from US
Ready to Create a Unique Dream Travel?