14 Days China Water Town Tour to Beijing Xian Hangzhou Huangshan Suzhou and Shanghai
Explore magical China from the Great Wall to traditional dwellings of Jiangnan Water Town, traveling through time visiting the ancient Empire of China in the north before experiencing the unique elegance of East China. The two weeks China itinerary boasts an equally impressive offering on culture and scenery – be dazzled by royal palaces, temples, museums, gardens, pristine villages and the stunning landscape of Yellow Mountain.
Trip Highlights
Admire incredible imperial palaces and religious shrines of ancient China
Ride a vintage pedicab through the maze of hutongs
Discovering the meticulously-protected residences and watching a water wedding show in Nanxun Water Town
Admire the famous classical gardens of Suzhou
Customizable Tour Itinerary
Begin your China vacation in the country's capital, Beijing. Upon arrival at the airport, be greeted by your guide and driver. Transfer to your hotel for a rest. Alternatively you can explore a bit of this charming city, a modernized urban star but also with fascinating historical traces.
Hotels: Beijing Double Happiness Courtyard Hotel, Beijing Fairmont Hotel, Beijing Aman Summer Palace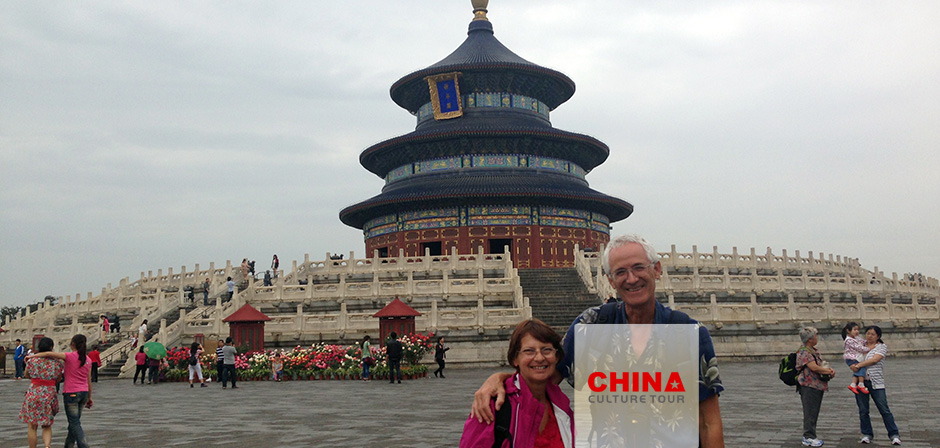 Temple of Heaven
Do you know the national symbol of China? That's the Tiananmen Square, which connects Chairman Mao Memorial Hall, Tiananmen Rostrum and the once imperial Forbidden City. Forbidden City is now better known as Palace Museum, where you can witness the greatest and largest wooden architecture complex of ancient China and hundreds of thousands of invaluable cultural relics.
From the rear entrance of Forbidden City, cross an avenue and begin to climb Jingshan Hill. On the Wanchun Pavilion of the hill, enjoy the panoramic view of Forbidden City and look out for White Pagoda of Beihai Park.
After lunch, get on a rickshaw zigging through hutongs to discover the old town of Beijing and trace the city's cultural root. The genuine natives of Beijing still live in traditional courtyard houses.
Tonight you have a chance to watch a real Shaolin Kung Fu show (optional).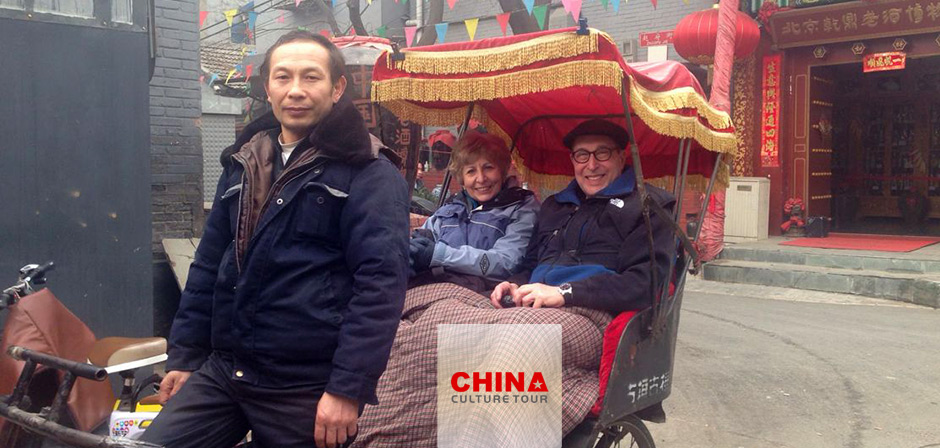 Hutong rickshaw
This morning explore the sacred Temple of Heaven with its architectural groups for sacrifice. The ancient Chinese believed that heaven was the universal god and the kings were the chosen one and the representatives of god. So for hundreds of years, the kings worshiped heaven here.
Which is the most recommended section of Great Wall to visit? We highly recommend Mutianyu for ordinary tourists. It was begun to be built more than two millennia ago as a military engineering project to prevent the aggression of northern nomads. Today, it is widely known as the largest man-made structure on Earth.
Enjoy a tasty local specialty dinner with Beijing Roasted Duck (optional).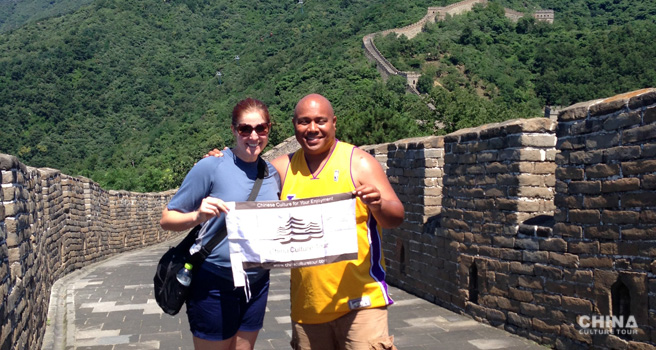 Great Wall
The Qing Dynasty kings were used to enjoy a getaway in Summer Palace during the hot summer days. It is a masterpiece of meticulous work, with dignified palace complex, graceful garden designs and beautiful views of real landscape – Kunming Lake, Wanshou Hill and Yuquan Hill. Board a dragon boat cruising Summer Palace.
Move to Xian, one of the most famous and best-preserved ancient capitals in the world.
Meals: Breakfast, Lunch,
Hotels: Wyndham Grand Xian South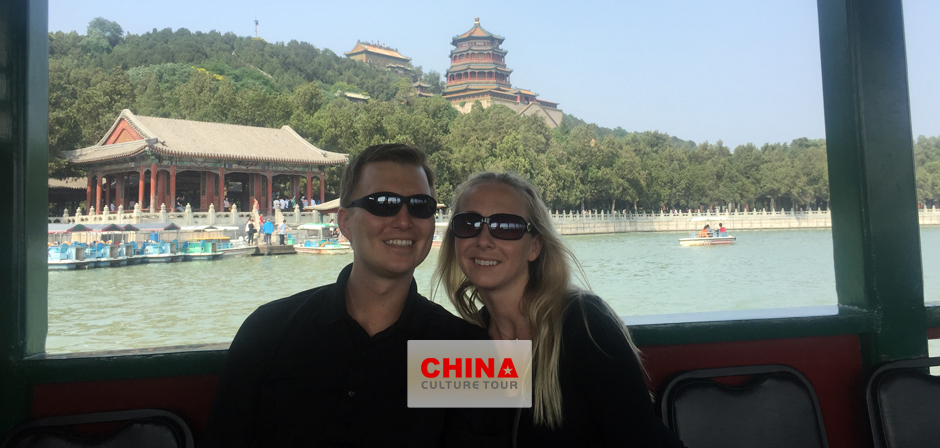 Summer Palace with Cruise
Visit the site of Terracotta Warriors and Horses, which were found and excavated in 1970s, but actually buried in the 3rd century BC. It represented the supreme power of Emperor Qinshihuang, who unified China in every aspect from law to weights and measures. This great army was built to be fealty to him in this afterlife.
Get in China's and even one of the world's best-preserved ancient city wall, which encircles the old town of Xian in a rectangle shape. Ride a bicycle on the city wall to experience a unique atmosphere.
Later enjoy a brisk stroll on Muslim Quarter. Muslim Hui people are main residents of Xian, apart from Han. Hui Muslim cuisine blends in local traditional cuisine, which can be discovered and tasted on this famous food street.
Enjoy classical Tang Dynasty Music and Dance at a dumpling banquet tonight (optional).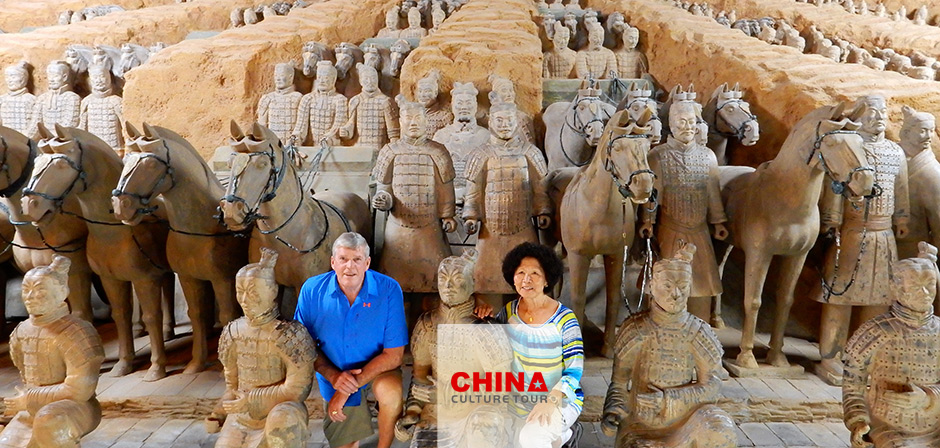 Terracotta Warriors Museum
This morning, visit a famous Silk Road site - Big Wild Goose Pagoda inside Ci'en Temple. In 652, Master Xuan Zang built this pagoda to preserve the Buddhist scriptures brought back to Chang'an from ancient Indian via Silk Road.
Enjoy a hands-on activity – making dumpling at a local Xian family's home. Learn from the host about the real life of China and the step-by-step guide on making the most popular Chinese food.
Fly from Xian to Hangzhou, known among Chinese as a heaven on earth and boasting several beautiful ancient water towns.
Meals: Breakfast, Lunch,
Hotels: JW Marriott Hotel Hangzhou, Wyndham Grand Plaza Royale Hangzhou, Sofitel Hangzhou Westlake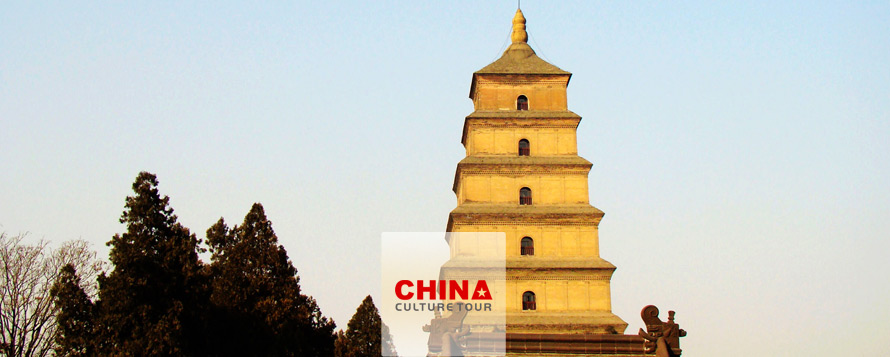 Big Goose Pagoda
Experience the peace at the 3rd-century Lingyin Temple hidden in woods. This beautiful temple is a finest example of Chinese Buddhist architecture. And admire the amazing grotto art of Peak Flown from Afar, looking out for Buddha sculptures of various sizes, carved based on those legendary stories. Later marvel at Six Harmony Pagoda to view the scenery of Qiantang River.
One of the most famous cultural sights in China, West Lake is more than just a scenic lake. It is a carrier of Hangzhou history and culture, showcased in the sites such as Su Causeway, Broken Bridge, Three Pools Mirroring the Moon, etc. Embark a boat cruising West Lake to visit a lovely isle.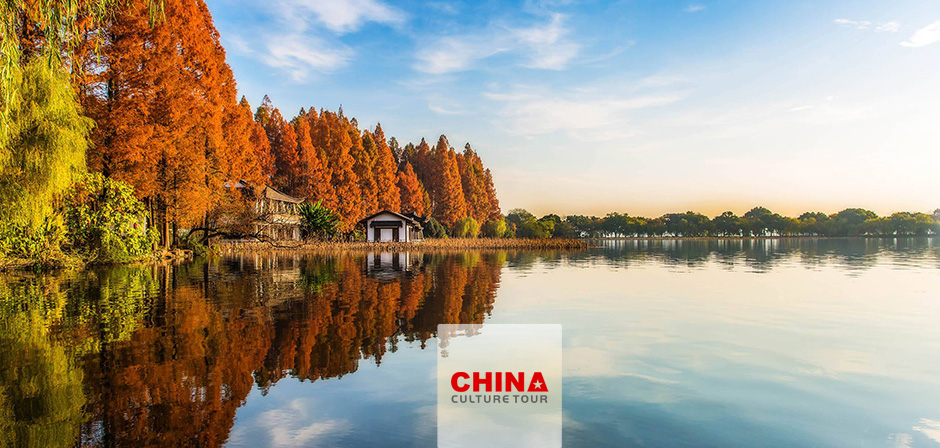 West Lake
Do you dream of visiting an authentic Chinese water town? Today your guide will make sure you see the most beautiful riverside Ming and Qing Dynasty dwellings in Nanxun and experience its thousand year-old traditions. Watch a traditional wedding ceremony held on water. Visit the residents of former rich merchants, such as Jiayetang Library, Mansion of One Hundred Rooms, Xiaolianzhuang. And it will be intoxicating to sit back on a hand-controlled boat through this tranquil and romantic water town.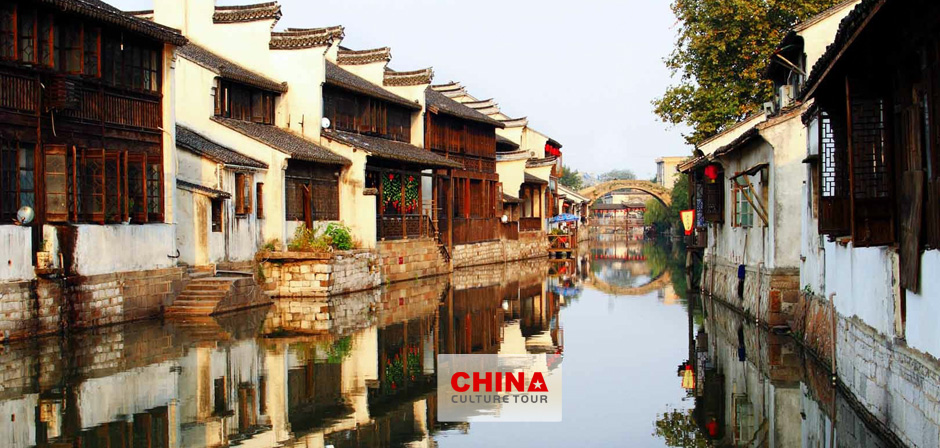 Nanxun Water Town
Your trip of China continues to ancient Huizhou Area reaching Huangshan, where you'll visit a UNESCO-protected village – Hongcun Village. A paradise for photographers, painters and tourists alike, Hongcun is famous for profound Huizhou culture, as well as the black-tile-white-wall architectures that are reflected on t Nanhu Lake and Yuezhao Lake.
For the rest of the time, your guide would like to lead you to a café, talking more about Huizhou culture in a relaxing way. Alternatively, ride a bike leisurely along the country roads to take in rural scenery.
Meals: Breakfast, Lunch,
Hotels: Pig's Heaven Inn, Pig's Heaven Inn Bishan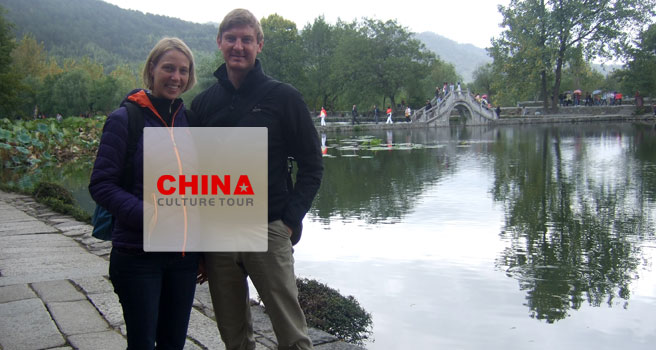 Hongcun Village
Today you are dedicated to exploring Yellow Mountain – one of the most beautiful and striking mountains in China. Take Yungu cable car and walk for 1.5 to 2 hours along a scenic trail to get to your hotel. After setting in and lunch, set out to hike the West Sea Grand Canyon, the best part of Yellow Mountain that offers incredible views of steep peaks. If weather permits, watch the sun sets Yellow Mountain.
Meals: Breakfast, Lunch,
Hotels: Xihai Hotel, Huangshan Shilin Hotel, Huangshan Beihai Hotel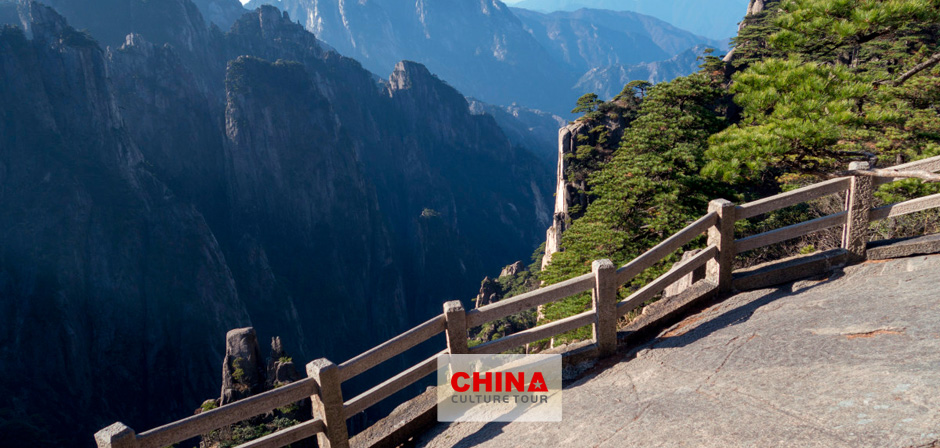 Yellow Mountain
Let's pray the weather is good this morning, so that you can take this rare chance to see the sunrise of Yellow Mountain. You will also be in awe seeing again of Yellow Mountain's numerous strangely-shaped pines growing from the cliffs and peculiar rocks. When the mountain is shrouded with seas of clouds, it seems as if you are in a wonderland.
Take high speed train from Huangshan to Suzhou.
Meals: Breakfast, Lunch,
Hotels: W Suzhou, Suzhou Marriott Hotel, Tonino Lamborghini Hotel Suzhou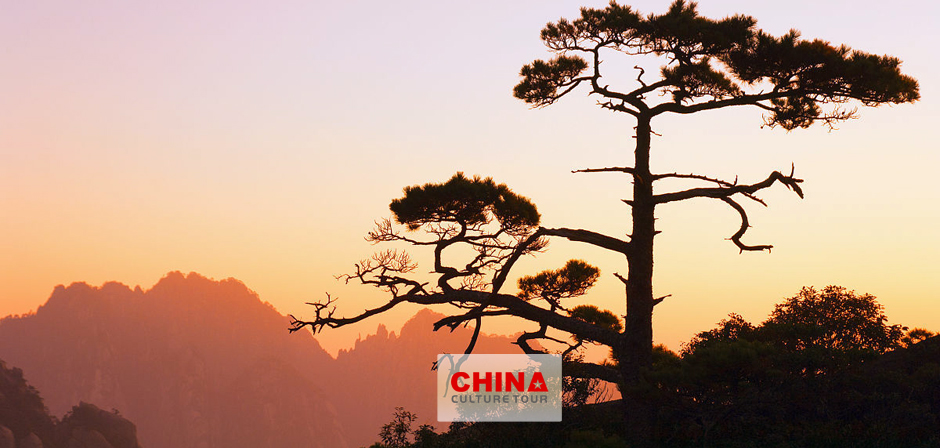 Pine tree silhouette at sunset on Yellow Mountain
The history of Panmen Gate can be traced to the 514BC, when Suzhou was the Wu Kingdom. It is more than an ancient gate, but also with old arched bridges, towers and delicate garden connected by winding corridors.
Then visit Lingering Garden, one of the four greatest gardens in China. With exquisite architectural arrangement and peculiar rockeries, this one single garden offers views of rurality, forests, courtyards and natural landscape. 
Sit back on a rickshaw zigging through the ancient streets and alleyways of Suzhou, discovering the lively traditional markets and glimpsing the local way of living. Also ramble on Pingjiang Road, regarded as the epitome of the old town of Suzhou.
After that, head for Shanghai on a 30-minute bullet train journey.
Meals: Breakfast, Lunch,
Hotels: Grand Hyatt Shanghai, Four Seasons Hotel Pudong Shanghai, Grand Central Hotel Shanghai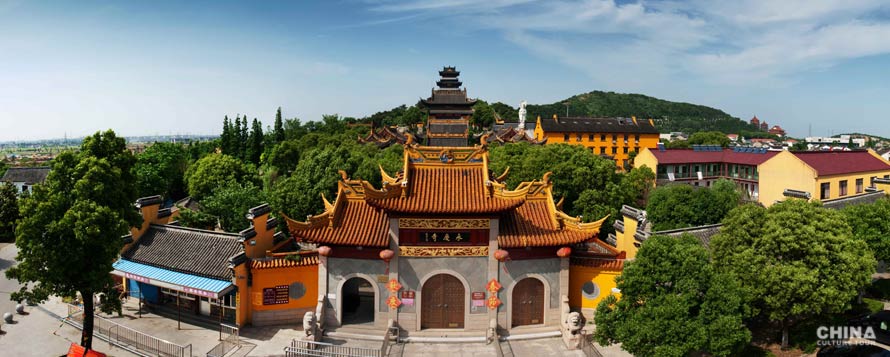 Yongqing Temple
Today explore the best that Shanghai has to offer. Visit Shanghai Museum, one of China's best museums, with rich collection of ancient Chinese paintings, calligraphy works, bronze wares, jade wares, etc. Learn from your guide about the legends of those national treasures.  
During the visit of Yu Garden you will discover some of the beautiful garden architectures and designs from wooden carving doors, dragon roofs to winding corridors and lovely artificial ponds. Right close to the garden is the bustling Yuyuan Bazaar, where food stalls lining the old streets await you.
A brisk stroll on the Bund takes you to see tens of classical Western architectures built during the 19th Century. After knowing Shanghai's colonial history, you soon witness its jaw-dropping modernization by coming to the Lujiaozui Financial District and standing on the observation deck of Shanghai World Financial Center.
Enjoy a fabulous acrobatics show after dinner (optional).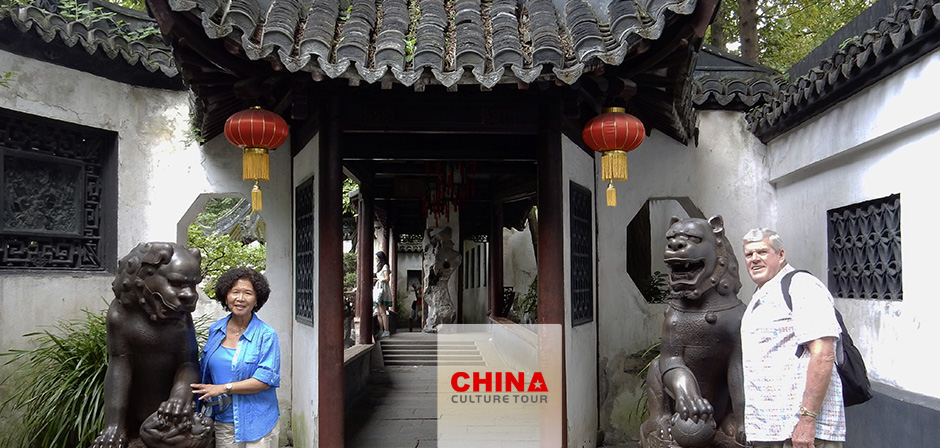 Yu Garden
Be transferred from hotel to Shanghai Pudong International Airport and return home. End of your 14 days China essence and water town tour.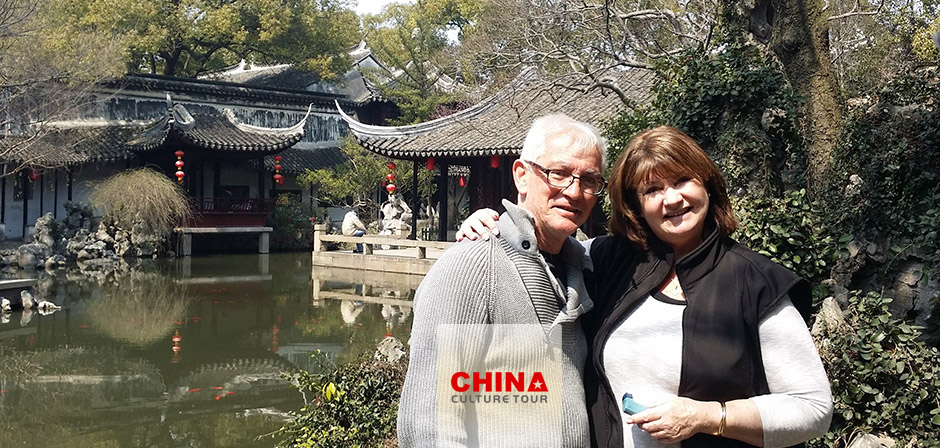 Yu Garden
Price Includes
In-country transportationas noted in the itinerary.
Admission fees and activity expenses as noted in the itinerary.
Luxury or boutique hotels centrally located.
Meals in local restaurants as noted in the itinerary with complimentary drinking water.
Your own English-speaking guide service.
Your own chauffeur and vehicle service.
Price Excludes
International transportation.
Chinese tourist visa. (which enquired for most foreign passport holders)
Travel and medical insurance.
Meals, snacks, alcohol, etc. apart from those included in the itinerary.
Excess baggage charges.
Personal expenses.
Sights, excursions and activities not included in the itinerary.
Gratuities to guide and driver.
ANY QUESTIONS?
This tour is tailor-made and we can tailor to meet your reqeusts. Your personal travel consultant will contact you within 24 working hours!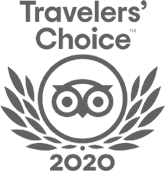 FABULOUS TOUR COMPANY
CHINA OCTOBER - NOVEMBER 2019 We researched several companies and studied reviews on Trip Adviser before contacting who did a very China Culture Tour with an initial query. Right from the outset Grace who owns the company was excellent. She emailed detailed with pictures information and a suggested…read more details
Karen from US
Ready to Create a Unique Dream Travel?