4 Days Zhangjiajie Tea Discovery, A Conversation with Local Culture
Zhangjiajie is full of fabulously charming sceneries. Mist-covered sandstone pillars, verdant valleys filled with dripping moss, fragrant blossoms and fantastic animals, this land is simply breath-taking. Wonderful as it is, Zhangjiajie's charm are by no means limited to the main attractions. Delve further south, away from the tourist drawcards, weave your way through fields of tea bushes planted in undulating rows, take part in tea leave picking, tea production, sipping the region's famous tea and explore its rich ethnic culture. There is a lot more than meets the eye, join in this journey and interact with the local culture.
Trip Highlights
Visit Tujia Custom Park and know the life of Tujia people
Join in the process of tea production and a tea ceremony
Get on to the world's highest outdoor elevator and longest glass bridge
Explore Zhangjiajie's surreal landscape
Customizable Tour Itinerary
Arrive at the airport or station in Zhangjiajie city, Hunan province, where you will meet your personal tour guide and will be transferred to Santo Domingo International Hotel by private transport. Be sure to get your head down on pillow at a sensible time, to prepare yourself for this wonderful journey that lie ahead in the coming days.
Hotels: Zhangjiajie Pullman Hotel, Santo Domingo International Hotel Zhangjiajie, Western Grand Hotel Zhangjiajie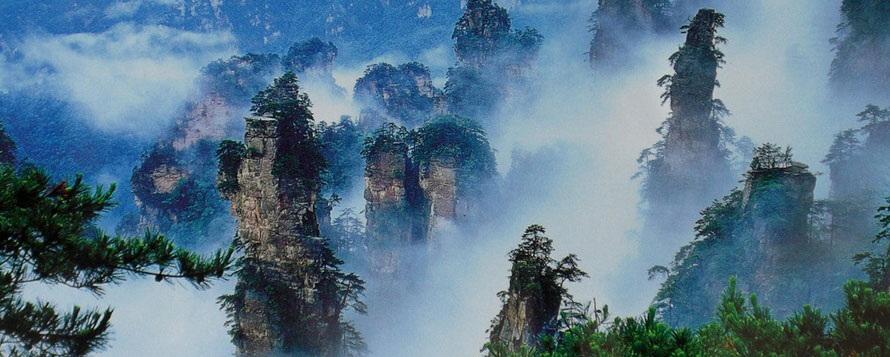 Zhangjiajie
In the morning, your driver will drive you to Zhangjiajie National Forest Park, not far from the hotel. Begin your journey here, where more than 3000 sandstone pinnacles soar high above the clouds in this UNESCO protected park. Shuttle bus will be the transportation for you to get from one area to another within Zhangjiajie National Forest Park.
(20 MINS SHUTTLE BUS FROM WULINGYUAN ENTRANCE TO BAILONG ELEVATOR)
Start from Yuanjiajie, you will ascend the mountain by the world's highest outdoor elevator. Bailong Elevator is built alongside a massive rock pillar. You will take about 66 seconds to go up an elevation of 335 meters. Leaving the canyon below, reaching Yuanjiajie area, where you will visit a succession of one incredible panorama after another. The No. 1 Natural Stone Bridge, a natural bridge spanning two adjacent peaks, 357m above the canyon floor, which allows visitors to walk in between these two peaks. Feel free to walk on this 20 meters long bridge and feel the thrill coming from your heart. Besides, you can have a panorama view of this natural stone bridge from a distance at Wangqiao Platform. Mihun Platform (or literally means the enchanted platform), provides you mesmerising views, is one of the best observatory platform in Yuanjiajie. The 'Back Garden', or the 'Backyard', is where you can see a concentration of sandstone pillars rising up from the verdant forest. On your way, you will encounter the biggest highlight Avatar Hallelujah Mountain. It is called the Southern Sky Pillar or the Heaven and Earth Column, but better known as the Avatar Hallelujah Mountain by most of the people, for having served as the inspiration of "Hallelujah Mountain" in the movie Avatar. Moving on to Yuanjiajie Village, the prototype of Pandora village, is a village of Tujia people up on the sheer mountain. No longer in its original form, you can still see their traditional cultures and lifestyles through performances and exhibitions.
(40 MINS SHUTTLE BUS FROM YUANJIAJIE TO TIANZI MOUNTAIN)
Then we will move on to Tianzi Mountain. Grotesque rocks stand in the luxuriant valley, stunning peaks rise one after another. At an altitude of 1260 meters, Tianzi Mountain will provide you an amazing view. More often, you can see those natural skyscrapers soar above shroud of dramatic cloud cover after a rain. In such situation, those peaks seems to be floating in the air.
You will encounter some highlights on your way in Tianzi Mountain Reserve. Imperial Calligraphy Brush Peaks, a favourite spot for photographers, is a line of calligraphy brush-like stone pillars of various height, which thrust up from forested valley.'Fairy Scattering Flowers' Peak will need your imagination. It is a peak that look like a fairy with a basket of flower in her arm.Tianzi Pavilion literally means the 'Son of Heaven' Pavilion, is the best place to view the whole scenery of Tianzi Mountain. Helong Park, which is built in commemoration of Helong marshal, one of the founders of Chinese People's Liberation Army (PLA). Find out more about him as you stroll down the path in this park.Shentangwan, most mysterious place in National Forest Park, is a deep depression filled with sandstone pillars and primeval forest. Go near the depression, you can hear growling and howling of wind in the valley as if the sound of an unseen battle deep in the valley. Descend the mountain by cable car at Tianzi Mountain cable car station before taking shuttle bus out of the scenic area. Then private transport will bring you back to hotel.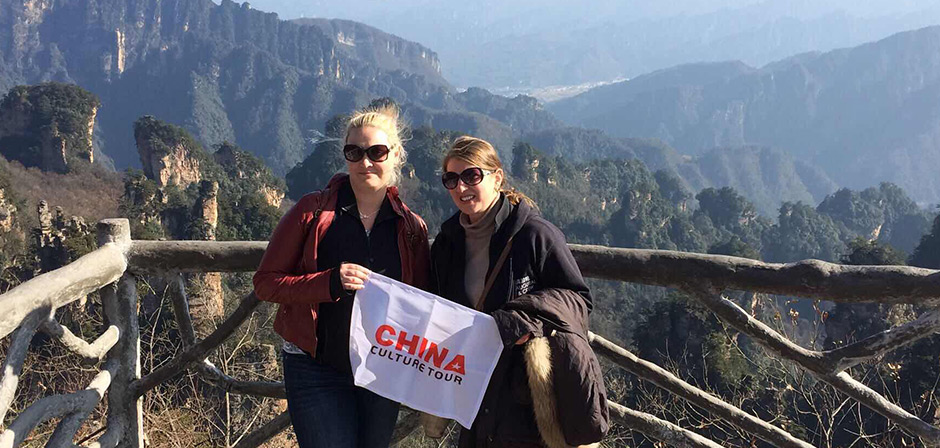 Zhangjiajie
Today, your private guide will bring you to Zhangjiajie Grand Canyon, where you will meet a mind-boggling glass structure. 375 meters long and 300 meters high, Zhangjiajie Glass Bridge, is the world's longest glass bridge. Feel the thrill coming from your heart while walking on the bridge. It is the most exciting walk in this area. From the glass bridge, you are provided with the best angle to the whole area. Please take note that heavy items are not allowed on the bridge, so for photo taking, you may want to use you mobile phone instead. Hike down the mountain, then descend, by slide way, we will reach the bottom of Zhangjiajie Grand Canyon. Luminous steam that runs through the canyon, and tumbled of foaming waterfalls splashing into a pool of water. Hike around 2.8km at the canyon floor before exit the canyon by boat.
In traditional Chinese life, even the simplest cup of tea is poured with an intricate amount of ritual. Ever since the ancient time, tea plays a vital parts of people's life in China, not only as a source of income but also as a way to welcome visitors and to bring people together. After lunch, we will move on to a tea plantation near Wulingyuan Scenic Area in Hexie Village. This miles of tea plantation is rarely known by most of the visitors. Feel the tsunami of fresh aroma surge towards you once you step into that piece of land. Normally, tea leaves picked from March to end of April have the highest quality. Even so, you can experience picking of tea leaves from March to September when the tea leaves are made into black tea and other types of tea. From the picking and drying of tea leaves to the brewing and savouring of tea you will know the history and story behind each cup of tea in Zhangjiajie. This is a great opportunity for you to experience the joy the labour at the same time feel the beauty behind tea culture in China. You can join the banquet at night featuring tea culture of Zhangjiajie. Afterwards, your driver will transfer you safely back to the hotel.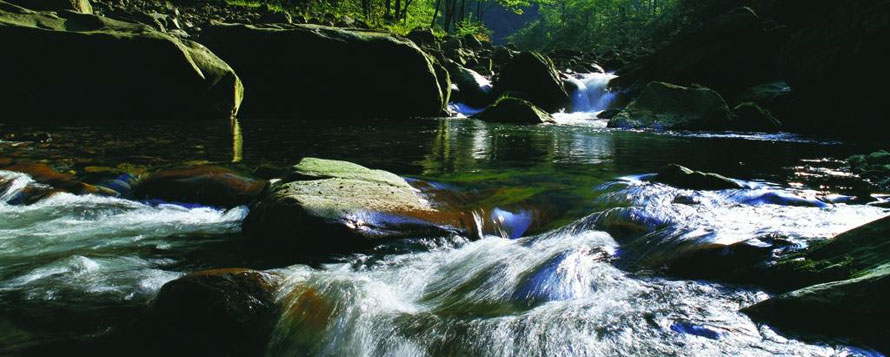 Golden Whip Stream
Please take note that Tianmen Cave will be close during winter, and glass walkway will be close during rainy or snowy weather.
Transfer to Tianmen Mountain Cable Car Station in downtown and take the 7km-long Tianmen Mountain Cable Car to the mountain top. This is Asia's longest cableway and it takes about half an hour to bring you up to the summit. Tianmen Mountain, with an elevation of 1518.6 meters, is the highest mountain in Zhangjiajie and is known as the soul of the city. Well-preserved primeval forest, rare plants and species, every scenery turns into a splendid picture. Take cable car down to Tianmen Temple which is first built in Ming dynasty, before heading to Guigu walkway and Tianmen Mountain glass-bottomed walkway. These 4,691 feet high walkways are cling to the sheer cliff of the mountain. Sometimes mist filled the valleys, giving you an illusion of walking in the cloud. Take the underground elevator down to the marvellous scene, Tianmen Cave or Heaven's Door, which is a conspicuous huge hole that cut through the mountainside. Or you can choose to walk down 999 steps to Heaven's Door. Then take a shuttle bus down Avenue towards Heaven or the winding 99-Bend Road.
Then, take private transport to Tujia Custom Park. Hunan is a culturally diverse province where lives many ethnic minority, and Tujia Custom Park will show you the history, lifestyle, traditions and more about Tujia ethnic minority. There are many typical stilted buildings of Tujia people located in the custom garden. This kinds of buildings are normally seen in southern China where the ethnic minorities live on steep hills. Those stilted buildings of Tujia people features mostly wooden structure suspended above the ground and raised on timber stilts so to ensure stability on hills. With humid and abundant rainfall climate in the area, Tujia people have to isolate their dwellings from the ground so as to keep the interior dry and the inhabitants safe from wild animals and insects. You will be amaze by the fact that the entire wooden structure is connected by tenons and mortises with no nails or bolts used in the buildings. Climb the world's highest stilted building, Jiuchongtian Hereditary Hall, and have a sweeping view of the whole area. This building is 48 meters high, with total of 12 levels. Meet some hospitable Tujia people here and walk through the exhibitions along the way. At the end of the trip, your driver will transfer you safely to airport or station for your next destination.
Tianmen Mountain glass walkway
Price Includes
In-country transportationas noted in the itinerary.
Admission fees and activity expenses as noted in the itinerary.
Luxury or boutique hotels centrally located.
Meals in local restaurants as noted in the itinerary with complimentary drinking water.
Your own English-speaking guide service.
Your own chauffeur and vehicle service.
Price Excludes
International transportation.
Chinese tourist visa. (which enquired for most foreign passport holders)
Travel and medical insurance.
Meals, snacks, alcohol, etc. apart from those included in the itinerary.
Excess baggage charges.
Personal expenses.
Sights, excursions and activities not included in the itinerary.
Gratuities to guide and driver.
ANY QUESTIONS?
This tour is tailor-made and we can tailor to meet your reqeusts. Your personal travel consultant will contact you within 24 working hours!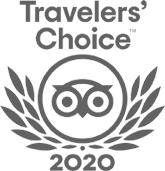 FABULOUS TOUR COMPANY
CHINA OCTOBER - NOVEMBER 2019 We researched several companies and studied reviews on Trip Adviser before contacting who did a very China Culture Tour with an initial query. Right from the outset Grace who owns the company was excellent. She emailed detailed with pictures information and a suggested…read more details
Karen from US
Ready to Create a Unique Dream Travel?