5 Days Zhangjiajie Highlights Plus Flying Tiger Tiger Heritage Discovery Tour
Myrtle green forest in the deep canyon, grotesque peaks of soaring mountains, endangered species lurk in the wilderness of Zhangjiajie National Forest Park. In this voyage, you will follow our lead into the impressive world of cloud-covered quartzite sandstone pillars. Alongside, trace the path of 'Flying Tigers', a group of American volunteers, led by General Claire Chennault, joined the effort in defeating the Japanese invaders in China during WWII. Get ready for this journey, and we shall begin.
Trip Highlights
Explore the prototype of Pandora World in James Cameron's movie, Avatar
Get on to the world's highest outdoor elevator and longest glass bridge
Delve into the soul of Zhangjiajie, Tianmen Mountain, or the " Heaven's Gate"
Hear the roar of the brave at Flying Tiger Memorial Museum
Customizable Tour Itinerary
Arrive at the airport or station in Zhangjiajie city, Hunan province, where you will meet your personal tour guide and will be transferred to Santo Domingo International Hotel by private transport. Be sure to pack your backpack and get your head down on pillow at a sensible time, to prepare yourself for this wonderful journey that lie ahead in the coming days.
Meals: Breakfast, Lunch,
Hotels: Jiangya Hot Spring Resort Zhangjiajie, Santo Domingo International Hotel Zhangjiajie, Zhangjiajie Pullman Hotel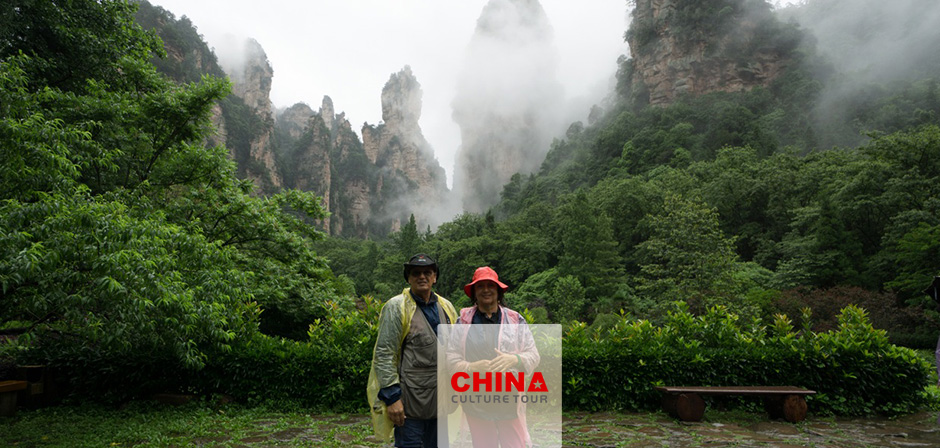 Zhangjiajie
Begin our journey fresh, your driver will drive you to Zhangjiajie National Forest Park which is just near the hotel. Delve into the home to some deep valleys and soaring mountain peaks, where more than 3000 sandstone pinnacles dominate this UNESCO protected park. Shuttle bus will be the transportation for you to get from one area to another within the park.
(20 MINS SHUTTLE BUS FROM WULINGYUAN ENTRANCE TO BAILONG ELEVATOR)
Start from Yuanjiajie, you will ascend the mountain by the world's highest outdoor elevator. Built alongside a massive rock pillar, Bailong Elevator has an elevation of 335 meters. The whole ride, about 66 seconds, is a short yet memorable one. Also, get out your camera and snap some photos or record some videos on your way up. Leaving the canyon below, you will reach Yuanjiajie area, where you will visit a succession of one incredible panorama after another. The No. 1 Natural Stone Bridge, a natural bridge spanning two adjacent peaks, 357m above the canyon floor, which allows visitors to walk in between these two peaks. Feel free to walk on this 20 meters long bridge and feel the thrill coming from your heart. Besides, you can get the full view of this natural stone bridge from a distance at Wangqiao Platform. Mihun Platform (or literally means the enchanted platform), provides you mesmerising views, is one of the best observatory platform in Yuanjiajie. The 'Back Garden', or the 'Backyard', is where sandstone pillars thrust up from the verdant forest like bamboo shoots after a rain in a huge garden. The spotlight will be given to a gravity defying pillar, Avatar Hallelujah Mountain in Yuanjiajie. It is called the Southern Sky Pillar or the Heaven and Earth Column, but better known as the Avatar Hallelujah Mountain by most of the people, for having served as the inspiration of "Hallelujah Mountain" in the movie Avatar.
(40 MINS SHUTTLE BUS FROM YUANJIAJIE TO TIANZI MOUNTAIN)
Then we will move on to Tianzi Mountain. Grotesque rocks stand in the luxuriant valley, stunning peaks rise one after another, at an altitude of 1260 meters, Tianzi Mountain will provide you an amazing view. When clouds roll in, those peaks seems to be floating in the air. At Tianzi Mountain, you will visit some of the highlights including Imperial Calligraphy Brush Peaks, 'Fairy Scattering Flowers' Peak, 'Son of Heaven' Pavilion, and Shentangwan. Imperial Calligraphy Brush Peaks, is a favourite spot for photographers, which calligraphy brush-like stone pillars of various height adjacent to each other, thrust up from forested valley. 'Fairy Scattering Flowers' Peak will need your imagination. It is a peak that look like a fairy with a basket of flower in her arm. Tianzi Pavilion literally means the 'Son of Heaven' Pavilion, is the best place to view the whole scenery of Tianzi Mountain. While said to be the most mysterious place in National Forest Park, Shentangwan, is a deep depression filled with sandstone pillars and primeval forest. Go near the depression, you can hear growling and howling of wind in the valley as if the sound of an unseen battle deep down there. Descend the mountain by cable car at Tianzi Mountain cable car station before taking shuttle bus out of the scenic area. Then private transport will bring you back to hotel.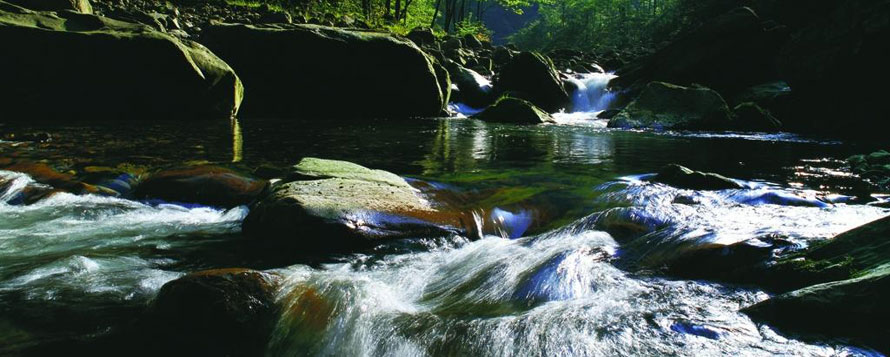 Golden Whip Stream
Please take note that heavy items such as backpacks and camera are not allowed on the Glass Bridge. You can consign your belongings at the entrance of Glass Bridge.
In the morning, visit Zhangjiajie Grand Canyon where sets the longest glass bridge in the world. Zhangjiajie Glass Bridge, a mind-boggling glass structure, 375 meters long and 300 meters high, that triggering dread in the hearts of many visitors. It provides the best angle to view the canyon. Acrophobics may want to skip this attraction. Then, take elevator down the mountain, but if you have enough energy, it is recommended to hike down the mountain since the distance is not that long. Then slide down into Zhangjiajie Grand Canyon, and explore the lush surrounding. Luminous steam on the canyon floor, tumbled of foaming waterfalls splashing into a pool of water and some interesting creatures lurk in the canyon waiting for you to discover. You will exit the canyon by boat. Continue, you will visit Baofeng Lake. Get on a sightseeing vehicles and brief through the myrtle green surrounding. Then, take a boat to tour around Baofeng Lake. Emerald green water, rolling of low-lying hills and some local performance on your way. Afterwards, your driver will transfer you safely back to the hotel.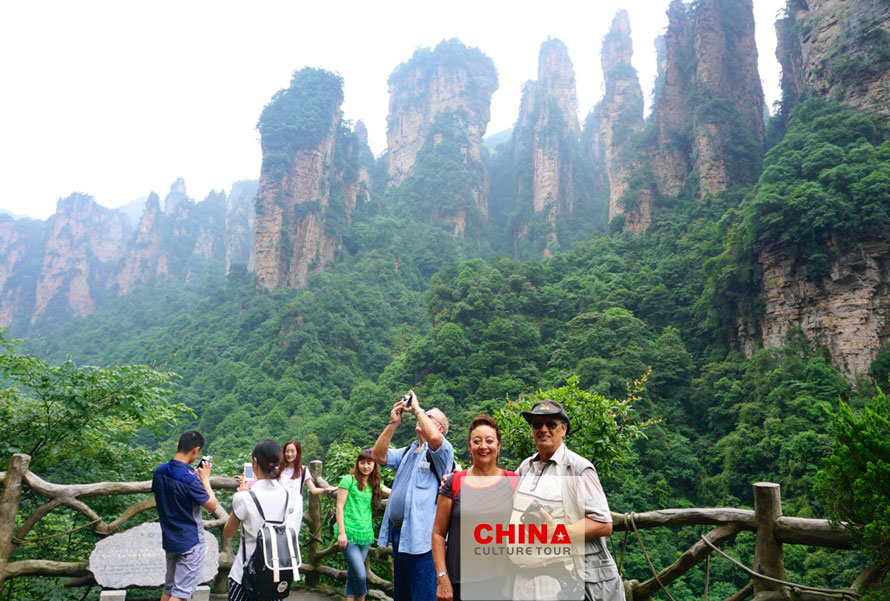 Zhangjiajie
Please take note that Tianmen Cave will be close during winter, and glass walkway will be close during rainy or snowy weather.
Transfer to Tianmen Mountain Cable Car Station in downtown and take the 7km-long Tianmen Mountain Cable Car to the mountain top. This is Asia's longest cableway and it takes about half an hour to bring you up to the summit. Tianmen Mountain, with an elevation of 1518.6 meters, is the highest mountain in Zhangjiajie and is known as the soul of the city. You can see this mountain anywhere in the city. Well-preserved primeval forest, rare plants and species, every scenery turns into a splendid picture. Take another cable car down to Tianmen Temple which is first built in Ming dynasty, and view some cultural sites around the area, before heading to Guigu walkway and Tianmen Mountain glass-bottomed walkway. These 4,691 feet high walkways are cling to the sheer cliff of the mountain. On the walkway, you can get the full view of city area and mountains stretching over the horizon. Take the underground elevator down to the marvellous scene, Tianmen Cave or Heaven's Door, which is a conspicuous huge hole that cut through the mountainside. Or you can choose to walk down 999 steps to Heaven's Door. Then take a shuttle bus down Avenue towards Heaven or the winding 99-Bend Road. Then, your driver will transfer you to Huaihua city in Zhijiang County. This ride is about 4 hours. Then, your guide will assist you with checking in at Zhijiang Peace International Hotel.
Meals: Breakfast, Lunch,
Hotels: Zhijiang Peace International Hotel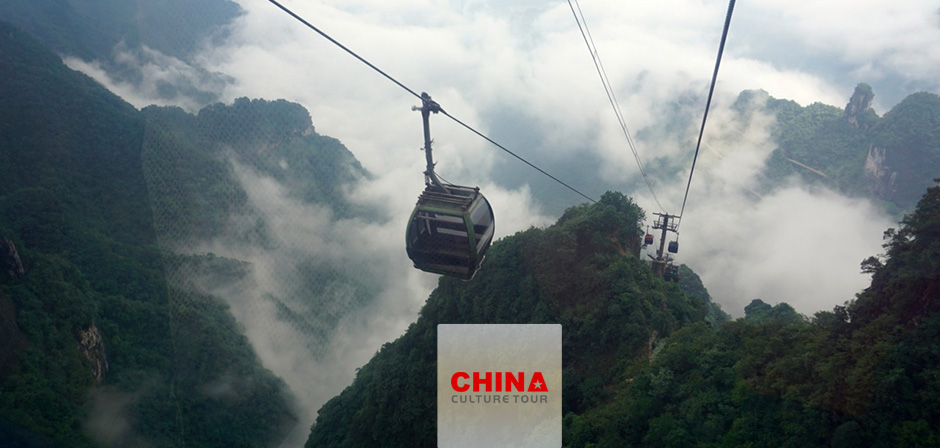 Cable car up Tianzi Mountain
On the last day of our journey, we will be visiting Flying Tiger Memorial Museum just besides Zhijiang Airport, which is a 10 minute drive from the hotel. This memorial museum was built in 2005 in commemoration of those heroes of Flying Tiger, a U.S. air squadron that helped Chinese to fight the Japanese in WWII. Flying Tiger Memorial Museum not only provides a boost to the culture exchanges between China and United States, it also helps people to remember the days when those US volunteers helped China fight the Japanese invaders. Zhijiang Airport was one of the main air force bases of Flying Tiger back in WWII. Some of the original buildings, such as power supply house and control tower are well preserved. As you follow the guide through this memorial museum, you will find out more about these group of brave souls back in time and hear the first-hand accounts of their achievements. If you are interested to know more about Flying Tiger, you can follow their trace to Yunnan province, where they mark the victory in Kunming, provincial capital of Yunnan. Later your private tour guide will assist you with checking in of the luggage, and to your next destination.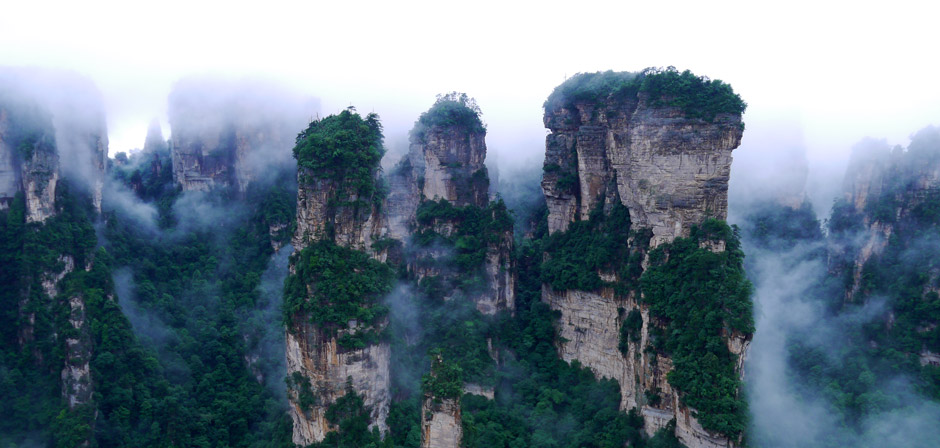 Zhangjiajie
Price Includes
In-country transportationas noted in the itinerary.
Admission fees and activity expenses as noted in the itinerary.
Luxury or boutique hotels centrally located.
Meals in local restaurants as noted in the itinerary with complimentary drinking water.
Your own English-speaking guide service.
Your own chauffeur and vehicle service.
Price Excludes
International transportation.
Chinese tourist visa. (which enquired for most foreign passport holders)
Travel and medical insurance.
Meals, snacks, alcohol, etc. apart from those included in the itinerary.
Excess baggage charges.
Personal expenses.
Sights, excursions and activities not included in the itinerary.
Gratuities to guide and driver.
ANY QUESTIONS?
This tour is tailor-made and we can tailor to meet your reqeusts. Your personal travel consultant will contact you within 24 working hours!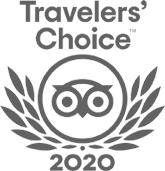 FABULOUS TOUR COMPANY
CHINA OCTOBER - NOVEMBER 2019 We researched several companies and studied reviews on Trip Adviser before contacting who did a very China Culture Tour with an initial query. Right from the outset Grace who owns the company was excellent. She emailed detailed with pictures information and a suggested…read more details
Karen from US
Ready to Create a Unique Dream Travel?