7 Days Xinjiang Highlights, Immense space, rich culture
Here in Xinjiang, discover some breathtaking sceneries, amazing landscapes and welcoming people. Venture into some absolute highlights of any visit to Xinjiang, in Urumqi, Turpan and Kashgar. Join in the dinner of a local family in Turpan, find out the history of Silk Road, and explore those glorious mega cities and cave arts rose during the height of Silk Road. Beyond Tien Shan Mountain ranges, over vast open plains, far cry from the deserts south of central Xinjiang, then into ancient town of Kashgar. This once major Silk Road hub has bristled with activity for more than 2000 years. Rub shoulder with crowds in local bazaars that continue to be the centre of life here to this day. A totally different experience from those of coastal regions in China, you will be fascinated by what you see and participate in.
Trip Highlights
Home visit to Uyghur family in Turpan
Having dinner at a local family's vineyard
Feast your eyes with countless goods and items in local bazaars
Stunningly beautiful alpine scenery
Through ruins of lost cities and visit Buddhist grottoes in Turpan
Customizable Tour Itinerary
Arrive at Turpan airport or train station and meet your personal tour guide there. If you are traveling during the period of May to September, after arrival at that night before 8:30pm, we will pay visit to a local family in the nearby neighbourhood. Like most traditional housings in Kashgar. Those housings are rarely more than two-stories high. Houses are built with poplar timber and mud bricks. Walls are very thick but usually unadorned on the outside. The inner courtyards and balconies, however, are decorated with woodcarvings and hangings. Try some most authentic dishes prepared by the local family. Some most commonly seen dishes are Laghman (a dish of pulled noodles, meat and vegetables), sauté spicy chicken, shish kebab, mutton chop. In August, the grapes are harvested. Once the grapes are being picked, some are sold in the market, but most are hung up to dry in special drying houses. During the visit, we will take a look at their grape manor, farmland and those special drying houses. Interact with the friendly house owner and know more about the local culture, traditions and some interesting stories.
After dinner, private transport will bring you to Mercure Hotel in Turpan city area. Be sure to pack your passport, visa and relevant documents that can verify your identity into your backpack. You will need them for any surprise check and to pass check points on and off the highway. Get your head down on pillow at a sensible time.
Meals: Dinner,
Hotels: Mercure Hotel Turpan Downtown
Local family's courtyard
After having breakfast, we will be going to those attractions east of Turpan. 30km east from Turpan, Gaochang Ancient City was a major staging post on the Silk Road since the 1st century and became the Uyghur capital in AD 850. In her day she was a vibrant thriving place. But in the 5th century, the Silk Road's fortunes took a turn for the worse. The Middle Kingdom no longer is the sole empire that know the secret of silk making. Many of these once thriving cities along the Silk Road fell afterwards, and in the 14th century Gaochang Ancient City was burnt during a war.
15 km east of Gaochang Ancient City and 50km away from Turpan downtown area, Tuyuk Valley is an ancient oasis-valley located in the middle of Taklamakan desert. In Uighur, Tuyuk means 'inaccessible valley'. This scenic area is relatively unknown and less visited by most of the tourists. Unique, mysterious and mesmerising, this would be the perfect place if you want to explore areas with rich historical and cultural relics in Turpan. Tuyuk Valley was once a melting pot of religions, including Islam, Buddhism, Taoism, Manichaeism, Nestorianism, Shamanism, and Zoroastrianism. Islamic style buildings, mosque, Chinese style wood carving on the door, Buddhist temple ruins, here, you can see the collision and fusion of cultures and religions. Tuyuk Valley Scenic Area consists of three attractions: Tuyuk Grand Valley, Tuyuk Thousand Buddha Cave and Ma Za Village.
Tuyuk Grand Canyon is an 8 km long green belt valley cutting through Flaming Mountain. On the southern land of Tuyuk Grand Canyon, find the oldest Uighur settlement, with 1700 years of history, in Turpan -- Ma Za Village. Ochre mountain, ochre residences, ochre land, almost everything there are in ochre. Villagers made use of the only material available to them, the ochre adobe, to construct buildings. It is now the most well preserved adobe housing in China. The best time to visit the village would be from April to May. Tuyuk Thousand Buddha Cave, originally dug between 266A.D and 420A.D, only 9 out of 94 caves survived through wars and earthquakes. Most of the cave arts are removed by expedition teams from other countries in the 19th century.
Not far from Gaochang Ancient City, we will have our lunch near Erbao Village. Mouth-watering while you are waiting for those local dishes, such as handmade yogurt and naan.
If you want to apprehend the history of ancient Silk Road, paying a visit to Astana-Karakhoja Ancient Tombs is a must. Though most of the antiques found from this tomb are exhibited in Turpan Museum and Provincial Museum, you still can see the layout of the tombs. It is 4km away from Gaochang Ancient City, and 7km away from Flaming Mountain. The tombs belongs to the nobilities during Western Jin Dynasty and Tang Dynasty (3th century to end of 8th century) from Gaochang. With 1700 years of history, this archaeological site is considered as the living historical document of Gaochang and an underground museum in Turpan.
Take a 30 minute drive from Astana-Karakhoja Ancient Tombs, you will come across a group of caves up a sheer cliff. These are the Bezeklik Thousand Buddha Cave. Bezeklik means 'half way up the mountain' in Uyghur and this grottoes set itself half way up a section of Flaming Mountain in Turpan. This thousand Buddha grottoes can be dated back to the 6th century. Till the 11th century, murals painted in the grottoes reached the highest point in Uyghur Buddhist art. Located in the middle of a desert, Bezeklik Thousand Buddha Cave was once the most important and gorgeous grottoes on the Silk Road. Moreover, it was belonged to the royal family in Gaochang. Sadly, in the early 20th century, most of its unique cave art were removed by foreign expedition teams. Only 57 out of the 83 caves hardly survived, with remaining caves were badly damaged. Today, only a few caves are opened to the public, however it is definitely worth a trip.
Flaming Mountain is the hottest place in China, reaching a temperature of 47.8 degree Celsius, and with surface temperature of 89 degree Celsius. (You can certainly make an egg sandwich there.) Hot, dry and desolate, yet the area is astonishingly colourful. In summer, if you are going under the scorching sun, it is highly recommended to put on some sunblock. We will see the main section of flaming mountain on the car and then return to the hotel.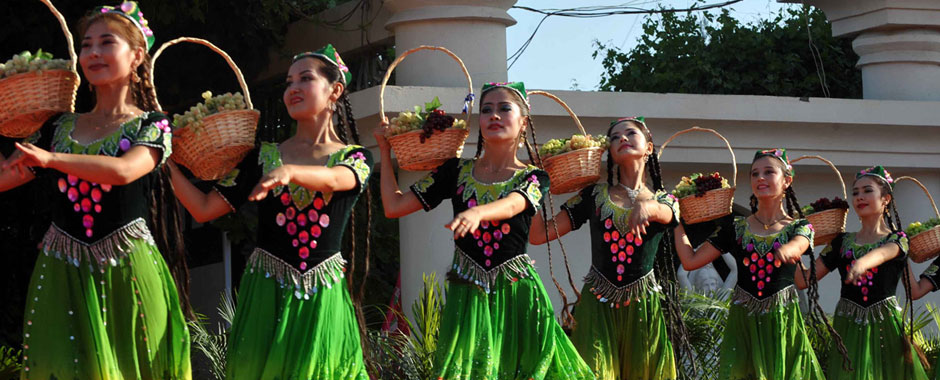 Local performance
Located on a hillside 10km west of Turpan, Jiaohe Ruins is one of the world's largest, oldest (1600 years old) and most well-preserved ancient city built using immature soil. It was a garrison town during the Tang dynasty. Though it is relatively well preserved, most of the adobe buildings still cannot escape the damage from wind erosion. Spot a tall pagoda surrounded by 100 smaller pagoda bases, this is the only 'stupa grove' in Xinjiang.
3km away from Turpan stands this mud-brick structure, Emin Minaret, known as the Turpan Pagoda among the locals. It is the largest mosque in Turpan and tallest minaret in China. If you examine the exterior of the building carefully, do spot some Chinese-style floral and geometrical patterns. Bowling-pin shape and decorative Chinese exterior patterns of this superb architecture reflect well mixed of Chinese and Islamic culture in this region. This building is 37 meters high. Hold your urge in climbing the minaret as interior steps are not open to the publics.
We will have our lunch at Bayan's Restaurant near the city area. This is an authentic local restaurant that is famous for shish kebab and Laghman (a traditional Xinjiang dish of pulled noodles, meet and vegetable).
The weather here in Turpan is often hot and dry, so remember to drink enough water and stay hydrated all time. In such a hash place like Turpan, it can produce this unexpected product—grape. The reason lies on those water and irrigation system in Turpan. A subterranean network of canals known as Karez is used to channel water around Turpan streets and raving yards. Over 2 millennia ago, local people carved more than 3000km of these canals beneath the desert. Channelling the flow underground can reduce water lost to evaporation in the desert heat. This irrigation system consists of a horizontal series of vertical access shafts that are linked by qanats channels to collect water from the watershed surface runoff from the base of Tian Shan Mountain and Flaming Mountains. The qanat channels then direct collected water to qanat outlet and the irrigated areas. This irrigation system was crucial to Turpan's development in the past as it created an important oasis stopover on the ancient Silk Road skirting the barren and hush Takalamakan Desert.
Don't miss out this wonderful scene, where hundreds and thousands of windmills are in operation to generated electric energy, when you are heading back to Urumqi on the car. Dabancheng Wind Power Station is the largest wind energy base in China. It can generate up to 75 billion kWh useful energy. Check in at Wanda Vista Hotel in Urumqi.
Meals: Breakfast, Lunch,
Hotels: Hilton Urumqi Hotel, Universal Hotel Urumqi, Wanda Vista Urumqi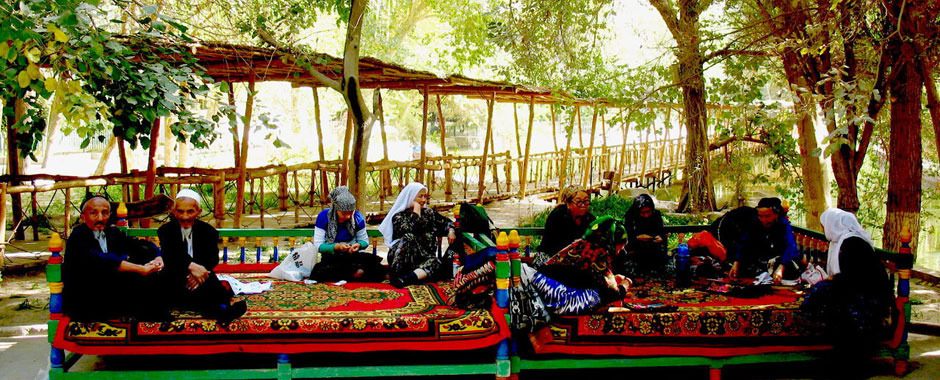 Turpan
Xinjiang Provincial Museum is a must to visit if you want to know more about ancient Silk Road or you are simply a Silk Road aficionados. See some amazing silks, ancient porcelains, sculptures and know the tradition of each of the minorities in Xinjiang. Also, you will meet a 3800-year-old 'Loulan Beauty' and listen to the story of her era.
After a 20 minutes ride, you will reach Xinjiang International Grand Bazaar. Islamic style building with yellow tiles paved walls, this is one of the biggest bazaar in the world. With millions of stores, you can find almost all local products here. There are mosque and theatre in the bazaar. There is this Silk Road Tower located at the centre of the square, climbing to the top, you can get a full view of the surroundings. Later, we will have our lunch at Happy Najwa's Restaurant which is just a 16 minute drive from the Xinjiang International Grand Bazaar. It is a restaurant that serve traditional food in the southern Xinjiang, such as shish kebab and handmade yoghurt. There will be song and dance at eight o'clock every evening.
After lunch, we will take an hour drive to our next attraction, Tien Shan Tian Chi Scenic Area. Shuttle bus is available up the mountain. Tien Shan Mountain is also known as Heavenly Mountain. This great mountain range defines the border between China's most north-western province and neighbouring Tajikistan and Kyrgyzstan. Some of its majestic peaks are nearly as high as the Himalayas, forming a natural great wall. For much of the year it's bound up in ice, but the glacial meltwater allows evergreen forests to grow. Two thousands metres up the Tien Shan range, a small steely-blue alpine lake called Tian Chi Lake or the Heavenly Lake is accompanied by 5445 meters Mount Bogda not far from Tien Shan.
Return to the hotel and call it a day. Go to bed at a sensible time to ensure enough sleep for tomorrow's journey.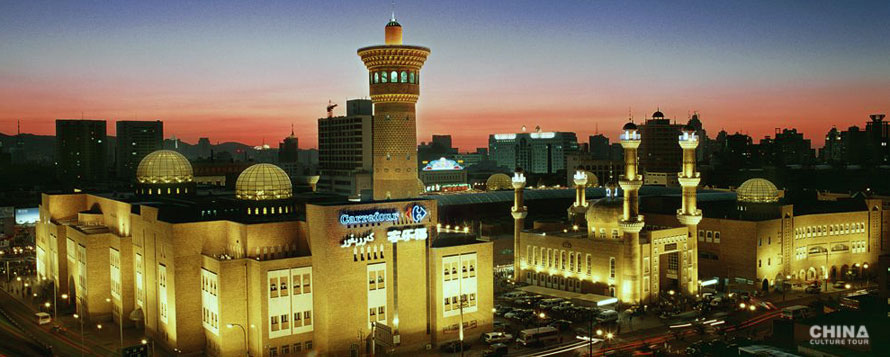 Xinjiang International Grand Bazaar
We will take the early flight to Kashgar. It takes about two hours to reach Kashgar. Then take private transport to Abakh Khoja Mausoleum, which takes about half an hour. First built in 1640 A.D, Abakh Khoja Mausoleum is the most beautiful and magnificent mausoleum in Xinjiang. This mausoleum complex belongs to the Khoja family, and is named after Abakh Khoja, a famous Sufi and political leader in the 17th century in Xinjiang. And according to legend, during Qing dynasty, Emperor Qianlong's favourite concubine Xiangfei, whose name is Iparhan, is Abakh Khoja granddaughter. Thus, this mausoleum is also known as Xiangfei Tomb. This is a typical Islamic style mausoleum with mainly green decorative titles pave on the exterior. No matter you are single or married, you will get to see or perhaps participate in the whole process of a local wedding here (don't worry, this is not a real wedding). Handcraft experience, savouring different types of local tea, and some local souvenirs will be given to you after a series of events. If you happened to visit Abakh Khoja Mausoleum at 12:30pm or 5:00pm, be prepared for a welcoming ceremony!
Kashgar is famous for selling everything under the sun. The local Grand Sunday Bazaar is one of Asia's largest and most exuberant gatherings. But looking around the market, it's hard to believe you're in China. Kashgar is a melting pot of non-Chinese ethnic people. Uyghurs, Tajiks, Kyrgyz, Uzbeks, and many others. Grand Sunday Bazaar in Kashgar is also called Young Bazaar by the locals. 'Young' here means east in Uighur. Though it is called Grand Sunday Bazaar, it opens every day, but it only kicks up a gear on Sunday. There is often 'human jam' in the bazaar on Sunday, so you may want to avoid visiting on that day. But it would be a brilliant opportunity if you want to experience this unique live of Uighur. There are more than five thousands of shops and booths in this bazaar. Different category of items are sold in different districts. You can find more than just spices, naan, local teas, silks, Persian carpets and other imported goods from the neighbouring countries. Authentic local food and snacks can be also found in the bazaar. Do spot some interesting booths selling second hand goods and antiques. Some of those booths only appear on Sunday.
Find more animals and herds than human in Sunday Livestock Bazaar. This bazaar is located besides the Karakoram Highway (known by its initials KKH, also known as National highway 35 or the China-Pakistan Friendship Highway). It only opens every Sunday. You can find sheep, cow, donkey, horse and even camel here. It is definitely boisterous, crowed, dusty and smelly here, yet a new experience for most people (though some visitors may find the treatment of animals here disturbing).
No visit to Kashgar is complete without a trip to its soul, The Old Town. As a major trading town on the ancient Silk Road, there was a robust exchange of cultural and beliefs. Kashgar Old Town is the only Islamic style neighbourhood with maze-like lanes in China. Though only few buildings survived after decades of modern replacement by the local government, you can still find traces left by the history and architectures that have withstood the passage of time. Do check out the neighbourhood around Jiefang Street, you will see some of the remaining ancient alleys and adobe houses that are over 500 years old. Stroll down those haphazardly twisted lanes and meet some friendly Kashgaris in the neighbourhoods. One interesting fact to know: one of the scene in the movie "Kite Runner" was filmed in Kashgar Old Town. In one of the copper workshops, admiring the craftsmen as they bang on tin and chase copper. There will be an opportunity to make your own bracelet and art piece out of that copper.
Our next stop is Id Kah Mosque, the largest mosque in Xinjiang. Located in the heart of Kashgar Old Town, though bustle and hustle on the street outside the mosque, it is always perfectly quiet inside. A wonderful place for meditation. Remember to remove your shoes when entering the main hall.
Enjoy your afternoon tea at 'Hundred-year-old tea house' in Kashgar Old Town. Double-level building with balcony on second level. Taste some local snacks and cookies with special Uyghur milk tea while enjoying song and dance organised by locals. At the heart of Uyghur culture is sing and dance. Dancing is said to be the second nature for people who born in Xinjiang. It's very common to see groups of people dancing in the public here. If you are lucky enough, they may invite you to join them. At the end of the day, your private tour guide will assist you in checking in at Radisson Blu Hotel.
Meals: Breakfast, Lunch,
Hotels: Radisson Blu Kashgar, Kashi Tianyuan International Hotel, Kashgar Yinruilin International Hotel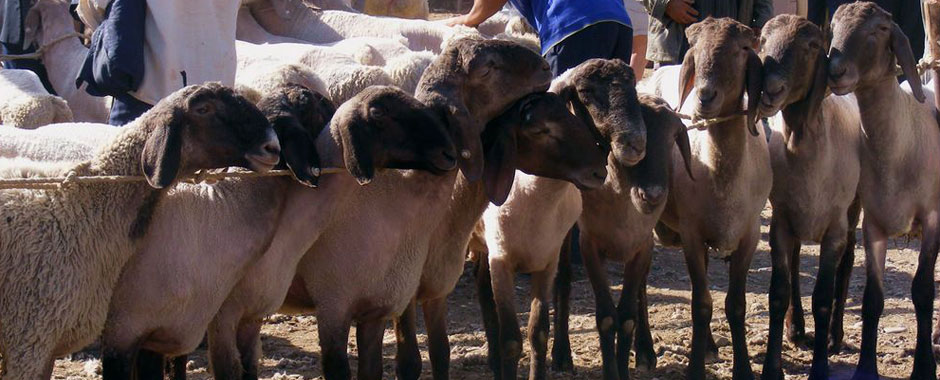 Sunday Livestock Bazaar
We will spend our whole day at Karakul Lake today. Karakul Lake means 'black lake' in Kyrgyz language. Though Karakul Lake is just an ordinary alpine lake, what make it stands out are those majestic mountains: Muztagh Ata (7509m), Kongur Tiube (7530m) and Kongur Tagh (7719m). Both Kongur Tiube and Kongur Tagh are in the Pamir range in Xinjiang, China. While Kongur Tiube, also known as Jiubie in Chinese, is a sub-peak of Kongour Tagh. Mountaineers have to climb several peaks of 7000 metres and higher in order to reach Kongur Tagh summit, making it one of the toughest mountains to conquer. Only Muztagh Ata is relatively well developed and safer for mountaineering. If you are interested in climbing Muztagh Ata, we can help you arrange professional team, Xinjiang Mountaineering Association, who can help you with the journey up the mountain.
Stay long enough at Karakul Lake, you will notice that, it will change its colour under the sunlight. During summer, you will encounter sea of flowers surrounding the lake. At the end of the day, we will return to hotel. Take enough rest before departure on the next day. Take note that due to the high altitude, it is possible to encounter altitude sickness such as headache, chest tightness and nausea. Stay calm, do not panic, and contact your tour guide for some help if necessary.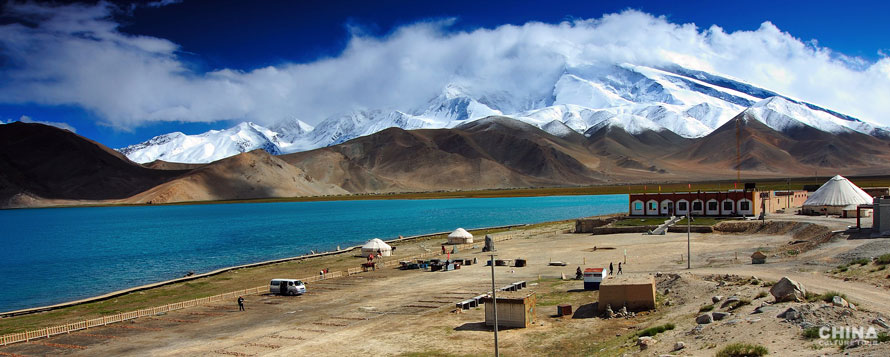 Karakul Lake
After breakfast, you will take private transport to Kashgar Airport where you can either fly back to Urumqi to take international flight or fly to other cities in China.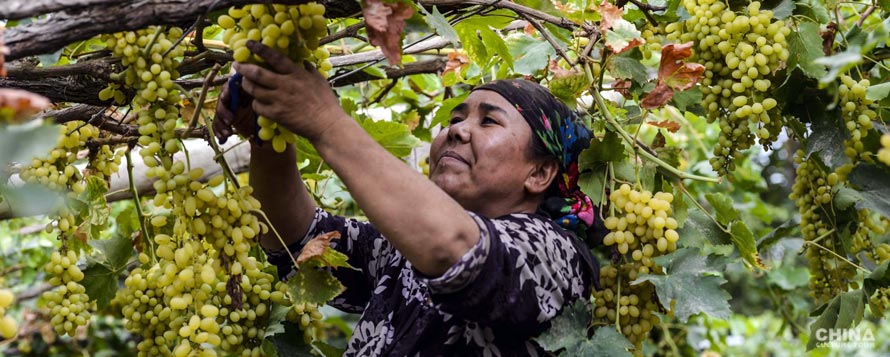 Local picking grapes
Price Includes
In-country transportationas noted in the itinerary.
Admission fees and activity expenses as noted in the itinerary.
Luxury or boutique hotels centrally located.
Meals in local restaurants as noted in the itinerary with complimentary drinking water.
Your own English-speaking guide service.
Your own chauffeur and vehicle service.
Price Excludes
International transportation.
Chinese tourist visa. (which enquired for most foreign passport holders)
Travel and medical insurance.
Meals, snacks, alcohol, etc. apart from those included in the itinerary.
Excess baggage charges.
Personal expenses.
Sights, excursions and activities not included in the itinerary.
Gratuities to guide and driver.
ANY QUESTIONS?
This tour is tailor-made and we can tailor to meet your reqeusts. Your personal travel consultant will contact you within 24 working hours!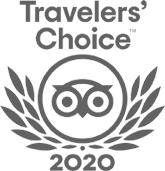 FABULOUS TOUR COMPANY
CHINA OCTOBER - NOVEMBER 2019 We researched several companies and studied reviews on Trip Adviser before contacting who did a very China Culture Tour with an initial query. Right from the outset Grace who owns the company was excellent. She emailed detailed with pictures information and a suggested…read more details
Karen from US
Ready to Create a Unique Dream Travel?